Perhaps the well-known story associated with the village of Antpur in Hooghly district's Serampore, is that it inspired a common man to choose the path of sanyas dharma at an early age and attain worldwide fame. For those who have not guessed, it is here that Swami Vivekananda, along with eight other disciples, took their vows in December, 1886. However, Antpur has held a prominent place in the medieval history of Bengal since long before that.
A medieval settlement
Antpur was once part of a medieval Hindu Kingdom named Bhurishrestha or Bhursut, which spread across Howrah and Hooghly districts. The kingdom's name is said to have come from a community of traders known as the Bhuri-shresthis. Antpur and nearby Anarbati, both part of Bhursut, are said to have got their names from two Muslim landlords. 
Among the first prominent figures of the region, was Parameshwar Das Thakur, a disciple of Chaitanya Mahaprabhu's close friend Prabhu Nityananda. He is said to have arrived in the village circa 1540 after Nityananda's death and brought with him an idol of Radha Gopinath Jiu, originally worshipped by Nityananda. Thakur established the idol in a then-newly constructed temple in Anarbati, where it still sits today, now in a contemporary temple complex near Thakur's samadhi.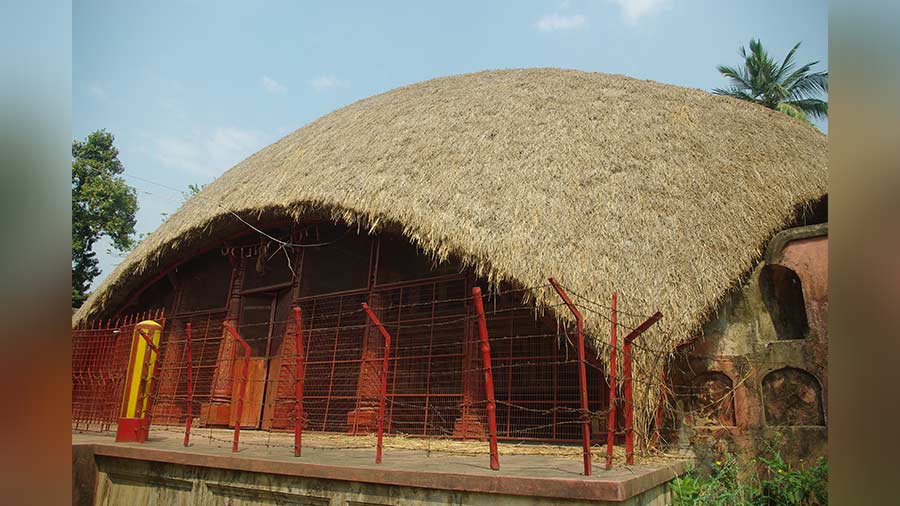 The wooden 'Chandi mandap' inside the premises of Radha Gobinda temple
The built heritage of Antpur
Most of the historical monuments in the village were built by descendants of the Mitra family, one of whom, Kandarpanarayan Mitra, settled in Antpur after gaining favour from Brahmin kings of Bhursut. The most talked about monument in Antpur is the aatchala-style Radha Gobinda temple, built in 1786 by Krishnaram Mitra, Kandarpanarayan's grandson. The temple is now a protected monument under the state's archaeology division. The almost 40-foot-tall temple stands on a raised platform and has a charchala porch with a triple arched entrance. The walls of the temple are studded with exquisite terracotta panels, with unique themed artwork.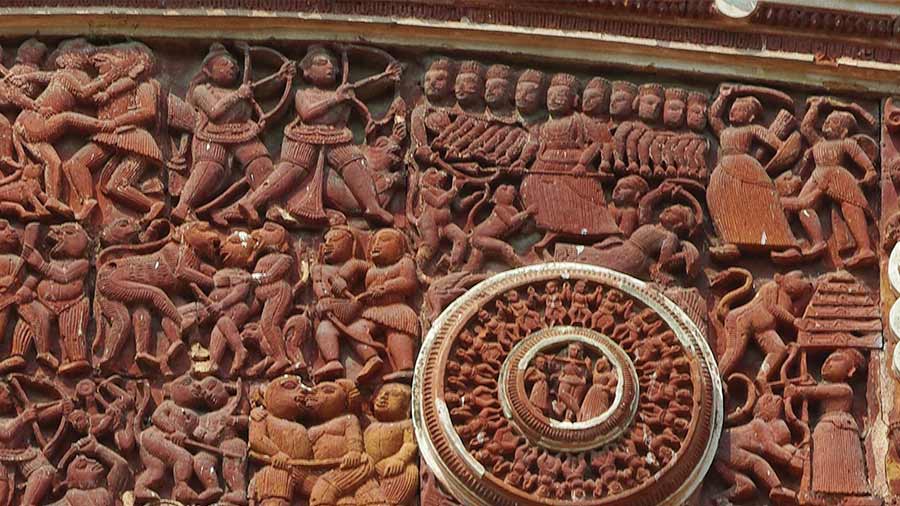 Ram and Ravana battle in a panel of the Radha Gobinda temple
The popular terracotta motif of Ram and Ravana has a different look, with Ravana seen as having 10 heads and 10 hands. Other scenes and motifs include figurines of Ganesh Janani, the Charak festival, a procession with elephant and horse-driven chariots, goddess Kali with a protruding tongue and brandishing a javelin, and a detailed design of Durga with her family.
However, the most interesting part of the terracotta panels of this temple is the detailed portrayal of European lifestyle in colonial times. Europeans riding horses, marching past with hunting dogs, handling canons and even attending performances by courtesans are all scenes depicted in the terracotta artwork.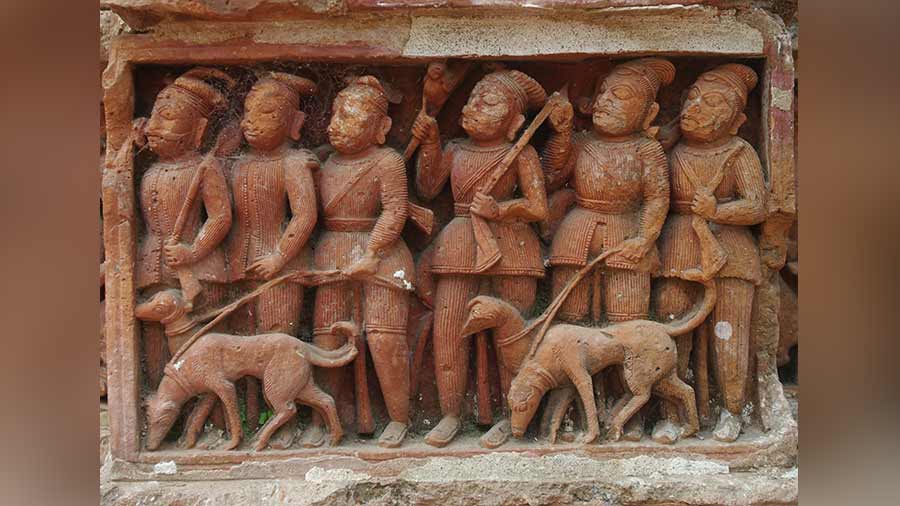 European soldiers with hunting dogs in a teraccotta panel
Inside the temple premises there is a Chandi mandap, whose exquisite woodwork is an example of the style of decoration on wood prevalent in 18th-century Bengal.
Just outside Radha Gobinda temple, there are five aatchala-style temples, one octagonal Rasmancha and a five-pinnacled Dolmancha. Out of the five temples, all built in the 18th century, the one adjacent to Radha Gobinda temple's premises features the heaviest terracotta work. Locally known as Sitarameshwar temple, it was reportedly built in 1773.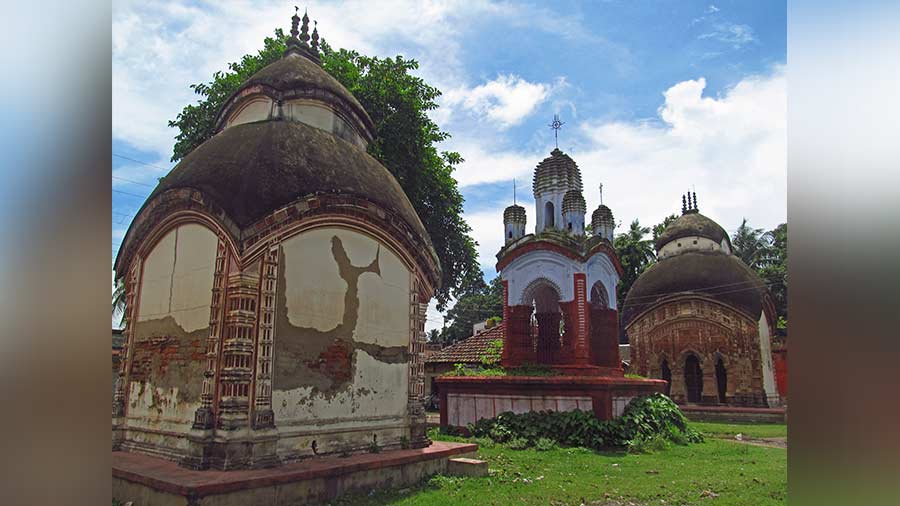 Two of the five 18th-century aatchala-style temples with the 'Dolmancha' in between
The Ramakrishna-Vivekananda connection
Ramakrishna Paramhansa visited Antpur in the year 1858, when he was 19 years old. He visited the house of Kaliprasanna Mitra and Umaprasanna Mitra (locally known as Kalu and Bhulu).  
Antpur is also the birth place of Swami Premananda, a direct disciple of Sri Ramakrishna. Named Baburam Ghosh at birth, he was the son of Matangini Devi, who was from the Mitra family. Baburam was introduced to Ramakrishna Paramahansa at Dakshineswar towards the end of 1882 by Mahenderanath Gupta, who is known for his work named Sri Sri Ramakrishna Kathamrita — a five volume series narrating conversations and activities of Sri Ramakrishna.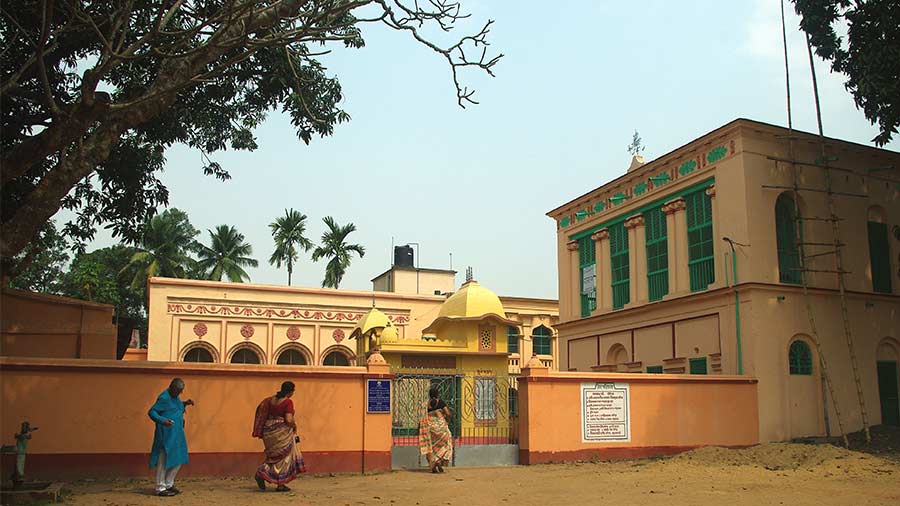 The Ramakrishna Math at Antpur
Ramakrishna passed away in 1886. On an invitation from Baburam Ghosh, Narendranath Dutta (Swami Vivekananda) and other devotees visited Antpur before Christmas the same year. It is said that here in Antpur, after lighting a dhuni (bonfire), Narendranath sat with all other devotees on Christmas Eve 1886 and initially discussed Jesus Christ and his disciple's lifestyle. At the end of the discussion, the disciples are said to have gathered around the fire and vowed to take the path of sanyas. Later, in January 1887, after formal vows as the Baranagar Math, Narendranath took the name of Swami Vivekananda and Baburam became Swami Premananda.
At present, a small pavilion named dhuni mandap stands in place of the bonfire. A sculpture of all the nine disciples stands in front of it. The pavilion is inside the Ramakrishna Math of Antpur, which started in 1965 and made an official  branch on December 24, 1986, exactly 100 years after the event. The math is worth a visit. Inside, there is a Durga mandap along with preserved rooms where Ma Sarada and Swami Vivekananda used to stay. Premananda Temple is another must-visit spot.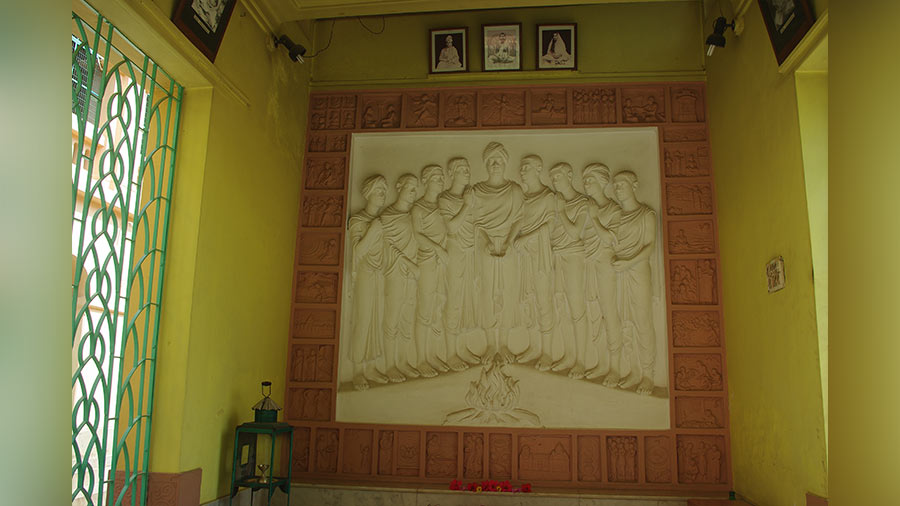 Statue of all the nine disciples including Swami Vivekananda at the 'dhuni mandap' at Ramakrishna Math, Antpur
Travel details:
Antpur is 64km from Kolkata by road. From Kolkata, take the route to Dankuni via Baranagar, Dunlop and Dakhineswar. At Dankuni, take a left to Haripal via Mosat and left again from Gajar more. Antpur is another 6km from the more. 
Antpur is also connected by rail. Take the Howrah Tarakeswar local that stops at nearest station, Haripal. An auto ride from the station takes visitors to Antpur.
Antpur is a day-trip destination from Kolkata and can be toured in almost half a day. Add nearby places Rajbalhat and Dwarhatta to the itinerary to make it a full day tour.
There are not many options to eat here, but if you want to stay in the area, there is an eco resort at Dwarhatta.
Travel tip: Visit the Radha Gobinda temple in the morning when the puja takes place or on public holidays or during Durga Puja. The present owners are not forthcoming to visitors at odd hours, especially for photographs. A formal permission for photography from the State Archaeology Department may help.