The phrase Ganga arati is always reminiscent of tall, blazing fires lining the banks of the Ganges at Varanasi, resplendent against the evening sky. A spectacle unlike any other, this arati beckons throngs of pilgrims, tourists and photographers from all the world over. 
But what if you didn't want to travel all the way to Varanasi to witness a Ganga arati? Well, there is something similar that happens closer to home, on Howrah's waterfront. 
As is the way with riverfronts, both the Kolkata and Howrah fronts are best explored on foot. Start from Howrah Station and walk south past the south-eastern section of the station. 
Leave the Howrah Rail Museum on your right and keep going until you walk past the Durga Temple and the Nanga Baba Temple. A flight of stairs wedged between these temples leads to Telkal Ghat, which offers up a grand panorama of Kolkata, flanked on one side by the Howrah Bridge (Rabindra Setu). 
Beyond Telkal Ghat, the tiled walkway runs next to the river, providing a grand view of the Kolkata skyline. There are seats here and visitors can enjoy the fresh river breeze while they catch their breath.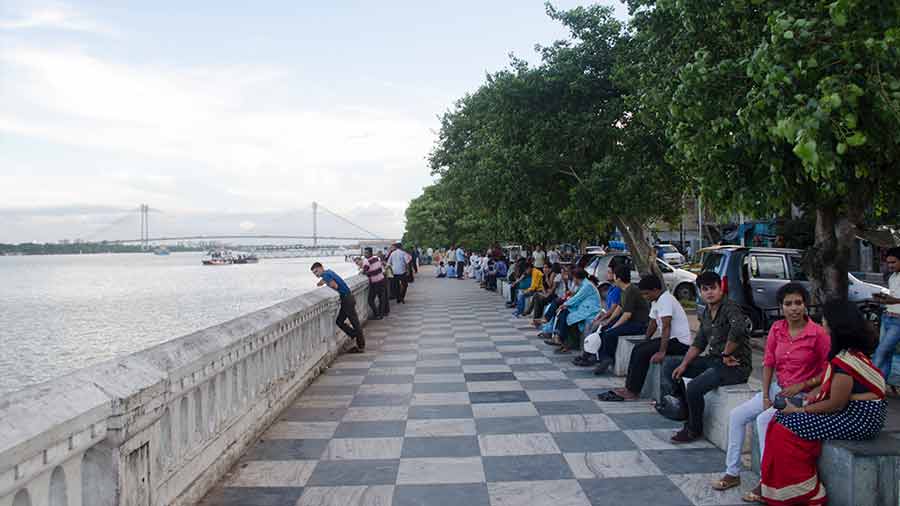 The paved riverfront at Howrah has seats for visitors
Rangan Datta
Once Vidyasagar Setu comes into view, walk past the Panchmukhi Hanuman Mandir on your right and keep going further south, which leads to a platform on the banks of the river. The platform is located below road level and can be approached by a short flight of stairs. Paved with black and white marble, one can spot quite a few of Kolkata's landmark buildings from here, including the New Secretariat Building, the eastern regional headquarters of the State Bank of India and the floating hotel.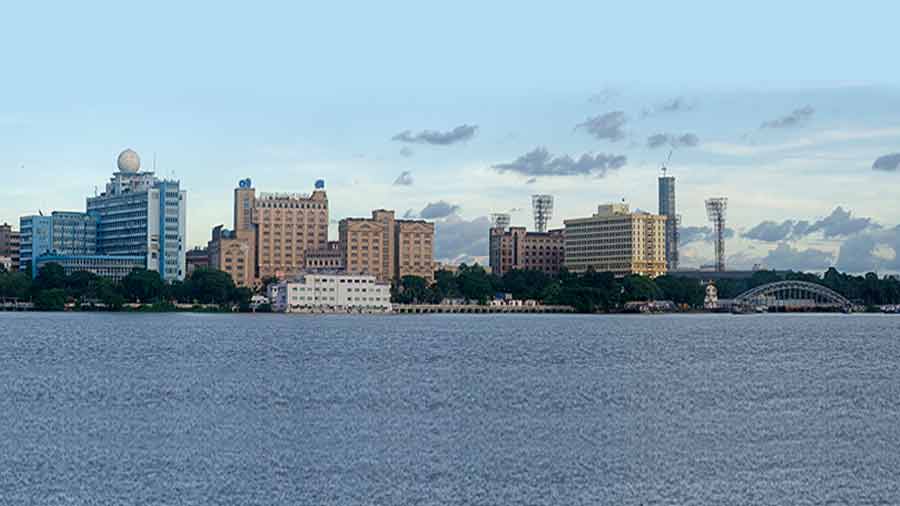 Some of the landmark buildings of Kolkata that can be seen from the riverfront
Rangan Datta
The absence of food stalls in the area is largely compensated by hawkers selling jhalmuri, bhelpuri, ghoti gorom and ice creams. The road leads further south to the Tara Ma Mandir, beside which is the Ramkrishnapur Ghat that operates ferry services to Babu Ghat.
The open space between the Tara Ma Mandir and Ramkrishnapur Ghat serves as the venue for the Varanasi-style Ganga arati.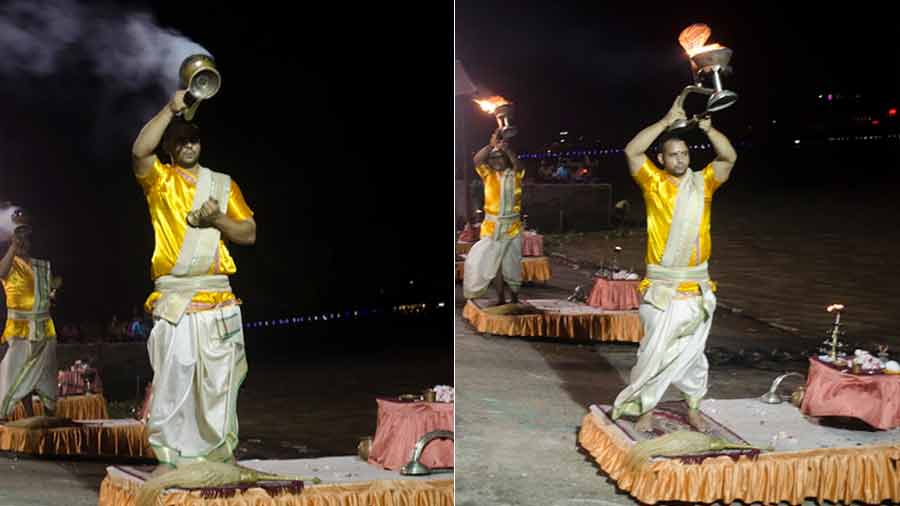 Priests perform the Ganga arati at Howrah
Rangan Datta
The arati begins at 7pm daily and continues for over an hour. Performed by three or four priests, while it may lack the grandeur of Varanasi, it is definitely a sight to behold, especially when unfolding against the skyline of the City of Joy.
You can end your trip with a ferry ride across the Hooghly, which will take you back to Kolkata's Babu Ghat.