With its madding crowds, messy urbanisation and chaotic traffic, Krishnagar, at first glance, doesn't quite seem like the right place for heritage tourism.
But, cross the gate of the Roman Catholic church situated in Don Bosco para, and all misgivings are dispelled. A green lawn and a beautiful, century-old church — with a grand clock tower and dome — greet visitors, as if a small piece of Europe has somehow been kept intact in this Bengal town.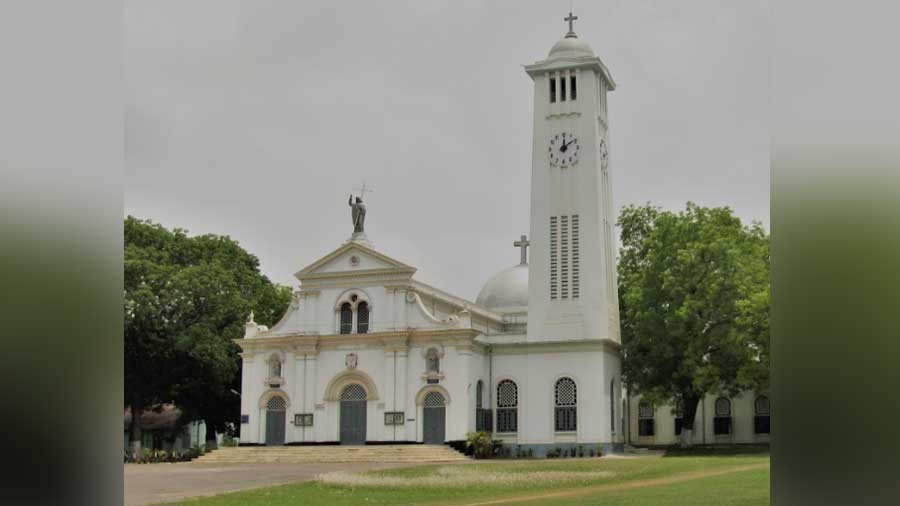 The church is located in Krishnagar's Don Bosco para
Somen Sengupta
While the history of this piece of land can be traced back to 1822, the church's story began in earnest in when a Pontifical Institute of Foreign Missions team arrived in Krishnagar from Milan. One Father Luigi Limana requested use of the land from the municipality to start a Catholic society. There, on September 1, 1886, he erected the first Catholic church of the region. Francis Pozzi was appointed its first bishop. In 1887, the church got its official name — The Roman Catholic Diocese of Krishnagar — though it is now simply called 'Catholic church'. 
The church was destroyed in an earthquake in 1897. But within two years, thanks to the efforts of Bishop Pozzi, a new cathedral, still considered as one of the most beautiful in Bengal, was built at its present location and opened on March 19, 1899.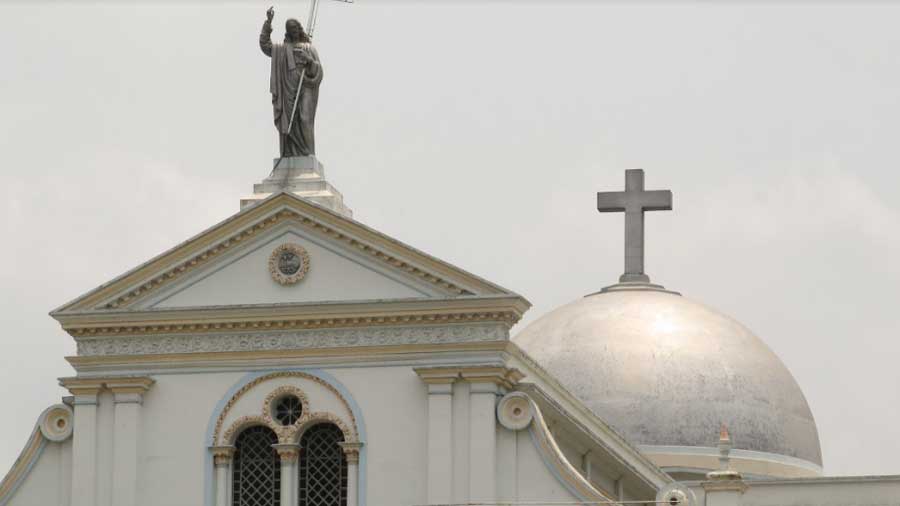 A statue of Jesus holding a cross on the front pediment, with the church's large dome in the background
Somen Sengupta
In 1928, control of the church was taken over by the Salesians of Don Bosco.
The church is very distinct in its design and physical beauty. Neither Gothic, neo-classical or Victorian, it features a blend of different styles of architecture. Though its shape is largely European, it still stands apart from the other churches built in those days.
The front pediment is supported by four pillars, which are neither ionic, doric nor Corinthian in style. Instead, a touch of Tuscan design is seen in these pillars.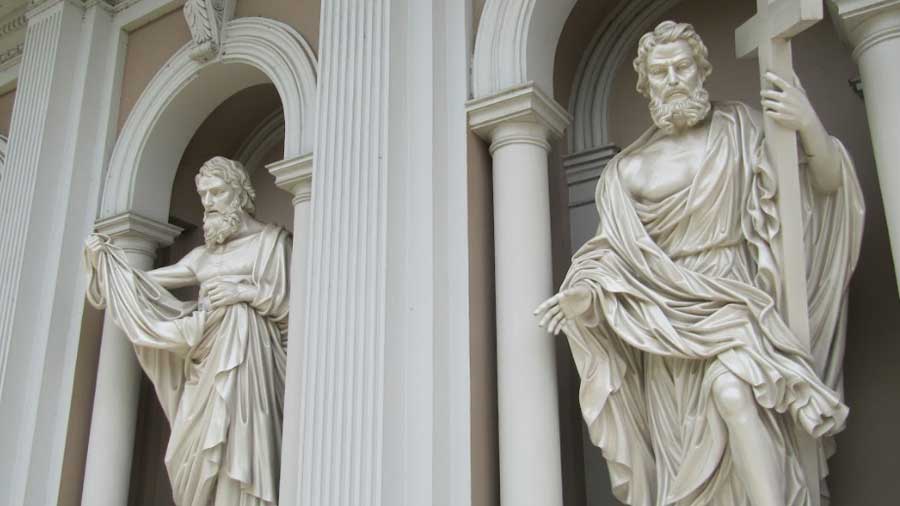 Statues of Catholic saints
Somen Sengupta
A big outlet under the pediment has two Roman arches covered under another bigger arch and supported by three Corinthian pillars. The lower part of the pediment has two swan's neck extensions running opposite each other, giving the structure a royal touch. On the top, there is a statue of Jesus holding a cross in his hand.
Under the pediment, just after another line of floral design, a line is carved in Bengali that reads, 'Eshwarer Griho – Swarger Dwar' — meaning 'God's home – Heaven's door'.   
Inside the church, many oil paintings and some vintage furniture still exist. Being a Catholic church, it houses idols of Jesus, Mary and others.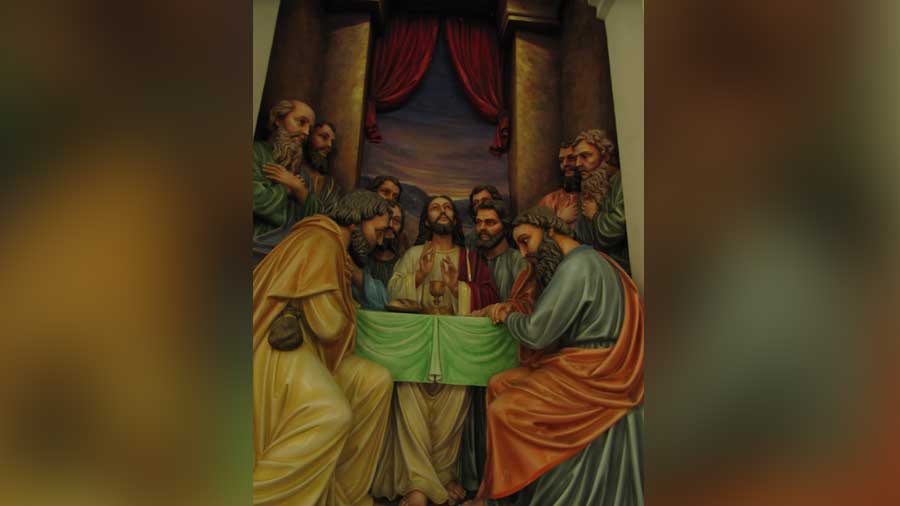 Many oil paintings still exist inside the church
Somen Sengupta
In 2009, a grand structure called 'Christo Mandir' was built just opposite the old church. 
This is a huge prayer hall-cum-exhibition hall, decorated with stunning sculptures of religious and social significance. On its outer wall, statues of saints like St Augustine, St Pauls, St Francis Xavier, St James etc are installed.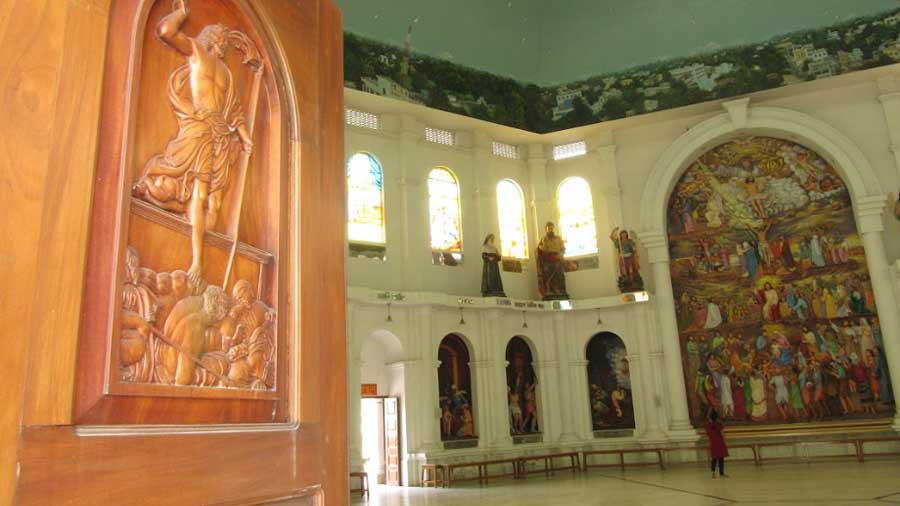 A massive wooden door with an engraved figure of Christ welcomes people in
Somen Sengupta
The hall's floor is all marble and the walls are embellished with sculptures and glass paintings depicting the life of Jesus and stories from the Bible. The hall has provisions for visitors to rest and pray.
The outer pediment of Christo Mandir has sculptures of famous figures like Mahatma Gandhi, Subhash Chandra Bose, Sardar Patel, Jawaharlal Nehru, B.R. Ambedkar and even a British royal.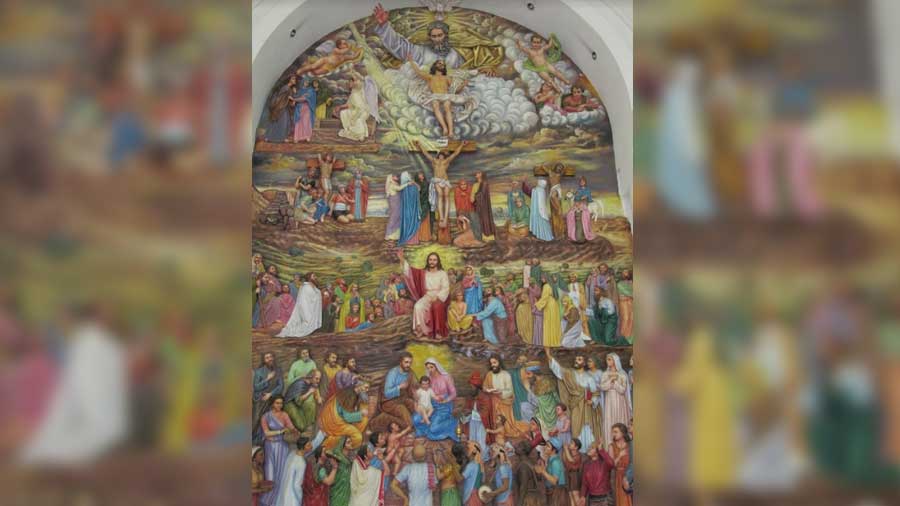 An arch with sculptures showing Jesus from his birth to his crucifixion
Somen Sengupta
Standing on four heavily ornamented Corinthian pillars, the portico is supplemented by a massive wooden door with an engraved figure of Christ. The central arch at one side of the wall has sculptures showing Jesus from his birth to his crucifixion, while many scenes from the Bible are painted on the glass panes covering smaller arches.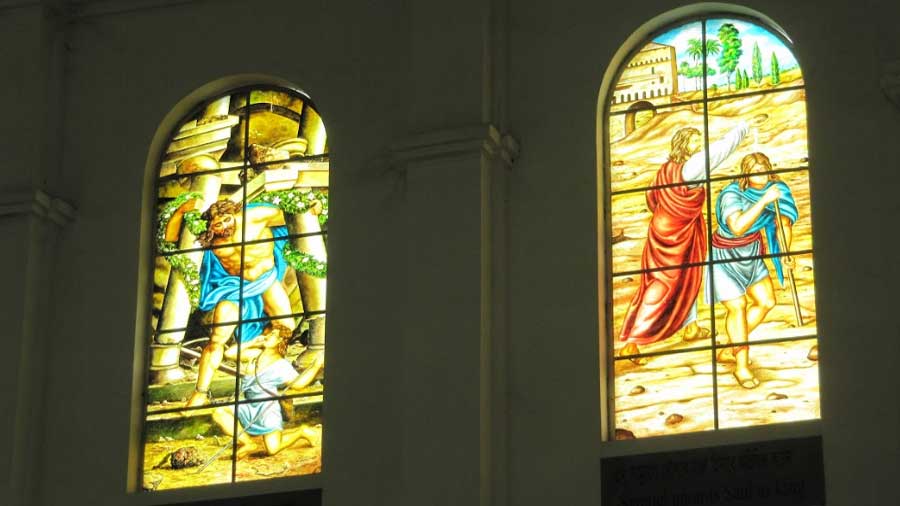 Scenes from the Bible painted on the glass panes
Somen Sengupta
Though the old church opens sporadically to the public, the new structure welcomes tourists on all working days. It is especially popular during the Christmas–New Year week, when tourists and locals alike visit the premises to celebrate. However, due to the pandemic, the revelry has been restricted to some extent.   
Somen Sengupta is passionate about heritage and travelling and has been writing about it for 26 years. When he is not executing duties as a senior executive in an MNC, he keeps an eye out for intriguing historical trivia and unearths forgotten stories. This also makes him an avid quizzer.