Bonfire, fairy lights, a nippy weather and good music, the Calcutta Cricket and Football Club partied hard during Black Dog presents The Telegraph CC&FC X-Mas Eve, on December 24. Members and their guests gathered at the CC&FC lawns to usher in Christmas with Bolly and English tunes, tasty food and an array of drinks to sip on. On charge of the music was vocalist Shayne Hyrapiet and DJ Zoab who took turns in amping up the crowd who were dressed in festive and smart casual outfits. What's more? The club had an array of food stalls, which served up multi-cuisine dishes from F&B brands, such as Arsalan, Don Giovanni's and Mamasan. For decor, there was a giant balloon that lit up the lawns and lines of fairy lights were hung across with the t2 logo placed in each corner. Snapshots.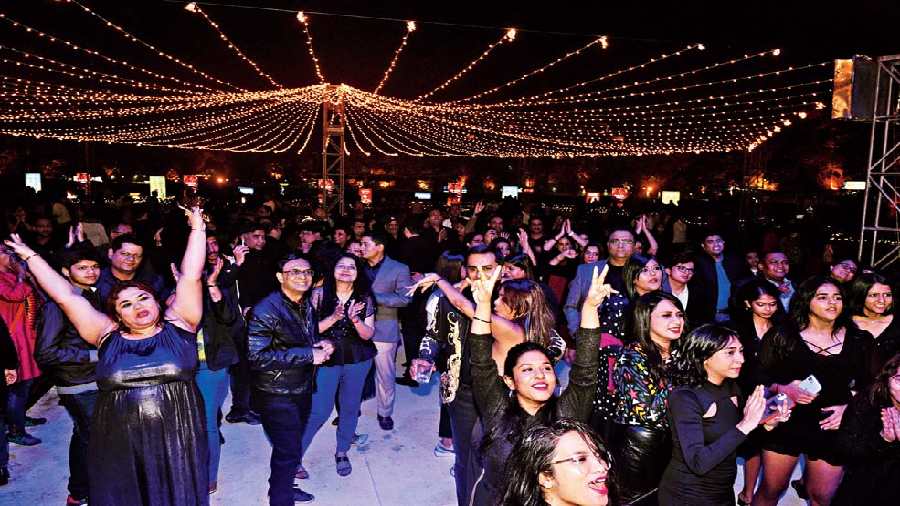 music
Revellers at CC&FC sure know how to party. The moment the clock struck midnight for Christmas everyone gathered on the stage to wish and dance along.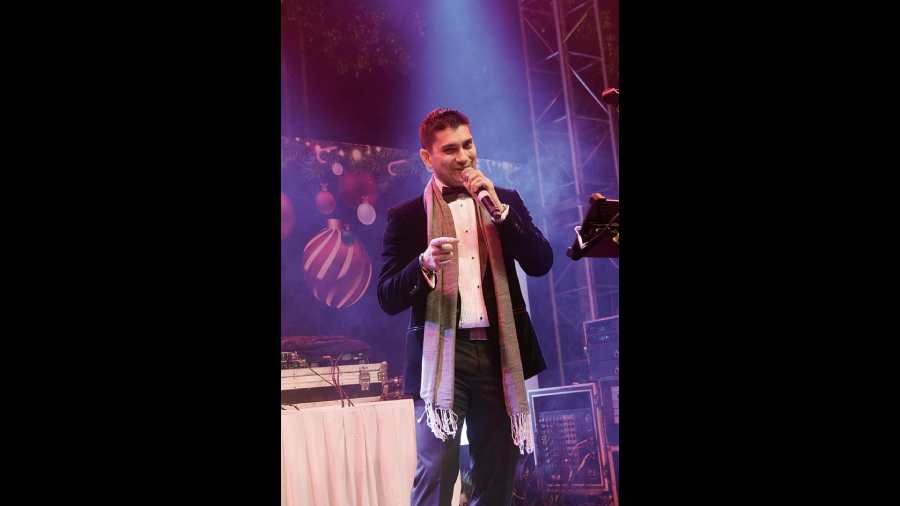 Shayne Hyrapiet was the rockstar of the night. From singing some Elvis, Grease and Abba song, he also dived into Bollywoood to give everyone a good time. The song he sung when the clock struck midnight? Feliz Navidad.  "Christmas Eve at CC&FC was by far the best event for me this season. With an eclectic audience, delicious cuisine and event management par excellence, I had a great time performing," he said.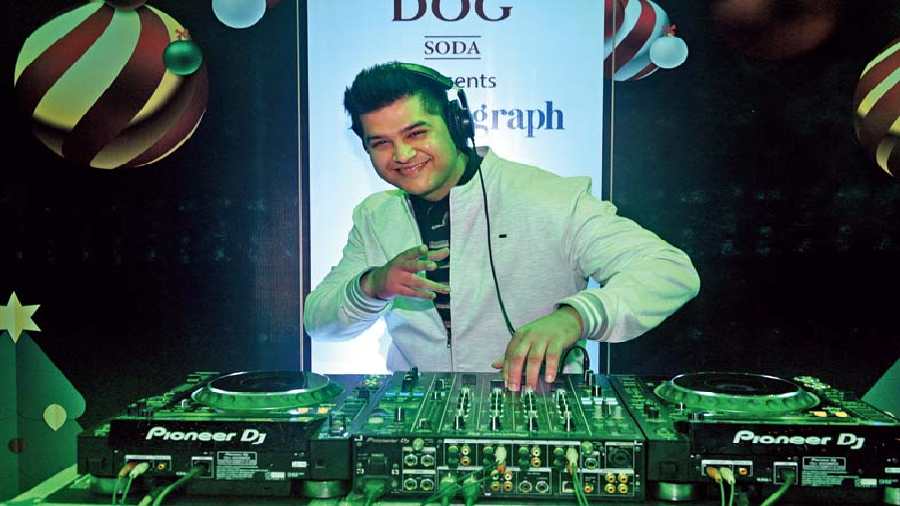 DJ Zoab, too, was a part of the line-up. He mixed Bollywood dance songs for the revellers. Some songs from his playlist included Jugnu, London thumakda and Lover. "It's been a great Christmas Eve and it's always a pleasure playing at CC&FC. After almost two years we had a great event where the crowd was superb, the dance floor was packed," he said.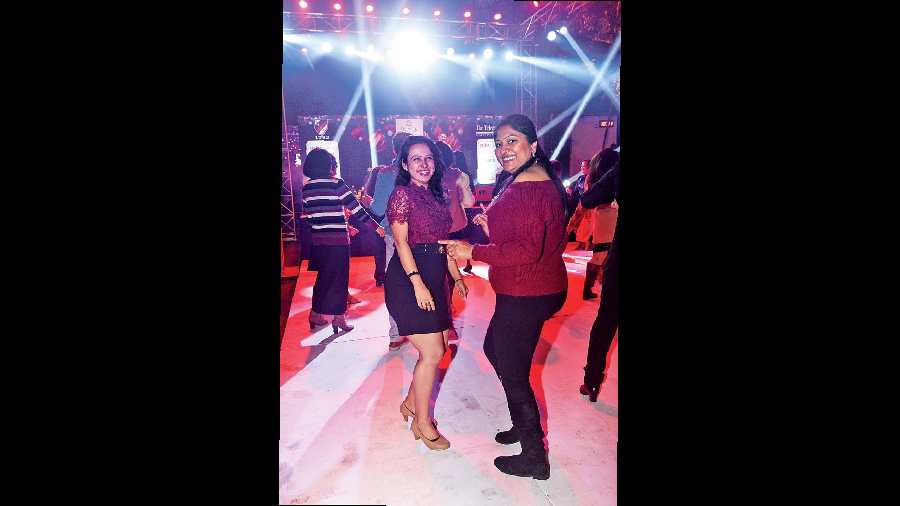 Dancing the night away with her friends was Shubhi Malik (left). "CC&FC Christmas parties have always been fun! We had an amazing time grooving to Shayne's live music performance with old friends who visit the city every year during the holiday season," said the culture attachee of Alliance Francaise du Bengale.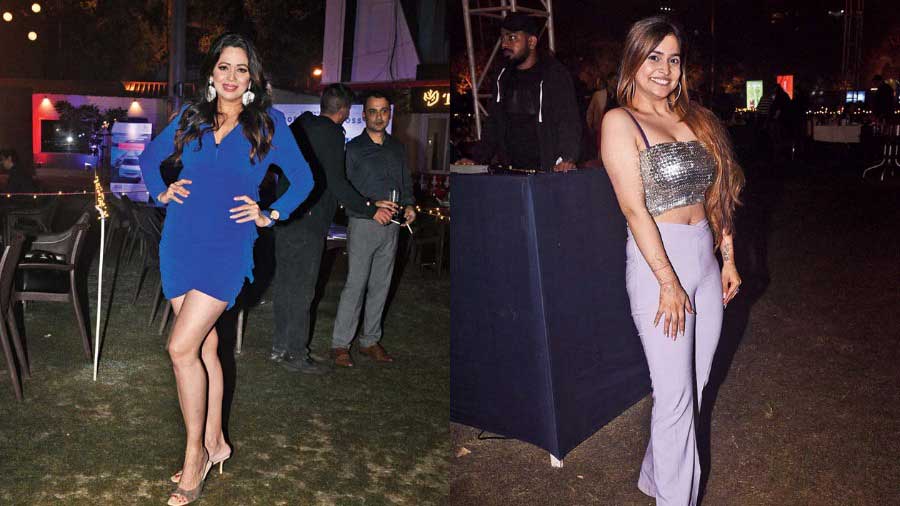 style pick
Nicola Gomes looked stunning in her blue dress and beige heels. " CC&FC is like home to me, the members are so warm and welcoming. They always greet you with a big, warm smile! Everything was so good out here, everybody was so well-dressed and the food too was good. The vibe was positive and merry, and it was a great way to usher in Christmas," she said.
Sadaf Hossain had chosen from the sparkly side of her closet to party into Christmas. Her blingy top was paired with a neutral-coloured set of pants showing us that she definitely knew how to balance her outfit.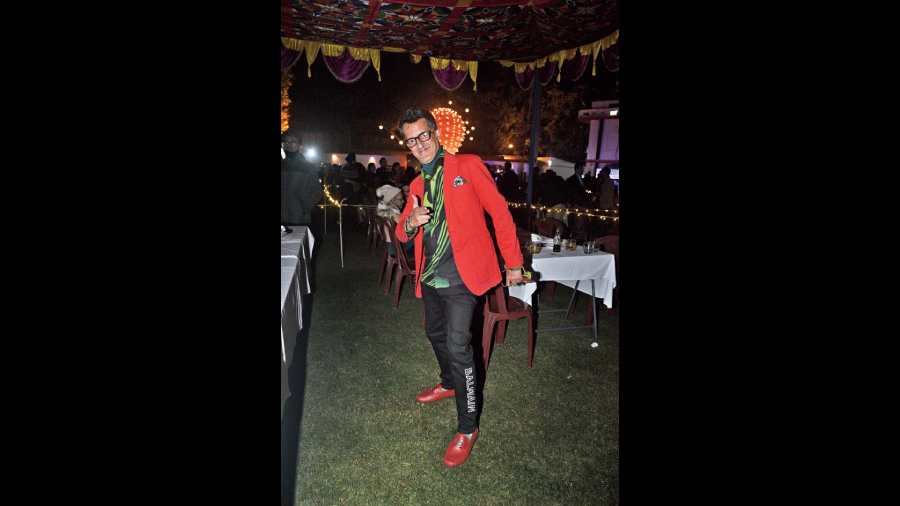 Can someone call the Grinch?! Because Gautam Bhimani has stolen Christmas this year. "I had picked up some stuff from Dubai keeping Christmas eve in mind. Red Balmain shoes and a Christmassy-green Hugo Boss shirt with a touch of green with my Uniqlo cotton skivvy. The final touch was a bright-red blazer from my old favourites, the Indo-French duo Laconaet Hemant. Just to offset the Christmas colours I had my black Balmain jeans. I had a reverse colour scheme next day for the Christmas lunch at CC&FC as well," said the sports commentator.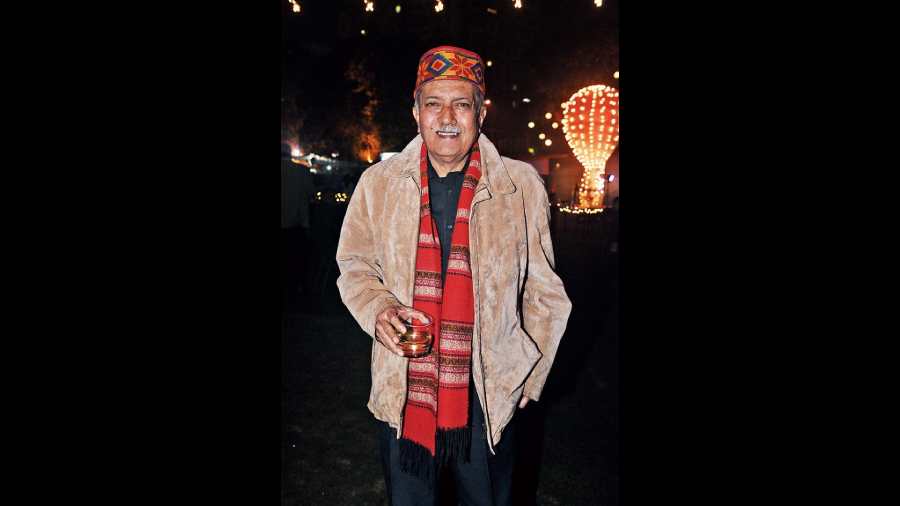 club speak
"The club is looking magical. We are happy that so many members and guests have chosen to ring in Christmas with us at the club. The world has been bruised in the last couple of years... let us begin with renewed hope and good cheer. It is great to see people looking happy and enjoying themselves," said Deepankar Nandi, President, CC&FC.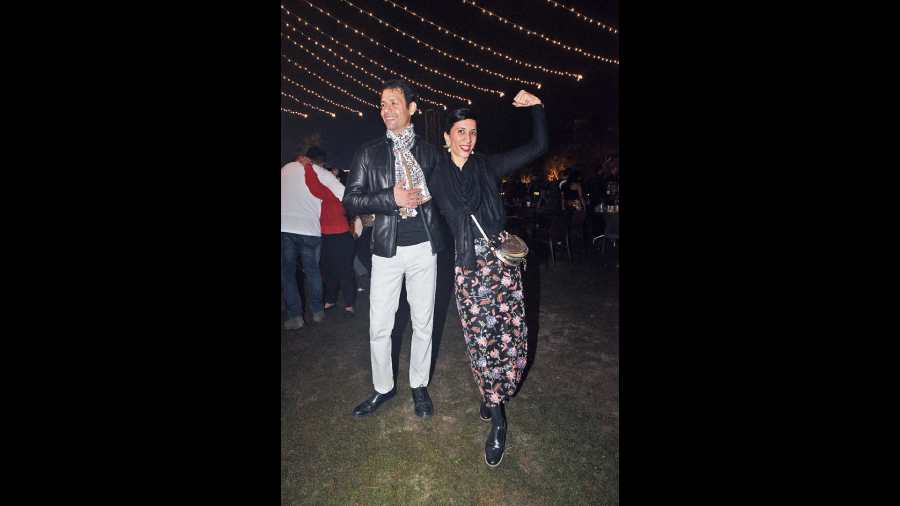 Sanaya Mehta Vyas, the event convener, was in a fun mood with husband Sandip Vyas.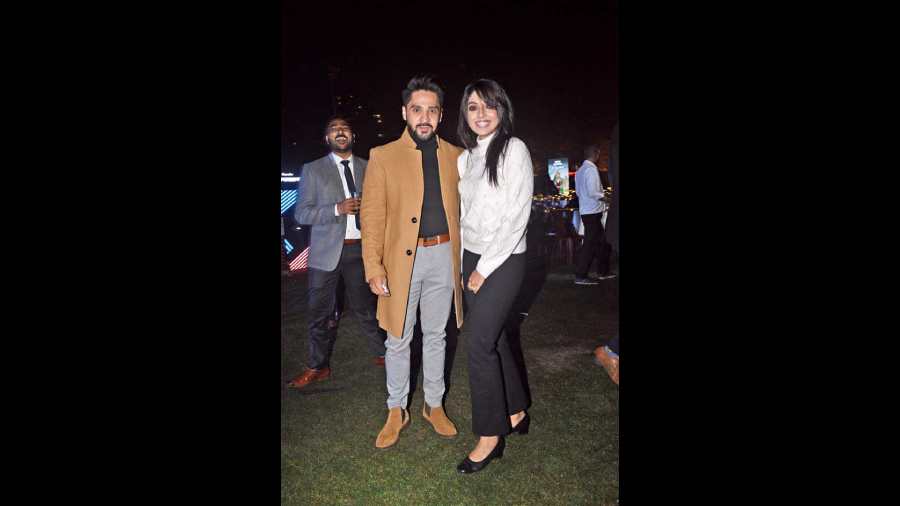 coupled
Newly-weds Gourab Chatterjee and Devlina Kumar dressed up in a long beige coat and a cute white sweater.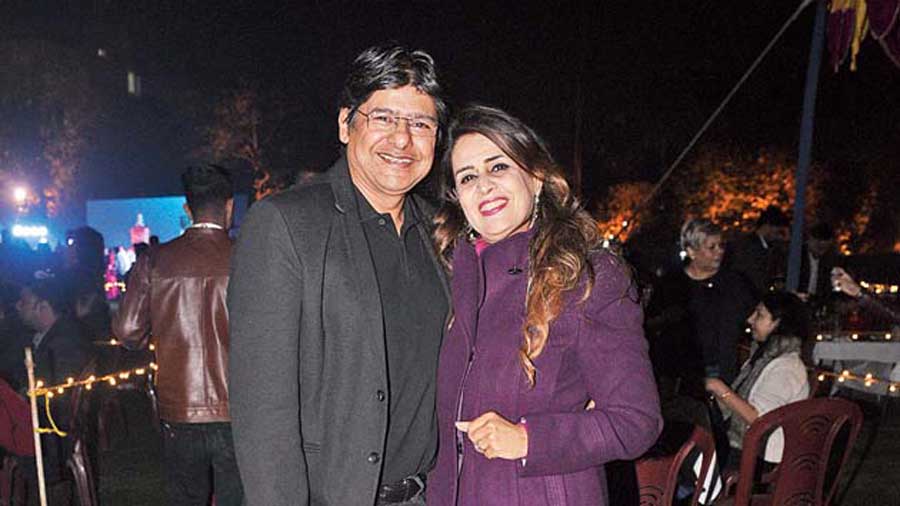 Chandan Bhambani and Lavina sure found their way to the dance floor as the night progressed. "The ambience and food is just spectacular! Chilly weather, surrounded by warm friends and familiar faces... there is no better way to celebrate Christmas," said Chandan.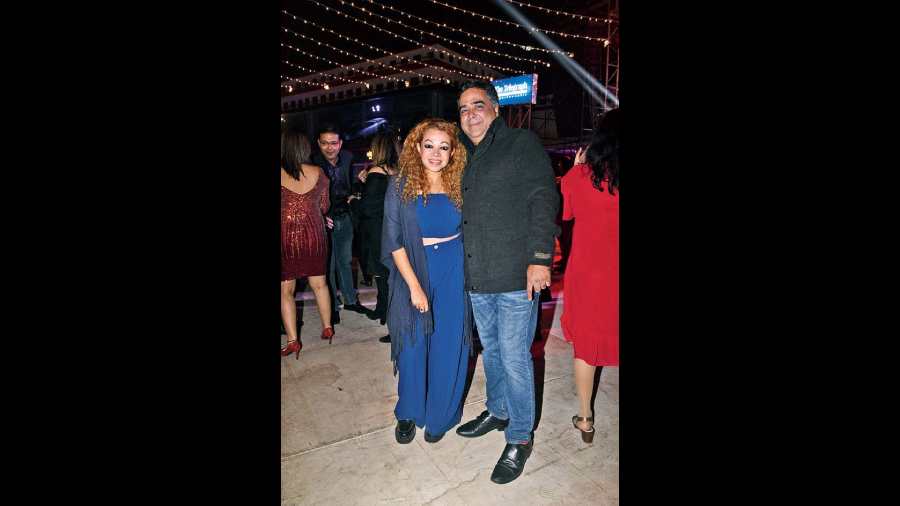 Hiyatullah Khan and Sadia soaked in the Christmas cheer. "I had a wonderful time at CC&FC, with lots of friends around, combined with great live music and a bonfire. Definitely a night to remember and let's not forget the delicious kebabs," said Hiyatullah.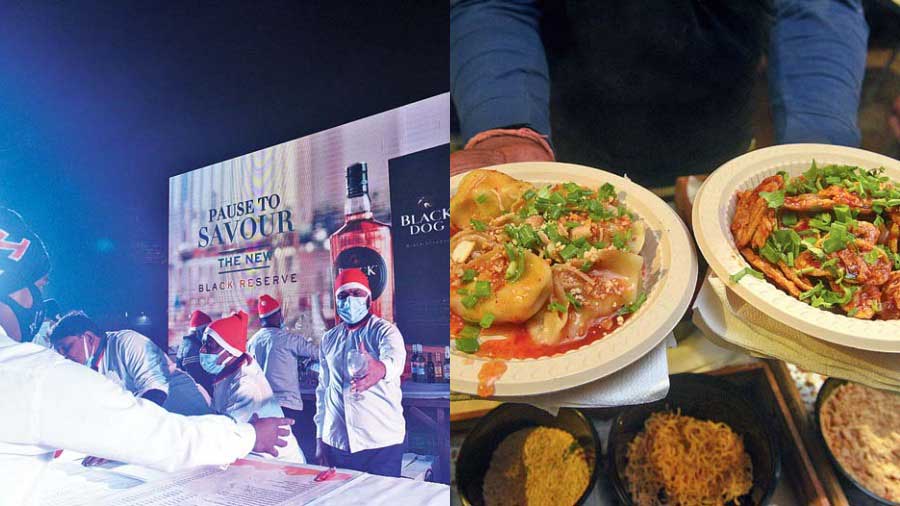 sip & bite
All the fun and dancing sure got the revellers tired. To refuel, they munched on dishes like Korean Chili Dumpling, biryani, rolls and more from stalls like Arsalan, Don Giovanni's and Mamasan.
Pictures: Rashbehari Das