I got my copy of Harry Potter and the Philosopher's Stone when I was 11 years old. I went to Hogwarts with Harry, and by the time we were in our third year – while he was busy fighting off dementors and I, bullies – my wardrobe had black robes, quills made out of peacock feathers ripped from hand fans from Agra, glass jars with various 'potions', a chunk of amber beeswax stolen from my mother's batik kit that was my Philosopher's Stone, galleons and sickles fashioned out of chocolate foils, and, my prized possession — a wand. My father shaped the 'wand' out of a wooden stick that held an old Sikkimese thangka in place. You can do the math to figure out which grade I was in at muggle school, but the teachers still remember me as the kid who sketched a scar on his forehead and narrated the books during elocution class to an audience of young boys who listened in rapt attention. When I wrote the Lord Voldemort-Tom Marvolo Riddle anagram from Chamber of Secrets on the chalkboard, everybody broke into thunderous applause.
Then, in 2001, the first film released. My father's rapport with the Warner Bros advertising team meant that I was the only kid in school to have the film's poster taped to my bedroom wall, even before it came to the theatres. I cannot express the heart-bursting happiness little me had felt that day. Dad took me to watch the film at New Empire. It's been 22 years since that day, and every New Year's Day, I watch all eight films back-to-back — to remind myself that the world is a good place, with good people, always coming together to dispel darkness.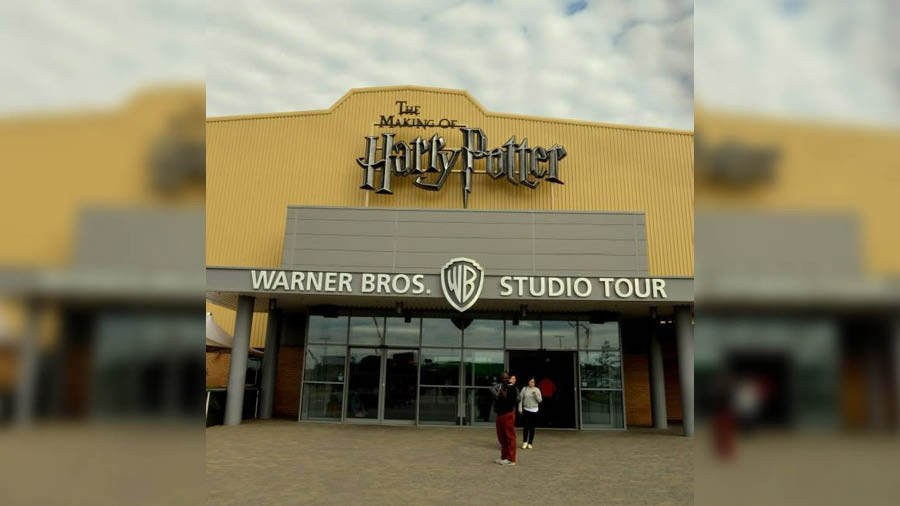 The entrance to the studio tour
Rumela Basu
Going to Hogwarts
In 2019, my folks and I put together a 25-day UK itinerary. One of the days, my parents headed off to Wimbledon, and I took the Warner Bros bus from London King's Cross, all by myself, to the Warner Bros studio tour of the Harry Potter filming sets and studios at Leavesden, Hertfordshire. The bus windows were screens, playing one of the films, cutting off all visuals of the boring, real world. Around me were fellow wizards and witches from the OG generation — many of them now parents, who had got their kids along — waiting to experience the magic from our childhoods. Others had come with their parents, who had seen them (us) get obsessed with this global phenomenon, often with cynicism and despair. I had brought my self from 20 years back, and that young kid was wriggling with excitement and anticipation.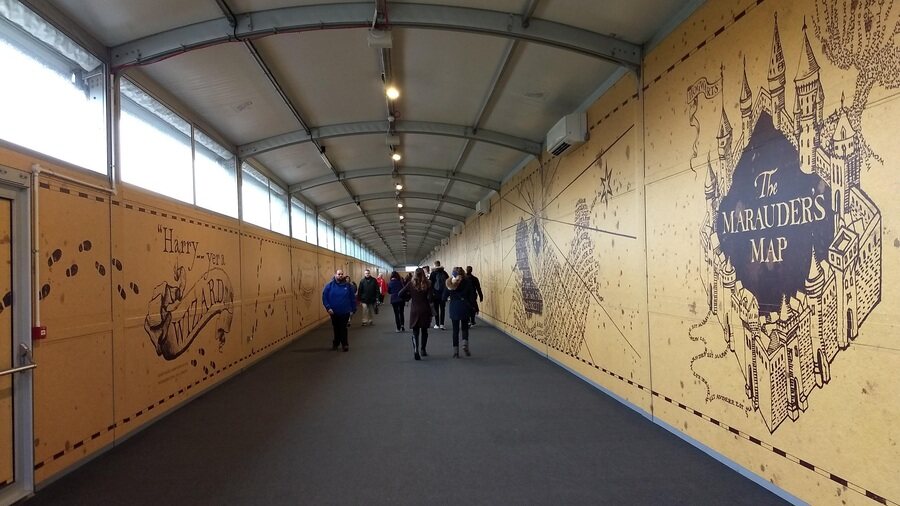 The entrance has the Marauder's Map on the walls
Arnesh Ghose
The entrance to the 'Warner Bros Studio Tour London – The Making of Harry Potter' experience is through a corridor lined with a giant Marauder's Map. If you don't know what it is, that is because centuries of wizards have tried to keep such important magical artefacts from being written about in muggle publications — yes, exactly like this one.
Anyway, you match footsteps with the footprints of Padfoot and Prongs and arrive at the reception area where J.K. Rowling and the cast glide onto screens encased in gilded frames to welcome you. I will never forget what Rowling signs off with in her video: "I am grateful to you. We exist because you believe in magic!" I choked up and tried to wipe my eyes, only to see a couple next to me do the same.
It's magic!
We walked into an auditorium, which ran a quick intro film, and then the doors of the Great Hall appeared on screen. The emcee asked us to get up and come forward and the lights went out. After about 10 seconds of complete darkness, goosebump-inducing, dreamy green-mauve-cerulean lights revealed the actual doors of the Great Hall in front of us. Pure magic!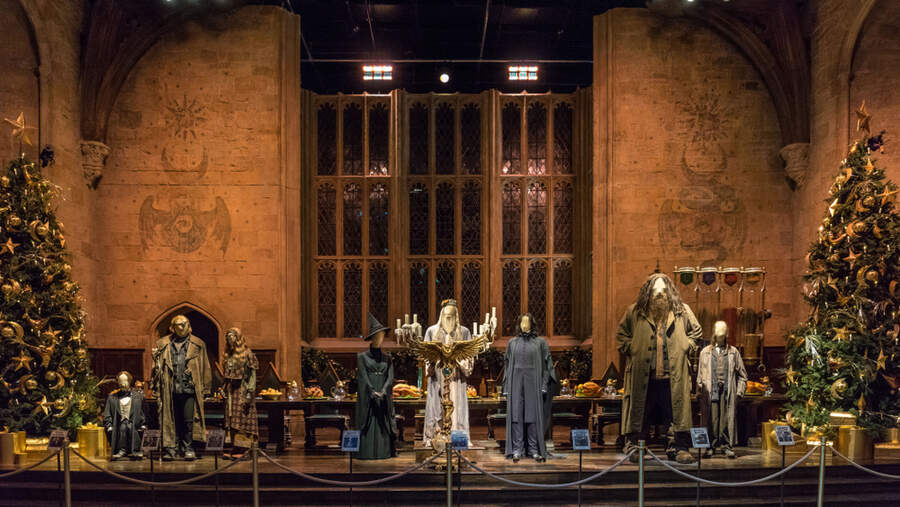 The costumes of Hogwarts professors on display in the Great Hall
Shutterstock
Children around me squealed and rushed forth. I wish I had their innocence, and didn't know exactly how that effect had been achieved in the films. The emcee asked if it was anyone's birthday and the eight-year-old who raised her hand was given the honour of pushing the doors open — a studio tradition. Wherever that girl is, she should know, I am passionately jealous of her to this day. To walk into the set of Hogwarts' Great Hall is an experience I cannot capture in words — tables laid out according to the houses (I went and paid respects to House Slytherin), candles hanging in the air against a gigantic digital screen mimicking a cloudy sky, mannequins of the characters wearing the costumes from the movie, dining set-ups, the sorting hat, and thematic music, and so much more.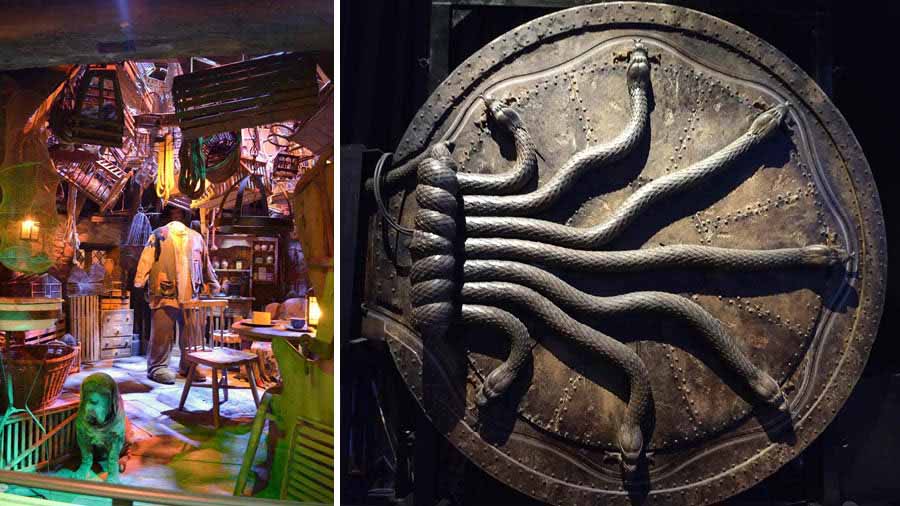 The set of Hagrid's hut, and (right) the entrance to the Chamber of Secrets
Rumela Basu; Arnesh Ghose
The tour is self-guided, and from the hall, you make your way to gallery after gallery packed with props and pieces and even full sets from the films. You can walk through the Potions classroom, take a peek inside the Gryffindor common room, the Burrow or Hagrid's hut and even witness how the entrance to the Chamber of Secrets works — a magical work of movie-making robotry. All around are familiar objects from the movies from the Triwizard Cup to dragon eggs, Dumbledore's elevator to time turners, snitches and Deluminators, all the Horcruxes. Then there are those pieces that bring the magic alive on screen such as animatronic figures of owls, dementors, and Voldemort. There is so much to take in that hours could fly by in a snap. A uniquely surreal experience is walking into the room that houses the miniature of the Hogwarts castle, grounds and forests et al. You walk around the miniature on an elevated platform, watching the palace of your childhood dreams forever frozen in time, like in a snow globe.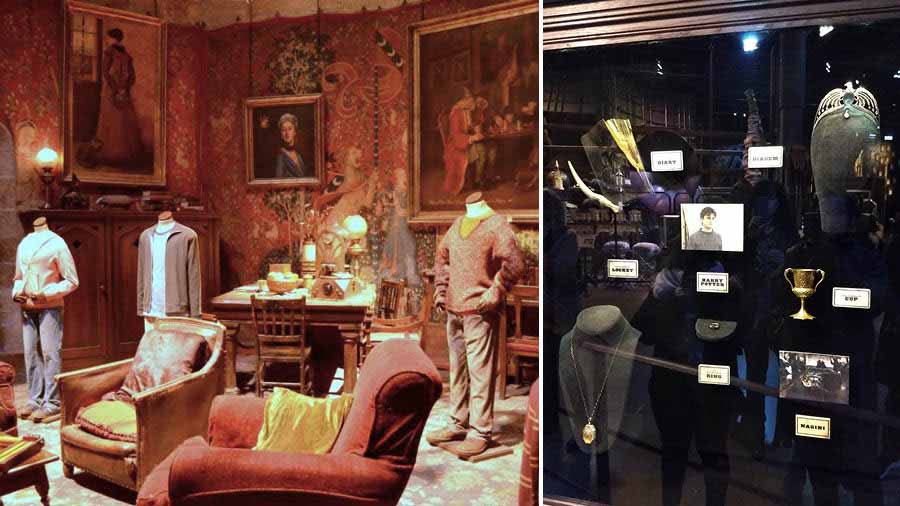 The Gryffindor common room set and (right) the horcruxes
Rumela Basu; Arnesh Ghose
The power of imagination
Kids, of varying ages, were running around, enjoying interactive pieces of the studios. At the Potions classroom set, a tiny, bespectacled Indian boy came and stood next to me. He must have been 11. He looked up at me, I stared down at him, gauntly, and raised my hand over the motion sensor pad in front of me, and twirled my fingers. The ladles on the pots in front of us began stirring. His jaw dropped and a smile broke out. I watched him run off and excitedly tell a friend about what had just happened.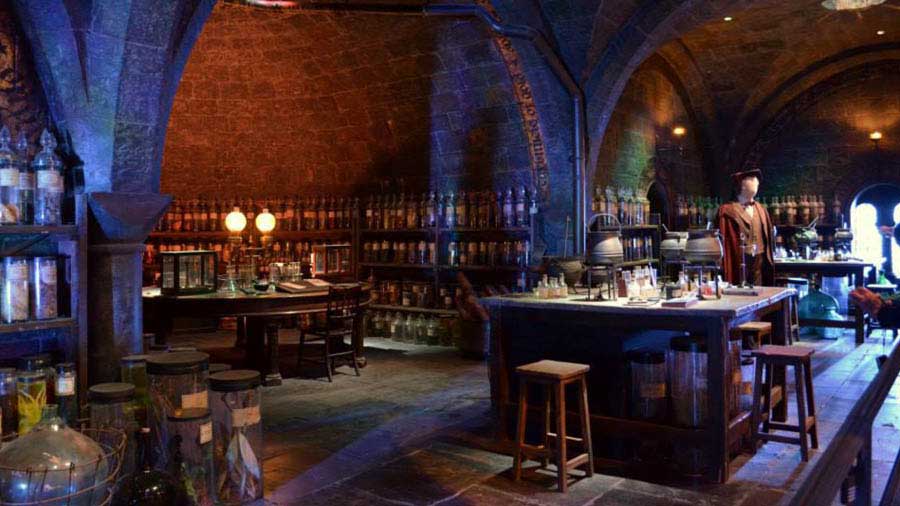 The set of the Hogwarts Potions classroom in the studio
Rumela Basu
Walking through Diagon Alley, the expansive Platform Nine and Three-Quarters, and the Quidditch sets, where you can put on team outfits and sit on moving brooms in front of green screens to experience 'flying' and later buy those videos of yourself, I felt the perils of age. Age is what kills the imagination. When I walked into the room filled with robots and models of the Wizarding World's magical creatures, Hedwig, and a shrivelled-up post-battle Voldy, it was like being at a magician's staging area with all the secrets heartbreakingly revealed. There is so much joy in childlike ignorance — to believe in magic and not man-made mechanics, to absorb wonderful pieces of fiction and storytelling without dissecting it, criticising it, checking it for details and continuity errors. That day I felt my heart bloom and crunch in equal measure.
Muggles and wizards
Mid-tour, you can take a break at the enormous cafeteria and the outdoor section, which houses the Knight Bus beside a set of 4, Privet Drive and chess pieces from book one. I chugged four steins of Butterbeer, and carefully rinsed and carried the mugs back home (you pay an extra pound per mug). I also had a bunch of Chocolate Frogs and a bag of Bertie Bott's Every Flavour Beans. No, I didn't get the earwax flavoured one.
Of course, there is a merchandise store which is more like a supermarket, but that is for Muggles. Us wizards, especially the ones from the OG generation, had our dads carve out our wands like Ollivander would. We didn't buy battery-operated snitches, oh no sir, we painted ping-pong balls with gold acrylic and pasted paper wings on them. We read the books first, and imagined the Wizarding World in our heads. We were a part of that world because we chose to believe in it, and not because we had a bunch of merch bought from a store.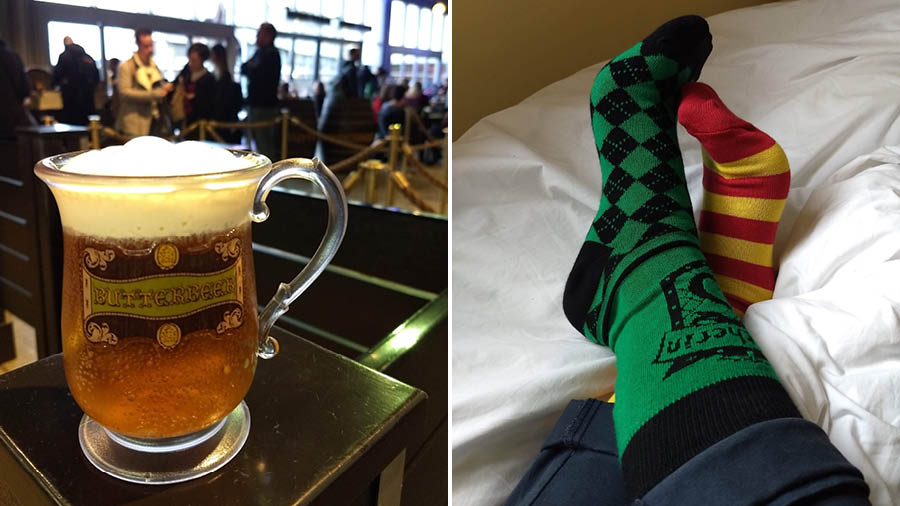 A short stop for Butterbeer at the cafeteria, and mismatched socks for the day
Arnesh Ghose
As we boarded our assigned buses at the end of day, I turned back to take it all in one last time. I saw little me standing at the entrance, waving back. I smiled. I had finally dropped him off at school. He better do well at Transfiguration and Charms. Kid has gotta grow up and be an auror like Harry.
(Standard tour tickets begin from 51.5GBP. All details here: www.wbstudiotour.co.uk)
Arnesh Ghose is a restaurant marketer, brand consultant, and screenwriter based out of Mumbai. A former food-fashion-film journalist, he likes his wines red, coffees black, retrievers golden, and his biryani with alu.