Hailing from a family of musicians, it only made sense that Unmesh Banerjee would put out a complex album and present it in a simple manner. The Journey, comprises five songs, each with their own count of taals starting from 11 all the way down to seven. Being a tabla solo album, Unmesh has also featured sarangi maestro, Farooque Latif Khan, on one of the tracks to lend the album some soul.
A chat with the artiste.

When you called the album The Journey, is it your journey or that of something else?
It is my journey, in a certain way... I have always believed that the journey is more important than the destination. For example, if I am leading up to a particular event and do well, and after the event there has been a drop in the excitement, the achievement of that event has been quite pointless. It is the journey that has always excited me. I notice that as a characteristic in myself.

The five-track album has numbers in the beginning of each name, from 11 to 7. Why is that?
It is a tabla solo and when we put very technical names for the tracks I feel that those who are not initiated in classical music kind of get intimidated. Whereas, even though I think classical music is a niche form where you need to develop the taste, someone who's on their journey of relishing it doesn't really have to know too much about the technical details. Suppose you try sushi the first time, you don't really know which form of seaweed has been used or how the fish has been prepared. You develop a taste and then, if you like it, you will find out about the technical details. So, I did not want to overwhelm listeners and yet I slipped in the taal numbers in it. So 11, 10, 9, 8, 7 are the taals I have played but I haven't (for example) called my song Chaar taal ki sawari (11 taals). I called it the 11th Hour which suggests the time right before a climax when you have to stay cool.

You said new-age listeners would also enjoy the album. What is it about the sound that is "complex" yet "smooth"?
Right from the naming, although I did not want to impose on my listeners with the technicalities, the album is heavily technical. Because a lot of my research and inspiration have been implemented and a lot of original pieces have been made. Yet, I have tried to present it smoothly, so that if someone can't count they can enjoy it. The taste for the art needs to be there.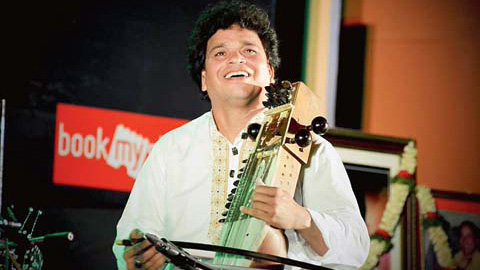 Sarangi player Farooque Latif Khan is featured on Umesh's album.
Farooque Latif Khan is also featured in the album, how did he get involved?
He is a fabulous sarangi player and quite well-known. He stays in Mumbai and I wanted sarangi as part of my album as it adds soul. It's the closest sound to the voice. And since the album is a rhythmic instrument solo album (the tabla) it needed that extra push of the soul. This is the first time that we have played together.

You said you included a track which brings out the mridangam-style of playing. What other styles can be identified?
Four of the tracks cover North India Hindustani repertoire and the fourth track, 8am Chennai Express, is a Carnatic track because I have learnt Carnatic. I don't play the mridangam as much but I try to apply it in my tabla repertoire, or when I play other instruments too. Carnatic is a genre of rhythmic ideas so to speak and can be applied. I can play Carnatic stuff on a desk also.