He has painted his entire car with dialogues from my films.. and his shirt has all the names of my films… when you open the door to the car the sound system starts playing my dialogues.. This is simply quite amazing.. he has just bought this car the THAR and has not driven until I signed an autograph on the dash board.. I did — @amitabhbachchan (Amitabh Bachchan on Instagram)
This post from the 79-year-old superstar has so far gathered more than 5.5 lakh likes on Instagram, and counting. Anurag Chirimar from Calcutta, a diehard Bachchan fan for decades now, designed his newly bought Mahindra Thar SUV over a period of a few months, and turned it into an ode to the actor, complete with sketches and dialogues from Bachchan's films, before gaining an audience with the man in Mumbai recently. Chirimar, director at Siti Cable, Tutopia learning app and Editfx Studios, shared his experience with t2.
When I booked my Mahindra Thar at the showroom, at that moment itself I had decided I would do something with it that would be a tribute to
Mr (Amitabh) Bachchan. I decided to go all crazy with it, and my wish was that I would sit in the car only after Sir (Bachchan) had sat in it. So I sat with a few people and designed the concept. We decided to have dialogues from Mr Bachchan's films all over the car and when the doors opened, the dialogues in his baritone would play out. It took me about three months to execute the whole thing. A friend based in Bangalore designed it and another from Calcutta executed it.
After it was ready, it took me around two months to get
Mr Bachchan's time. My driver took the car to Mumbai and I flew there. I met Mr Bachchan with the car on the sets of Kaun Banega Crorepati. After the episode, I told him that I wanted to show him something outside... he had no idea what it was. When he saw the car, he was overjoyed. He walked around, read each and every dialogue and he really liked the idea that when the doors opened, the dialogues played out.
That day, I wore a kurta that had the names of all his films on it. He sat inside the car and signed on the dashboard. He was there for quite sometime and he was very childlike in his excitement as he discovered the various things we had done. He liked the fact that the front portion of the car had the words 'City of Jai' written on it, after his character in Sholay. After meeting him, I went with the car to his homes Prateeksha and Jalsa and clicked pictures in front of them.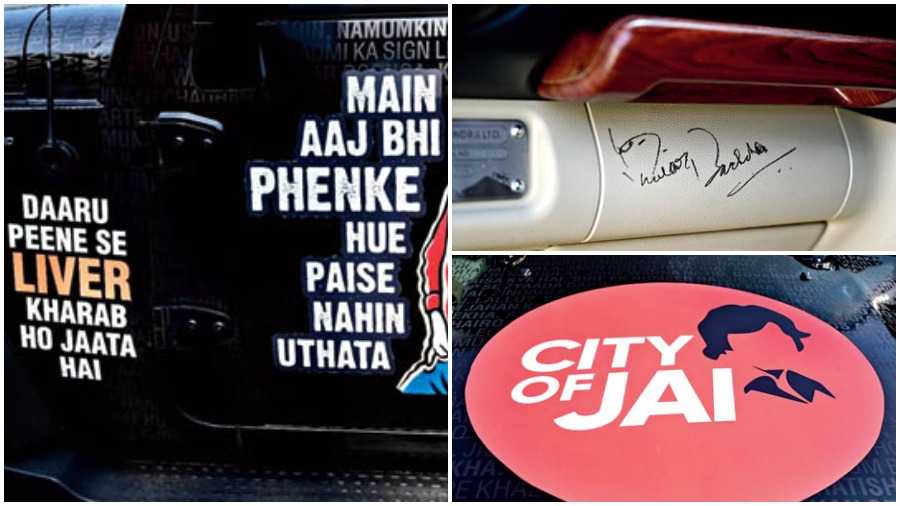 The car has sketches of various characters played by him. At the back of the car, we have his line from Kaalia, "Hum jahan khade hote hain line wahin se shuru hoti hain." Dialogues like "Don ko padakna mushkil hi nahin, namumkin hain" and "Vijay Dinanath Chauhan" play in the car. It also has instrumental music of his songs playing. I have some T-shirts and scarves signed by Mr Bachchan, which I plan to keep in the car. I want everyone to feel that Amitabh Bachchan is in the car.
I flew back the same night, and when I was at the airport, Dev, the actor, told me that Mr Bachchan had shared pictures of me and the car on Instagram. I was quite surprised, and then I got a link that he had also written about me on his blog. And then, Anand Mahindra (chairman of Mahindra Group) also tweeted about it. It was like a dream for me. For now, the car is parked in the garage of my Jadavpur home. I plan to take it out on special days.
Even in the past, I have done similar things. Once, I took a phuchkawaala to him in Lucknow after he had mentioned on a radio show that he misses having the Calcutta phuchka, something that he would have in front of Victoria Memorial when he was working in the city so many decades ago. He also mentioned how that particular phuchkawaala was very kind to him and would always give him extra phuchkas. When I took a phuchkawaala to Lucknow for Mr Bachchan, he became very emotional.
I have always been an Amitabh Bachchan fan. My earliest memories are of watching his films in a single-screen theatre and throwing coins at the screen when he made his entry. When I grew up, I became a fan of the man and personality that he is, and the way he has handled both success and failure. His charisma, his humility, the way he talks to everyone and how he still continues to be so active.