The cold earth rises, dips sharply and rises again, across miles of geography playing rough and tumble. But for Tsering, the high mountain desert of Ladakh is sustenance, even a source of warmth. It is as though her entire existence has been wrought in the embrace of a mother's bosom, embedding in the furrows of her brow wisdom, strength and humility.
A shepherdess of the high Himalayas, Tsering has in her care about 300 sheep and pashmina goats, creatures of god blessed with the ability to produce ultra fine cashmere off their bellies. Her home is in Gya village, about 70 kilometres from Leh, but she lives there for barely a month a year. The permanent address of the 55-year-old instead is her journey — ploughing through inhospitable and uninhabited terrain at altitudes of 5,000-6,000 metres — so that her "children" are able to eat the grass they are wont to.
Land of the broken moon — is how Ladakh is often imagined. Fantasy notwithstanding, it implies the challenges that spell life up there. "The coldest is about –32 degrees Celsius. The air is thin; has very little oxygen," says Stanzin Dorjai Gya, whose documentary on Tsering, The Shepherdess of the Glaciers, enlightened a small audience in Calcutta's Jadavpur University recently. "She is my sister; I spent the first 13 years of my life with her," says Dorjai, in charming, broken English. "The ridges and glaciers were my classrooms; eagles and foxes my friends. And at times snow leopards too," he chuckles. After attending a local school for a few years, the shepherd boy was sent to one in Leh. His filmmaking instincts were ignited at Students' Educational and Cultural Movement of Ladakh or Secmol, the alternative school envisioned and founded by the famous Sonam Wangchuk.
Dorjai's film begins with Tsering's reluctance to be filmed. "Why are you taking my photo?" read the English subtitles. "Is it to show the animals to those who haven't seen them?" She is herding her boisterous wards, whistling and cajoling them, exhorting them to eat the meagre vegetation before winter falls and when there will be none. "What purpose would it serve you?" she turns to ask Dorjai, "I have nothing apart from my stick and this basket on my back."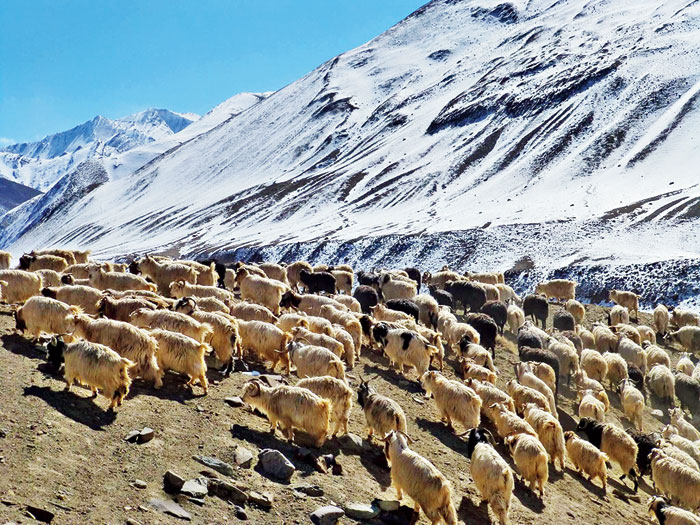 Tsering's flock of 300 sheep and goats
Stanzin Dorjai Gya
It took Dorjai three years to put together the documentary, following her around in the Gya-Miru valley with 30kg equipment, including heavy batteries that had to be strapped to his body even at night to be kept warm. "My producer suggested helicopter shots, but I wanted to shoot it entirely as I saw with my eyes," says he. The film is not so much about the haunting scape as much as about Tsering's arduous trek through it. It is also not about the snow leopard or eagle that attack the sheep as about how she handles these emergencies. "Footage of the exotic would have taken away from what I wanted to show — the incredible woman that she is," he says. "It's about her beautiful heart, not beautiful Nature."
Tsering was about 10 when she began to follow her herdsman father, climbing, protecting, delivering kids, worrying and surviving — lessons that would eventually shape her spiritual relationship with nature. "He had a head of steel," she says, recalling her father's words. "Only you can convince yourself that you can do it," he had told her. After he died, it was up to her to take charge of the herd. She was 27 then.
Grazing in Ladakh has its own conventions, laid down and perfected by the ancestors over 600-700 years. There's a zone each for winter, summer and autumn, each zone several days' walk from the village. Tsering sets up a home out there, with the help of men from the village. A hole is dug in the earth over which a rug is thrown, and arranged on that are a few precious belongings including a stove and a radio. And then a tent for cover.
Tsering retires to this 8ftx8ft nest every night, after shepherding her flock all day, sometimes covering 30km. The animals stay the night in their pen, a makeshift enclosure formed by erecting walls of stacked stones. "You have all become so fat after eating the juicy grass today," Tsering coos to them one night. "With bellies like that, I will need to build a bigger pen!"
In winter, the snow is often waist-deep, and treacherous. Tsering uses her sturdy stick to prod her way through. "There is always the fear of fall," she says in one scene. "But it is up to you to decide what your situation will be… If you decide there will be no fear, then there will be no fear." Her will to keep strong and healthy, however, isn't for self-preservation — "If I'm taken ill, who will look after my animals?" Elsewhere she says, "Looking after them is my religion."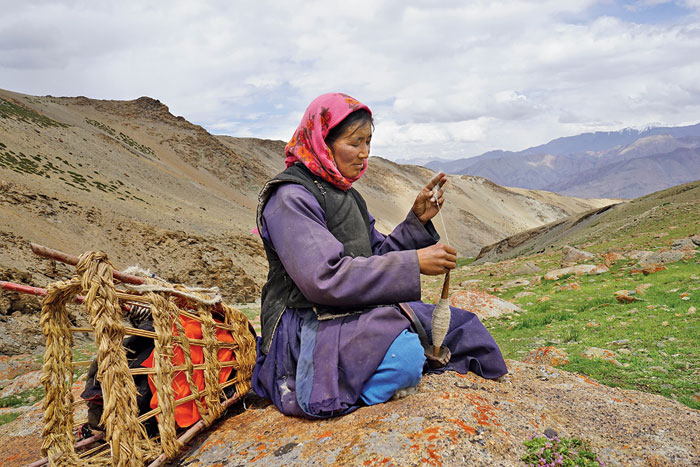 A pensive moment mending her basket
Stanzin Dorjai Gya
Loneliness, if ever it peeps through, is dispelled by the radio. In fact, Tsering has learnt words of English, Urdu and Hindi from the channels it tunes into under the starlit sky. "The radio is my best friend, my father, mother, everything…," she smiles, sipping from a steaming mug and listening to a Bollywood song. "I get to know what is happening around the world, and also useful information regarding the well-being of my animals."
The radio serves another purpose — of keeping predators away. Once when a snow leopard had entered her tent, she turned on the volume, raised a ruckus and chased it away. "My tent isn't big enough for two," she jokes. The threat to her sheep and goats is constant.
February is the month when the animals reproduce. Tsering, the midwife, then helps the pregnant goat deliver, cleans the newborn with cloth from her person, and carries it in her basket. In no time she is back to herding, singing about the snow and the moon. Once there were 13 births on a single day, says Dorjai. That day Tsering worked from dawn till midnight, without eating a morsel.
Death too is treated well; a dead member is given a cremation and a song. Since humans are more evolved, Ladakhi shepherds believe, it is their duty to care for animals and treat them with respect. Fact is, the elderly of the village weep — because they aren't able to be of service to their gods anymore.
It's the shepherds' wisdom that extracts the finest from the harshest. "My sister is a doctor, herbalist, weather forecaster, veterinarian, botanist, Himalayan guide, economist, philosopher and goatherd all rolled into one," says Dorjai. "She knows every crevasse on the glacier, all the plants that heal, the sky, the moon, the leopard. She knows every one of her goats." Not to mention the endless songs and tales she can regale one with.
And regale she did, an audience in Paris. Upon Dorjai's repeated requests, Tsering accepted an invitation to a French film festival. At the awards ceremony, she went up on the stage and, taking the mike, said, "I do not speak French or English or Hindi… I will sing a song for you all." Her song flowed beautifully, says Dorjai, and she became a star overnight. A week later she told her brother, "My work too has a role in society; I want to go back to the mountains. Will you please take me back?"
Back to the documentary, a poignant scene. Sitting with her niece in their home in Gya, Tsering flips through the little girl's school textbook. The camera focuses on a page on diversity that features stock images of a Punjabi, a Bengali, a Maharashtrian and so on. "Are there no pictures of people like us?" Tsering asks her niece, "And the snow and rain that make our world?"
That, in sum, is the story of the pashmina shepherd of Ladakh.