It seemed like just another late February morning for Mahasweta Chakraborty, a 24-year-old pilot who has been working for the past four years with a private Indian airline. Not unlike many mornings in the past, she received a call in the early hours of the day informing her of her next assignment.
But this morning was different and so was her assignment.
"I was told to get ready, pack my bags and leave within two hours," recollects Mahasweta, a resident of Kolkata's New Town who is currently staying at her Dumdum house. "I didn't even have time to inform my parents. I had to get a move on without further ado."
On the call that was about to change her life, Mahasweta had been informed of her selection as part of Operation Ganga, an evacuation operation by the Government of India to bring back Indian citizens stranded in Ukraine following the invasion by Russia.
I had to do my duty towards my fellow brothers and sisters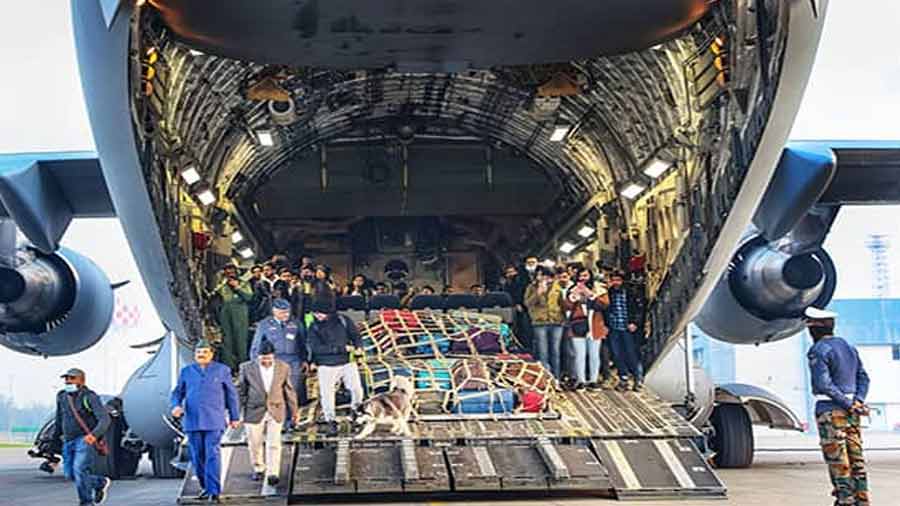 Mahasweta hardly got any rest between flights to and from Ukraine but kept going on account of adrenaline and her duty to her country
TT Archives
Over the next 10 days or so, Mahasweta brought back around 800 Indians from Ukraine in flights that would often last longer than 15 hours. "I had to do my duty towards my fellow brothers and sisters. I'm grateful that I was chosen for this mission and that I could play a small part in reuniting the real heroes – those who survived the events in Ukraine – with their family members," says Mahasweta.
Operation Ganga has shown me the things that really matter in life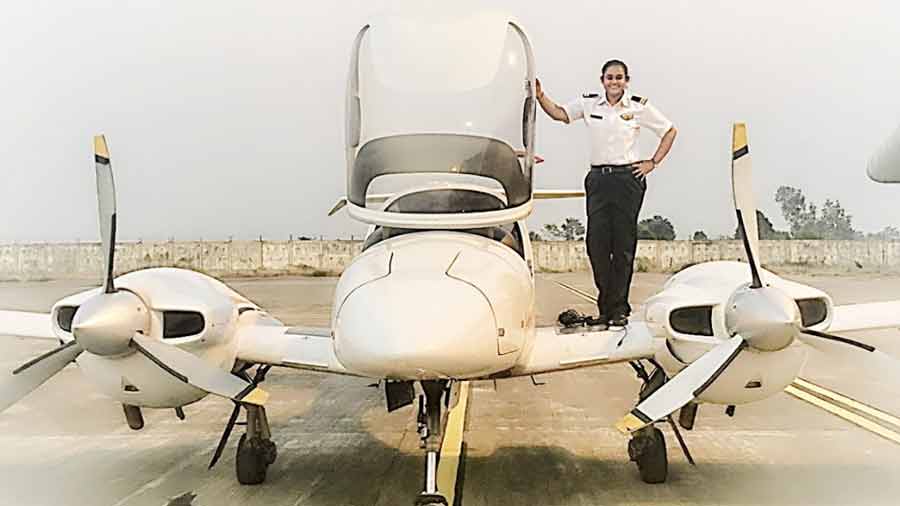 Mahasweta could not even get the time to inform her parents before leaving home for Operation Ganga
Arijit Sen
Speaking to My Kolkata, Mahasweta exudes a sense of calm and composure that belies her years. "I feel like I've matured a lot over the past few days. Operation Ganga has shown me the things that really matter in life. When you see people who've made it through after walking for miles in sub-zero temperatures without food, shelter or support, you realise how trivial most of our everyday problems are. We crib over not getting eight hours of sleep or if our neighbours are too loud. But there are bigger issues in this world."
Yes, I was scared but… remembered the words of the late Sushma Swaraj
What was Mahasweta's first reaction when she was told that she would be flying close to 4,000 miles to rescue Indians from Ukraine? Was she anxious, even scared?
"I don't think I 'rescued' anybody. I just did my job. If I hadn't, somebody else in my place would have. My first reaction after getting the call was just to leave as quickly as I could. But yes, I was scared. There was a lot of doubt and uncertainty and I had no idea when I'd be coming back."
It was a conversation with her parents after she had left home that cleared Mahasweta's head and allowed her to zero in on the task at hand. "It would've been natural for my parents to panic, to wonder why I'm going to Ukraine at a time when everyone else is wanting to come back from there. But they just told me that if something happened to me, I was sure of receiving all the assistance I needed to return. That made me feel at ease," says Mahasweta, who also remembered the words of the late Sushma Swaraj before taking flight: "Even if you're stuck on Mars, the Indian Embassy will help you."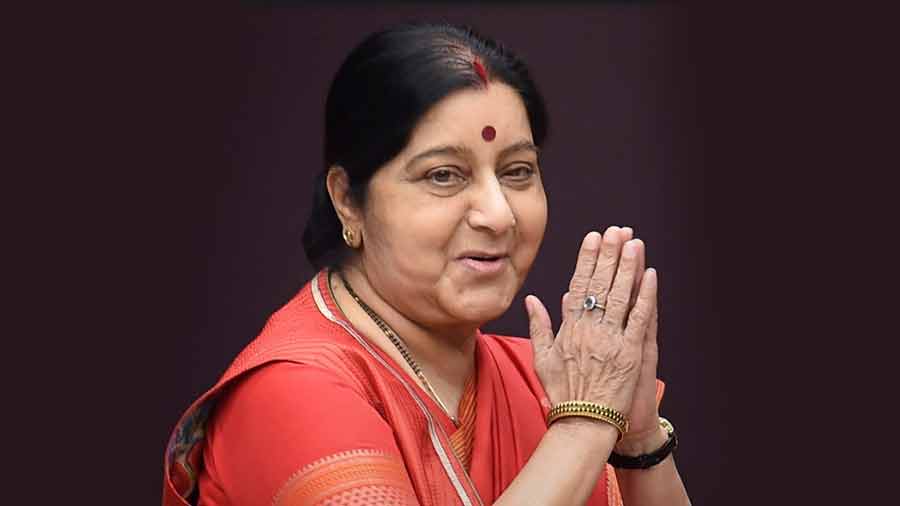 Sushma Swaraj's words echoed inside Mahasweta before she flew off to Ukraine
TT Archives
When Akshay Kumar decides to make a movie on the Ukraine crisis… !
During the journey to Ukraine and back, Mahasweta describes "going through a rollercoaster of emotions, of getting insights about life and death, about fear and relief that changed me as a person." When the Indians, mostly students, boarded the flights, "they couldn't believe that they had managed to exit a war zone. Some of them were thinking if a missile could still come and hit them. They were traumatised."
In the midst of the trauma and the tension, there was an unexpected moment of humour, too. "There were a few survivors joking around that when Akshay Kumar decides to make a movie on the Ukraine crisis and play the role of India's saviour, the film director should cast them, too, since they wouldn't have to pretend or act! I couldn't help laughing when I heard that," chuckles Mahasweta.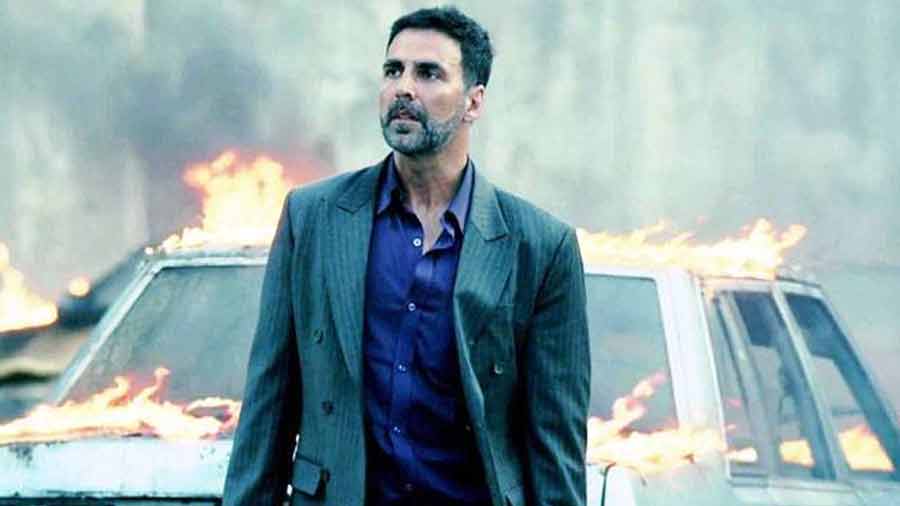 Mahasweta could not hold back her laughter after some of the Indian evacuees cracked a joke on Akshay Kumar shortly after getting on board
Airlift
I can never forget the look in her eyes
Once the first of the flights steered by Mahasweta landed on Indian soil, an Indian survivor went up to her, held her hands and thanked her for bringing her back to her family. "I can never forget the look in her eyes. That was the moment where the significance of the operation really dawned on me," says Mahasweta.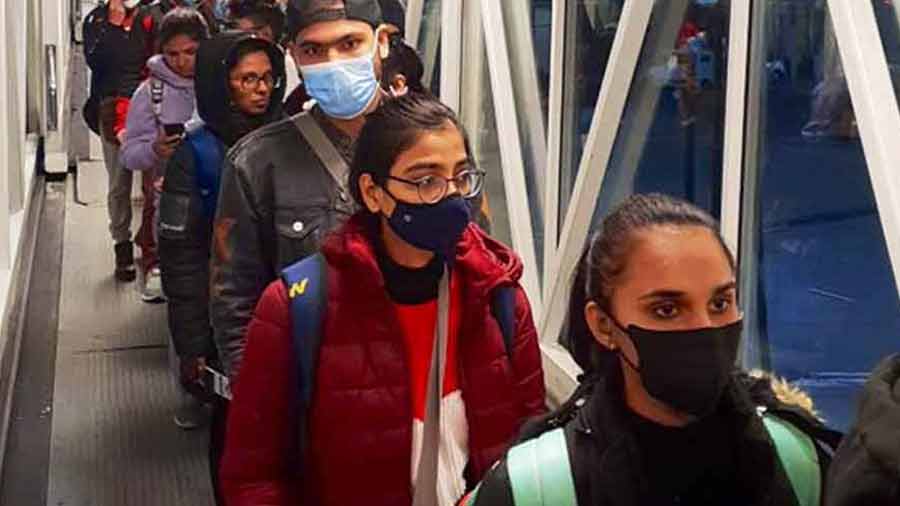 It was on landing in India that Mahasweta realised just how much the mission meant for the survivors and their families
TT Archives
The idea of having the whole sky to myself was something I can't explain
Some seven years ago, when she was just 17, Mahasweta had taken to the skies for the first time. "I didn't feel anything during take off on the first flight, I was totally engrossed in the process. But once I was up in the sky, I couldn't believe how wide it was. The idea of having the whole sky to myself was something I can't explain. People say that the sky is the limit, but when I was flying, I felt that the sky is just the beginning."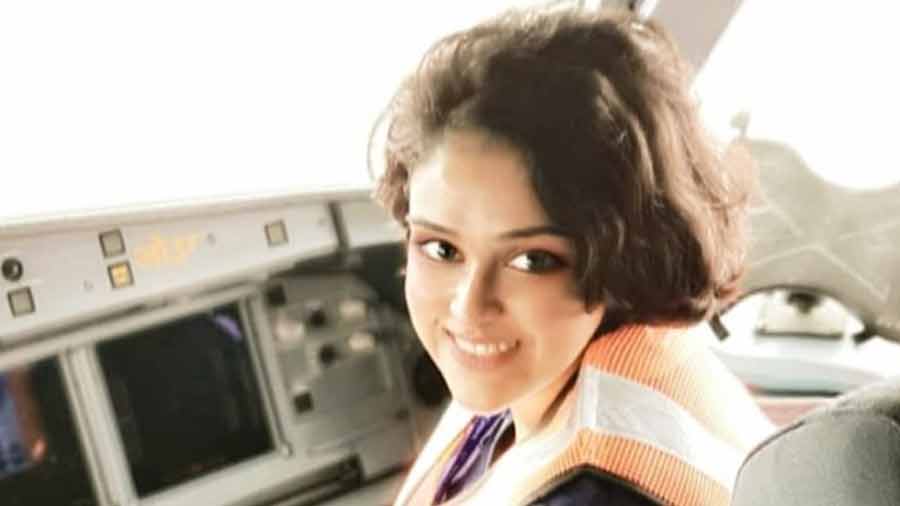 Mahasweta flew her first plane when she was just 17
Courtesy: Mahasweta Chakraborty
On some of her initial flights, Mahasweta's greatest challenge, as it is for most flyers, was navigating rough weather. "When you're on the ground and it starts to rain, you can sit with your cup of coffee and onion fries. But when you're up there and it starts raining, it's quite scary. A lot of people think flying nowadays is mostly relying on an auto-pilot, but during turbulence, the auto-pilot is stripped off and you have to make a number of vital decisions while also ensuring that the crew and the passengers are safe. As a pilot, you're accountable for everyone on the flight," says Mahasweta.
Having heard stories of her parents growing up in Madhya Pradesh's Ashoknagar, home to several Second World War hangars, Mahasweta was drawn to aviation as a child and wanted to join the Indian Air Force after finishing school. But her career swerved towards being a civil pilot after she completed her training from the Indira Gandhi Rashtriya Uran Akademi. Her goal is to one day be able to fly a Boeing 787 Dreamliner.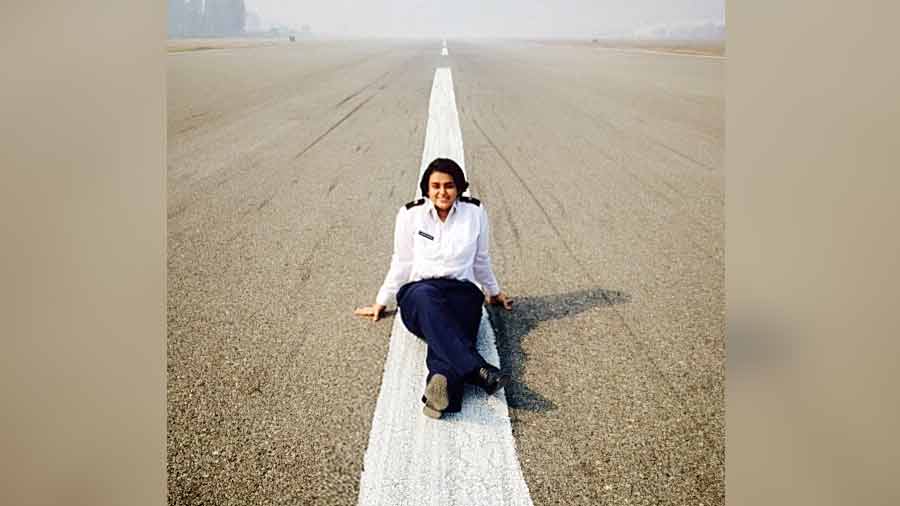 Mahasweta completed her training at the Indira Gandhi Rashtriya Uran Akademi before entering civil aviation
Courtesy: Mahasweta Chakraborty
Collaborating with doctors and social service workers to transform the lives of children
When not soaring "through my wings that should never be crushed", Mahasweta devotes her time to NGOs that are involved in women's empowerment and the recovery and rehabilitation of children. "Over time, I've had the pleasure of collaborating with doctors and social service workers who can transform the lives of children. It's appalling how there are so many dumping grounds across Kolkata where children are discarded like a pile of waste. Many of these children are thalassemia positive or still have their umbilical cords attached. I can't believe someone could end up dumping these children. It goes to show that humans are increasingly losing their humanity."
Iron Man should have lived instead of Captain America in 'Avengers: Endgame'
Deeply interested in pottery and music – "soulful folk and Rabindrasangeet are my favourites" – Mahasweta also nurtures hopes of opening her own organic farm at some point and spreading more awareness about healthier methods of irrigation and agriculture.
Not much of a film-watcher in general – "my friends call me grandmom because I'm not up to date with the latest shows" – Mahasweta does enjoy her dose of Marvel magic. A huge fan of Iron Man, who Mahasweta believes "should have lived instead of Captain America in Avengers: Endgame", she is also fascinated by spiritual literature and is a regular reader of the likes of Sadhguru, Gaur Gopal Das, Sarah Greene and the Dalai Lama.
For someone who seems to be in perennial control of her thoughts and instincts, does Mahasweta have a guilty pleasure?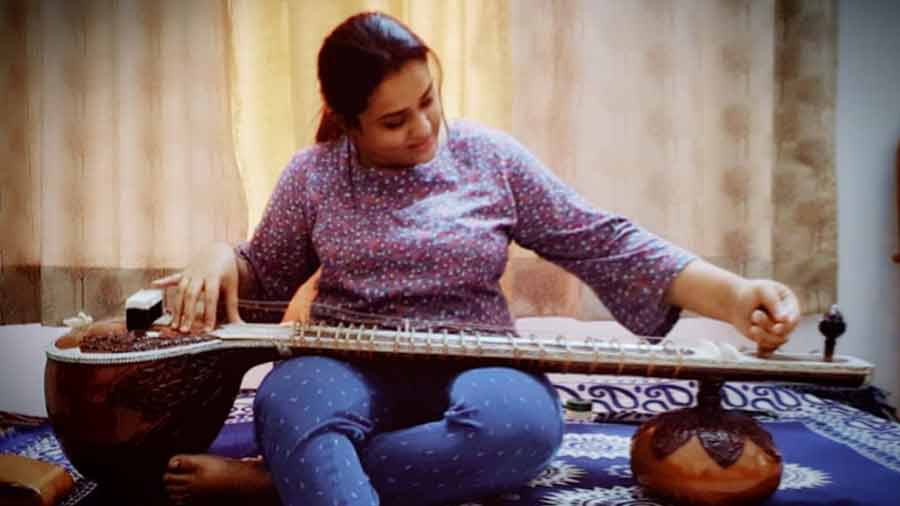 'Soulful folk' and Rabindrasangeet are Mahasweta's favourite genres of music
Courtesy: Mahasweta Chakraborty
Kolkata has the best mutton biryani in the world… Arsalan and Oudh
"Oh yes, I do. For me, it's mutton biryani. Kolkata has the best mutton biryani in the world and I absolutely love the biryani at Arsalan and Oudh. Trust me, I've had mutton biryani in so many places across the world, but nothing matches up to Kolkata. It's largely because of the aloo and the egg. Without these, it's not biryani for me," says Mahasweta, before adding with a touch of disdain: "In the Middle East they just make fragrant rice and call it biryani. How disappointing!"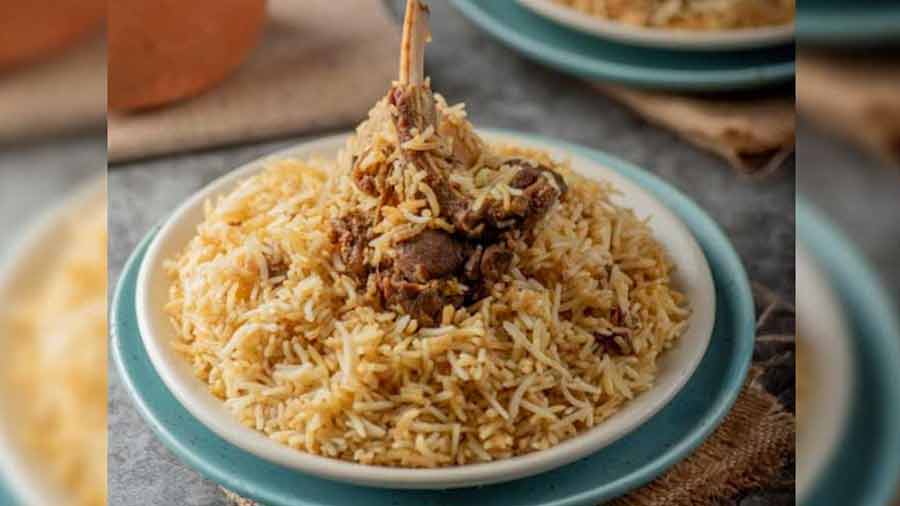 Mutton biryani is Mahasweta's guilty pleasure
TT Archives
A simple girl made into a star… a call from Sourav Ganguly!
Ever since she came back to Kolkata after Operation Ganga, Mahasweta and her accomplishments have been all over social media. Does she feel unnerved at having become a viral sensation overnight?
"I'm just a simple girl who the media have made into a star. But I want to emphasise that I'm not an exception. Several other pilots are doing the same job and theirs is no less of an achievement. Then there are the other staff members who make a mission possible, everyone from the cabin crew to the loaders. Without a proper team, none of this can happen."
Within a matter of days, Mahasweta has answered congratulatory calls from politicians, police officials, veteran journalists and "the absolute inspiration" that is Sourav Ganguly.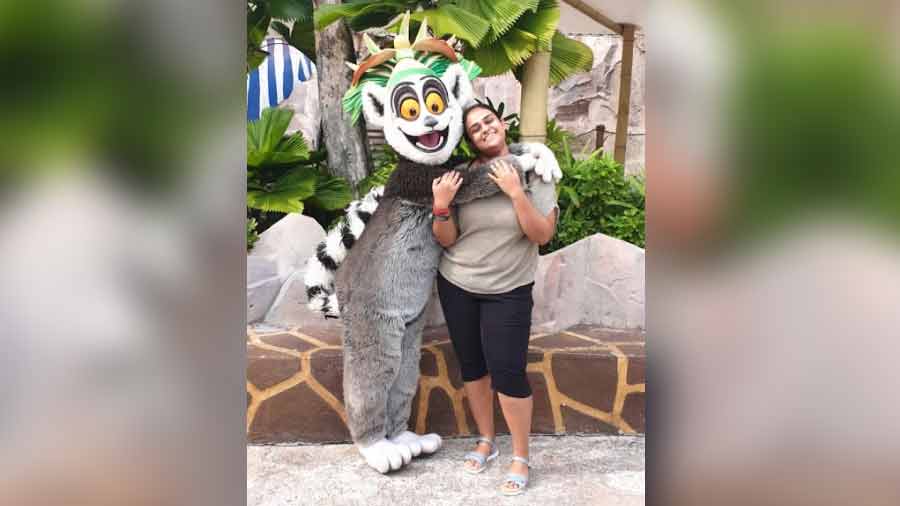 Mahasweta has become a viral sensation since returning to Kolkata
Courtesy: Mahasweta Chakraborty
Pilots working as frontline workers during Covid didn't receive any acknowledgement
At one level, Mahasweta is happy that her service to the nation is being appreciated, especially after "my role, along with other pilots working as frontline workers during Covid, didn't receive any acknowledgement. I was part of a group of pilots who helped transport oxygen concentrators and other medical equipment from China and Hong Kong to various Indian cities."
And yet, at another level, Mahasweta shrugs her shoulders and says, "As Indians, we're all part of a family, right? So do I really need to get a pat on the back for helping my family members?"
Operation Ganga has changed me as a person; I'm still going to be the same professional
As Mahasweta prepares to return to her civil aviation schedule, she takes a minute to make sense of how Operation Ganga will impact her life in the time to come: "War isn't something anybody wishes for. It's an unprecedented crisis that created an unprecedented opportunity for me. While it has changed me as a person, I'm still going to be the same professional I was before."
This means that the next time Mahasweta gets a call in the early hours of the morning, her response is going to be the same as always. "I'm going to pack my bags and tell myself that it's time to get on with it."