Children call him Ghori Dadu — the clock man. A visit to the north Calcutta residence of Jayanta Sardar, 74, reveals a space frozen in the early 20th century, complete with an expansive porte cochere (gari baranda in Bengali) and collonaded altar for Durga Puja (thakurdalan). The wooden staircase is lined with Venetian mirrors and Italian vases, leading to the spacious second floor verandah where several grandfather clocks stand at attention with rare pendulum clocks hanging on the walls. On the low tables and bookcases are more clocks and watches. Their constant low ticking fusing to create a surreal feeling.
And just as I settle down on an antique settee, all the clocks strike six; the chimes, gongs and bells set off a concert that refuses to stop for the next 60 seconds.
"It all began with a putuli (cloth bundle) filled with bits of a dismantled clock," reminisces Sardar. "The bundle lay unattended on the window sill of a godown downstairs. I took the parts to clocksmiths Dutta & Co. in Dharmatala. Even their master craftsmen could not put it together," he adds.
Sardar was told it was a rare torsion clock — the kind that keeps time with a special pendulum — manufactured by French clockmaker A.R. Guilmet in 1885.
Sardar didn't give up hope. He took the rare clock to repair shops in India and abroad. Finally, seven years later, a clocksmith at a non-descript shop in Darjipara, just about a kilometre west of his house, was able to put it together. The majestic clock now stands in one corner of a bookcase in his living room alongside its ticking siblings. "This is regarded as a rare clock not just because it is 134 years old, but also because it's a limited edition piece; perhaps they made only four of them," he explains.
Today, Sardar has over 200 functional timepieces; there are many more with missing parts languishing in his godown. Most of them have curious backstories as to how they were acquired.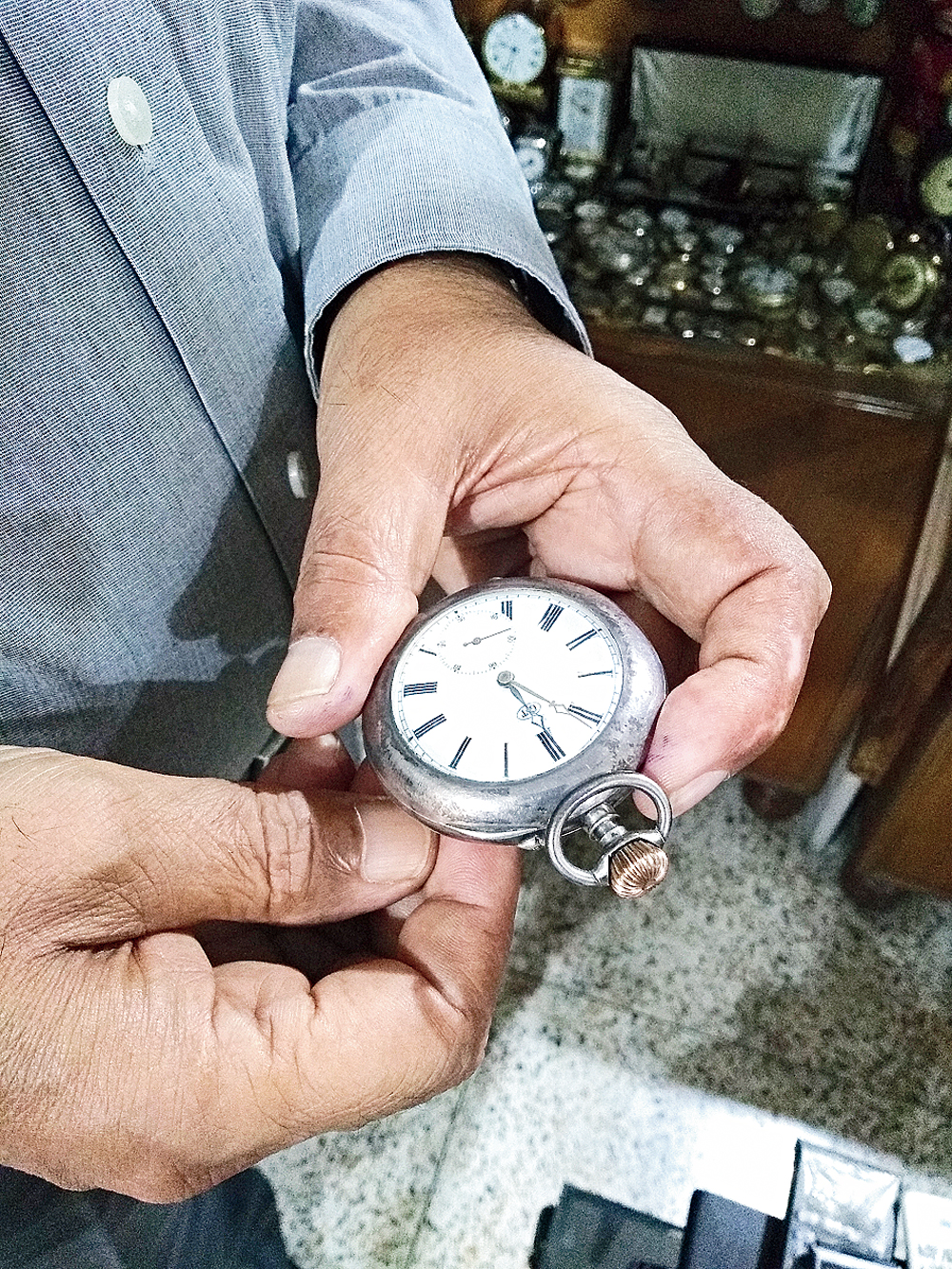 A silver pocket watch that once belonged to the Cooch Behar royal family
Picture by Prasun Chaudhuri
What began as a hobby became a full-blown passion eventually. Until recently, Sardar used to scour old clock shops, visit auction houses and old homes for his ever-growing collection. He says, "But as word spread, suppliers began coming to me whenever they spotted a rare clock or watch."
Recently, he got one from a ragpicker. In the heap of discarded plastic bottles and packets of milk, he discovered three dysfunctional watches collected from the junkyard of an old house. "I bought all three, but only one could be repaired," says Sardar, as he gleefully shows off the enamel work around the dial of the half-hunter pocketwatch, a timepiece with a see-through lid.
But there have been occasions when he has ended up with lemons. Like the time when he bought a beautiful minute repeater — a pocketwatch. Repeaters help the blind know the time when they press a slide lever. Says Sardar, "This watch doesn't work just because a single part is missing. According to the previous owner, the part was stolen by an unscrupulous clocksmith." Sardar has taken it to several repair shops including a few in New York and London, but so far, no luck. If repaired, it can fetch several thousand dollars, he has been told.
Sardar has inherited his passion for antiques from his father, Arabinda Sardar, a pioneer entrepreneur in the field of surgical dressing. Sardar Senior had a keen interest in Victorian furniture, Italian vases, chandeliers and Venetian mirrors. There were a few clocks and vintage cars too in his vast collection. "I used to accompany him to auction houses, especially those on Russell Street and one on Mission Row," says the son.
But it wasn't until he settled down in his job as a manager with Air India in 1972 that he started collecting timepieces himself. Eventually, he floated his own business.
Today, Sardar has clocks and watches from 10 countries, most of these handcrafted. He laments that with the advent of quartz clocks in Japan, the mechanism changed dramatically. The crystal oscillators in quartz clocks make them more accurate, as well as compact and inexpensive compared to the mechanical ones.
Sardar takes out an exquisitely designed silver pocketwatch and asks, "Can any modern quartz watch compete with this pretty thing?" The carving on the watch says: Presented by H.H. The Maharajah of Coochbehar Nov 1899. The watch was probably gifted by the king to a kin. It fell into Sardar's hands by happenstance, courtesy a supplier.
As I ready to wrap up, Sardar leans in and says conspiratorially, "Basically, male members of our family have a very short lifespan."
I am waiting for the point to drop when he adds, "But I am an exception, thanks to my passion. I have collected enough time." And he bursts out laughing.