Diya Annapurna Ghosh may not speak Bengali — "I was born and brought up in the UK," she explains — but the 28-year-old has delivered a hit in her debut film as director, set in Bengal.
Bob Biswas garnered 3.5 million views in its first week. What kind of feedback are you getting?
It has been quite overwhelming. It's not something I expected.
Were you part of the Kahaani team?
No. I was too young then (Kahaani released in 2012), about 18.
When was the decision taken to make the film?
The idea germinated much later than the success of Kahaani, in 2018. It was only because of the audience's love for the character. It was the writer's idea... my dad's (Sujoy Ghosh).
At what stage was it decided that you would be directing it and not he?
That was in end-2018, when we started writing the script. He shared the idea with me and asked me. I thought "Why not? It was such a great character!" I had done my B.Sc in biology and my Masters in film directing in MetFilm School, London. I had also done short-term courses in films. So I felt more at home on the sets than in a lab. I had assisted Baba in Badla.
How was the first day on the sets as director?
There was a lot of pressure. But my cast and crew were very supportive. My dad was very helpful as producer and writer. He was on the sets throughout. A lot of actors like to pause in a scene. He helped with the dialogues, trying to remove the pauses and make it seamless.
Did you have any name other than Abhishek Bachchan in mind for Bob Biswas?
No.
Who offered the role to him?
Both of us. Once my dad spoke, I gave my inputs.
Did you have to tackle questions on why Saswata Chatterjee (who played the role in Kahaani) is not part of the film?
No. Everyone is entitled to an opinion. There are other films where same characters have been played by different actors before. So it isn't a difficult question to answer.
How was the shooting experience in Kolkata?
I have been to Kolkata before, though not very often, as my parents have relatives. There were restrictions because of Covid but the production team handled everything and we got what we wanted.
Any particular place you specially liked?
The floating market (in Patuli). It was a fantastic place. It adds a lot of character to Kolkata and it has never been seen before by the audience.
Do you see a second Bob Biswas film happening?
We will see in the future. There is a lot of scope in the character, where we wish to take it.
What next?
I am writing a film. It's a mystery.
Paran Bandyopadhyay talks about his character in 'Bob Biswas'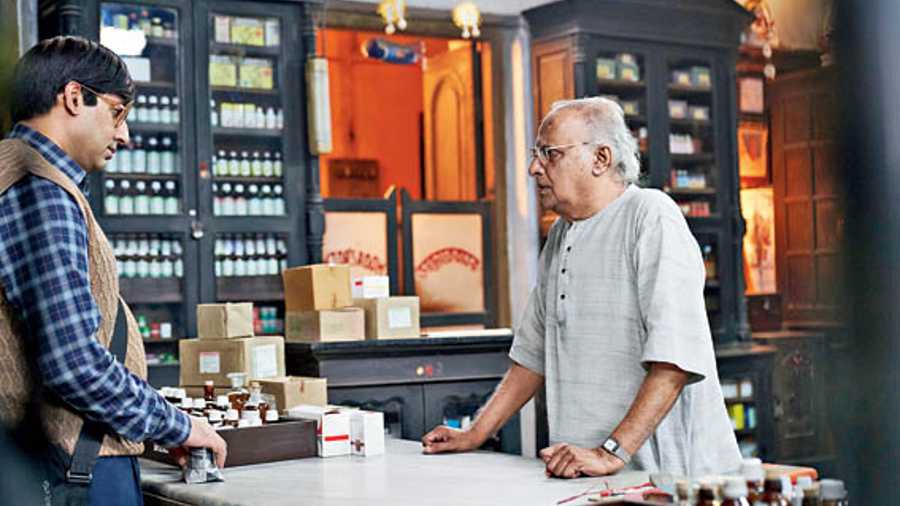 Paran Bandyopadhyay with Abhishek Bachchan in a scene from 'Bob Biswas'
If Bob Biswas stood out in Kahaani, Kalikrishna Pal made a mark in Bob Biswas. Kolkata's own Paran Bandyopadhyay speaks to The Telegraph on his first Hindi feature film.
What made you want to do the role?
When Sujoy (Ghosh) approached me, I said I needed time to speak in Hindi. He said it would be Hindi spoken with a heavy Bengali accent. That made things much easier for me and helped establish the character.
Have you worked with Sujoy before?
I was offered Kahaani2: Durga Rani Singh. I could not give dates but I got very friendly with him.
How challenging was the character?
When Kalikrishna gives Nux Vomica to Bob Biswas, it has one meaning but in between he is talking to and giving the actual medicine to other customers at the shop. His attitude and meaning changes when he speaks to either party. That attracted me and I could do the camouflaging.
Where did the shoot take place?
At chemist Butto Kristo Paul's residence on BK Pal Avenue behind Sovabazar near Chitpore. He used to make the anti-malarial drug Edwards Tonic. His pharmacy downstairs was converted into a homeopathy shop in the film.
How was your experience of working with Abhishek Bachchan?
I went to the Mallikbazar cemetery to meet him. Diya wanted me to meet him before our shot. He is a fun-loving, lovable boy. Dushtu achhe. Mojar chhele.
Are you getting offers now?
Yes, day before yesterday I got a call. They said they would shoot the film in the Andamans, Goa and Bombay. So I refused. Bairey kothao jai na toh. I have travelled for work in Bengali of course. I have gone to Hong Kong for Tintoretor Jishu and Lucknow for Badshahi Angti with Sandip (Ray) and to Thailand for a serial called Kobe Je Kothay. But I need to feel comfortable with familiar people.
Have you got a call from Sujoy after the film's release?
Yes. He said: "Paranda, phataphati." He was using Abhishek's comment to me on getting the double dose Nux Vomica from Kalikrishna who hands over the bag, saying, "Ek kaley eta amar chhilo. Ekhon eta tomar." Sujoy said the Bombay papers have written that a film should be made on my character.
Yes, Kalikrishna's past is shrouded in mystery.
There are several hints in the film. The goons are told by the boss that Kalida must not be touched. Kalikrishna himself says things like rules are rules and what goes in does not come out. One can make out he sells more than medicines.
How long have you been acting?
I am acting since the age of 14. But then I used to be driven by emotion. I understood the craft of acting much later. I got a call-up in films in 1975. So that makes it 46 years.
What would be your best work yet?
My best can never come. I need a sense of pabitra asantosh (holy discontent), to quote Tagore, to keep me charged to achieve more. If people praise me, that is my challenge to do better. Tagore had edited his last poem 13 times. But I loved working in Bombaiyer Bombete, Badshahi Angti, Royal Bengal Rahasya, Pralay, Cinemawala, Posto…
How young are you?
Just reverse 28. (laughs)
Samara Tijori gets candid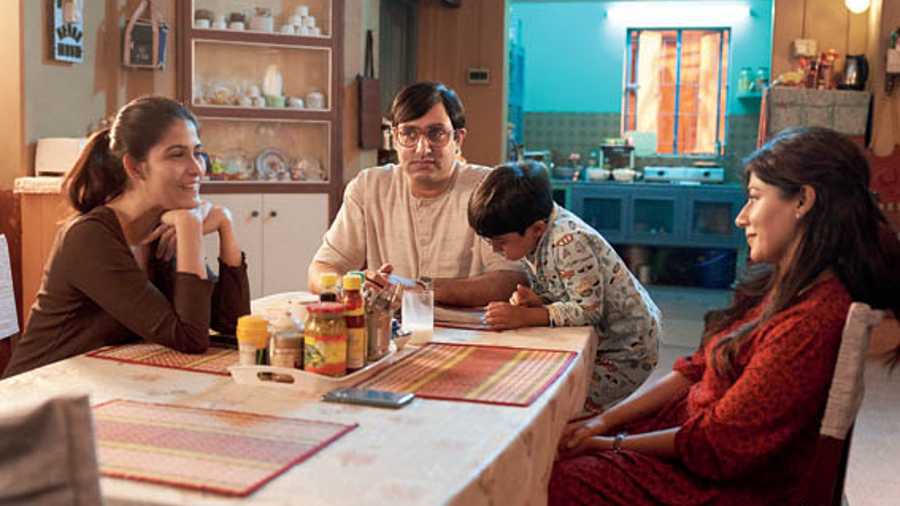 Samara Tijori speaks to Chitrangda Singh in the presence of Abhishek Bachchan and a child actor during the shooting of 'Bob Biswas'
Congratulations, Samara. You did very well in the film (as Bob Biswas's step daughter)...
I am so happy you liked it. There are too many congratulatory messages and I don't know how to respond!
What is your father (Deepak Tijori) saying?
He is very happy and proud. He didn't watch it the first two days, he was so nervous. He said: 'You first tell me what people are saying'.
Is this your first project?
Yes. I did theatre before. That too was a new play with a new production house. I worked as an assistant director for many years. My goal was acting even then but I did it for the experience. I wasn't sure about acting till I was 17. I did my degree in psychology.
When did you decide?
There was a little bit of me interested in the film industry. I was applying in universities abroad for Masters. Then I thought let me be around and do something. I worked for Iifa in 2014, handling a couple of artistes and the shoot. Then I saw one side of it. I got into Rohit Dhawan's film Dishoom in 2015-16 as a runner. That's a person who gets told: 'Yeh type karo, yeh paper uss ko do'. They said they couldn't take me for the outdoor schedule, which was okay with me. That year I was managing college and the film. The costume AD I was working under had a family emergency and I took over. That was when I understood: 'This is it'. Then I started training in acting. Meanwhile, I got a call for Bhoot, a Dharma Production film with Vicky Kaushal, which I did as costume AD.
So runner, to costume AD to actor…. Did you have second thoughts taking up this project? You are a trained dancer but there is no scope for that here, nor is this a glamorous role.
When I got a call for the audition, all I heard on the phone was Abhishek Bachchan's daughter. I did not get a script and went on the sets thinking this was a web series. I gave the audition and asked which platform is this for. This was pre-Covid. They said, it's a feature for the theatre. And I was like: "Oh no!" (laughs) If you know it's a film, you put pressure on yourself and overthink it. All this happened within five days. I got a call the same night and went for a reading with Diya. She gave me the script to read. Still I wasn't sure if I had got it. Within the first 10-15 pages, before my character had entered, I was game. I enjoy crime thrillers so to be part of it was a dream.
How different is Samara from Mini?
It is not that different. I am focused and will make things happen for that. Just as Mini is trying to be a doctor and takes Blue (the drug) as she thinks it will help her get there. But she is naïve, loving and caring. I am not as gullible. I made sure I played her as somebody who is not understanding how bad it is despite all that she is going through.
Mini's track was left open-ended. She leaves in search of Blue and we don't know if she gets into trouble.
The film doesn't say anything. They ended it as a cliffhanger. But in my head, Mini would get rid of something that gets in her way. The last scene is six months later when she is no longer addicted to the drug.
How was your Kolkata experience?
I had a couple of friends who took me out. We had phuchka, went to Howrah bridge, I played golf in Tollygunge...
Have you signed anything else?
Yes. I am in Chandigarh shooting a Hotstar show with Mihir Desai, the director of Mirzapur.
Doting daughter
Samara with father Deepak Tijori
Deepak Tijori, the actor or Deepak Tijori, the director?
The actor. I saw Ghulam when I was very young. Seeing the cut-to-cut train sequence between Dad and Aamir Khan, I thought Papa was dying and I started crying. He was sitting next to me and said: "I am not dead". But I stopped watching his films. After a long time, I saw Jo Jeeta Wohi Sikandar. That remains my favourite.