For the last couple of days, Swastika Dutta has been stepping out of her home at the crack of dawn. The early morning hours are ideal for exercise or practising music. But Swastika is doing something else — she is travelling to Andul every day to shoot for her first web series Ananda Ashram. A candid chat with Swastika....
Why did you decide to debut on web?
I had been receiving so many messages from my fans, well-wishers and people who love me as an actor, saying that they would love to see me doing web shows! Secondly, I wanted to experience a different pattern of shooting with a different cast and crew.
Tell us about your character in the web series...
My character's name is Tithi. She is an independent documentary creator... she is smart, practical and has a unique dressing sense. She can be warm when required and can walk away when needed.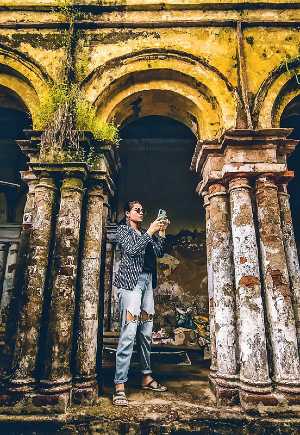 Swastika Dutta was popular as Radhika in Ki Kore Bolbo Tomay on Zee5
Courtesy: Swastika Dutta
How has been the shooting experience till now?
Well, it's something so new for me. The shoot begins really early and we get into shoot mode immediately.... there's no waiting... and moreover I am really enjoying one thing... everyone is helping each other out, incorporating ideas so that we can create something meaningful.
There are no fixed script lines or monologues which you are bound to say... and that's something really interesting for me to do. We are getting so much freedom to just behave, that's the beauty of it and that's what I am experiencing.
Tell us about the locations?
We have been shooting in Andul. We got to explore some really interesting places and some really eerie locations too which can actually give you goosebumps at night! We even shot on the Ganges on a boat.