It's tricky to select just one headline from a chat with Nikhita Gandhi. The Kolkata-bred singer is unapologetically herself, and drops punchy and profound lines that make her a joy to listen to, even when she isn't singing.  
On the work front, it's been a busy time — she has released a slew of new tracks, Humnava being the latest; she has worked with the best in the industry, from Amit Trivedi to Shankar Mahadevan; and her recent single, Bura Na Mano Yaara, was featured on a display in New York City's Times Square last month. 
My Kolkata caught up with the singer for a freewheeling chat that ranged from her social media skills and her musical collaborations to her upcoming US tour and her very Kolkatan upbringing. Edited excerpts from the conversation…
My Kolkata: Congratulations on the Times Square feature! How did that happen?
Nikhita Gandhi: Thanks! It's actually my second time being featured on a Times Square billboard. The first time was for Jugnu (her collaboration with Badshah). Last time was really incredible because I never imagined that the track would go so viral. And it was awesome to be working with Badshah. For Bura Na Mano Yaara, the feature happened as a part of Spotify India's EQUAL campaign, which promotes new music by female artists. It is very close to my heart because it's my original composition. The win always feels different for a personal track, without a label.
Streaming seems to have really changed the game for musicians…
I think music streaming has made the industry more hands-on and distributors are very accessible now. You can now upload a track online without knowing anyone or approaching a label. Spotify even allows you to directly pitch your music to their editorial playlist, the moment your song is ingested. This empowerment is amazing.
You sing in Bengali too. How was it working on 'Kishmish'?
While I actively take up projects in regional languages, Bengali is always special because I'm a Kolkata girl. I've grown up here, so it's important for me to give back something. I've been the voice of Rukmini in almost every Dev-Rukmini film and we share a great camaraderie. Since ours is a smaller industry, everyone knows everyone, and there's a sense of warmth and familiarity that you don't get anywhere else. I'm looking forward to coming back to Kolkata for the film's launch on April 29.
Do you expect this visit to be different from your last one in February?
I'm bummed that it won't be cold this time! Mumbai doesn't have winters, so I really look forward to winters in Kolkata because they are so perfect. Not too cold, but cool enough to let you walk about. I think Kolkata's winters allow you to reminisce and live your life enjoying the vibes of the city. I'm really going to miss that this time.
It seems like you associate the winters with growing up here. How did the city influence your childhood?
I was born and raised here, in Lake Gardens. I did my schooling from La Martiniere for Girls and was the quintessential Bong kid who learnt dance and music, while being good in studies and sports too. I was pretty much an over-enthusiastic wide-eyed kid who wanted to do everything! My parents were always very supportive of my passions. I never had to defy them. School allowed us to do everything, so there was no reason to bunk classes. I would represent LMG in all the fests as the lead singer of the school's classical and western music bands.
You grew up around a lot of artistic freedom. How did it help your music?
I love Kolkata's culture of putting art beyond everything else. People raised here really want to do artistic stuff, with everything else coming later. We are very feisty and expressive, not just in art, but in every sphere. It is very Kolkatan to own your virtues. I think this has really shaped my art. I really enjoy performing here for the same reason. While I've played at Hard Rock Cafe and Whats In D Name a few times, I want to perform at Skinny Mo's Jazz Club next. There's this whole other side of me that people don't know about, which loves jazz and blues.
Food is an equally important part of Kolkata's culture. What do you gorge on when you come here?
I actually have this weird obsession with pairing biryani and daal makhani. People question my taste, but for some reason, daal makhani goes especially well with Kolkata biryani, and not other biryanis. My mouth is watering now!
You're one of the few artists to have found success in both the independent space and in Bollywood. How is the rise of indie artists changing the industry?
The overlapping number is very small when you consider the people who listen to both indie and Bollywood music. I want this number to increase, as India is moving to a different soundscape. We are becoming a lot more artist-dependent and there is a change in how movie audiences perceive music. People are being hired especially to curate sounds for a film. We aren't just catering to briefs anymore. The audience also wants realism, not a musical. The music and film industries are becoming less codependent, so it is the best time to be an artist.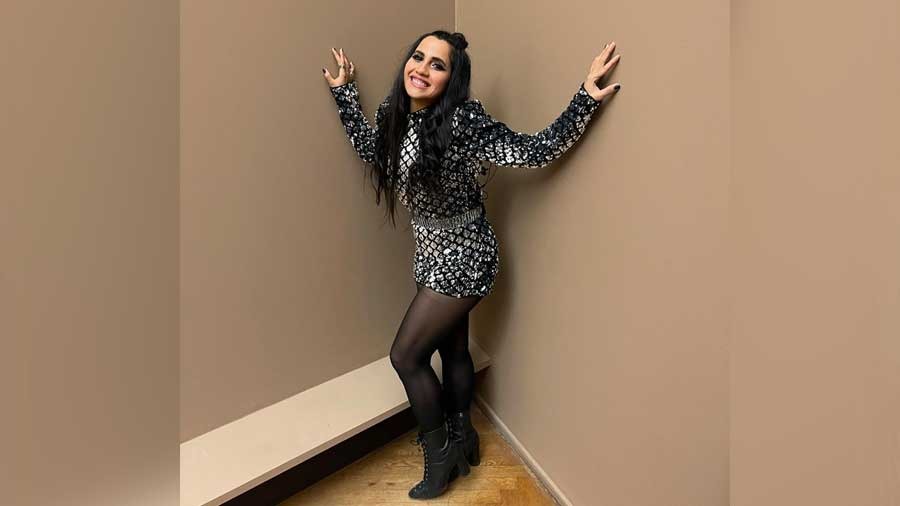 'The music and film industries are becoming less codependent, so it is the best time to be an artist.' says Nikhita
Instagram
Your social media game is also on point. Who are your three favourite artists to follow on Instagram?
In terms of creating a social media brand, I'm still a work in progress. However, some people really get social media right. I love how random La Rosalia is on Instagram! Kehlani also comes across as a really beautiful person. For the third artist, can I suggest myself (laughs)? I think I need to up my game, mostly because people can't find me on social media. They search for 'Nikita Gandhi'. I think your headline should be 'It's Nikhita, not Nikita'! But no matter how active I am on Instagram, my art should always be bigger than me.
Coming back to music, how did you hold on to it when you moved to Chennai for dental college?
In Chennai, I was also a student at A.R. Rahman's institute, KM Music Conservatory. While working on Indian adaptations of western classical songs for one of his projects, his engineer came to me after a recording session and said, "Sir wants to meet you." Rahman sir saw me and said, "You're Nikhita, right? Good stuff." At that moment I was unaware of what was happening, but later I was amazed that he not only knew my name, but had acknowledged my craft!
In fact, he was the reason I took up music full-time. I initially thought I was just living through a series of cool experiences, because there is no course that teaches you how to have a career in music. After a session, Rahman sir asked me what I was planning to do next, and I mumbled something about finishing college and applying for masters (laughs). He replied, "You do know you're a singer, right?" I was like, "Sure, if you say so." That statement shattered my glass ceiling.
Starting with A. R. Rahman, you have collaborated with the best in the business, including Shankar Mahadevan, Pritam, Amit Trivedi, Salim-Sulaiman, Ram Sampath and Sachin-Jigar. How is it working with such accomplished artists?
I never made a bucket list as I never thought I'd be doing music full-time. Now when I look back, I've already ticked off the prospective list of collaborators I would have liked. It's funny how unimagined things have manifested.
Rahman sir is definitely one of the most inspirational people I have met. The defining thing about him is how he keeps his inner child alive and remains curious about everything. I think this playfulness to try out new things is what makes a musician.
Only recently, while shooting with Ram Sampath. I was telling him how Kattey is one of my all-time favourites, when he exclaimed that he'd always wanted to work with me too! They say you shouldn't meet your heroes, but if you get to have normal conversations with them at a human level, there's nothing better.
I recently recorded something for Shankar Mahadevan too, and he sent me a very positive text in response. Things like this give me major 'pinch-me' moments. There isn't a greater gratification than positive reinforcement from people you have looked up to your entire life.
What's next for you?
I have my first US tour lined up with Armaan Malik next month, apart from a Hinglish international collaboration that will be released around the same time. I'm really excited because Covid suppressed my travelling for a while. I'm also looking forward to bringing back a suitcase full of sneakers from the States!