College canteens, outdoor laid-back jam sessions, protest marches, house parties, intimate confessions... an Arnob playlist has always been the favourite staple. With melodies and words that have been cherished and treasured by people on both sides of the border, Shayan Chowdhury Arnob has been an integral part of the collective Bengali youth consciousness for a long time now, and his influence over the coalescing cultural milieu of epaar Bangla and opaar Bangla continues to intensify.
Since Shey je boshe achhe, Arnob has evolved with elan, his ouevre embodying the very essence of his pedigree at Santiniketan. Drawing in elements and influences from the roots of Rabindrasangeet, country, rural folk to late-20th century synth-pop rock and jazz, Arnob's discography is coloured by a deep understanding and perception of people, emotions and the shared culture, besides a deft control over technical nuances. We have always associated him with a certain kind of sound, but recently with Coke Studio Bangla, Arnob donning the hat of the producer has shown the expanse of his musical understanding by experimenting with myriad sounds, injecting risque and panache into the flavour of the compositions.
In a freewheeling backstage conversation with The Telegraph at the Coca-Cola Pet Pujor Pandal which took place last month at Eco Park, Kolkata, Arnob spoke about bonding over music, experimenting with sounds, his evolution and pushing the envelope with Coke Studio Bangla.
This festival celebrates music and food. Where do you think they coalesce?
It is extremely important to perceive this eternal connection. In Bangladesh, as well, food has been that one bonding factor. Theatres and concerts are blooming across the country, but nothing connects us more than food. Also, when it comes to a concert or a festival of this sort, we need to understand how for young people across the subcontinent who spent their formative teenage years over the course of the pandemic, these concerts come as an incredibly essential exercise in integration, a breathing space for these very people to come together, meet people, exchange ideas, converse, bond over food, and enjoy the music in its totality. For us artistes as well, a festival of this sort solicits a warm reception, where food and music is being celebrated so dearly, after two years of the pandemic.
Coke Studio Bangla was a breath of fresh air. How do you feel about it, now that you look back ?
Coke Studio has been scaling heights across the subcontinent for over a decade now. Certainly, there was a sense of deep anticipation surrounding the thought of whether we would ever get the chance to do the same with our music, and at the same time a great desire to show the world what we can do with our sound. There was this rough plan as to what kind of music we would be able to produce and the design we'll be able to map if the artistes here got together. And when we finally got the opportunity, it was a surreal experience. I was personally at a loss trying to figure out how to get it together and give the initial boost. But it did happen, after a long wait. That's a feeling I'll always treasure.
How would you define Coke Studio Bangla's soundscape?
The most important thing that I always believed in was, if we had to produce an authentic sound, it needed to reflect the reality of the times we live in. The traffic, the surprises, the chaos, the unpredictability, every bit of it. That's what our ensemble stood for, with people from across communities, beliefs and musical pedigrees coming together — like a busy road, making it impossible to anticipate or predict when the guitars would come in, or when the saxophone would float in. I wanted the soundscape to reflect the unpredictability and chaos of our daily lives, and I think that is what struck with people.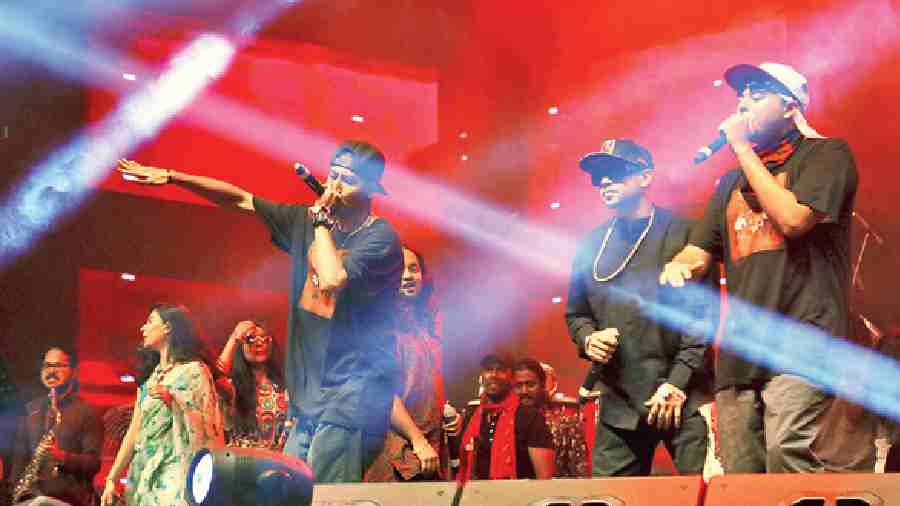 Hip hop collective Jalali Set were the undisputed crowd favourites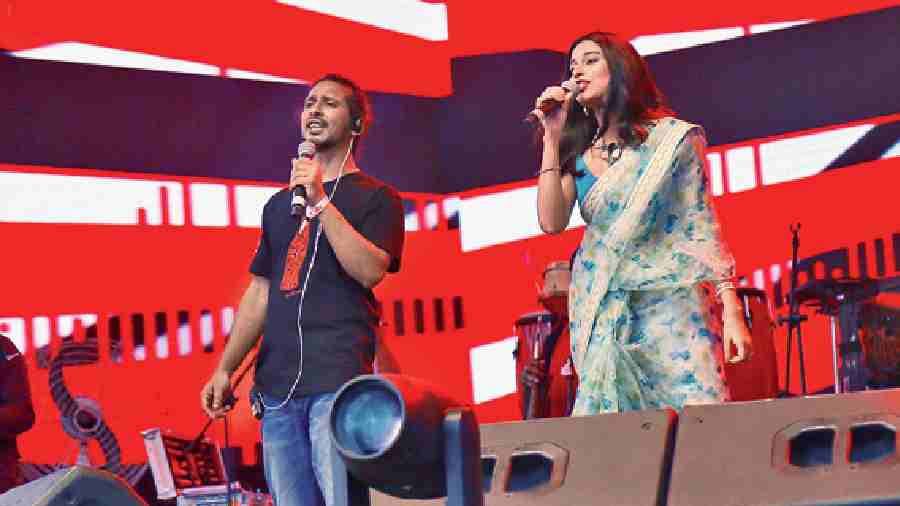 Arnob and Sunidhi Nayak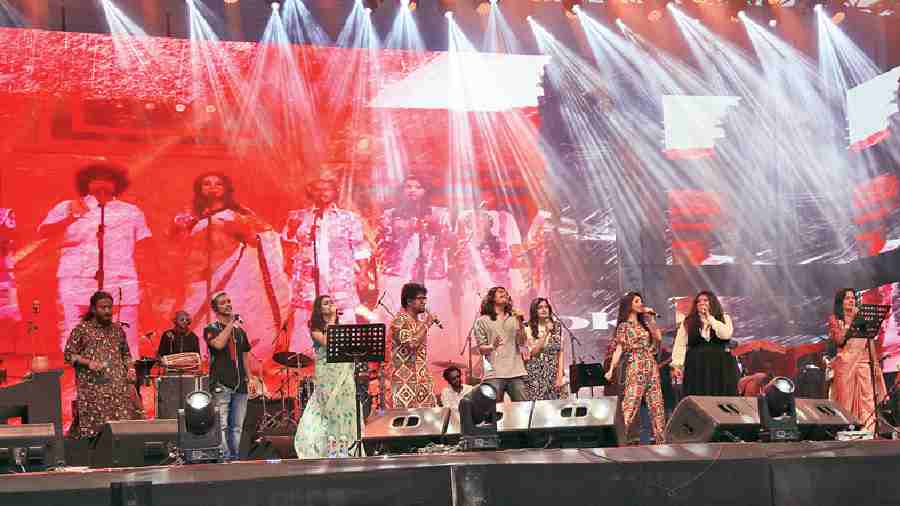 The entire Coke Studio Bangla ensemble in performance
How was the experience of working with the team?
Absolutely wonderful. The entire team gave it their all, till the last note. I knew, for this to actively work out, we needed to strike proper bonding and work on the connection among the entire team. I kept asking myself about how the pieces would come together, with so many instruments, elements and their personal connections to the sound that I had in mind. The connection and the fusion of the genres would certainly bring in the magic that I had in mind. And thus, we lived together for two months. This experience and exchanges brought the whole thing together. To give you an idea of the experience, one month into a rented house, we were simply asked to leave (laughs).
How do you think you have evolved as an artiste?
I think over the years, there has been a steady evolution. I have always wanted to experiment with sound. The work that we do in studios independently is a very isolated process, a one-way dynamic with a machine in front of us. There was a time I felt immensely frustrated of the same drill and clockwork, and decided to come back to Santiniketan few years back. And it really made me want to work with people. Connecting with people over music is always a rewarding experience. I cherish the bond and the trust, more than the music. So, it has been quite a journey, peppered with various experiences, where the music I make is rooted in the ground reality of the times, the realities of the people we see and the connections that we make.
What do you think makes Coke Studio stand out every time ?
Whenever I hear the name Coca-Cola, there's one thing that comes to mind. Andy Warhol and his pop-art, which embodies a strong counter-cultural force. And I think it is of paramount importance to value music and experimentation as a strong counter-cultural exercise — subverting condensed and established lines when it comes to art. Pop culture has certainly taken new dimensions, and Coca-Cola has helped a wide spectrum of artistes in getting a platform that they deserved and needed, with a project of this sort. For instance, we don't usually have underground hip-hop artistes being invited or billed on line-ups for concerts of this scale. With Coke, we have taken a step forward in getting it all under the same umbrella, and walked an extra mile when it comes to inclusivity in music. The audience that we had tried to target wasn't any particular niche but a motley crew of people who enjoy music in its totality, irrespective of the genre. That freedom was necessary. And I'm really happy that it worked out.
What's your message for Coke Studio Bangla's fans across the world ?
Please keep supporting us. We have to keep building the industry from ground up, continue making new music, experimenting with sound and bringing new artistes to the forefront. We all saw how the K-Pop industry bloomed over the past few years, how they built their empire, became the talk of the town, and produced music which is trendy, groovy, rich and at the same time, musically matured. Supporting each other and having fun with what we create will help us survive as artistes and most importantly as individuals.
Pictures: Koushik Saha