Come September, cinephiles will be treated to a public screening of a documentary chronicling veteran filmmaker Tarun Majumdar's life and works.
Jeebanpurer Pathik is an interview-based documentary directed by CPM leader Shatarup Ghosh.
Majumdar passed away at the age of 91 on July 4, bringing the curtains down on a glorious era in Bengali cinema. The director of such hit films as Dadar Kirti and Shriman Prithviraj was known for his storytelling ability and making slice-of-life films.
Shatarup donned the director's hat to pay reel tribute to the icon of Bengali cinema and document a lifetime of work.
After repeated requests and a life-altering phone call later, Ghosh finally managed to get permission to begin on the project. But the media-shy veteran director had two conditions — no self-propaganda and no personal questions.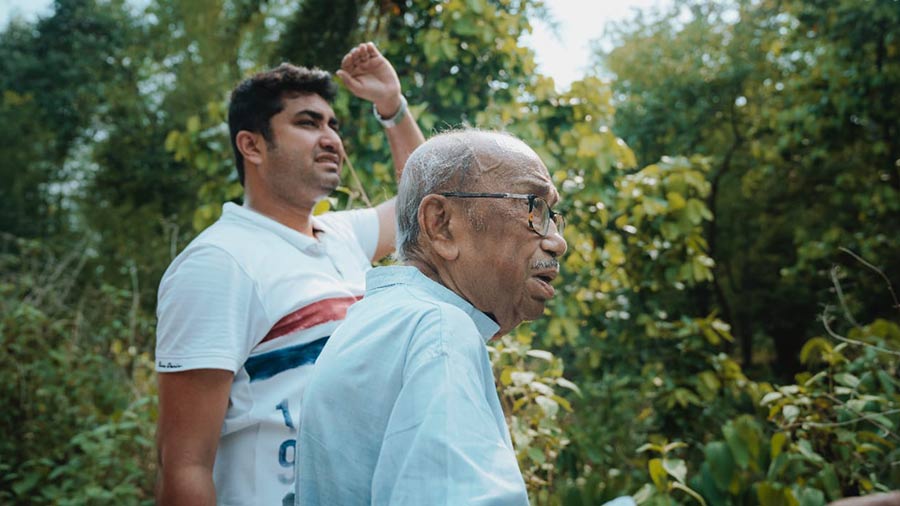 Shatarup Ghosh with Tarun Majumdar during the shooting of the film in Jhargram
Shatarup regrets not being able to show Majumdar his completed work. "Despite his age, he took part in the entire process with a lot of perseverance and tolerance. His dedication towards work was inspiring. I remember how we offered him an umbrella while shooting in the scorching heat of May in Raidighi but he refused because the rest of the crew was not using one," he said.
The documentary has Majumdar speaking about working with Uttam Kumar and why he did not work with the star after two films, memories of shooting with Tapas Paul and other lead stars, his connection with Hemanta Kumar, and anecdotes on Satyajit Ray, Ritwik Ghatak and Mrinal Sen and more.
The title of the documentary draws from a hit song from Majumdar's film Palatak (1963), Jeebanpurer pathik re bhai, and sung by Hemanta Kumar. "This song, I feel, epitomises his journey as a filmmaker," said Shatarup, whose favourite Tarun Majumdar film is Shriman Prithviraj. "I think Shriman Prithviraj has a special place in the heart of anyone who has watched it. It is a masterpiece."
The documentary was shot in Kolkata, Raidighi, Belpahari, Bardhaman and Birbhum. Majumdar had forged a bond with the people of Birbhum during the shooting of his films. The Ganadevata director had shared with Shatarup his wish to visit the Palashi village in Birbhum during the public screening, a wish that Ghosh intends to bring into reality as a homage.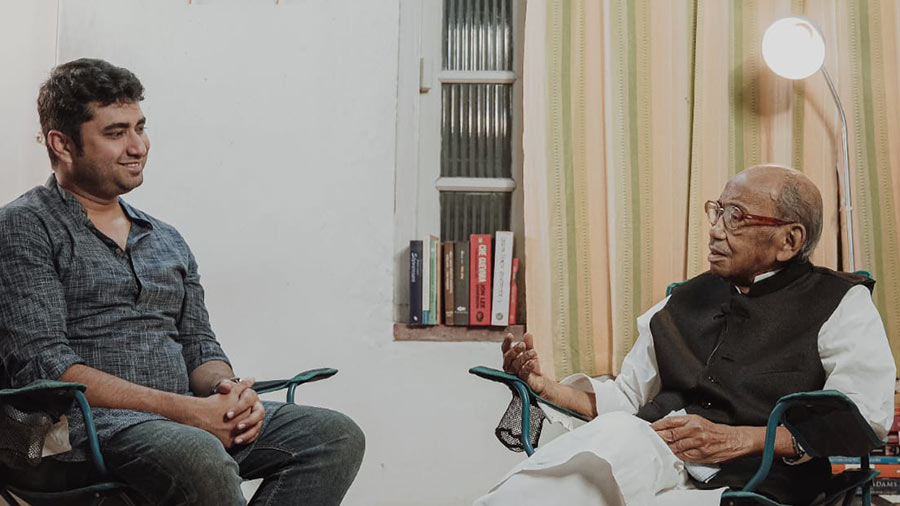 Shatarup Ghosh interviews Tarun Majumdar in Jadavpur, Kolkata
Shatarup wrote the script and screenplay himself after researching on the filmmaker for three months and meeting Majumdar several times.
The film is edited by Anirban Maity. "Tarun Babu had expressed his wish to be present at the edit and I was looking forward to that. But sadly that could not happen," Tarun Majumdar was not just a legendary filmmaker but a skilled technician and a wonderful human being as well," he said.
The background music has been scored by Debojyoti Mishra. "The documentary as well as the background score intends to capture the simplicity of his lifestyle, and the way he portrayed Bengal."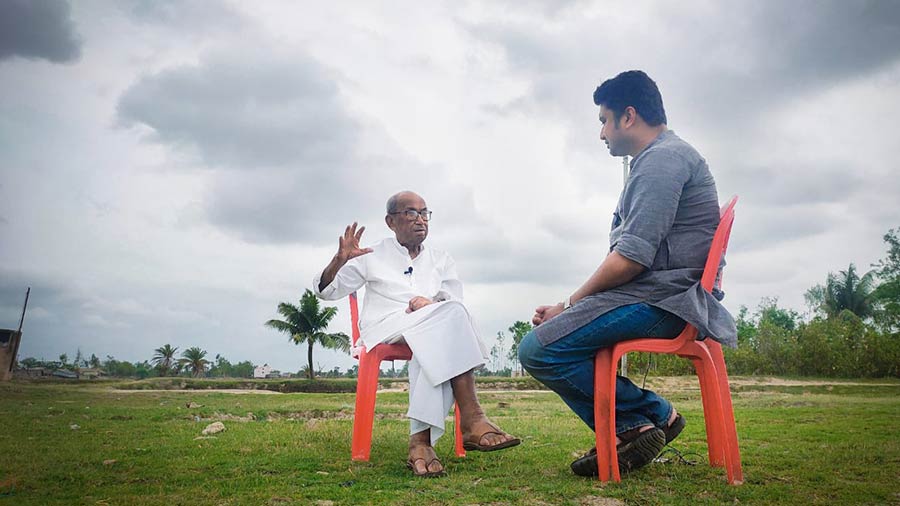 A moment of discussion in between shooting in Raidighi