Squash champion Saurav Ghoshal is back home in Kolkata after winning the double bronzes at the Commonwealth Games 2022. My Kolkata caught up with him for a chat on his life and achievements so far and plans for the future. Excerpts…
Why and how did you start playing squash?
My father used to play squash. Nothing serious, mostly recreational. When I was in Class VIII, he introduced me to the game. I used to play cricket and squash pretty seriously till about Class IX. Then, because of academics, I had to choose one. During that time, I realised that the one-and-a-half hours I spent on the squash court every day were my happiest. That was the deciding factor for me to choose squash.
Tell us about your childhood and student days.
It was mostly squash. Till Class X, I was at Lakshmipat Singhania Academy. I was a decent student and a head boy. I used to love sitting in the front bench, but my teachers would send me to the back knowing I would be attentive in class anyway. I was a typical good boy and my wife never misses a chance to pull my leg about it. Then I moved to Chennai for squash and completed my Plus II there. Finally, I moved to England for higher studies.
Frankly, I don't have the full student life experience. I would not go out with my friends that much because most of the time I was busy with my game. But I have no complaints about the sacrifices I made for the sport.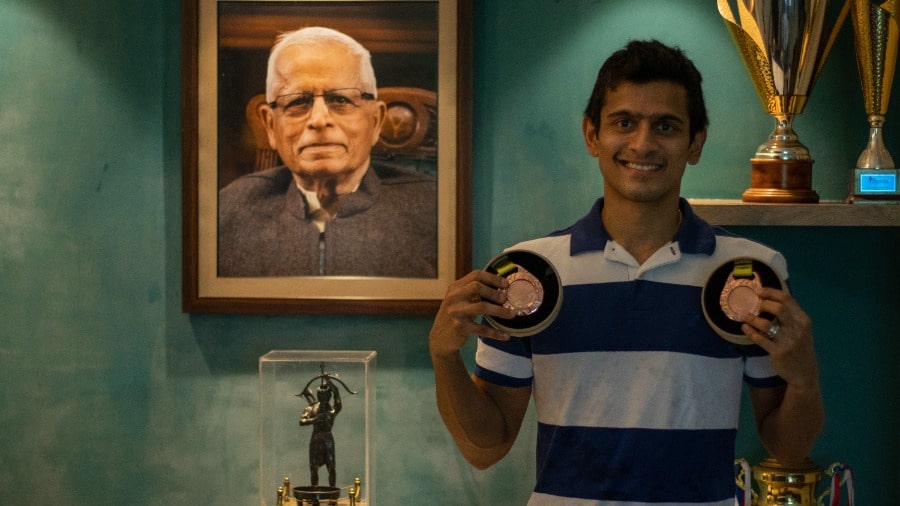 Saurav Ghosal with the two bronze medals he won at the Commonwealth Games 2022. In the photograph behind Saurav is his grandfather Sourendra Nath Ghosal, who passed away in 2020. Saurav is forever grateful to his grandfather for all his support and sacrifices
IMAGES BY Subham Behera
How was your latest UK trip?
It has been a memorable one. Birmingham as a city was so excited and enthusiastic (about the Commonwealth Games). It was a great setting for all the athletes. The arena and the people were grand. In many other tournaments, I would be alone but in Commonwealth, I had travelled with the entire Indian team. Besides, my entire family was there too. So, it was a different feeling.
Describe the Commonwealth Games in one word.
Special
How did you prepare for the Commonwealth Games?
I started preparing one year back. In terms of scheduling and the short-term outlook, we did a lot of things, which we thought were not possible. Like some patterns of play, and routines on the court, they were very difficult. With my body structure, we didn't think I would be able to push up to that amount of power, but we did. I was in America with my physical trainer and coach for four weeks.
Then we did some opponent-specific training. We knew who the main contenders were and for each player, we made strategies and ways to execute them. At the highest level, those small details made the difference. I mean, everyone was good at that level but you have to play in a certain way against a certain player to make him uncomfortable on the court.
The lowest and highest points in your career so far…
The lowest point would be the 2018 Commonwealth Games. I was prepared well but in those weeks I couldn't play. I was beyond disappointed. But that low point pushed me to reach the point where I wanted to be. The highest point would be this year's Commonwealth Games and the 2014 Asian Games.
Who has been your pillar of support?
My father has played an enormous role. He has been there since the day I started. Through thick and thin, whether I lose or win he would always be there. Then, I must talk about my grandparents, who had given up their old age for me. As my father was looking for a PG accommodation in Chennai for me, my grandfather offered to be there and moved. They are the two most important people in my life.
What was your first feeling about winning the bronze?
Relief. I was very proud of the quality of performances I had put in that day because playing against James (Declan James, England) was one of the toughest matches in my career. The pressure was immense as history was being made as the first medal was coming to India in squash singles. My father and wife were there and I went up to them after the match.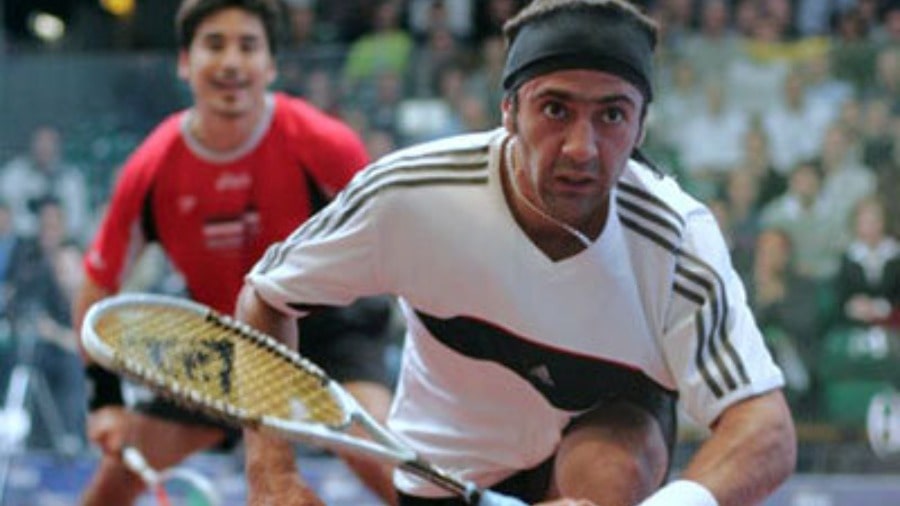 Amr Shabana of Egypt has been Saurav Ghosal's greatest inspiration.
Facebook
Your favourite squash player?
Amr Shabana from Egypt. Whenever I watched him play I learnt something. He is the one person who plays the right shot at the right time every single time and that's something almost impossible to do.
The future holds…
I think, physically and mentally, I am in a good spot now. So, I would try to push back into the top 10. Besides, the Asian Games are there. Ever since I turned 30, I plan one year at a time and then take things from there.