Rukmini Maitra has been soaking in the praise coming her way for her debut Hindi film Sanak, which has been declared a blockbuster. "The feedback is brilliant, we have received an overwhelming response from the audience," smiles Rukmini. A t2 chat.
What are some of the best compliments that you have got till now?
The fact that people are complimenting my very first Hindi film is a big compliment in itself. A lot of people have said that they are very proud that a Bengali girl has done the role of a heroine in a mainstream Hindi film, the launch was really appreciated. And the fact that a girl from Bengal has done this and achieved this... I have got this feedback unanimously, on social media, from the media, the people I have met, friends, people from the industry. It feels so good to represent Bengal in a way. Secondly, a lot of people told me that I looked really comfortable in a Hindi film. "You seem very fluid in your first Hindi film," they have said.
Sanak released on Disney+ Hotstar. How was the response different from a theatrical release?
We shot it like a theatrical, expecting it to be released in the theatres. But the halls were shut in Maharashtra... all my movies have had theatrical releases. For the very first time a film of mine released on OTT... it is a completely different ball game. When it releases in the theatres, you know it in the first two days. For OTT, it needs time to simmer.  After seven-10 days you understand where you are standing... a lot depends on viewership, ratings. You get to know the viewership count after a good six to seven days. I have done it and Team Sanak has emerged a winner. OTT as a medium has blurred all the lines. It is no longer about Bangla or Hindi cinema. It is just cinema. People worldwide have watched Sanak. People from the US and London have called or went on tweeting or writing to me on social media.
Are you big on Bolly mainstream films? What are some of your fave films?
Yes, of course, I have always loved watching Bollywood movies. My fave film is DDLJ followed by Kuch Kuch Hota Hai. These films have shaped by childhood. I can watch these films millions of times. I have probably watched DDLJ 67 times.
How did you flip Vidyut Jammwal in the first scene of Sanak?!
I was very excited. I knew that shot will go down in history! Vidyut is always seen pinning people down and it is the first time a heroine is going to be seen pinning Vidyut down. And that heroine is me. It was an iconic moment. And very graciously Vidyut trained me himself for that particular scene. The set-up was most romantic, it was a firelit beach, there was wind in the hair, and there I was pinning him down! But Vidyut was very particular that I should not hurt myself in the process. The scene came out really nicely. And, of course, I made history that night!
What does the word 'sanak' mean to you?!
I feel 'sanak' means a sudden burst of energy! Energy in any form can be navigated in two ways. Positive or negative. Sanak could be passion, zeal... madness, which could be for love, dream job, anything. I am very passionate about anything I set my heart to. I want to give my hundred per cent to it. My hundred per cent energy will only be given to that. That is my sanak in life, that I always want to give my 200 per cent to anything I commit to in life. And if I take it in a tad bit negative way, it happens when I'm really hungry and I don't get food at that point of time, I am craving something and I don't get that exactly.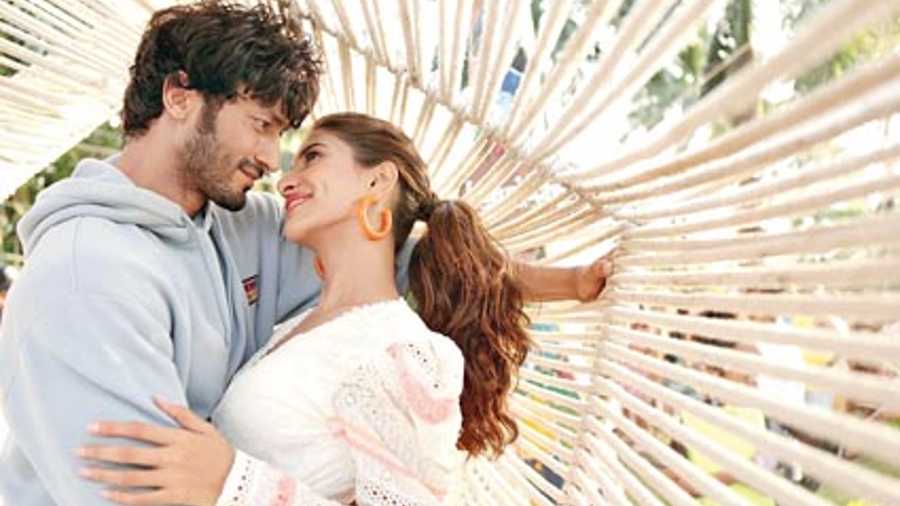 Vidyut and Rukmini in Sanak
Sourced by the correspondent
How challenging was it to shoot this film during the pandemic?
It was very challenging. It was like walking into a brand new completely unpredictable world. Like, you are shooting today and you don't know what is going to happen tomorrow. Even if you have call sheets for the next five days, you actually don't know if it'll even happen. That was there. A lot of safety protocols were maintained on the set. The most troublesome part was when you would do a romantic scene. After that we would sanitise. At the back of your mind, you are thinking of Covid. It did rattle us. As actors we are most at risk... and I suffered. I tested Covid positive. And I was hospitalised in Mumbai for a good seven-eight days, it was very difficult because at the end of the day it is not your city. My production house took very good care of me. We finally got back on our feet and we finished Sanak. Now we have the Number One viewership. What more could I ask for?!
Apart from the intense, emotional scenes, your comic timing is on point. How important was bringing in humour in this action film?
More than the humour, it was the minor leg-pulling thing which I had to display! In a good relationship when you are married to each other and committed to each other, you become best of friends. To have that fluidity... we kept that little leg-pulling between these two characters. Humour adds that little touch of breathing space. That's what we did for Sanak.
Did you come up with the line about having cheesecake?!
No, no, it wasn't me who came up with the cheesecake line but I am sure it was inspired by me! Because I spoke to the team so much about how much I love to eat, and that line came up naturally. It was a lot of fun. And we took different variations of the scene, master shot, close-up, over-the-shoulder shot, and I ended up saying that line three-four times. By the time I finished, I started craving it. Once I was done, I requested and the team actually got cheesecake for me, which was very sweet, pun intended.
How was it like working with Vidyut?
It was very breezy working with Vidyut. He is really chilled out, easy-going and no-nonsense. He is very encouraging. He'll observe you for two days, and on the next day say something really inspiring to you. He told me to enjoy the process. "You must enjoy yourself," he had said. I could relate since that is something that I tell people. Art will come to life if you're enjoying the process. He is a nice, comforting guy.
What's next for you in Bolly? Will you be doing more films in Bolly?
I am listening to a couple of scripts and concepts as well. I have never planned anything when it comes to films. If something good comes my way, I'll most definitely do it, be it in Hindi, Tamil, Telugu, Punjabi. My script is my hero.
From playing Jaya to Anshika, how would you sum up the journey so far?
It is very simple... I always have to begin with being married to my co-actor's character! Be it Jaya in Chaamp married to Shivaji, be it Rumi in Switzerland married to Shibu, and now with Anshika, I'm married to Vivaan. Everyone wants to see me married first. Then the guns follow, break-up, and maybe finally in the end I get to romance. Jokes apart, it has been a wonderful journey. There is a certain divine energy working for me. I had said no to films initially and here I am today. Never say never. The divine has its own plans. I am ever so grateful for this. I am so glad that I am getting to see this life. Many people dream of this. Now that I am living it as my reality, I can only be grateful to the Almighty with folded hands every single day of my life.