Mohit Moitra Mancha hosted an unconventional musical event on Christmas last year. Instead of big names, the line-up comprised talented rappers from across West Bengal, and the intangible power of Bangla rap (like it was for Bangla rock decades ago) drew people all the way from Barasat and Hooghly. Fans arrived in packed buses to fill the 500-seater hall. The atmosphere was electric, as audiences cheered the artists, delighted that their stories were being represented by musicians who were essentially from their midst.
Beyond the glitzy hoodies and gleaming bling, Kolkata has a unique underground rap community that uses rhythm and poetry to tell their stories. These rappers generally do not receive the backing of a major record label, nor can they afford to hire a studio to record their music. But what they do have is a burning passion for the craft, which allows their voice to break through these barriers and reach audiences.
Exploring a common space
Rounok Chakraborty, who goes by the moniker Cizzy, is one of the pioneers of Kolkata's underground rap scene. While he started out as a music producer, handling the pre- and post-production for rappers from around the country, he soon found his true place in front of the mic. He started writing 12 years ago, inspired by Linkin Park's Mike Shinoda, but realised that he was more comfortable rapping in Bengali. "Back then, Kolkata had a few rappers — like EPR Iyer and Feyago — but not a proper community. To experience this feeling of community, I started attending cyphers near the airport, The Tea Trove and Lake Gardens flyover. However, these meets were mostly about dancers, while us rappers and beatboxers would only come in as filler acts. Around 2011, I thought of creating something exclusively for the rap community — where we could get together, jam and learn from each other," he said. 
Creating a community
This thought led to the creation of The Cypher Projekt, a space where Kolkata's rappers could collaborate and grow. At the beginning, barely a handful would turn up and the sessions would be held in warehouses. "One of our first big gigs was at Princeton Club in 2014. In 2015, Kolkata Rap Cypher went viral on our YouTube channel, with over 50,000 views. But the turning point was in 2016, when we created the theme song for the Mother Teresa International Film Festival and received global media attention. This also helped us reach rappers who were honing their craft at home, but didn't know about us," beams Chakraborty. Soon, word began to spread and warehouses were replaced by art hubs like Nandan, Dakshinapan and Rabindra Sarobar. "Now, the selected venue sees at least 50 rappers gathering every Sunday to celebrate their craft."
Chakraborty's vision has now progressed beyond Bengal. Subhameet Banerjee, aka Smeetstyle, was a student of Amity University Noida when he saw the rap boom in Kolkata and felt the tug of the familiar. Encouraged by rapper RAGA, Banerjee started rapping in his mother tongue and joined the scene here.
"The Delhi scene, where I started, is ahead in terms of exposure, investment and marketing. But Kolkata is catching up fast. In keeping with the city's culture, its rap too is lyrically rich, and makes you think. Each track here encourages intellectual discourse. A prime example is Cizzy's Juddho, which has timeless relevance and is even applicable to the present Ukraine-Russia conflict," he says.
Another important part of Kolkata's rap sessions is how it democratises the art form. Chakraborty points out that the desi hip-hop boom coincided with songs by several Kolkata rappers going viral, creating a disruption. "We have no restrictions on who can come for our sessions. Every Sunday, we see people from places like Chandernagore, Serampore, Maslandapur and Barrackpore taking trains to come and spit a verse together. New communities like Sohojgang, East.Side.Queens and searchfordope are ensuring that rapping talent everywhere, from Howrah to Chakdah gets a voice," he says.
Chakraborty adds that the best part of Kolkata's rap circuit is the unity among artists, no matter which community they identify with.
This sentiment is reiterated by producers too. Rikishi Majumdar, who goes by RIXLR8, started producing two years ago when he was still a Class XI student at St. Joseph & Mary's School, New Alipore. Although he comes from a typical Bollywood music-loving family, he took up an interest in hip hop and started learning production by watching tutorials.
"The people are very helpful and other producers have taught me much more about the work than YouTube. I was brought into the scene by Srinjay Dey, aka Crzwn, my batchmate from school. He was a part of the community and encouraged me to collaborate with him, putting my learning to practical use." Majumdar adds that a track is created seamlessly when the rapper and the producer gather for an adda session and vibe over ideas.
Challenges beyond the stage
Majumdar also calls attention to the challenges faced. "I started by creating on my laptop as I didn't have access to a studio space. Ever since my laptop stopped working, I have been producing on my phone. While a lot can be done on the phone, it still isn't quite up to the studio level, which most rappers can't afford. This also leads them to demand 'free beats' or go to a producer who will offer their services at a lower cost. People don't realise that exposure won't feed us and this mindset needs to change for work to be of a certain quality," he says.
Easy targets for free work
Banerjee too has had to bear the brunt of these practices. He recalls being approached by a major Bengali production house, which promised him exposure under their brand, but no money. "Even if people are willing to invest in us, we musicians don't know the business-side of things well, and end up being easy targets," he says. He emphasises that despite this, everyone in the underground rap scene has each other's backs, even if the wear and tear of the business often gets to people, and many senior rappers rarely release music now.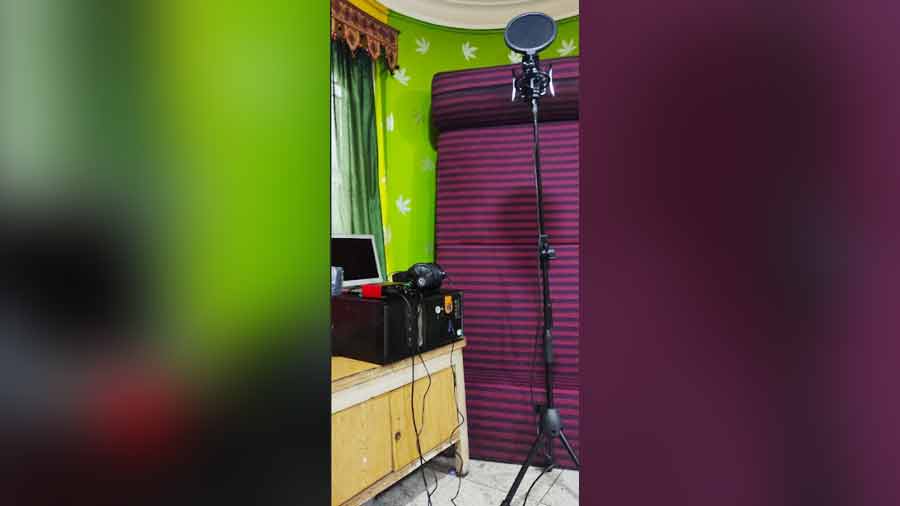 The home studio setup of Subhameet Banerjee, aka Smeetstyle
In situations like this, it is up to the community members to help each other. "I traded my gaming computer for a studio booth and recording setup at my Salt Lake home. I know the struggle of recording on a phone. And since most people don't have the money, but still want to put out music, I provide rappers with free recording sessions and also help them with the mixing and mastering. It's available for everyone and in the last three months alone, 15 rappers have recorded here," Banerjee says.
Apart from their unity, Chakraborty feels Kolkata's rappers stand out for their experimentative nature. "Along with new rap movements, rappers from Bengal are also bringing their unique stories to their music. Due to this, common folk are seeing themselves being represented in rap for the first time. With Bangla as the language, the crucial barrier of English that hindered many listeners from small towns is dissolving. We are on the right course and the freshest tracks of the country are coming from Bengal." he concludes.