"I don't just want to be a rapper, but an emcee who uses rap as a voice for the voiceless." Rap isn't just about glitzy outfits and flashy music videos for Kolkata-based Santhanam Srinivasan Iyer, aka EPR Iyer, but a blend of rhythm and poetry to speak the absolute, unfiltered truth.
Starting out
EPR's musical journey though, didn't start with rap. "Back in school, I discovered English rock music through MTV, Channel [V] and VH1. I started listening to a lot of Ricky Martin, Bon Jovi, Ozzy Osbourne and Enrique Iglesias. Then, I went through a boy-band phase and heard a lot of the Backstreet Boys and NSYNC," he says
Iyer feels that it was only upon hearing Linkin Park that things started to take shape for him, and he remembers being awestruck by Mike Shinoda's stage presence. This led him to discover other styles of music and he dived into the rich world of hip hop with Eminem.
"I started learning about the culture and its roots. KRS-One's verse, 'Rappers spit rhymes that are mostly illegal. Emcees spit rhymes to uplift their people' made me want to create awareness and consciousness through rap," says the 32-year-old, attributing it as the reason behind his name EPR (Emcee Poet Rapper). 
But it wasn't all smooth sailing initially. He found it tough explaining rap to an audience who didn't have much context and who felt that it was just about 'saying words fast'.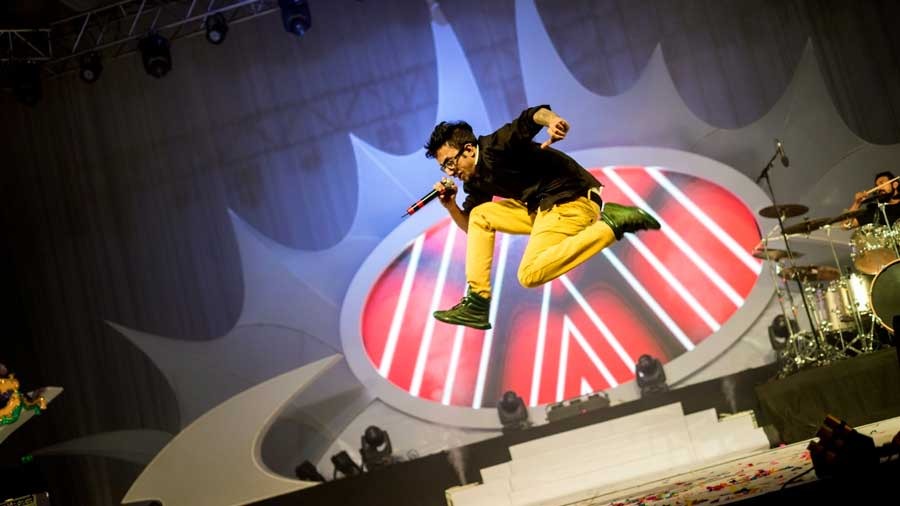 EPR initially found it tough explaining rap to an audience who felt that it was just about flashy moves and 'saying words fast'
He also had a big challenge to overcome at home. "My parents always wanted me to become a doctor like most of my extended family and were very sceptical about music. I assured them that I would continue my education, but in something that would help me with my passion," he said. Iyer holds a Master's in Mass Communication from NSHM Knowledge Campus and incorporates everything he has learnt into his music.
Since his school (A.K. Ghosh Memorial) didn't have a lot of fests, he sought a bigger stage. The Telegraph in Schools (TTIS) would host a huge fest in Swabhumi, and he formed a band with his friends to compete in the event. "I went up on the first day and freestyled. The very next day, there was an article on this school kid who had done something novel with music and I felt optimistic about making it more than a hobby."
Underground Authority
Soon, he formed !Banned, and the troupe dominated the college fest circuit, winning trophies around the country before disbanding. His next band, Underground Authority, has a far more enduring legacy. Formed in 2010, the band catapulted to the big leagues with India's Got Talent, where it reached the finals. "I was enjoying performing and the television 'look' instantly transformed us from semi-pros to complete professionals. People started looking at us seriously and my parents realised that what I was doing had potential," he says. 
And almost 12 years on, the band still stands strong with over 700 live gigs. They have also shared the stage with Rudolf Schenker of Scorpions and opened for Megadeth. "From 2010 to 2018, I completely focussed on playing with the band. We dropped a full-length album, You Authority, and an EP, Propaगेंडा," he says.
Back to hip hop
In 2018 though, he felt the pull of the familiar. 
"From its very origins, Indian hip hop followed a very different course than the west — where it was a voice of uprising. Here, we started with Baba Sehgal and the genre began to be widely spoofed. Later, Honey Singh and Badshah came and made it a mass movement, despite its sexism and misogyny. People thought hip hop was about a man on a tractor with 100 women! It turned into voyeurism and chauvinism," he laments.
But something changed with Gully Boy, he feels. After staying away from hip hop for almost a decade, he felt the urge to return to it. "People started paying more attention to the lyrics and I wanted to do something to further Kolkata's rap scene and mentor budding rappers. I formed a hip-hop community with my producer, GJ Storm aka Kuntal De, called Adiacot (A dream in a cup of tea) to address social-ills and spread awareness," he says. 
A community across borders
This community holds a special place for Iyer, as he himself had found the passion for hip hop through a community, albeit online.
Back in 2007, he became a part of Insignia Rap Combat on Orkut, a community of hip-hop artists from Nepal, Sri Lanka, Bangladesh, Pakistan and India. Other well-known rappers who emerged from this community include Raftaar and Brodha V.
"I used to take part in topical rap battles, where the moderator would give a topic and we'd pen down our verses. This was a hardcore community where you had to earn your respect. Contrary to what people think now, Indian rap didn't start from the gullies," he says. Iyer also collaborated with Smokey The Ghost on a track, O.R.K.U.T., which tells this story about the digital origins of Indian hip hop.  
After releasing an EP called Bik Gayi Hai Gormint, he wanted to explore music that was more experimental, but encountered resistance due to clashing egos. "People tend to have rap heroes growing up and think that other genres are not worth listening to. I think more like a musician than a rapper, because my ego was broken early on by working in a band and learning to incorporate different styles from them," he says. This prompted Iyer to explore his solo rap identity and he dropped a few singles.
MTV Hustle
In 2019, he got a call from MTV, the same channel that had sparked his interest in English music as a kid. "They asked me to host a rap competition called MTV Hustle. When they said that rappers could perform their own songs on the show, I told them I'd like to compete instead," he smiled.
After cracking the auditions, Iyer went to Mumbai and became a sensation with his verses on issues like farmer suicides, depression, acid attacks and corruption. His lyrics were a breath of fresh air from the cultural appropriation of rap, which largely pertained to party songs, personal struggles or narcissistic bragging. His talent helped him claim the runner's-up prize. 
Iyer feels gratitude towards the show not just for how it brought him back to the stage, but also its role in moulding the rap scene. "The audience was tired of the same reality shows doing the same covers. This show allowed rappers to dish out their own songs. It gave a platform to new rappers in front of a huge audience, effectively making every episode a stand-out album."
Solo career
The fame hasn't changed why he does what he does and Iyer refers to himself as a 'reporter from the streets' — continuing to speak about current affairs and socio-political topics through rap. He admits that being a Kolkatan has a lot to do with his stance. "I don't think I would be this political if I grew up somewhere else. You get exposed to political debates from the start when you grow up in Kolkata, be it at a cha dukaan or college adda. The city makes you realise that in order to make a systemic change, you can't stay outside the system."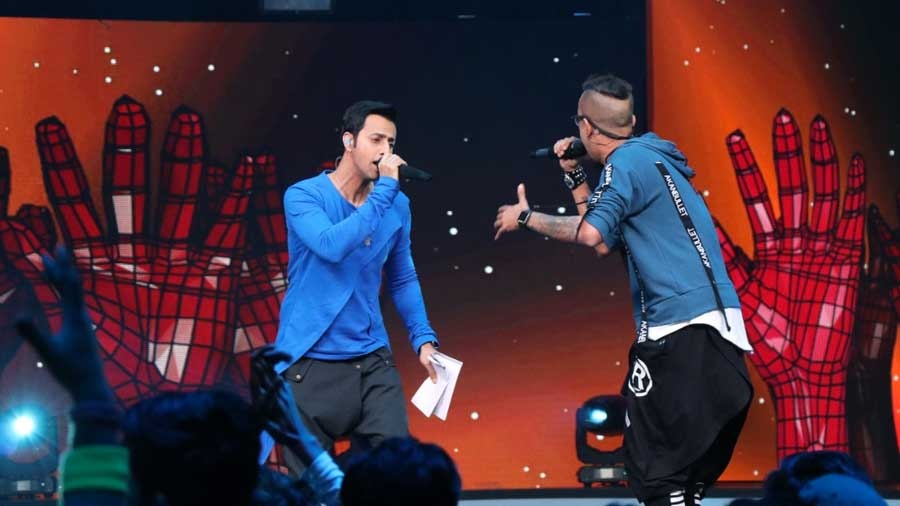 EPR performs 'Insaaf Ka Qaatil' by Underground Authority with Salim Merchant on MTV Hustle
Despite the pressure, he prioritises a journalistic approach to hip hop, maintaining neutrality by criticising whichever group falters. His debut solo album, Protest Poetry, released in 2020 during the pandemic, is the blending of these ideals. Featuring 17 tracks that have notched two million streams on Spotify alone, Iyer feels that it is proof of a change in taste.
"The album is laden with heavy content that listeners would normally not listen to, with stories about the Assam Regiment, Laxmi Agarwal and the 2019 elections, among others," he says. 
With the perpetual urge to grow, Iyer is well into the production of his second album, Reggae Hindustan, comprising 16 singles of which eight have already been released. "I was quite orthodox and objective in my first album. Barring two mellow songs, I didn't explore myself in the stories I told. I have explored a multitude of styles in this album and it has more of 'me'. I even studied Urdu poetry for five months to write one song, ADR/ABR. After hearing it, people were asking me if I was from Pakistan!" he says. 
Iyer adds that the album is all about breaking stereotypes, pointing out how previous regressive conceptions have made way for new ones. "Earlier, you had to wear oversized clothes and jewellery to be considered a true rapper. After Gully Boy, you need to speak in Mumbai street lingo to earn credibility. I don't subscribe to either. Art is subjective and what I wear on stage doesn't matter to me, as I live hip hop," he says. 
He also credits Kolkata's cosmopolitan nature for allowing him to meet diverse people and breaking his orthodoxy. "Meeting people from all strata here made me more liberal. The nature of this city allows you to really think, which is important to write poetry. In fact, Bangla is closer to my mother tongue than Tamil. Anyone who listens to my music will find Kolkata in it," he signs off.