I discovered Narayan Debnath's illustrations as a child and instantly fell in love with them. There was a beautiful simplicity to his illustrations, a lifelike quality and realism that can only be a product of painstaking precision. I became a fan for life and still have some of his illustrated books with me. 
As an illustrator, Debnath dabbled in numerous genres – adventure, comedy, horror, detective fiction, and so many more. You name it and he had done it. He worked with equal ease in all of them, too. His were such fine and detailed drawings that you could tell that they had been produced after intense research. 
Debnath was rigorous in preparing himself before illustrating for a book. He would gather as much reference material as possible so that he could capture the look and feel of a story with absolute perfection. His illustrations of people were fantastic, but I found his illustrations of animals even more intriguing. He also had the rare gift to permeate a reader's mind with a certain mood or ambience that left one spellbound and completely immersed in the story.
Creating timeless comics
As an artist for comics, his achievements are staggering. Personally, my favourites have always been Handa Bhonda and Batul the Great. These are works that have survived for decades and become a part of Bengali culture. They are timeless. 
The slapstick comedy that Debnath popularised may have been simple to appreciate, but it required great subtlety of craft. Through his comics, he managed to capture the lifestyle of the youth across generations, something that very few artists can claim to have done. 
I believe Debnath was inspired greatly by the works of English artist John Tanton. One of Debnath's contemporaries must have introduced him to Tanton. Debnath's grasp of action in comics and his tendency to create memorable drama through set-pieces and interactions between characters is probably an impact of Tanton's style. 
As a comic artist, Debnath did not insinuate. He was very clear and categorical in what he presented to his audience. There was not a lot to read between the lines, not a lot that remained unsaid. He was not politically motivated either. I have never found much in the way of political critique in his work. This also meant that Debnath had a more benign and bipartisan appeal. The question of ideology (either his or that of his readers) did not matter.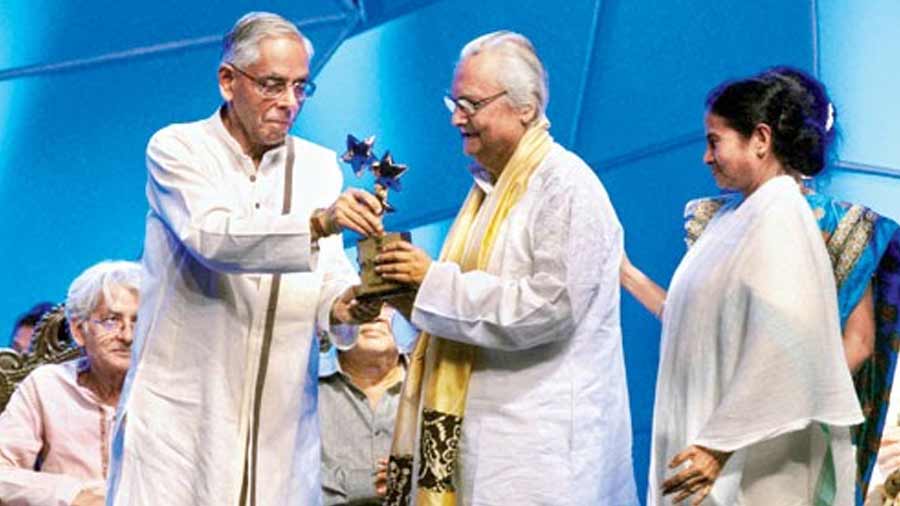 Debnath receives the Banga Bibhushan, awarded by the Government of West Bengal, in 2013
TT archives
But his finest work remains in the domain of children's comics. For a kid growing up in a Bengali household, Debnath was inescapable. A lot of that had to do with how he evolved his techniques while keeping his overall template of the work more or less the same.
A soft-spoken foodie
I had the pleasure of meeting Debnath and even visiting him at his home quite a few times over the years. The first thing that struck me about him was how soft-spoken he was. I never saw him get animated, excited, or raise his voice. Whenever he spoke, he was sweet and gentle. What many people have described as his reclusiveness was actually his sheer humility. He was self-effacing and down to earth. He did not think he was special, even though so many of his admirers rightly considered him to be so.
Debnath was also quite the foodie and a wonderful host. I can recollect an occasion where I had arranged an interview with Debnath for a local reporter. After the interview was done, Debnath had promised the reporter and myself that he would treat us to paratha and mangsho. For most, that was mere courtesy, but Debnath kept his word. He later invited us again to his place and we had a sumptuous meal, which was cooked by his wife.
A thorough gentleman who worshipped his craft without being obsessed about it, Debnath also led a very plain and modest life. He was not the sort to live beyond his means. At the same time, for someone of his stature, he deserved to be rewarded far more for his contributions. In terms of financial security, Debnath was entitled to a lot more than he received.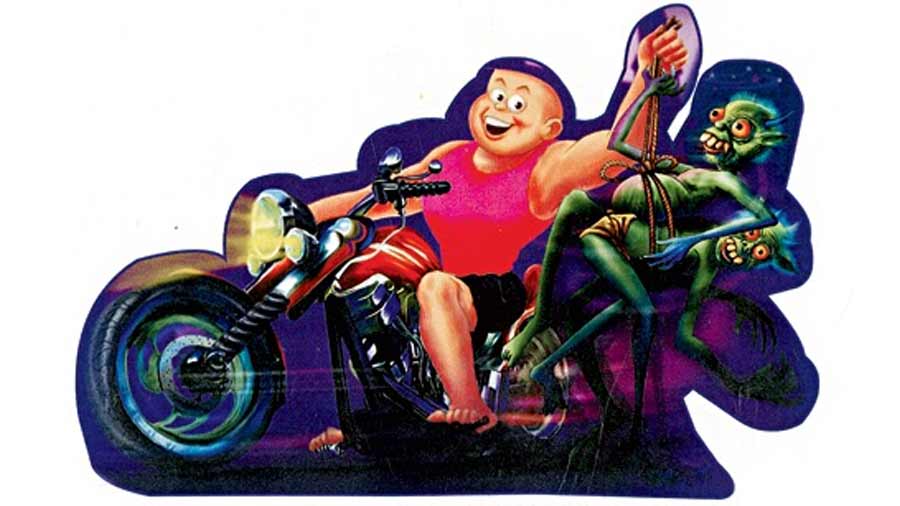 'Batul the Great' remains one of Debnath's most enduring creations, having debuted in 1965
TT archives
The last of his kind
When I got the news of Debnath's passing on the morning of January 18, I was not surprised. I had been expecting it, as he had been in ventilation for quite a few days. I knew the end was near. 
On sitting down to assess his legacy, I can only marvel at his immense longevity. The body of work that he has produced (many believe that he holds the world record for creating the longest-running comic strip as a solo artist with his Handa Bhoda comics, which were published for 55 consecutive years) is difficult, if not impossible, to match in terms of volume alone. 
But more importantly, there is the question of Debnath doing something that is not in vogue today. Comics are waning and their readership is not what it used to be. Magazines and newspapers, which played their part in making Debnath who he was, are not as supportive of artists anymore. All that makes me wonder if circumstances will allow another genius of Debanth's ilk to flourish. 
He has left us as an artist par excellence. With time, he may also be seen as the last of his kind.