Bantul creator gets highest honour
Read more below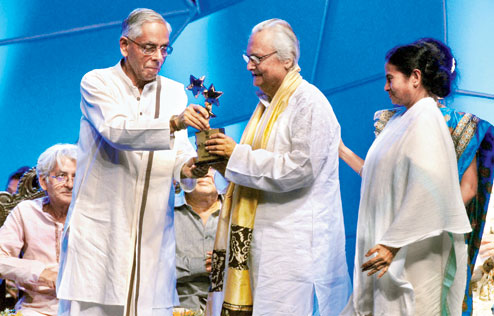 ---
Published 24.05.13, 12:00 AM
|
---
Narayan Debnath being awarded the Banga Bibhushan. Picture by Sanjoy Chattopadhyaya
The day after he received the Banga Bibhushan award Narayan Debnath was sitting quietly in the little room in the ground floor of his house drawing cartoons of Bantul, Handa Bhonda, Nonte Phonte and his other characters. He is working for the next edition of Suktara and Kishore Bharati. In between work, he receives numerous phone calls congratulating him on his new title.
After spending 60 years of his life drawing popular Bengali comics, Narayan Debnath was bestowed with the West Bengal government's highest award of honour, Banga Bibhushan, this year for being a popular comics artist. At the programme organised at Science City auditorium, Debnath received the award along with 15 others from different fields.
The 88-year-old comics artist, however, has taken it in his stride. He chuckles and says, "I am happy, but I think I have reached an age when emotions run dry. I appreciate the honour that the state government has given me. My wife would have been the happiest," said Debnath.
The surprise phone call came about two weeks before the event. "They told me that I was going to be awarded Banga Bibhushan and said that I would receive a letter soon. The letter came about a week back to my house," said Debnath.
A car and a young boy came to take the veteran comics artist to the venue on the evening of May 20. Debnath was accompanied by his son, daughter-in-law and grandchildren. Some of his fans and well-wishers went along in another car.
Along with a memento, Debnath received dhoti and punjabi, fruits and sweets.