Ever since we set our eyes on the bold Coco Ballucci, we've wanting to shoot with this versatile beauty influencer and make-up artist who has taken Instagram by storm with striking-cool fashion and make-up. The 23-year-old has walked for Shantanu and Nikhil at FDCI x Lakme Fashion Week's first fully physical edition in March this year. Call him Coco Ballucci or Coco or Rajkumari Coco or Anukul Dhara, there's no denying the appeal and the explosion of raw talent. What makes Coco adorable is an endearing innocence, which is reflected in the eyes. Post an exclusive shoot for The Telegraph, styled by Pushpak Sen with hair by celebrity stylist Bridgette Jones of Bridgette Jones Fashion Salon (Sarat Bose Road), Coco tells us about the journey so far.
How was it shooting with The Telegraph?
I absolutely loved working with The Telegraph! I have grown up reading The Telegraph and would subscribe to stay updated with the latest fashion trends. I have always dreamt of shooting for The Telegraph and it finally came true! (Laughs) Big thanks to The Telegraph.
Where were you born and brought up?
I was born and brought up in Lake Town. Now, I live in Chandigarh. I tried shifting to Bombay but it was crowded. Chandigarh was peaceful and I decided to stay there. I wanted to start working after my higher secondary exams. My mother is into stitching and sewing and I too had a knack for the same, but somehow it didn't work out. I am not trained in make-up but thought of giving it a try and loved the process. It's been six years now. I mostly work in films.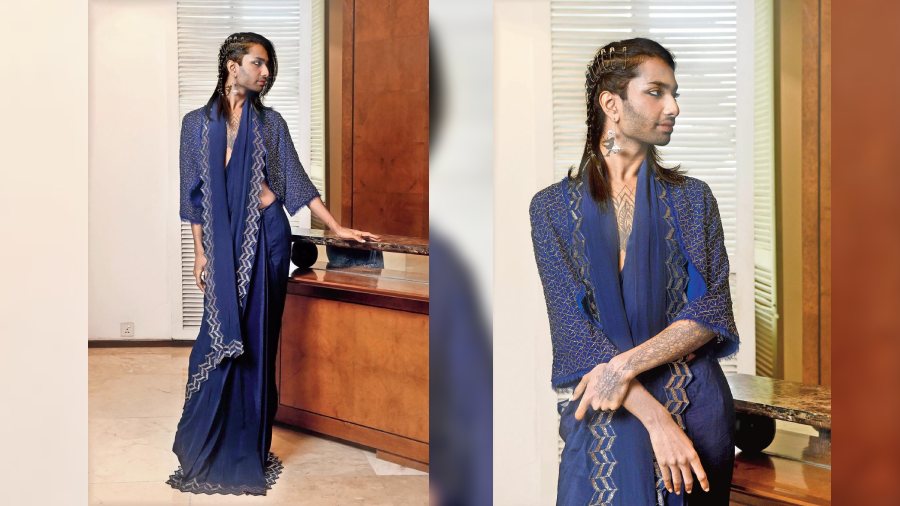 How chic does Coco look in a Dev R Nil cocktail sari! "Dev R Nil has always been my favourite from Calcutta. I have worn saris but this was the first time I am wearing a draped sari. It is amazing. The colour and the hairstyle, I love it all. Such a glam look!" says Coco, lining the eyes with kohl. Bridgette chooses the dramatic 'Micro Dutch Braids' to go with this look. "The beauty of this hairstyle is in its complex simplicity. It is perfect for Coco's medium-length hair. This is an attention-grabbing style with edgy side-swept Dutch braids all the way to the side of the nape of the neck, secured with hair ties. Ditch the Bobby pins and add some oversized safety pins to make your micro braids edgy and eccentric," smiles Bridgette. For Pushpak, "a hot cocktail sari is iconic". "If you look at the 1960s and '70s films and film stars, they would always have a cocktail sari in their wardrobe. The Dev R Nil twist to the cocktail sari is interesting to me," says Pushpak. The design of the silver dangler on one ear is inspired by the "crown of Konark Sun Temple".
How has the journey been so far?
Amazing! There have been ups and downs, facing problems alone... there is a lot that happened to me in these six years. I realised I have to be strong and have money in my bank account. Today, I am all good.
What is the story behind the name?
My name has always been Coco, my nickname. I went viral as Rajkumari Coco and there were many fake profiles by the name of Anukul Dhara. So, I thought of going with Coco and Ballucci complemented it well. I am a big fan of Monica Bellucci!
Which moniker is more famous now — Rajkumari Coco or Coco Ballucci?
I might sound overconfident, but both! (Laughs)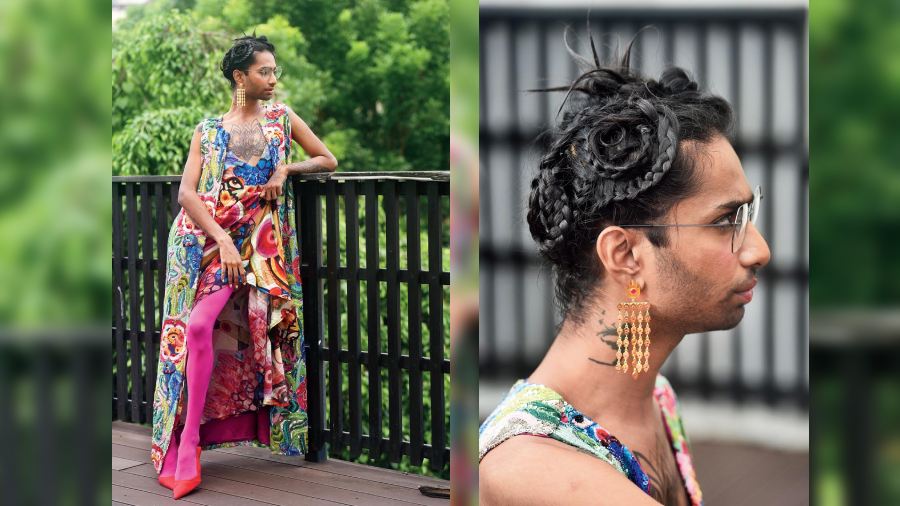 This is a statement look in Bobo Calcutta — hand-embroidered jacket with a printed muslin dress. "Bobo Calcutta is another favourite. The label is known for its signature motifs. I never imagined that one day I will get to wear Bobo Calcutta. The outfit is stunning," says Coco. The 'Tribal Boho Twist' by Bridgette adds to the cool quotient. "Tribal styles are not just limited to braids and can combine braids with smaller twists that can be braided or twisted to achieve a more interesting texture allowing you to be artistic and create your own style. One can mix different shapes and patterns, for example box braid, cornrows or Dutch braids for a custom-made braided style that's only for you. I customised this style for Coco by combining flat-braided twists on one side that worked as an undercut and added some spiked hair for a funky look," says Bridgette. Pushpak styles it with earrings that are inspired by the Jamdani sari. "Bobo Calcutta puts the fashion image of the city in a new light. The work is iconic and each piece is a masterpiece. You can spot a Bobo Calcutta 10km away. You can also spot Coco from 10km away, the personality is so iconic. The brand's personality and vision is similar to how Coco is in real life, beautiful and flamboyant and true to your own nature yet quirky. I wanted to make Coco look intellectual and demure at the same time. The best accessory was a pair of glasses. There's a stigma that if you are chashmish, you are considered to be a geek and uncool. I have never found them uncool. I find the aesthetic chic. We have neon stockings because Coco can pull off anything, and scarlet heels to go with it," says Pushpak.
Were you always this confident or have you had to work on it?
So much has happened in these six years that it has literally changed my life! You really need to support your choice. If you love it, do it. Don't question it. Eventually people will love it and appreciate you.
How has it been at home? Were they okay with it?
In the beginning, no. My neighbours would say rubbish. Ever since I was a kid, I would have conversations with my parents so that I could explain my point of view. Ever since I was a kid, I would wear my elder sister's frocks and dance around. Ekbar boka khaoyar por, aami abar tai kortam. (Laughs)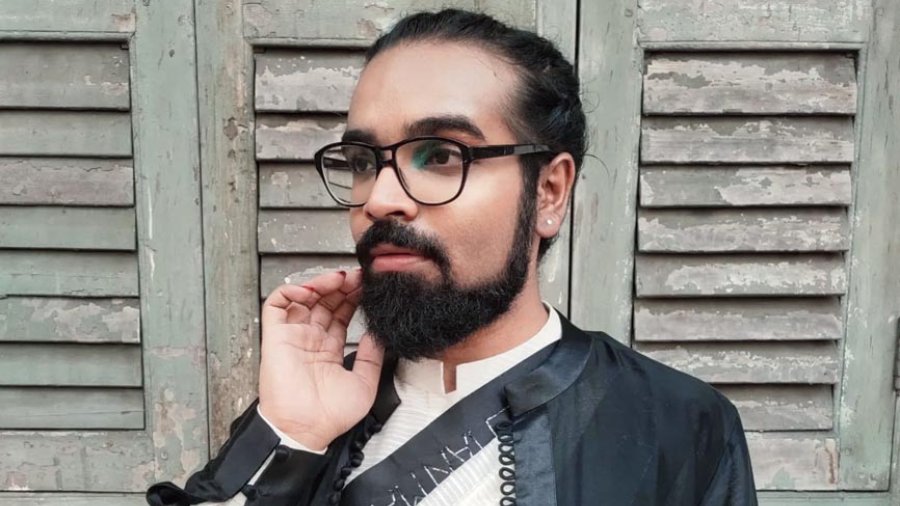 We wanted to create a vibe and tell a story. Fashion is about mixing and matching narratives. Coco is a good friend of mine, but more than that, before we became friends, I was a fan of Coco's personality and work. When I say fashion has no gender, I see Coco because Coco has a beard, beautiful eyes, a stunning body, tattoos... the best muse I or anyone can have is Coco — Pushpak on Coco
When do you think they accepted you the way you are?
When they saw I was doing so well. I take care of them and myself too.
What is your message this Pride Month?
Gender doesn't matter. Just be who you are. I do whatever I feel and people love me. There are people who bully me and pass negative remarks, but I focus on people who love me and that number is huge. Just live your life and you will have everything.
Pictures: Pabitra Das
Make-up: Coco Ballucci ; Hair: Bridgette Jones; Styling: Pushpak Sen; Location courtesy: The Park; Jewellery: Earthaments; Glasses: IDEE