IPS officer-actor Prasun Banerjee, who is a familiar face in Bengali TV serials, has wrapped up the shoot of his directorial venture, a film called Just Across The River. A candid chat...
How did the idea for the feature film come to you?
The idea struck me during a course of river patrolling in the Taki-Basirhat area. As a routine security exercise we sometimes do river patrolling there. During one such exercise our launch moved quite close to the other side. The SP was with me along with other officers. We noticed movement of the Border Guards Bangladesh patrolling nearby. I was told by one officer that the land in the striking distance is Satkhira under Bangladesh. Suddenly a flurry of memories rushed through my mind. I remembered that my mother used to write letters to her parents and the address was — Prafulla Chakraborty, Post: Bareya, Subdivision: Satkhira, Zilla: Khulna, Bangladesh. And we had received innumerable postcards, letters from that address too. That is Satkhira; now a district. My mother was born on that soil. And then some tragic personal memory crowded my mind and I decided to make the film Just Across the River.
Why did you feel the need to direct?
A film essentially is a director's dialogue. I am an actor too, so I can realise this truth in a more intimate way. So when someone has to tell a story which is pregnant with personal experience or trauma, it's important that he himself should direct, if he is a film-maker, rather than asking someone else. Only I know where it rankles when the visuals of my mother lamenting the death of my grandmother comes to my mind. She couldn't go and see her ailing mother because she didn't a get a visa at that point of time. She wept bitterly and broke down when there was no energy left for her to cry. Without directing this one I would not have been able to tell the story which is up close and personal yet a story of many others like my mom.
Why did you feel this story would make a feature-length film?
Length is a mathematical expression which helps us to understand the time taken by the director to complete his story. Most of the film-makers across the world believe that a film is nothing but a story well told. Now to tell a tale perfectly you need to have shots, scenes and sequences as categorised by the grammar of film-making. But film is an art, never restricted by the wisdom of mathematical formula. So I didn't have a length in mind when I started shooting. I wanted to tell the story nearly without any excess or unnecessary melodrama. I believe that films should be that long what is essentially required to round up the story beautifully.
Did it seem cathartic to tell the story?
Well said, cathartic. There was an urge of an emotional release of a traumatic experience which I have held back for years. There was a triggering point. My job as an IPS officer is that I am committed to protecting the Indian soil... and then suddenly I felt the connect with another country. My adrenaline flow increased and my heart started beating in a more pronounced manner. It feels cathartic to share this story with the whole world.
What is the expected reaction from the international audience once it travels the festival circuit?
My film Men Will be Men got selected in three international festivals in 2019/2020. This one is expected to move the international audience more intensely. Think of someone in the US or Europe. They haven't seen or experienced anything like this. Two countries bisected by a river where everything is so similar on both sides yet at times too far. With the creation of Bangladesh, millions of people had a new country in a span of 24 years. Life went haywire for them; survival became a challenge... uprooted, scattered and traumatised by a chain of political events over which they had no control. The story is a reflection of that derailment of life, which many in Europe and the US are not conversant with. It is a tale which is disturbing , depressing and yet real. I am sure the international audience will love it.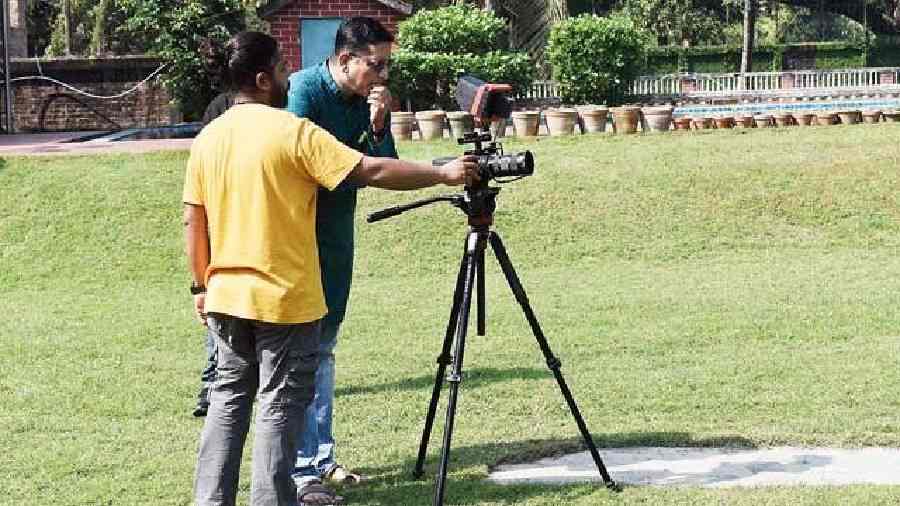 Where did you shoot the film? How was your shooting experience?
Shooting was mostly done in Taki and Basirhat. We have shot extensively on the river Ichhamoti, which has almost become a character in the film. We shot on boats and launches, we chose our locations carefully and got two beautiful houses on the bank of Ichhamoti. We are thankful to the people of Taki for their love and cooperation. It was indeed a fascinating experience.
Who are the lead actors?
I have chosen actors mostly from theatre world. This is a story which is more glued to the ground than glamour. Since I am into theatre, I chose theatre artistes from Calcutta and the districts such as Samarjit Das, Rima Mukherjee, Pratim Mallik, Prasenjit Sur, Jayanti Sarkar, Meghamala Aich Roy. They have done a fantastic job and I am quite sure that their portrayal of each and every character would be appreciated.
When will the film release?
It's in the post-production stage. The film will have a few Bhatiali and folk songs and that part of the work is underway. I am targeting a release by January since that's the time to submit films to the major international festivals.