Her laughter can light up a room and her energy is infectious. The gorgeous Parno Mittra talked Diwali plans, how she spent her birthday recently, her ideal man and more in a chat with t2, post-shoot at JW Marriott Kolkata.
What are your Diwali plans?
I am working! So, my Diwali is spent with t2!
Do you hate working on such occasions?
No, I love working. I am a workaholic. If you tell me that I have to work all year round without taking a break, I'd be happy. I might crib though but that keeps me going.
Your nature is a lot like the festival of lights, happy and positive. What has been your mantra in life?
We all have issues to deal with. But life is short, have fun. Just do it. Don't think so much. People tell me: 'Oh you talk too much' and 'You should control'. I am like, who cares? I pay my bills and let them judge me if they want to judge me. I am going to live my life the way I want to. I love being me. I have always been straightforward and I have a close-knit friends and family circle. I like being with them. That's my life. And, I have been like this all my life. I don't let stress get in the way. Sometimes I too go through a bad phase, but you have to live your life. There are going to be ups and downs in life. You can't keep sulking. You gotta do what you gotta do.
In your darkest times, who or what has shone as your biggest inspiration?
It's hope, at the end of the day hope keeps us alive. Out of 100 things, 90 might not happen, but it's that 10 per cent which is hope and that keeps me alive and going. No matter how down or broken you are, you must keep hope alive. It's not going to be the same tomorrow. It's important to know that. More than anybody else, just love yourself.
How was your birthday recently (October 31)?
I am going to become very old! (Laughs the Parno laugh). It's just a number. It's about how old you feel. I am turning 16 and my sister (Tanisha De) behaves like a 50-year-old woman! She will tell me 'Don't do this, don't do that!' I'll be like, 'Will you please let me live my life?!' (Laughs) I feel like a 20-year-old, no matter how old I get! I hope I am like that for the rest of my life!
What was your birthday wish?
I never have birthday wishes. I just want to have fun! But, work should keep coming. I wish I get to travel a lot more because in the last two years, I haven't been able to do it regularly. Next year, I'd like to travel abroad.
What about relationships or marriage?
I am underage and I cannot get married now! (Laughs the Parno laugh) My parents have never told me to get married. I have never had that pressure from my family. My friends want me to get married so that they can dance and eat. Let's see, if I meet somebody great, then why not?! Until then, no chance.
What kind of a mindspace are you in right now in terms of relationships? What kind of man would you want?
Whoever you marry should be your best friend. And, definitely a secure man who does not need validation. He should be respectful. You'll have to feel at home with that person. The day I feel at home and I am an adult, I'll get married. (Laughs)
5 festive looks of Parno Mitra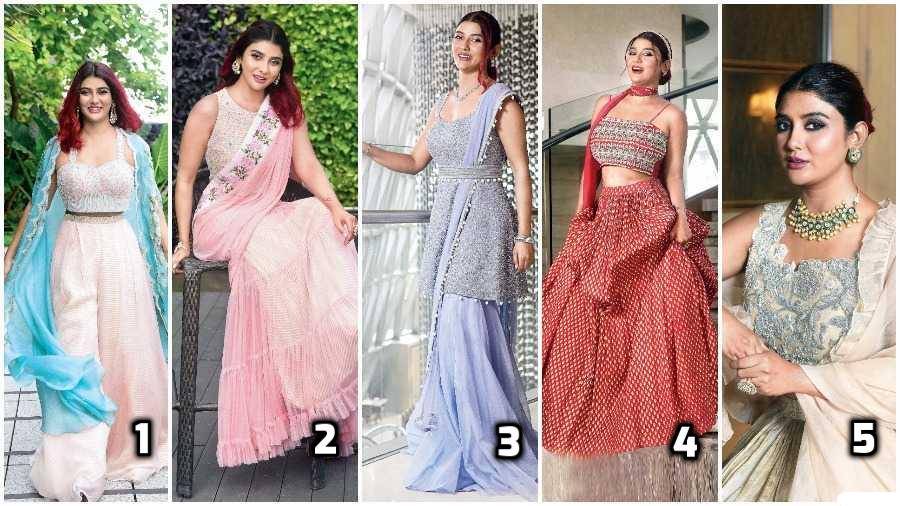 1. Parno looks fresh in this bustier, wide-legged pants and jacket, the colours soothing, making it a great choice for a morning meet-and-greet. The chunky jewellery perfectly complements the fusion vibe. Pinkish lips and the wash of red on Parno's hair adds to the cheer.
2, This baby pink pre-draped sari is a great transition outfit, good to take you from your Diwali lunch to the evening puja. The make-up has been kept subtle and the hair given a bit of twist.
3. This lavender sharara has an understated elegance about it. While strands of hair kisses one side of Parno's face, adding a casual charm, the rest of the hair has been tied in a ponytail. The make-up is minimal.
4. There is a lot of fun in this picture. While the hairband lends it youthfulness, the sneakers peeping out of the lehnga are so sporty and cool. The scarf-style dupatta is for fuss-freeness. The eyes are rimmed with kajal and the lips mud red. Great for a Diwali party!
5. There is a lot of subtle drama in this look. The messy bun with a whole lot of red and those smudged eyes make for great partners. The statement jewellery looks beautiful with the muted shades of the lehnga.
Pictures: Pabitra Das
Styling: Neha Gandhi Binjrajka; Hair and make-up: Mainak Das ; Location: JW Marriott Kolkata
Outfits available at Pernia's Pop-Up Shop, Calcutta, and on the website too; White-finish earrings/necklaces with faux diamonds in mixed metal jewellery from Pernia's Pop-Up Shop, Calcutta; Jewellery crafted with semi-precious kundan and meenakari: Bedika n Richa