Currently in Australia to help India conquer the world once more, Virat Kohli turns 34 on Saturday. From saviour on the pitch to a role model off it, My Kolkata picks 34 moments from his incredible career that swelled our hearts with pride.
Reeling at 31 for four after the powerplay, it was Kohli's self-belief that powered India to defy the match situation and snatch victory from the jaws of defeat against Pakistan in Melbourne in the ongoing ICC T20 World Cup. With 28 required off eight balls, Kohli smashed Haris Rauf for a six that continues to defy logic, before combining with three separate partners in the last over to get the job done.
After breaking his century hoodoo against Afghanistan in the 2022 Asia Cup, Kohli spoke up about mental health, shedding some much-needed light on the importance of psychological well-being in the high pressure arena of international cricket.
Earlier in 2022, US-based Sportico named Kohli among the world's 100 highest-earning athletes, the only Indian as well as the only cricketer to feature on the list.
India's triumph at Lord's in 2021 will go down as one of our greatest away wins in Tests. Smarting from a loss in the previous Test, Kohli willed his bowlers to victory, urging them to make the English batters feel like "they are in hell". India's pace battery responded in hostile fashion, bowling out England for 120 to seal victory.
On World Stray Animals Day in 2021, Kohli, inspired by Anushka Sharma's love for animals, opened an animal welfare project in Mumbai to take care of stray dogs.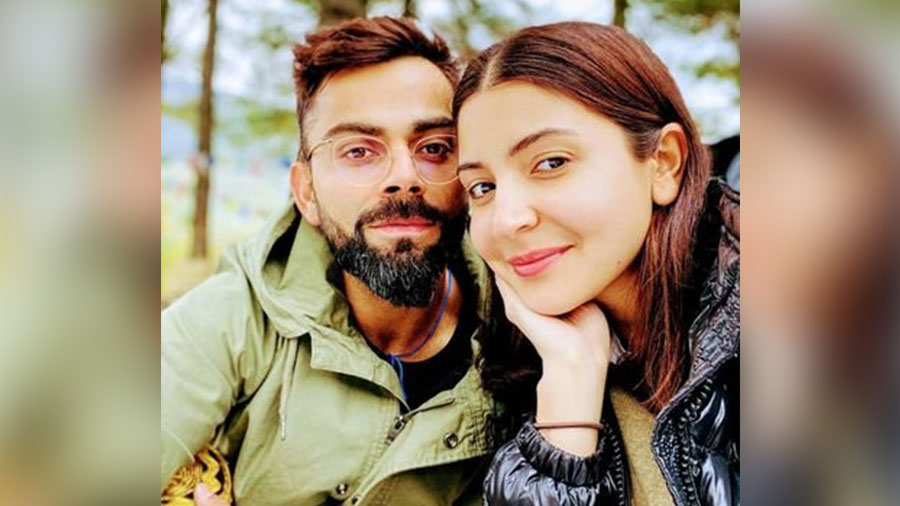 Kohli and Anushka Sharma have long been among India's most adored celebrity couples
TT archives
During the 2020/21 Test series Down Under, Kohli took a break from the team after the first Test to be with Anushka, as the couple were expecting their first child. Kohli's decision to take a paternity leave not only showcased his natural priority to put his family ahead of cricket, but also generated some urgent conversation about gender roles in marriage and parenthood across India.  
With a mountain of 208 in sight against the West Indies in Hyderabad, Kohli produced one of his T20I specials in December 2019. Kohli handed K.L. Rahul the initiative early on in his innings, before taking charge and sending Kesrick Williams packing for two back-to-back sixes (followed by Williams's own trademark notebook celebration to boot!) en route to a match-winning 94 off 50 balls. 
Kohli is the only Indian batter till date to score a century in a pink-ball Test, which came in a one-sided affair at the Eden Gardens versus Bangladesh in November 2019. For the next two-and-a-half-years, Kohli would not score another international century, and the now 34-year-old is yet to reach three figures in Tests since. 
In a brutal example of batsmanship, Kohli batted for a day and a half against South Africa in Pune in October 2019, declaring the Indian innings at 601 for five, with his own score at a career best of 254. The match situation demanded India to bowl and Kohli did so, without sparing a thought for an imminent triple ton.  
The 2019 season was far from Kohli's finest IPL, but one innings stood out: a gem of a century off just 58 balls at the Eden against the Kolkata Knight Riders (KKR), cheered on by the Kolkata faithful. 
A year after Sandpapergate, Indian fans were jeering Steve Smith when he came out to bat in the India versus Australia World Cup match at The Oval in 2019. Captain Kohli asked the crowd to stop and treat the Australian batter with respect, a gesture which won Kohli the ICC Spirit of Cricket Award.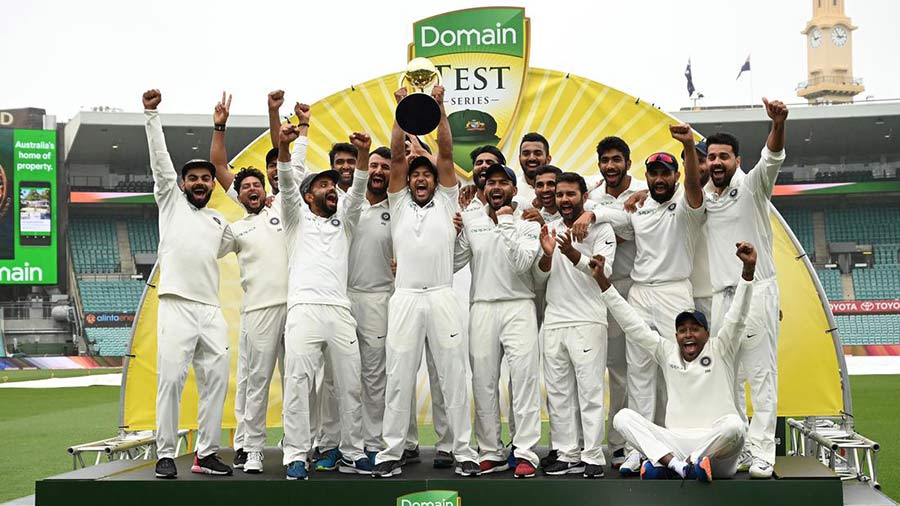 India after winning the Border-Gavaskar Trophy in Australia in 2018-19
Cricket Australia
Seventy-one years and 12 tries is what it took for India to win a Test series in Australia. A young Indian side led by Kohli beat the Aussies 2-1 in their own backyard in 2018-19, largely due to an aggressive brand of cricket championed by India's dauntless leader.
One of Kohli's many peaks came between October 21 and 27 in 2018, when he scored three consecutive ODI hundreds against the West Indies, a feat to be replicated by just one other Indian batsman: Rohit Sharma.
After a gruelling English summer in 2014, Kohli returned to the island four years later as a man on a mission. In the Edgbaston Test, he notched up a fighting 149, shepherding the Indian tail from 182 for eight to 274. The next individual best on the Indian scorecard was Shikhar Dhawan's 26.
In November 2017, Kohli, in partnership with the RPS Group, started the The Indian Sports Honours awards, recognising athletic excellence and encouraging young Indians to chase their dreams with the help of sports scholarships.
During the ICC Champions Trophy in 2017, Kohli organised a charity ball to raise funds to help victims of human trafficking and raise awareness about the same. The funds were used to meet the medical and rehabilitation costs of the victims and educate them towards a better future.
Also in 2017, Kohli founded the Athlete Development Programme to provide budding athletes with training, fitness and nutrition.
In the summer of 2016, London-based magazine SportsPro named Kohli as the third most marketable athlete on the planet, behind only Stephen Curry and Paul Pogba and ahead of even Cristiano Ronaldo and Lionel Messi.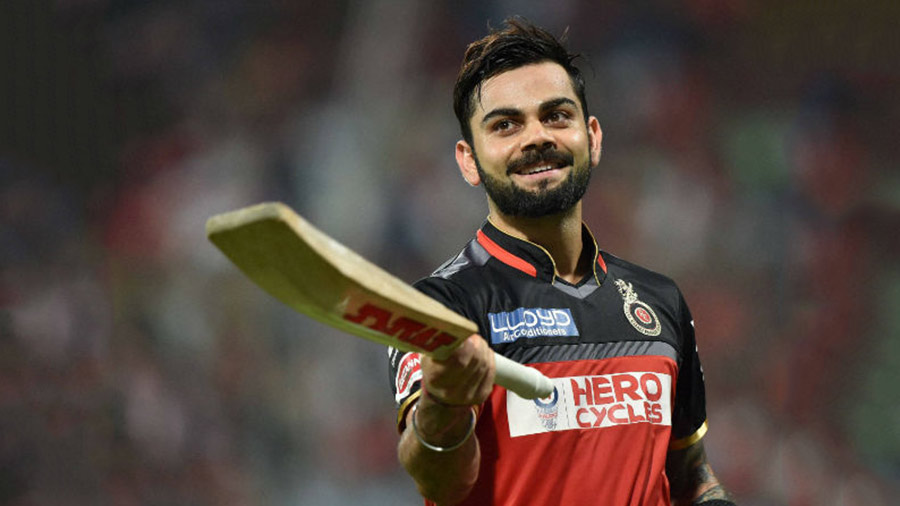 No batter has ever had a better IPL campaign than Kohli in 2016
BCCI
Virat Kohli in IPL 2016: 16 matches, 973 runs, four centuries, seven half-centuries, 83 fours and 38 sixes. Enough said.
In May 2016, Kohli hosted a special gala dinner to raise funds for the Smile Foundation to support children and youth empowerment.
In a do-or-die encounter at Mohali versus Australia at the 2016 T20 World Cup, India, chasing 161, found themselves at 23 for one when Kohli walked in. The innings he went on to play oozed class and confidence, as the chasemaster guided India home with a dazzling 82 not out off just 51 balls, leaving the Kangaroos shell shocked.
When trolls would not stop hitting out at Anushka despite Kohli's terrific performances at the 2016 T20 World Cup, India's talisman stood up for his then-girlfriend and now wife. "Think of how your sister or girlfriend or wife would feel if someone trolled them and very conveniently rubbished them in public," he said, reprimanding those who had insulted his partner.
Another year, another Adelaide masterclass, this time against Pakistan in the 2015 50-over World Cup, where a measured and composed 107 from Kohli was enough to take India to an unassailable total against the old enemy.
On his favourite ground, newly appointed Test skipper Kohli took it to the Aussies in both innings of the 2014 Adelaide Test. Sterling centuries in both innings may not have been enough to prevent a narrow defeat for his team, but it laid down a marker on how captain Kohli wanted himself and his troops to play in the longest format of the game.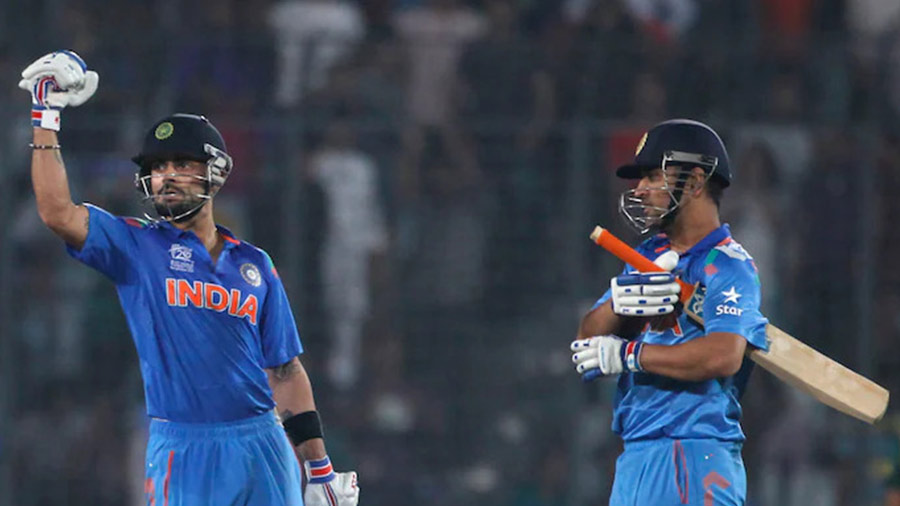 Kohli, alongside M.S. Dhoni, after India's victory against South Africa, at the 2014 T20 World Cup
ICC
In the 2014 T20 World Cup semi-final against South Africa, Kohli rose to the occasion once more. Chasing 173, Kohli added 72 magnificent runs to steer India to the final. Mahendra Singh Dhoni also played his part, memorably defending the last ball of the penultimate over to let Kohli finish the game in style with a boundary towards cow corner.
In pursuit of a mammoth target of 360 versus Australia in Jaipur in 2013, Kohli arrived at the crease with India in a promising position of 176 for one in 26 overs. But nobody could have expected that Kohli, in tandem with Rohit, would finish off the match inside 44 overs, thanks to an unbeaten 100 off 53 balls, still the fastest century by an Indian batsman in ODIs.
In March 2013, Kohli set up the Virat Kohli Foundation to help underprivileged children. The organisation continues to help offer a better future to many who cannot afford it.
Chasing 330 versus Pakistan in the 2012 Asia Cup, Kohli entered the fray with no runs and one wicket on the board. What followed was a coming-of-age knock that set the pattern for so many more to follow. Kohli ended the night with an unforgettable 183 off 148 balls, ensuring his idol Sachin Tendulkar finished on the right side of the result in the latter's last-ever ODI.
Often considered to be the genesis of chasemaster Kohli, the Delhi boy went from prodigy to phenomenon with a swashbuckling 133 off 86 balls against Sri Lanka in the 2012 CB Series in Australia. Not only did he help India chase 321 in less than 40 overs, but he also dismantled Lasith Malinga, plundering a 24-run over off the Sri Lankan spearhead.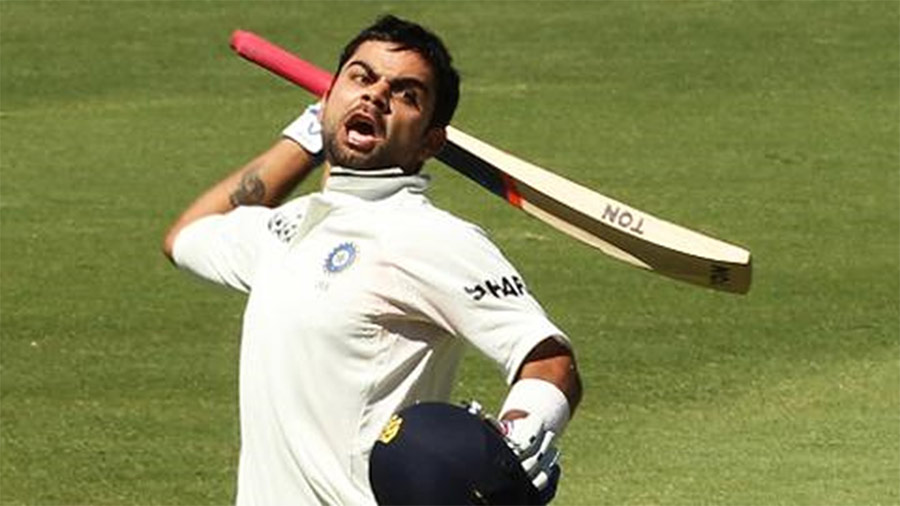 An exultant Kohli celebrating his debut Test century
Cricket Australia
In the 2011/12 tour of Australia, India's batting crumbled more often than not. With the team taking a 4-0 drubbing in the Tests, it was only Kohli who took the blows on the chin and scored a defiant 116 at the Adelaide Oval, which was also the first of his 27 Test centuries till date.
As an entire country celebrated following Dhoni's World-Cup winning six in Mumbai in 2011, 23-year-old Kohli helped carry Tendulkar around the stadium on a victory lap, before saying the heartwarming lines: "He (Tendulkar) has carried the nation on his shoulders for the past 22 years… it's time we carried him on ours".
Eighteen months into his international career, Kohli got his first-ever international 100, playing a steady hand alongside Gautam Gambhir to script an Indian win over Sri Lanka on Christmas Eve 2009 in Kolkata. Gambhir, named man of the match, chose to share his prize with the maiden centurion.
A teenage Kohli led the boys in Blue to the championship in the ICC U-19 World Cup in Malaysia in 2008, seeing off South Africa in the final to bolster India's enviable record in the junior World Cup.
Just 18, Kohli lost his dad while representing Delhi in a Ranji Trophy match against Karnataka. Batting on 40 overnight, Kohli took to the field after completing the last rites and went on to score a crucial 90, keeping his personal grief at bay.