Sourav Ganguly and surprises are no strangers to each other. Whether on the field or off it, the former Indian captain has never shied away from throwing in a curveball or two and doing something that nobody saw coming. With that spirit in mind, My Kolkata lists 50 surprising facts on Dada's birthday that even his most ardent fans may not be aware of.
Spanning everything from records to anecdotes to pranks, here is a list that will keep you guessing till the very end!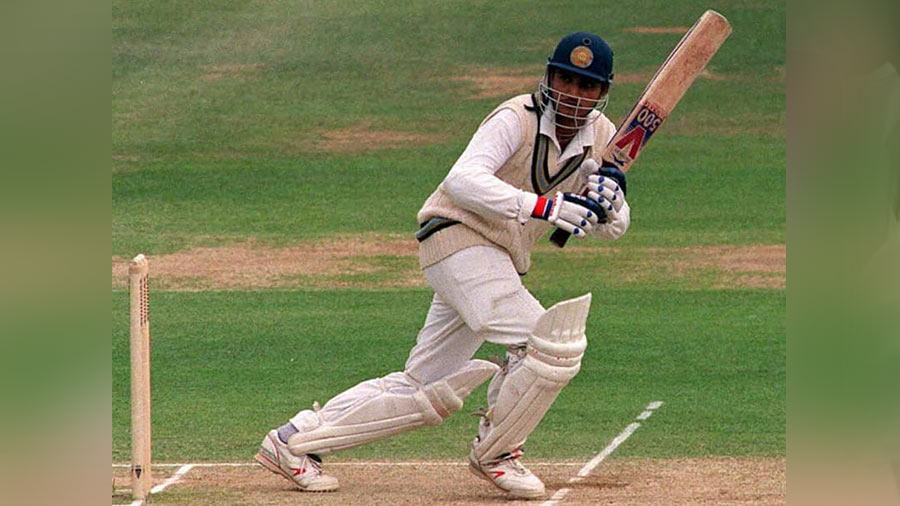 Ganguly made an unforgettable Test debut by scoring a magnificent century at Lord's in 1996
BCCI
Ganguly got his nickname "Maharaj" from his parents back when he was still a toddler.
A natural right-hander, Ganguly took to batting left-handed as he started playing cricket using elder brother Snehasish's kit, who was a born southpaw.
A huge football fan since his school days, Ganguly was the captain of his school football team at St. Xavier's Collegiate School, Kolkata, playing as an attacking midfielder.
Growing up, Ganguly's father Chandidas Ganguly set up a gym and turf at home for his son to polish his skills.
Ganguly made his Bengal debut in the 1990 Ranji Trophy final on a bittersweet day at home as it was his brother Snehasish who lost his place in the squad, making way for the younger Ganguly to take to the field.
Ganguly is the only cricketer till date to have scored a century on Test debut and get dismissed for a golden duck in his last Test innings.
Following his ODI debut against the West Indies in 1992, Ganguly was dropped from the Indian team, with rumours suggesting that it was his refusal to carry drinks for his teammates that played a big part in him getting axed.
Ganguly made his Test debut for India against England at Lord's only after Navjot Singh Sidhu left the Indian camp, complaining of ill-treatment by then skipper Mohammad Azharuddin.
Across his Test career, Ganguly's batting average never dipped below 40.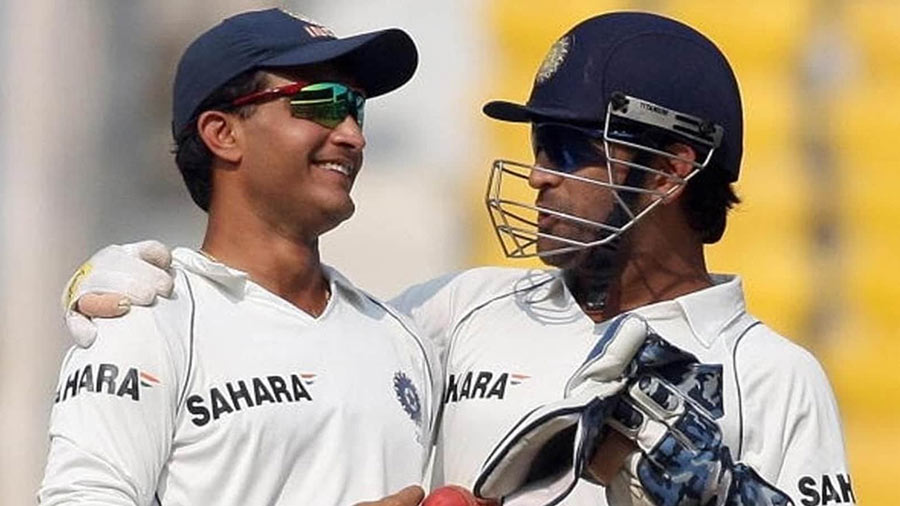 During his last Test match in 2008, then captain Mahendra Singh Dhoni asked Ganguly to take over as skipper for the last few moments of the latter's Test career
TT archives
India never lost a Test match in which Ganguly scored a century, with his 16 Test tons yielding 12 victories and four draws.
England, Sri Lanka and New Zealand were Ganguly's favourite opponents in Tests, with him scoring three tons against each of them.
Ganguly remains India's most successful Test captain overseas, with 11 victories to his credit.
As a bowler in Tests, Eden Gardens has been Ganguly's most successful hunting ground, with five wickets in total, including figures of 3 for 28 versus Australia — his best bowling performance in the longest format of the game for India.
With a total of 22 wickets, Toronto has been the most successful city for Ganguly as a bowler. It was also the city where Ganguly grabbed his best figures ever in an ODI, with a spell of 5 for 16 against Pakistan in 1997.
With figures of 5-34 against Zimbabwe in 2000, Ganguly holds the record for best bowling figures by an Indian captain in ODI cricket.
Ganguly's 183 not out against Sri Lanka in 1999 remains the highest individual score by an Indian batsman in the ICC Cricket World Cup.
Colombo's R. Premadasa Stadium has witnessed the most ODI centuries by Ganguly — six.
Until AB de Villiers broke his record in 2017, Ganguly was the fastest in the world to reach 9,000 runs in ODI cricket.
Ganguly is one of six players till date to have achieved the treble of 10,000 runs, 100 wickets and 100 catches in ODI cricket. The other five are Sachin Tendulkar, Jacques Kallis, Sanath Jayasuriya, Tillakaratne Dilshan and Chris Gayle.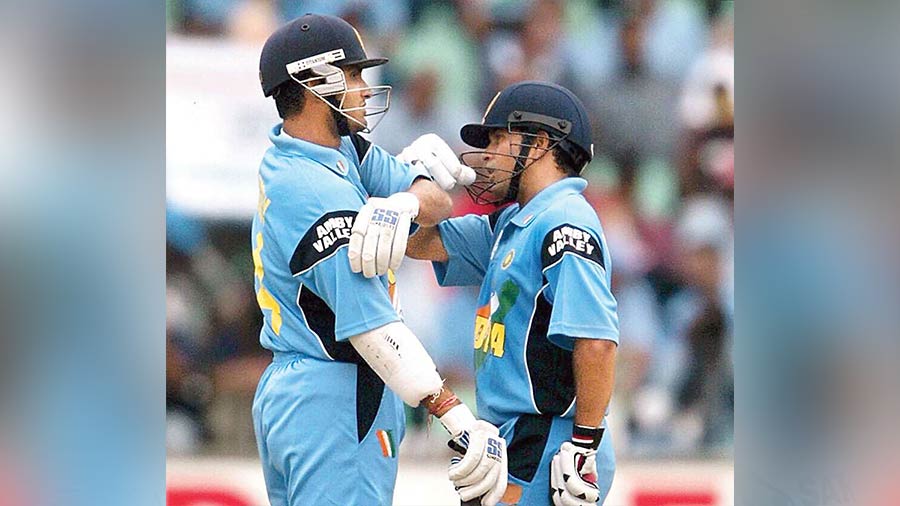 No pair has scored more runs in men's ODI cricket while batting together than Ganguly and Sachin Tendulkar
TT archives
Ganguly won four consecutive Man of the Match awards during the 1997 Sahara Cup against Pakistan, making him the first player to do so in ODI cricket.
1999 was an exceptional year in Ganguly's ODI career, which saw him rack up 1,767 runs, with four centuries and 10 half-centuries, with only Sachin Tendulkar scoring more in a calendar year.
Along with Tendulkar, Ganguly formed the most prolific batting partnership in ODI cricket history, with the pair scoring 8,227 runs at an average of 47.55, with 26 century stands to their names.
In their days of junior cricket, Tendulkar and Vinod Kambli once pranked Ganguly by flooding his room with water so that Ganguly's entire kitbag was floating!
Ganguly was the victim of an even more elaborate prank when Harbhajan Singh and Yuvraj Singh masterminded an entire fake news story to unnerve the then Indian skipper. The story reported that Ganguly had spoken ill of his players in a press conference, something he never did in reality.
During the famous 2001 Test series between India and Australia, Ganguly made it a habit to make Steve Waugh, his opposite number, wait at the toss. On one occasion, he did so on the pretext of having forgotten to wear his blazer!
Despite being fierce rivals on the field, Waugh had this to say about Ganguly: "He's the type of bloke you would want to have on your side. When you see an Indian side with Ganguly in the line-up, you know it's game on. You don't have to like or dislike him [but] you have to respect him."
Kumar Sangakkara, someone who Ganguly faced on countless occasions over the years, echoed Waugh in his assessment of Ganguly and added that Ganguly was "a master at the art of gamesmanship".
Ganguly once called "head-tail" while at the toss with Australia's Ricky Ponting. Even before Ponting could react, Ganguly told him "we'll bat" and walked off!
Ganguly was the first player in history to score three centuries in the ICC Champions Trophy, which he won for India (jointly with Sri Lanka) in 2002.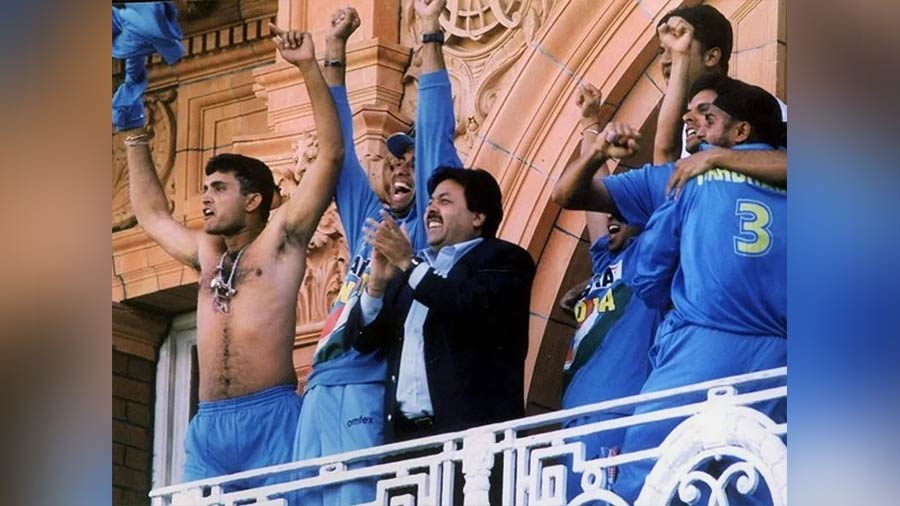 Ganguly in the midst of his iconic celebration after India beat England in the Natwest Series final at Lord's in 2002
BCCI
Ganguly's infamous celebration at Lord's in 2002, when he took off his shirt and twirled it, was meant as a response to Andrew Flintoff, who had rejoiced in a similar fashion after England beat India in Mumbai months earlier.
Flintoff, Ganguly's one-time teammate at Lancashire, thought Ganguly to be aloof and compared the Prince of Kolkata to UK's Prince Charles.
In 2002, the Wisden Cricketers' Almanack ranked Ganguly as the sixth greatest ODI batsman of all time, behind Vivian Richards, Sachin Tendulkar, Brian Lara, Dean Jones and Michael Bevan.
With an unbeaten 111 against Kenya in the 2003 World Cup, Ganguly became the first Indian to score a century in a World Cup semi-final.
In a Test match against South Africa at Cape Town in 2004, Ganguly had to go out and bat ahead of V.V.S. Laxman because the latter was taking too long in the shower!
At the 2004 Nagpur Test between India and Australia, Rahul Dravid had to take Ganguly's place at the toss after the Indian captain failed to show up, apparently because he was annoyed the groundsmen had left too much grass on the pitch.
Shortly after becoming coach of India, Greg Chappell, who was initially favoured by Ganguly, wrote an email to the BCCI, saying Ganguly was "physically and mentally" unfit to lead and that his "divide and rule" policies were hurting the team.
Among the major changes Ganguly introduced to his batting on his glorious comeback to the Indian team in South Africa in 2006 was taking a middle-stump guard instead of a leg-stump one.
On April 18, 2008, KKR's Ganguly took strike to face the first-ever ball in IPL history from RCB's Praveen Kumar.
In 2010, Ganguly acted briefly as the sporting ambassador of I-League side Mohammedan Sporting Club.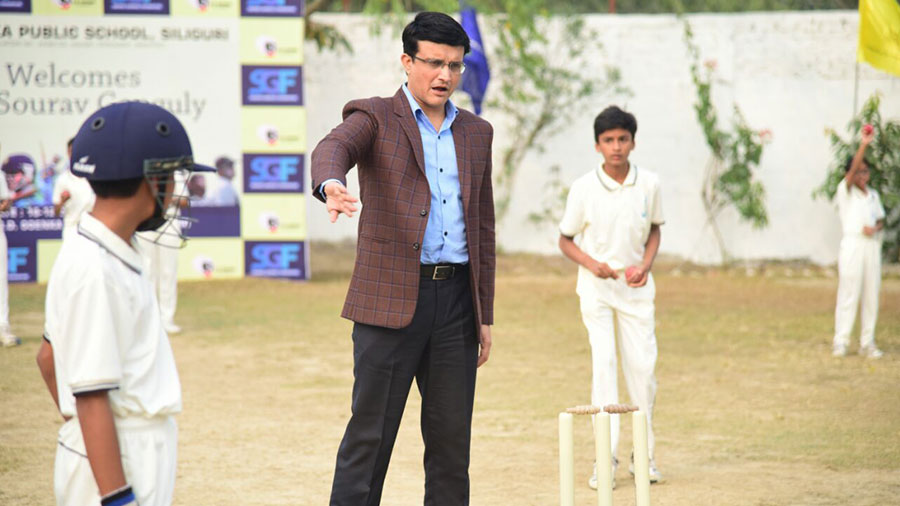 Over the years, the Sourav Ganguly Foundation has played its role in nurturing young talents and giving back to society
Sourav Ganguly Foundation
In 2014, Ganguly was made a part of the Supreme Court of India-appointed Justice Mudgal Committee probe panel that investigated spot fixing and betting in IPL.
In October 2019, Ganguly became only the second Indian cricketer in history to become full-time president of the BCCI, a position he still holds.
Ganguly has hailed English legend David Gower as the first cricketer to inspire him to take up the game. Much like Ganguly, Gower was among the most elegant left-handed batters of his generation.
Ganguly is a huge admirer of the late Diego Maradona and cites Argentina's Maradona-inspired World Cup win of 1986 as one of his most cherished sporting moments as a fan.
Ganguly has a 1.5km-long road named after him, called the Sourav Ganguly Avenue, in Gopalpur, West Bengal.
Ganguly has picked Ramesh Sippy's Sholay and Satyajit Ray's Sonar Kella as his all-time favourite films.
Phuchka, chingri malai curry and biryani are among Ganguly's favourite cheat meals.
The Sourav Ganguly Foundation Cricket School was started by Ganguly to partner with schools in providing the right infrastructure and support to budding talents from various regions of India. The foundation focuses on getting the best out of youngsters and helps them develop in a holistic manner.
The Sourav Ganguly Foundation worked in partnership with chocolate bar makers Mars Wrigley to provide support and show gratitude towards healthcare workers for their tireless efforts during the Covid-19 pandemic.
Ganguly has often called London his favourite city outside India and owns two properties in the British capital. His latest acquisition though is a house on Lower Rawdon Street in Kolkata.
Ganguly shares his birthday with American industrialist John D. Rockefeller, politician Jyoti Basu, footballer Virgil van Dijk, among other notable personalities.