Over the last two-and-a-half years, Covid-19 has destroyed lives and livelihoods alike. But for Koushik Chatterjee (KayCee), a client partner at Cognizant in the UK and a thespian at heart, the pandemic has corrupted human nature, too. By letting unscrupulous opportunists preserve and enrich their selfish interests, the business of Covid-19 has proved that even in the darkest of times, there are many who are willing to put their own profits before the survival of others. At its core, this is also the message underlined by Naba Narak Guljaar, conceived and directed by KayCee and written by Kolkata theatre's go-to scriptwriter Ujjwal Chattopadhyay. The play was staged by a new production house, Meraki – Movies, Music and More, founded by KayCee along with Sourav Niyogi, senior partner, IBM and Sambrita Das, SAP practice manager, Europe, Middle East and Africa (EMEA), Amazon, and performed in front of packed audiences at the Brady Arts and Community Centre in East London.
Welcome to the court of 'Bidhata'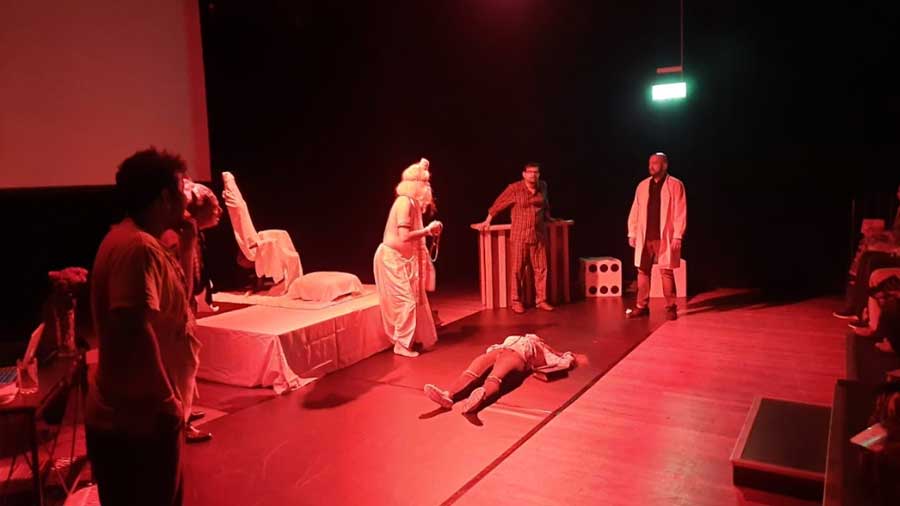 Effective use of lighting, props and psychedelic visuals enhanced the play's mood and theme
"Kotha bolo na, keu shobdo koro na,
Bhogoban rajyo chalachhen, anujog shunte paren na"
(Don't speak, make no sound
God is running the country, he can't hear questions)
The aforementioned chorus at the onset of the play sets the tone for what is to follow. Influenced by Manoj Mitra's 1970s classic, Narak Guljaar, KayCee's brainchild is set in the court of Bidhata (the Almighty). Deceased Covid victims journey to the court from earth and await their final judgement, which will either reward them with a place in heaven or condemn them to hell. That judgement, of course, is based on their actions on earth.
While the premise seems sombre, the play actually begins on a hilarious note with Jomraj (played by Sarit Bose, global head of artificial intelligence, Prodapt) trying his best to impress Chitra, the female avatar of Chitragupta (played by Debasri Sengupta, homemaker). But the flirtatious banter between Jomraj and Chitra is soon interrupted by Bidhata or Brahma (played by Somnath Roy, chief risk officer, HSBC), who is gradually revealed to be complacent and naive in equal measure. A stand-in, perhaps, for reckless divinity in heaven, or more hauntingly, a reckless system on earth.
As the play proceeds and the mortals arrive to be judged, the mood and the theme begin to shift. Footage of three short films, shot in Kolkata, are embedded into the action of the play to contextualise the lives of those on trial, allowing the play to run on parallel levels. At one level, KayCee captures the arbitrariness of Bidhata's authority in heaven, as seen in the carelessness of arriving at half-baked conclusions. At another level, KayCee portrays the callousness of human apathy on earth, as seen in the scheming and manoeuvering around oxygen cylinders and hospital beds in the midst of the second wave.
The supporting cast of Sarbartha Chakrabarty, senior consultant, Cognizant; Dibyajit Majumder, director, retail, Attos; Anamika Sarkar, contract sales consultant, Experis; and Srijit Bhaumik, accountant, British Film Institute (BFI), fit seamlessly into the plot, each doing their role to complicate the narrative and make the audience appreciate the withering of morality during Covid. Bhaumik's character of Dr Agneeshwar is the redemptive agent of the play, preventing KayCee's vision from turning cynical.
'For eight weeks, our Sundays were taken up entirely by this play'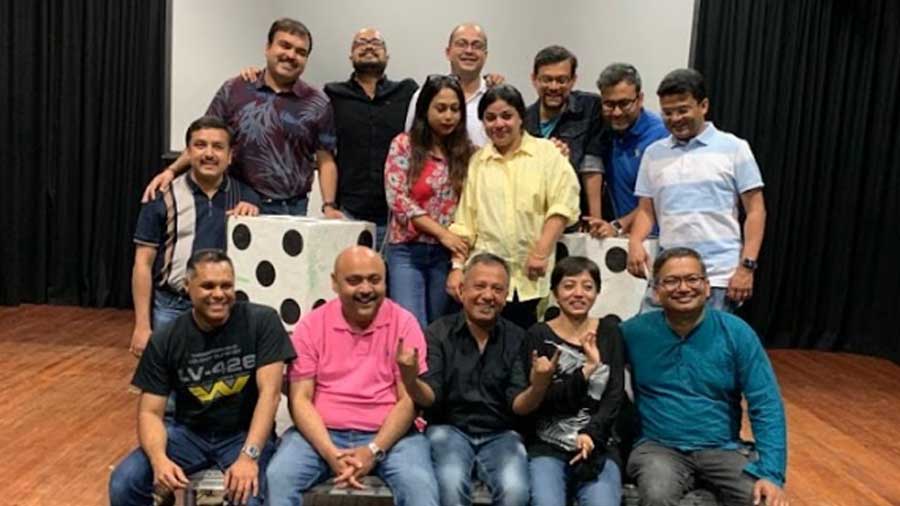 Despite comprising mostly amateurs, the cast left no stone unturned when it came to rehearsals
With effective lighting by Arjun Sen, senior consultant, Citi Group, and a background score that ranges from subtle satire to open pathos by Suranjan Som, senior vice president, Hitachi Vantara, and Tanusree Guha, director, Bank of America, the play manages to chart a wide spectrum of emotions. Adding to the surreal undertone is the use of psychedelic visuals, thanks to tech support from Mridul Sengupta, director, Accenture; and Joydeep Pal, entrepreneur, Foodinjoy.
"For eight weeks, our Sundays were taken up entirely in rehearsing for this play. Only one member from the cast had acting experience before, the rest were all first-timers. Hopefully, that's not something you can understand from the performances," said KayCee, who also shed light on how expensive theatre production can get in the UK. "To draw a comparison with Kolkata, the amount I'd have to pay to a light and props person back home is one-fourth of the standard rate in London. Not to mention that getting a place to rehearse is extremely costly, too."
'I forgot that the stage actors were my friends and amateurs'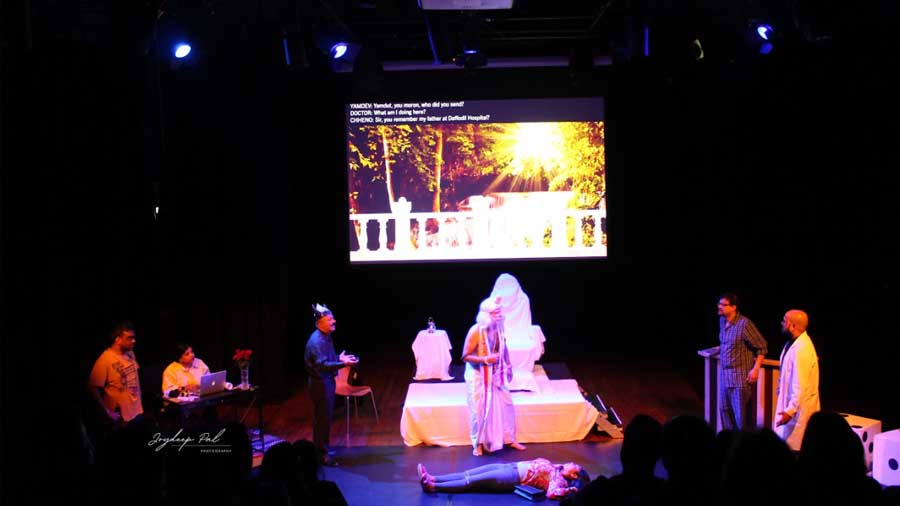 'Naba Narak Guljaar' plans to reach out to other parts of London in the near future
When it came to the eventual performance, however, everything seemed to pay off, with the audience offering heartwarming feedback. "Pulling off such a project successfully needs a lot of thought and courage, and that's exactly what Koushik and his team displayed. The best part for me was to see three short films being merged into the play very cleverly. The production was just under an hour and hardly had any dull moments. At one point, I forgot that the stage actors were my friends and amateurs," said Surojoy Bhowmik, a musician and actor based in St. Albans, Hertfordshire. Shaoli Das Gupta from Maidenhead, Berkshire, noted: "I thoroughly enjoyed the performance. It had fantastic use of visuals, music and props to keep the story flowing. A fabulous concept and even better execution. Kudos to the whole team for a commendable show." Arth Wale, just 11, added: "The show was extremely well crafted, and it was easy to understand (even though he cannot speak or write Bengali) because there were subtitles." Dr Svetlana Pejnovic, originally from Hungary, observed how the play was "an exceptional blend of theatre and film, art and philosophy, humour and tragedy, the spiritual and the material".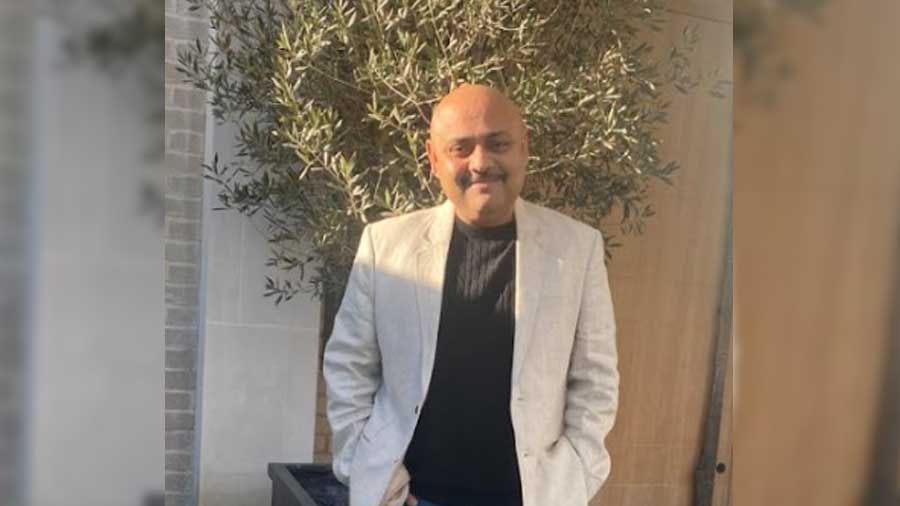 Koushik Chatterjee (KayCee) explained how staging plays and even rehearsing for them is an extremely expensive process in the UK
The goal for KayCee and his team now is to take Naba Narak Guljaar to other parts of London and engage more people into understanding how the pandemic not only distanced humans from humans, but also drove a wedge between human beings and their humanity.