Though she was planning on clicking selfies with Abhishek Bachchan at the premiere of Bob Biswas in her designer outfits and has to now contend with watching her feature film debut on ZEE5, Kolkata girl Runa Laha is a happy soul. The first runner-up at Sananda Srimati (2009), who likes watching all kinds of films except sci-fi, is feeling blessed at having got to share the screen space with the likes of Abhishek Bachchan and Chitrangda Singh in the Diya Annapurna Ghosh film that releases today. She tells The Telegraph all about her acting debut and why Kolkata artistes should be taken more seriously.
How did you land the film?
Anindya Mukherjee, a casting director from Kolkata, called asking me to send in an introductory video and an audition tape for a feature film. I didn't even take it seriously. This was end-January, 2020. The reference video I was sent was of an actress who had also auditioned. I thought I stood no chance, but 'don't lose hope' is always the moral of the story. (Laughs) They gave me my lines from the film. I play Jayanti who is Chitrangda Singh's colleague-cum-friend. Anindya khub bhoy pachhilo... eta jeno hoye jaye. I was like hole hobe, na hole na hobe... kotoi toh pathai. When he called back, he was quiet in the beginning and then burst out in excitement. Everything got fixed within five days, but I was particular that I should get my desired remuneration and they gave me what I wanted.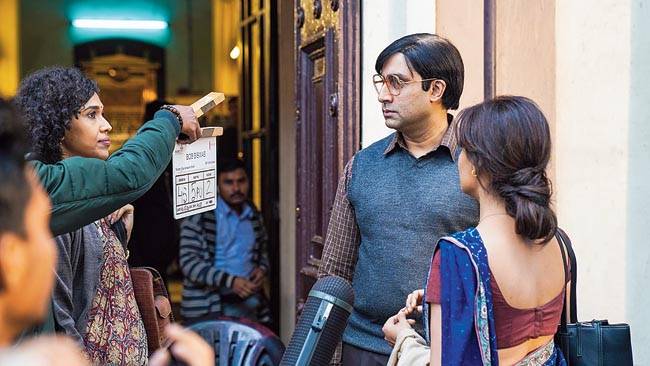 Runa Laha with Chitrangda Singh and Abhishek Bachchan on the sets of Bob Biswas
Tell us about your first day of shoot...
I had a couple of days shoot and we shot in the office para.... When I parked my car, shobai 'ma'am, ma'am' kore elo. I was feeling great. There was somebody to escort me to the vanity van... making way for me. I met Aniruddhada (Chakladar; make-up pro) on the sets. At the costume trial at Vivanta Kolkata EM Bypass, they liked what I wore and just added the cardigan. They used my jewellery and bag.
I have always seen Abhishek on the big screen. So, aami boro boro chokh kore Abhishek kei dekhchhilam. He was very humble and came and introduced himself. I told Abhishek that my son (Om) was almost as tall as him. Abhishek is more than 6ft and Om is almost 6'1''. I have seen Chitrangda at fashion shows, but this was the first time I spoke with her. I was talking to her about Hazaaron Khwaishein Aisi and she was ruminative. She is stunning. Even in simple cotton saris... there is something about Chitrangda. She smiled and the entire Dalhousie area lit up!
We were chatting about the Kolkata eateries. They wanted to try Kolkata's Chinese food. I suggested Jimmy's Kitchen. Though it is a small role, I felt wonderful because I got to work with a good banner and started my journey with a woman director (Diya Annapurna Ghosh). I have scenes with both Chitrangda and Abhishek.
You have faced a lot of cameras, but weren't you nervous facing a film camera?
You have to be particular about the position and your mark. In fashion shows, there are no retakes. Here you can give retakes but I wanted to make sure that I should not make mistakes. I asked whether the stars would get offended if there were too many retakes from my end. I don't know how the world of films work after all. I was told that they won't and that the shot will continue till they got it right.
(When they said action) aami dhok gilchhilam (laughs). I did not forget my lines, but kokhon bolte hobe, shei muhurtei bolte hobe... that took me a couple of minutes to internalise. I must have given seven-eight retakes. Abhishek and Chitrangda were patient. When they work, they just work. Relentless.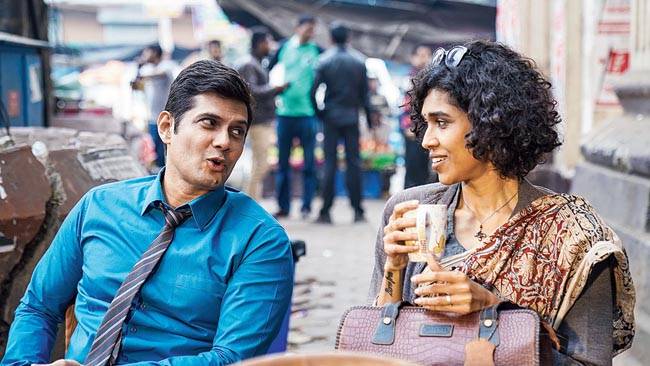 Runa with Amar Upadhyay
You also met Amar Upadhyay...
He plays the role of Chitrangda's boss. I told him he hadn't aged a bit. I told him how I held up my studies before my graduation exam to watch the famous Mihir Virani death scene in Kyunki... Saas Bhi Kabhi Bahu Thi...! He laughed so hard!
How was it working with Diya Annapurna Ghosh?
She was down with a cold and as usual I gave her my jari-booti tips! (Laughs) She came to my van, introduced herself and gave me my scene. Sujoyda (Ghosh, film-maker and Diya's dad) was present on the sets and guiding her and she was all attention. She was very focused.
And, Sujoy Ghosh?
Sujoyda toh bhishon gombhir! (Laughs)
Do you love acting?
I have been wanting to act for a long time. Even when I was with Elite (India), whenever they sent me for ad film auditions, the casting directors told me that there is a character in my face and that I should work on it and take acting seriously. I have also done a workshop with Sohagdi (Sen). I like the urban films made in Kolkata and would love to explore it. I would love to do more films.
I have never planned on anything in life and this also came suddenly to me. I am grateful for this opportunity. No matter how small the role is, as a beginner this is great. I feel blessed.
I would like to take this opportunity to tell everyone to take the Kolkata artiste's seriously. We are hard-working. Kolkata'i aaro kaj hok. There should be more and more scouting and many more deserving actors should get work.
Your son and husband must be ecstatic..
Om has been pulling my leg... 'Oh your first movie, that too Bollywood! Khaoa ma!' My husband (Soumen) told me to take acting seriously.
Set pictures: Palak Bohara
Runa's faves: The Reader, Dil Chahta Hai, Bombay. All Satyajit Ray and Rituparno Ghosh films, films by Shyam Benegal, Mrinal Sen. Smart and urban films like those made by Mainak Bhaumik. Actors Jisshu Sengupta, Parambrata Chattopadhyay, Amitabh Bachchan, Aamir Khan, Ranbir Kapoor, Deepika Padukone, Kay Kay Menon, Tom Hanks.
Last watched: The Morning Show on Apple TV