It may have started off as a pandemic hobby, or may have been a lifelong dream. Food is at the heart and soul of these rising foodpreneurs who have been creating waves in the city with their flavours. Be it outdoor catering, sit-down meals, food delivery or cook and dine scenarios, they're doing it all and most importantly doing it brilliantly well. This Women's Day The Telegraph tracked eight budding females in the city's food scene who must be on your list the next time you wanna tickle your taste buds.
Vidisha Bathwal, founder, Paprika Gourmet
A passionate foodie and a fitness enthusiast, driven towards perfection, Vidisha Bathwal founded Paprika, an exotic artisan catering service. "I believe that cooking can be a vital instrument in one's life, it often acts as a stress buster and brings joy that comes with creating something completely exotic with the very basic ingredients," she says.
Bestsellers: The crowd favourites are Laksa, Claypot, Turkish Pizza among others. To celebrate the 10-year milestone and spread more love, they've innovated and introduced new items such as gluten-free Sourdough breads, Zatar Sundried Tomato Focaccia with Pesto and Veggie filling, as well as superfood salads. They have also expanded into cuisines such as Peruvian, Korean, Mexican and are also making their way into Asian.
Depending on customer requirements, orders can be made available within 30-45 minutes or it can be scheduled as per the preference of individual clients.
Contact:
Instagram: @paprikakolkata
Phone: +9007022678/79/80
Sakshi Sureka, owner and founder, Homely Zest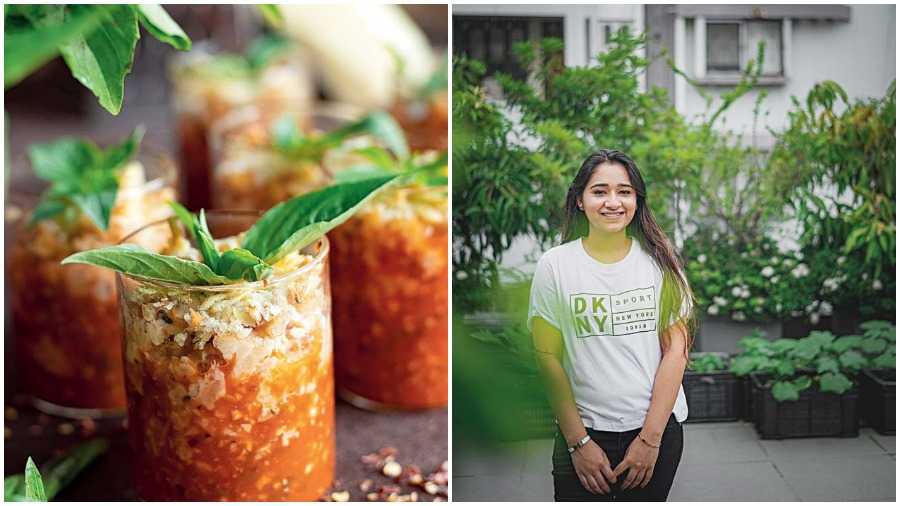 (L-R) Deconstructed Rissoto Cup, Sakshi Sureka
"I was pursuing my masters in London when Covid-19 struck, compelling me to come back to Kolkata and continue my studies online. Every crisis brings an opportunity and I got mine when the pandemic hit the world. Passionate about food, I started cooking a variety of dishes for family and friends during the lockdown, which gave me a sense of calm and achievement in uncertain times. Constant appreciation for my culinary skills motivated me immensely and after strong support from my father I established my dream project, Homely Zest, a cloud kitchen in South Kolkata," said Sakshi.
Bestsellers: Cheese platter, edamame kebab, taco bar, crostini bar, Philadelphia Phyllo Cup Canapes, Mexican Pull Me Up Cake, Miso Rice with Exotic Veggies in Pepper Sauce. Orders need to be placed at least one day prior.
Contact:
Instagram: @homelyzest
Phone: 6290795523
Devika Agarwal, founder, The Kitchenette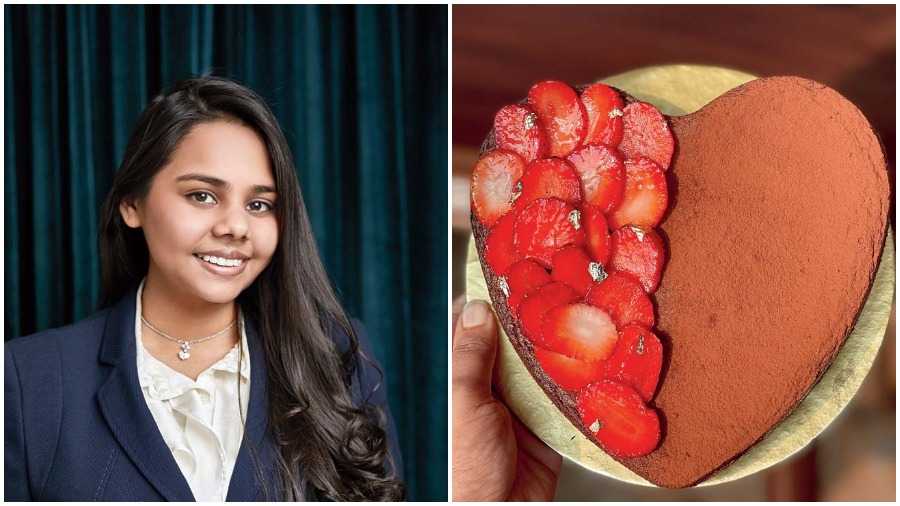 (L-R) Devika Agarwal, Glutten free chocolate cake sweetened by jaggery
Devika Agarwal, 24, started this venture in 2019 that was a luxury cooking studio that connects all things gourmet and luxury to the clients' special occasion to make it grand and extraordinary. They host hands-on cooking classes, cook-and-dine date nights and friends and family cookouts in their state-of-the-art kitchen.
Bestsellers: Chinese Meals for One, Chocolate Fondant, Mushroom Risotto, DIY Pizza, Eggless Caramel Rocher Cake among other. Orders have to be placed a day in advance.
Contact:
Instagram: @thekitchenettekolkata
Phone: 9748054675
Sima Ahmed, founder, Sima's Kitchen Secrets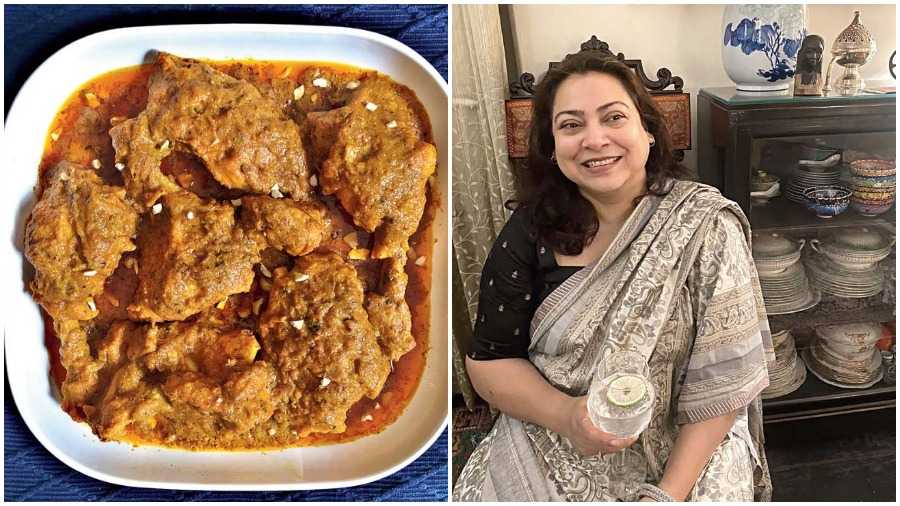 (L-R) Chicken Pasinda, Sima Ahmed
Sima Ahmed, together with her daughter and daughter-in-law, established a home kitchen specialising in Awadhi cuisine, in 2017. Sima's family hails from Faizabad, the original capital of Awadh, from 1722-1775. When the capital moved to Lucknow, Sima's ancestors stayed behind and decided to branch out on their own. The family eventually moved to what is now Sonkhari and established the surrounding village. Sima's family cooking traditions and recipes have been carefully preserved and passed down through generations. Sima's Kitchen Secrets is an ode to that legacy.
Bestsellers: The traditional Awadhi fare has a number of bestsellers loved by clients such as the Murgh Mussalam, Gola Kebabs, biryani, Murgh Dhuwan Kebabs, Chaanp among others. Orders have to be placed a day in advance.
Contact:
Instagram: @sima_kitchensecrets
Phone: 8777590538
Jessie Yung, founder, Jessie Yung's Kitchen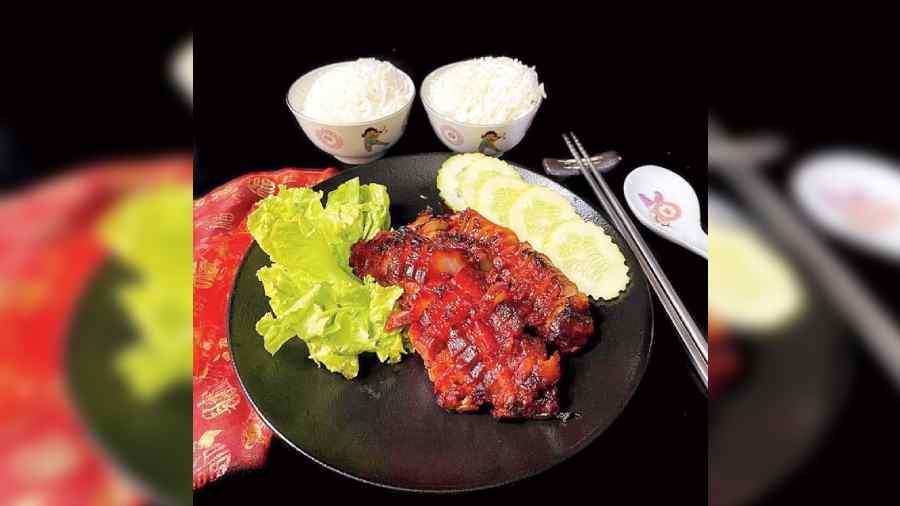 Founded over a year ago by a mother who was a passionate home cook, the cloud kitchen has received a huge amount of social media buzz. Jessie is an Indian-Chinese who has roots in Kolkata, but her travels across South Asia got her the relevant skills and knowledge to start her own business. Thus began her journey that soon made her a known name in the city's culinary circle.
Bestsellers: The home-cooked Asian takeout space serves a wide variety of bestselling gems such as Char Siu Pork, XXL Chicken, Soy Chicken and Mala Chicken Pork. The order has to be placed one day in advance, Tuesday to Sunday, noon to 9pm.
Contact:
Phone: 9836945627
Instagram: @jessieyung.kitchen
Pallavi Khaitan, founder, For-kandknife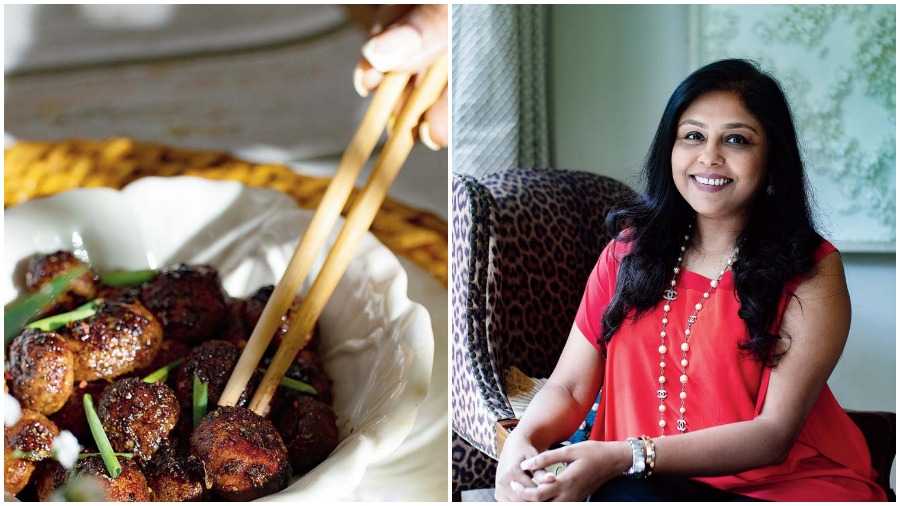 Pallavi started the venture in the summer of 2020 as a result of curiosity and boredom and it has now taken the shape of a fully functional kitchen and catering service in less that two years. She explores all global cuisines like Mexican, Italian, Chinese, Korean, Vietnamese, Japanese, Thai, Lebanese, Greek and Turkish. Pallavi swears by the authenticity of food and culture. She has mindfully devised an exquisite vegetarian menu along with several vegan options, attempting to incorporate all these global flavours. She single-handedly cooks all the delicacies and artfully packages it with great passion, love and warmth.
Bestsellers: Lebanese mezze platters. Their menu includes Lebanese delicacies like, Beetroot hummus, Baba Ganoush, Batata Harra, Halloumi Pizza, Falafel, to name a few. Orders need to be placed one or two days in advance.
Contact:
Instagram: @for_kandknife
Trishya Beriwala, founder, Basil
With a passion for global cuisine and a love for cooking, Trishya Beriwala started Basil over a decade ago, and has now spread the love for food not just in Kolkata, but pan-India as well. From elaborate seated weddings, to dinners, as well as home caterings, she's done it all. Trishya's journey began with her home kitchen where she was the only one dishing out the menu, and with the support of friends and extended family, her brand soon grew in leaps and bounds.
Bestsellers: Each menu is different, customised and tailored to the demand of the client. A few of the favourites include Quinoa Salad Boats, Asparagus Green Pea Flakes, and Mudpie in a Kulhar. Orders have to be placed four hours in advance.
Contact:
Instagram: @basilfoodkolkata
Contact: 9339789989
Zara Chisty Abedin, founder, Zara's Kitchen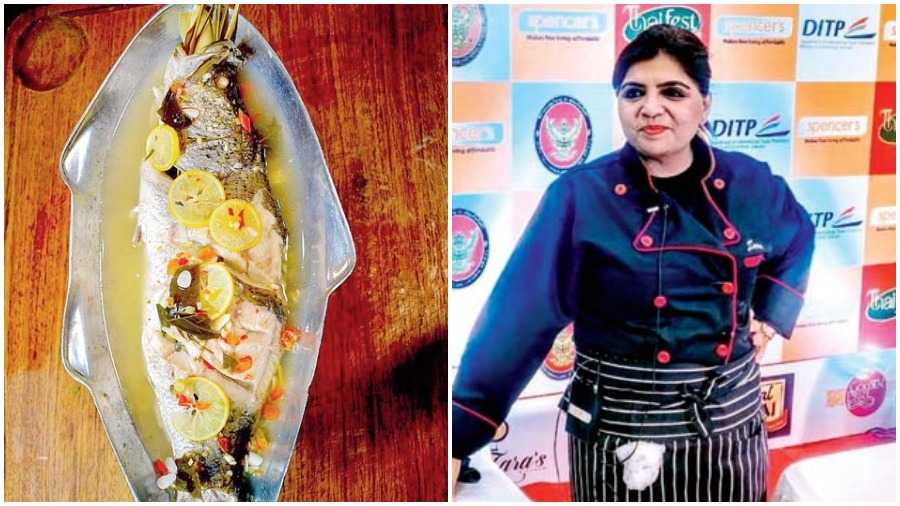 Zara Chisty Abedin, a mother of two, travelled all the way to Bangkok where she took formal culinary training at Thai Chef School for a couple of months before beginning her venture, Zara's Kitchen. Her authentic knowledge about the cuisine has gotten her multiple food shows and live demos across the city. This cloud kitchen brings authentic Thai flavours to your home.
Bestsellers: Her extensive menu has a number of bestsellers such as Thai Red Curry and Thai Green Curry, along with Stir Fried Fish, Stir Fried Chicken as well as their unique concept of a Thai Thali. Orders have to be placed four hours in advance.
Contact:
Instagram: @zaraskitchen0103
Phone: 8697849510