Sufia Khatoon has a prayer on her lips, a prayer for peace that she hopes to spread through poetry.
The Kolkata-based multilingual performance poet, artist, literary translator and facilitator has taken a dream born in the hills of Gangtok to the Kala Ghoda Arts Festival in Mumbai.
My Kolkata caught up with Sufia to find out more about her motivational story. 
The inspiration
Sufia was holidaying in Sikkim when the sight of white prayer flags fluttering near a temple on top of a hillock made her curious.
"I found out that the flags had been posted there as a mark of respect to the people who had passed away in that village. The initial idea for my installation was born there," Sufia recalled.
That was in 2016. "Three years later, around 2019, news of communal tension and violence all around triggered my memory of those white flags once again. I put out a post on social media, requesting poets and authors to send their peace poems. I always wanted to work on poetry in public spaces, where people would interact with a body of work," said the Yuva Puraskar-nominated poet and writer.
The dream
Sufia's dream is to bring together one million peace poems. The co-founder of Rhythm Divine Poets Community Kolkata wants to heal the conflicted world with poetry as written prayers.
"Imagine if a million voices speak for a peaceful world from different parts of the globe, the impact created will be huge. The positive essence it holds, the beauty it represents, the power it has to move people to be more tolerant to each other, may in future stop any kind of conflict that is burning humanity at large," she said.
Poem bank
Sufia's invitation goes out to poets, authors and students who are serious about making a change through poetry on social media. "At the moment the installation has grown to 500 peace poems. I am talking to various arts, cultural and creative organisations to support this One Million Peace Poetry project financially so more writers can join this community project," she said.
The call for poems has not only found responses from India but the Philippines, Italy, UK, USA, Ukraine, Japan and Iran as well.
Anyone passionate about the world and eager to make his or her voice heard can contribute a four-liner along with name, city and country by writing to peacepoems.sufia@gmail.com. The poems can be in any language.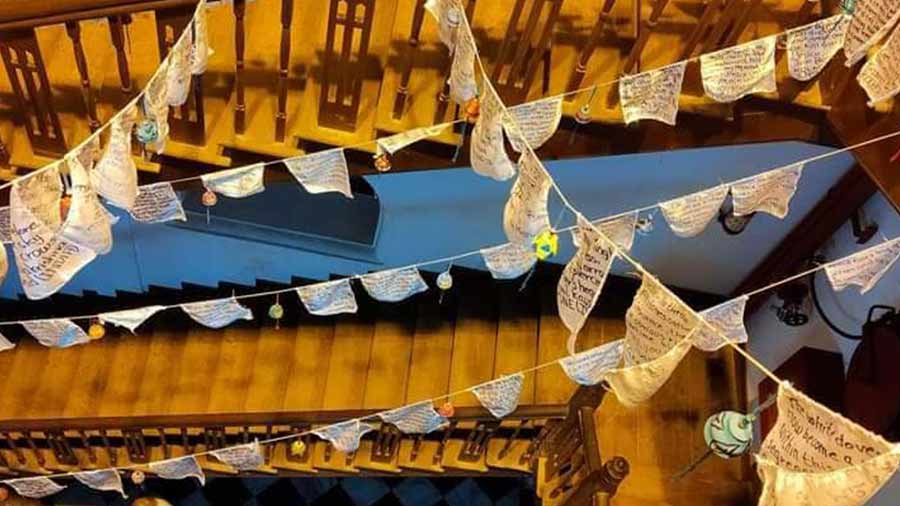 The installation at the Alliance Française du Bengale in 2019
Previous editions
With a collection of 300 poems, Sufia created an installation at the Alliance Française du Bengale in 2019 and Calcutta 23 Festival organised by Know Your Neighborhood. However with the pandemic hitting worldwide, the project took a backseat, only to be revived with renewed vigour recently.
The installation is on view at the Chhatrapati Shivaji Maharaj Vastu Sangrahalaya in Mumbai during the ongoing Kala Ghoda Arts Festival. "This installation is to be visualised as a whole body of work on peace and not as individual poems, since a collective work has a bigger impact and this installation definitely represents the whole diverse world, with different cultural beliefs and brotherhood in one work. Imagine poems of peace in different spoken languages around the world in one work — that's what the peace installation is for me."
The way forward
The poet-writer has already charted a way forward for the project. "I am planning to take this work to more cities and other parts of the world. This is a massive project and needs travel and installation building support in its different phases. Art, poetry, cultural and peace initiators can help with my work in the future, I feel. If required, I could opt for crowdfunding. But if organisations help, it'll materialise into bigger possibilities to unite everyone."
A prayer of peace
Sufia signs off by quoting one of her poems which is a part of the installation.
Men of war standing with a shovel,
ready to uproot everything-
rage and thunderstorm.
Conundrum writes about the day
it had found-
Peace
growing in the middle of a barren land,
still alive- thriving.