For someone used to the fast-paced action of the stock market, Vivek Bajaj, 42, has an incredible sense of calm that he brings to every conversation. An entrepreneur with three companies that he refers to as "my three kids, besides my three biological kids", and a thriving YouTube channel where he imparts market knowledge, Bajaj has a lot of thoughts on the recently released Union Budget. 
"Given the current state of economic activities, inflation and unemployment, this budget has the perfect recipe for building a new India. The only concern is the fiscal deficit of 6.9%, which will severely impact the currency market," he says
With over 500,000 subscribers on YouTube and 280,000 followers on Twitter, Bajaj has gained a credibility that only comes from a sustained output of quality content. Upon referring to his influencer status, he is quick to interject, "I don't consider myself an influencer because I don't want to influence anyone. I want to inspire people and when I create content, it is not for viewership, but to add value for the viewer."
Learning through experiences
After his schooling at Nopany High, Bajaj found himself at St. Xavier's College. He admits that he had a relatively boring college life, as he shuttled between chartered accountancy (CA) and company secretary tuitions to maintain good grades. The first turning point in his life came after he completed CA and went to Mumbai for his first job. "CA taught me the value of the art of selling, by not teaching it to me! Going to Mumbai to become a sales representative was the most important decision of my life. I started selling mutual funds door to door and got a lot of bashing because it was the time of the Unit Trust of India fiasco. After nine gruelling months, I came back to Kolkata and started my first mutual fund distribution business – thinking that it would be easy," he says.
The business didn't work, but Bajaj still values the experience for kicking off his entrepreneurial journey. Bajaj also adds that selling helped him transform from an introvert to an extrovert, something that continues to help him while facing the camera.
The desire to learn about businesses took him to the gates of the Indian Institute of Management (IIM) Indore in 2003. Contrary to popular belief, Bajaj says that it wasn't the faculty, but his classmates from B-school who transformed him. "MBA was more than education with so many people from different backgrounds and expertise sharing everything with you. The actual learning happened in peer groups, and I became a man from a boy during the course," says the Salt Lake resident.
After his MBA, Bajaj took up another nine-month stint in Mumbai as a commodity analyst. "While my friends were joining banks with fat paychecks, I had to commute for nearly three hours each day for half the pay as I believed that my work would have more long-term value. I decided to come back to Kolkata after that, because the small apartment, long hours and extensive commute took a toll on my body. I really love the simple life here, zindagi achhi pace mein katni chahiye! (life should move at a smooth pace)" he says.
Success through entrepreneurship
Though he was armed with a prestigious degree upon his return to Kolkata, starting from scratch wasn't easy. "The first six months were horrendous. Now that I was more qualified, I had more pressure to perform." After spending a lot of time trying to understand the market and losing a significant chunk of his savings, Bajaj finally struck success in 2006 and bagged a major profit. The very next year, he launched Kredent Academy, to not only build trading talent, but also to teach people how to analyse the market and invest.
Then, predicting the technology boom in the markets, he decided to bring in tech and content partners for his business, and this pivot has clearly stood him in good stead. While his firm, Elearn Markets imparts market knowledge to over 1.5 million learners, StockEdge has allowed 2.5 million people to trade and invest in the market.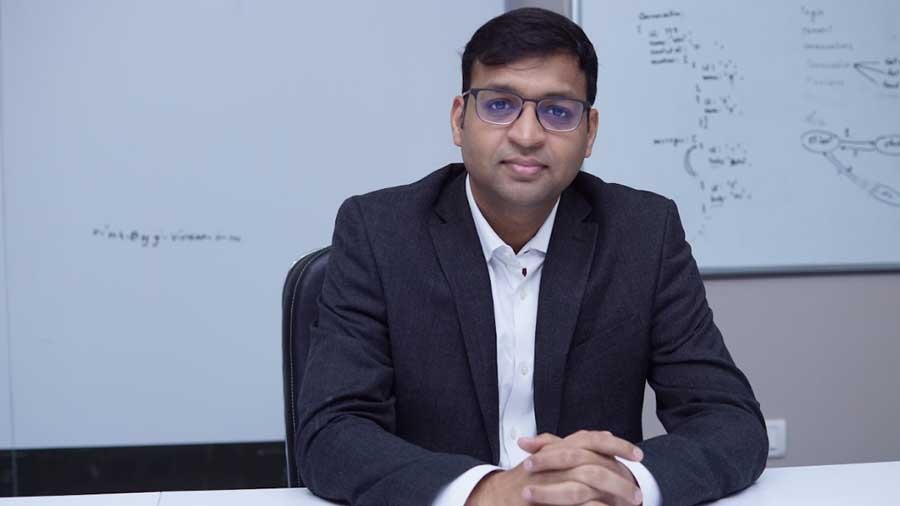 'I can't jump onto trends and my goal isn't just to get views, so there is constant pressure to look for quality content ideas,' says Bajaj
Exploring a new market
Despite a thriving tech business, there was a need for someone to become its social media face. Bajaj decided to not go the influencer way, but to try and win followers by imparting knowledge. "I decided to use my own experience in the market to share insights, and my qualifications definitely added credibility," he says. Never having made videos before, he agrees that it wasn't easy to adapt to a new format and it took several months to understand.
Now, however, he says it is easier for him to speak in front of a camera than it is to communicate during the telephonic interview. "My approach to creating content is very random. My office always has a light installed, so that I can call my production team anytime I have an idea, and start shooting. We generally release a video every Friday." His followers on every platform clearly approve, with his videos generating over 25 million clicks. The downside? "I can't jump onto trends and my goal isn't just to get views, so there is constant pressure to look for quality content ideas. I did a series of videos that teach people how to trade and they got great views. However, I put 10 times the effort on my new series, which teaches people how to invest. Even though it got fewer views than my trading videos, I am more passionate about these videos as I feel they will add more value to viewers in the long term," he says.
So what advice does Bajaj have for his followers? "Focus on the people who match your wavelength. In an age where everyone's attention is always meandering, observe people you are talking to, and new opportunities will always open up in unexpected ways," he signs off.