It was a little past 7.30pm in Los Angeles on March 13 and Sanchari Das Mollick's mobile phone was on fire. Alongside dozens of congratulatory texts pouring in every minute, several of Sanchari's well-wishers were calling her up to express their joy and excitement. Sanchari's response was to say: "Thank you very much, but can I call you later? I'm at the Oscars right now!"
On Sunday, Sanchari, 42, became the first Bengali in history to bag an Oscar in person, as part of the team that made The Elephant Whisperers (streaming on Netflix), judged as the Best Documentary Short Film at the 95th Academy Awards. Thirty-one years after Satyajit Ray had been awarded an honorary Oscar and addressed the live audience with a video message from his hospital bed (Ray could not travel due to ill health), Sanchari lived every filmmaker's dream in what she calls a "surreal experience".
Oscar statuette 'so heavy I thought I'd drop it'
The greatest week in Sanchari's life almost did not happen, for she was initially reluctant to travel to Los Angeles for the Oscars. "The tickets for the show were limited, and I didn't know if I'd end up making the cut," says Sanchari, speaking to My Kolkata from Beverly Hills, 36 hours after holding the iconic statuette that was "so heavy I thought I'd drop it". It was Sanchari's husband, cinematographer and director Sudhakar Reddy Yakkanti, who convinced her to go, accompanying her on the trip. "When we applied for our visas, we got an appointment for November 2024. Then, Netflix sent a letter and the entire process was expedited," recollects Sanchari, visibly beaming in the afterglow of an Oscar win.
"I didn't know that the Oscars are one long week of gala celebrations. There was a stack of events and parties, including a panel discussion among the nominees in the short doc category and a screening of all the nominated films," explains Sanchari, who had faith that The Elephant Whisperers may triumph because it is an "honest, emotional film". "Everyone who saw the film told us that they loved it. A few fellow nominees even tipped us for the win beforehand!" smiles Sanchari, whose biggest day began early. "We arrived for the main awards show at 10.30am. It was like a huge traffic jam…we took our seats eventually and everything moved like clockwork," adds Sanchari.
'Everyone around us realised just how loud Indians can be!'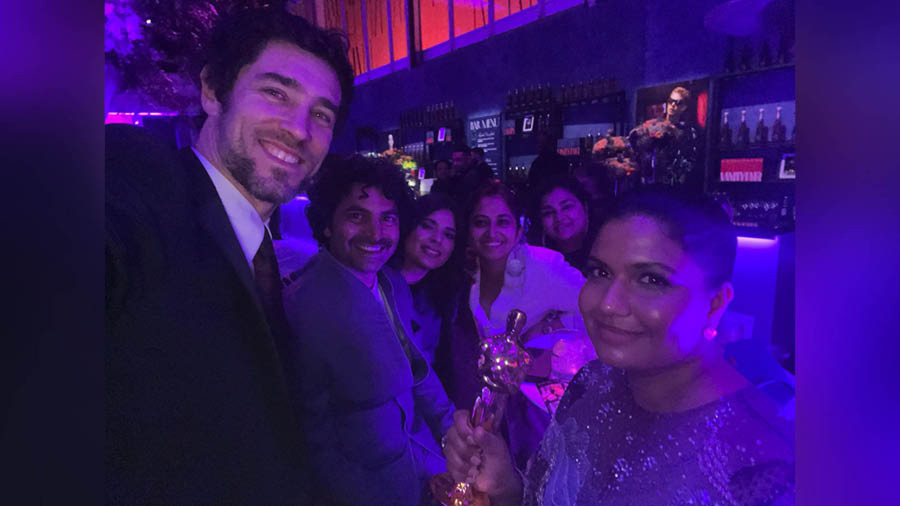 Sanchari and her team celebrating their win
Sanchari Das Mollick
Guneet Monga, one of the three producers for The Elephant Whisperers, had warned Sanchari and her colleagues to "fully charge your phone and carry nutrition bars" to the Oscars. As it turned out, there was "ample amount of food and drinks at the ceremony". Surrounded by stardom all around, Sanchari had her bouts of disbelief, especially when she saw the celebrated cinematographer Roger Deakins. "There were beautiful and famous people all around, faces that I had literally seen on TV a few days ago," says Sanchari, who had to wait with bated breath along with the rest of her team before the moment of truth finally arrived.
"We were expectant and excited, patiently anticipating the turn of our category. And then, when the envelope was opened and the winner was announced, we lost our consciousness! We leapt out of our seats and started screaming. We screamed in jubilation all the way through Kartiki [Gonsalves] and Guneet's acceptance speech. Everyone around us realised just how loud Indians can be!" narrates Sanchari, who had started working on the documentary in December 2020, wrapping up her contribution by July 2022.
Operating first out of Goa, and then Mumbai, Sanchari reduced more than 450 hours of footage shot across five years to 56 minutes, co-editing with Douglas Blush (who was based in the US and is also one of the co-producers), before the film was further truncated to 40 minutes to fit in with Netflix's regulations. "Kartiki had approached me for the project and sent me a trailer to begin with. As soon as I saw Raghu (one of the two elephant protagonists), I fell in love with him. That's when I decided that I'm working on this film no matter what," says Sanchari.
'Without Bomman and Bellie's care, there's no way that Raghu or Ammu would've survived'
Once she started editing, Sanchari was inundated with "cute moments" involving Raghu, Ammu (the other baby elephant in the film) and the couple, Bomman and Bellie, who look after the elephants. "I wanted to keep so many shots, but in the end, I had to prioritise. Among my favourite shots that made it to the final cut was Bellie gently rebuking Ammu and asking her not to sit on top of Bellie, only for Ammu to squeeze in next to Bellie," describes Sanchari, who credited Bomman and Bellie for being "so succinct at expressing everything around them that it made my job as an editor easier".
In an environment when conversation around animal conservation often remains restricted to rhetoric, Sanchari is hoping that an Oscar win for The Elephant Whisperers can create more meaningful dialogue on the interaction between humans and animals: "An important message that comes across in the film is the bond between the couple and the elephants, the emotions that come to define their relationship. Without Bomman and Bellie's care, there's no way that Raghu or Ammu would've survived. It shows just how much of a difference personal involvement and understanding can make."
Tracking the Oscar win from Golf Green
Back home in Kolkata, Sanchari's parents were wide awake in the wee hours of Monday (March 14) morning, tracking the latest from the Oscars from their Golf Green residence. "We don't have a cable connection by choice, so we were trying to follow the updates online," says Subha Das Mollick, Sanchari's mother and a documentary filmmaker and media professor. "My husband and I were disappointed when we heard that All That Breathes had missed out (for Best Documentary Feature). We slowly began to get on with our work when one of my students called from Delhi to say that The Elephant Whisperers had won. Shortly after, another relative from Chicago sent us the video of the announcement. Soon, the confirmation arrived on all the news channels," recalls Subha, who ended up talking more to the Indian media than Sanchari due to time zone and network issues over the past few days.
"I've watched the film several times, including once at the auditorium at SRFTI. One of my friends highlighted that the film doesn't have any violence or aggression, which is rare for a film involving wild animals. That's something that stands out for me," observes Subha.
'A few months down the line…I'll be able to fully process it all'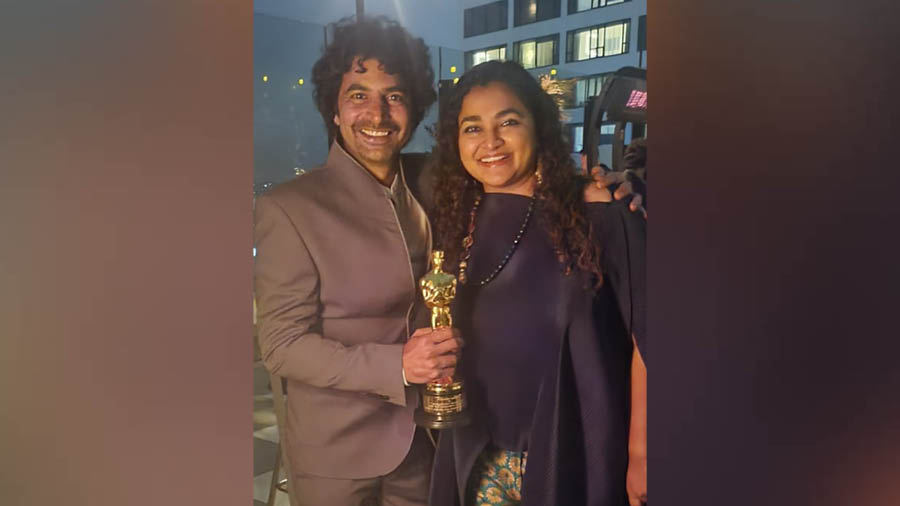 Sanchari with her husband Sudhakar Reddy Yakkanti
Sanchari Das Mollick
For Sanchari, an alumnus of Loreto House, Calcutta International School, St. Xavier's College, Kolkata, and Pune's FTII, films were an inseparable part of her life growing up. Her grandfather, Manojendu Mojumdar, was one of the founding members and treasurer of the Calcutta Film Society (co-founded by Ray). By the age of five, Sanchari had already watched Rosebud. Later on in school, a screening of Citizen Kane had left a deep impression. When in college, at St. Xavier's, Sanchari had edited her first film, a group project on Bengali bands. "That's when it dawned on me that I could do this. Editing didn't kill me and I wanted to continue. Subsequently, at FTII, I got a much larger expanse to work with. Back then, one had to cut on film rolls, which meant that I had to think a lot about editing before actually doing it. It's held me in good stead till date," says Sanchari, whose first professional film was Crosswinds over Ichhamati, which premiered at the Mumbai International Film Festival in 2012.
Based out of Mumbai, Sanchari will soon return to India to put the finishing touches to Naal 2 (the sequel to Naal, a National Award-winning Marathi film released in 2018), alongside her husband. It is then, perhaps, that she would be better able to grasp the enormity of her achievement: "It's going to take a while for everything to sink in. A few months down the line, I'll look back and think about what happened, and that's when I'll be able to fully process it all."