The ICSE results were declared at 5pm, but Aishwarik Dey got to know his score two hours later. "I had gone for my tuitions. I came home at 7pm and checked on my father's phone. I checked once, twice, thrice… I could hardly believe what I was seeing," recalls the resident of Elita Garden Vista in Action Area III, who studies in Garden High School. Aishwarik's score is indeed such that most mortals would think it requires "god-like" abilities to achieve. That's what his name means.
At 99.6 per cent, he stands at the top of the pile in the state with eight others and in the second spot across the nation.
The only two marks that were deducted from the total of 500 were in English. In all the other subjects, he got full marks.
"I did not expect so much!" says Aishwarik. He had got 99.3 per cent in the first semester. "Since the second semester was on subjective questions, I thought my score would be around 97-98 per cent."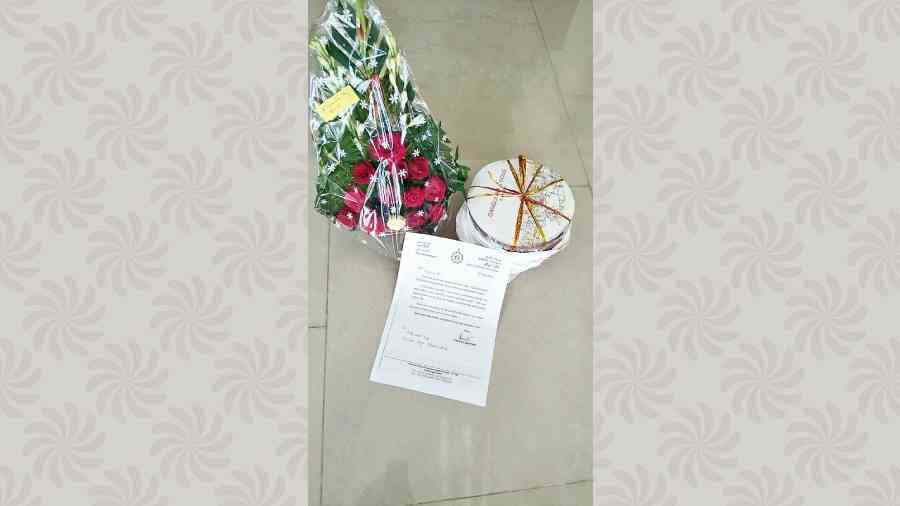 A handi of rosogolla and a congratulatory letter signed by the chief minister for him.
Looking back at the journey, Aishwarik feels his batch had attained a unique status by taking the same Board examination twice over. "There was so much stress before both semesters. We stayed on tenterhooks whether the exams would be online or offline till the end. The dates for the first semester were pushed back once. And before the second semester, (Covid) cases were rising again in January," he says.
The journey was tough right from the start. "When the lockdown was announced, we had just appeared for our Class VIII exams. Who knew classes could be held online!"
Aishwarik was studying at a comfortable pace till August 2021. "Our half-yearly exams were supposed to be held in a couple of days when it was announced that our Board exams would be held in two parts, so the half-yearly exams were cancelled. The multiple choice question format, used in the first semester, was new to us."
During the first semester, he did not check the answer keys with his friends to know how much he got right or wrong. "It would have hampered my preparation for the next paper."
And in the final semester, he was unsure about finishing the paper as the questions were subjective. But not only could he finish, he even attempted extra questions after spending 20 minutes on revision. "Our teachers had told us that the answers fetching the most marks would be taken into account if we attempted more than what was required."
Aishwarik is thankful to his school teachers. "They took calls even at midnight, though sometimes grudgingly, as I could not wait for clarifications if I had a doubt while studying," he smiles.
And none of the credit for his result goes to his home tutors. He had none. "Well, he did have one. It was for guitar," laughs mother Poulami Dey Dutta. "Cricket and guitar, these are his two passions," she adds.
He played cricket in under-15 tournaments of the Cricket Association of Bengal till the pressure of studies got in the way. "During the lockdown, I did not step out of the house for a year. But whenever the pandemic ebbed, I played downstairs with my brother and friends with mask on," states Aishwarik, a Virat Kohli fan who watched the climactic phases of IPL matches even before the Board exams. He loves films too, with Jurassic World Dominion at the Downtown mall being his latest watch.
The boy, who grew up in Prafulla Kanan, Kestopur, before moving to Rosedale earlier this year, has research goals. "Science appeals to me," he smiles.