What does a 75-year-old do to get his expatriate granddaughter interested in Bengali literature? Create pop-up books! Yes, that is exactly what retired geologist Pradip Sengupta has been doing.
My Kolkata caught up with Sengupta who has already created three pop-up books and plans to make more.
The inspiration
Sengupta grew up reading a lot of Tagore and Russian books as well. "My memories of pop-up books are mostly Russian books translated into Bengali. I don't remember the names of those books but I remember the images of palaces, princes and princesses and spiral staircases,'' Sengupta said. 
Many decades later, when Sengupta wanted to gift Bengali pop-up books to his granddaughter living in the US, he was disappointed. "As I grew up, I realised that the rich world of Bengali books is mostly black and white. But when I read Ho Jo Bo Ro Lo as a child, it never appeared to be black and white. It seemed to unfold like a colour film before my eyes," he said.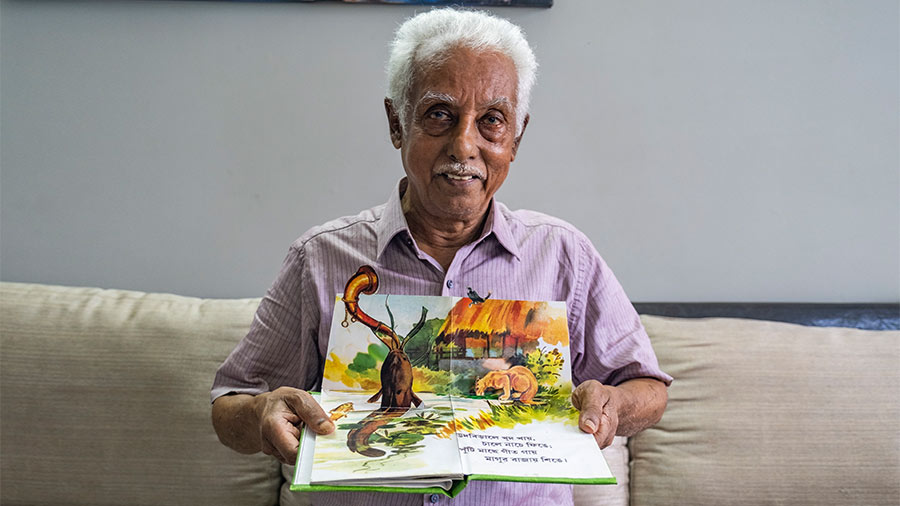 Pradip Sengupta with the pop-up book on Chorar Chobi that he made for his granddaughter Myra
All images by Ritagnik Bhattacharya
"Pop-up books are almost non-existent in Bengali. The few that are available are mostly produced in Bangladesh and are adaptations of foreign works," said Sengupta, who then decided to create pop-up books in Bengali himself to generate interest about Bengali books in his granddaughter.
The world of pop-up books
The journey of innovation began in 2017. ''I decided to introduce my granddaughter to the rich children's literature in Bengali and thought pop-up books would be a good way to begin," Sengupta said.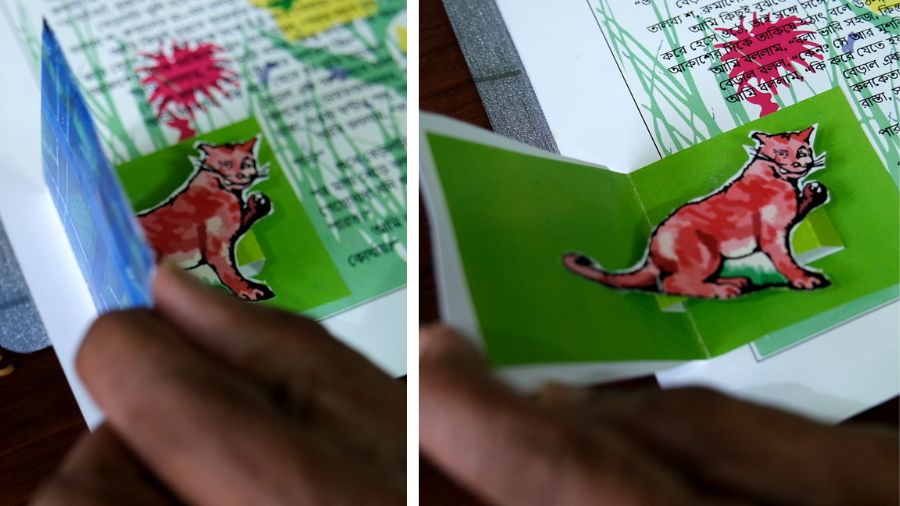 'Chhilo beral, hoy gelo rumal'… from Sukumar Ray's Ho Jo Bo Ro Lo
The first pop-up book created by Sengupta was a collection of rhymes from Shishu Sahitya Samsad's Chorar Chobi Volume 1. "Next, I made a pop-up version of Sukumar Ray's Ho Jo Bo Ro Lo around 2018-19. My third book was based on Rabindranath Tagore's Kumor parar gorur gari from Sahaj Path," Sengupta said.
When Sengupta is not working on pop-up books, he is busy creating maps for his favourite fictional characters. "I have created a Ghanada map, Sonar Kella map and Chander Pahar map," he said.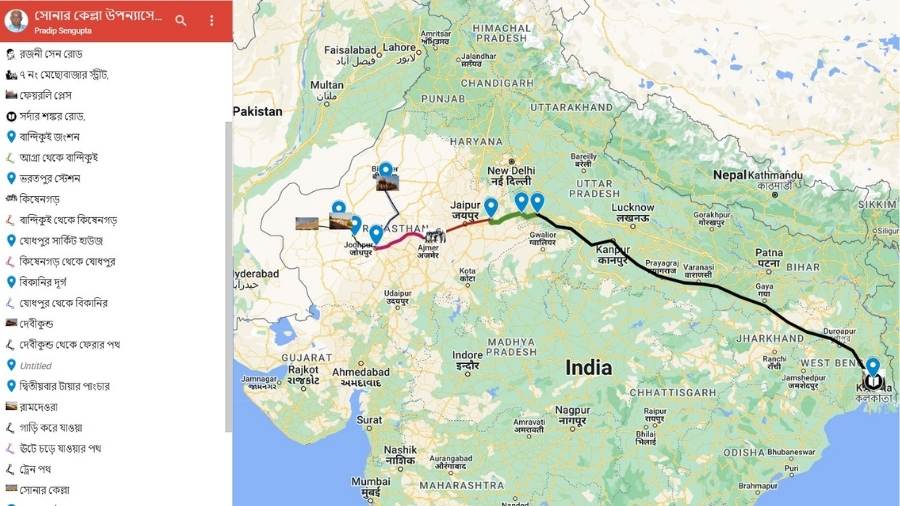 The 'Sonar Kella' map created by Pradip Sengupta traces Feluda's journey from his Rajani Sen Road address to Jaisalmer during the course of the adventure
Google maps
Behind the scenes
Making a pop-up book is a lot of hard work, especially if it is made by hand. When Sengupta decided to make pop-up books, he began by researching methods and techniques on the Internet. 
A pop-up book involves several intricate folds. "I learnt how to make these folds from YouTube tutorials. There are several technical aspects of making a pop-up book. I had to read up on and learn paper engineering as well," said the former student of Jalpaiguri Zilla School and Calcutta University.
Sengupta explained the effort, time and energy required in making pop-up books. ''I use Photoshop extensively. I either draw the images myself or source them from books. Once the visuals are ready, I place them on Photoshop to get an idea of how they would look in a three-dimensional format, what would be the distance between each image and more. Correct positioning of images is important. This itself takes time, say around three to four months, as it is a trial-and-error process. Sometimes I also take the help of animation software."
The pictures are then printed. "Once printed, I cut them out and paste them according to the folds. This process takes around three to four days. Next comes the binding. Pop-up binders are hard to come by, so I have learnt to do it myself with the help of YouTube," he said.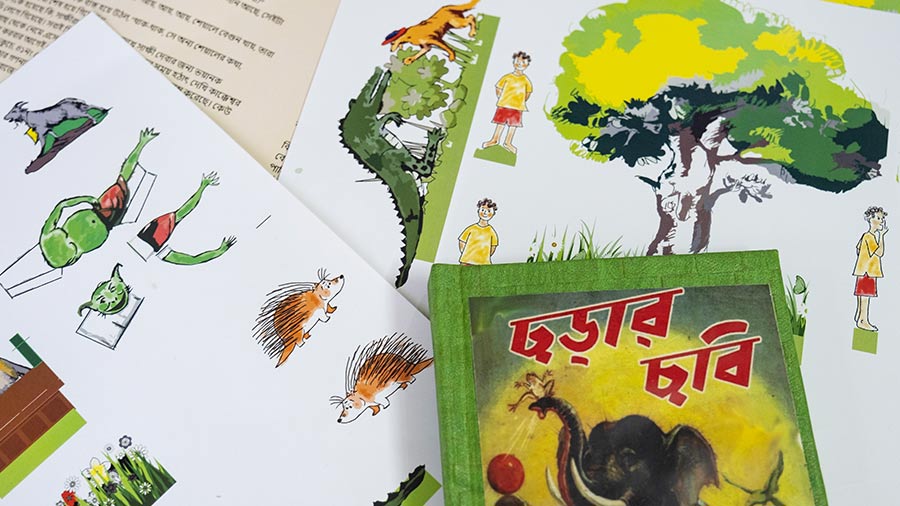 Printed drawings that Sengupta uses to create the pop-ups
Universal appeal
A well-made pop-up book with colourful images can attract people of all ages. ''Also, these books can be good collectors' items and they can help Bengali literature regain pride of place among children. Children of Bengali origin living abroad will be able to connect with Bengali language and literature. The unique illustrations and images used in these books aren't similar to those in any foreign book,'' Sengupta said.
But there are challenges as well, ranging from commercial viability to finding the right materials. 
''The biggest challenge is getting the right kind of paper. I use paper meant for digital printing but even then there are technical glitches. The cost price of each book is pegged between Rs 600 and 700 and without an adequate number of takers here, the project won't be viable,'' he said.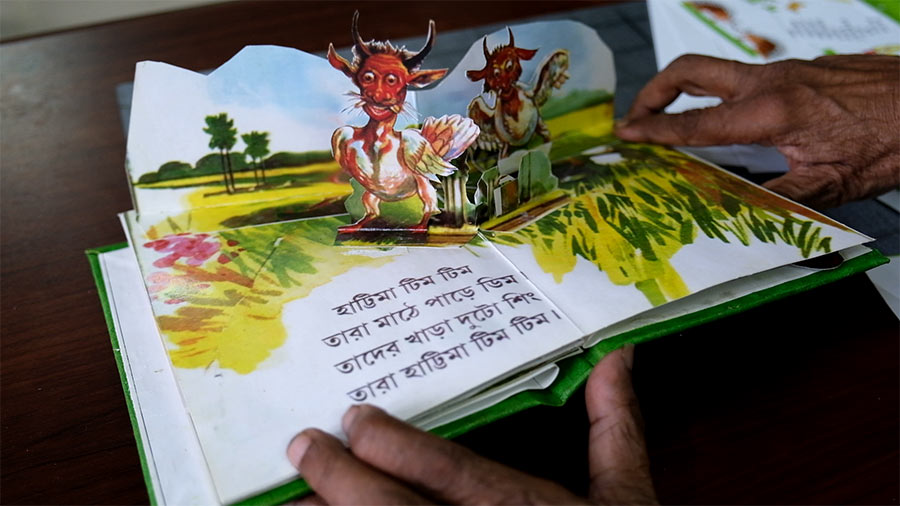 Hattima Tim Tim is Myra's favourite character from Chorar Chobi
Perfect gift
Sengupta's target reader, his six-year-old granddaughter, is of course quite impressed. 
"I loved the book Dadu made for me and enjoy listening to the rhymes when they are read out to me. I like looking at the pop-up pictures and my favourite is Hattima Tim Tim," said Myra Sarkar. 
Sengupta is thankful to his family for their constant support. "My family, especially my daughter and son, are extremely supportive. They also help me in getting content and reference items," he said.
What next
The septuagenarian's next project is an ambitious one — Satyajit Ray's Bonkubabur Bondhu. "Science fiction is not an oft-explored genre in Bengali literature and this story lends itself to visuals, so I am keen on trying it," said Sengupta, a science-fiction fan.
He had also started planning  a pop-up book on a Ghanada story by Premendranath Mitra. "The Ghanada Club had asked me if I could convert at least one of his stories into a pop-up book but the pandemic put brakes on my plan," said Sengupta, who spent the lockdown days writing and translating. 
"Now that my granddaughter has asked for more pop-up books, I will start again and plan to finish the pop-up book on Ghanada soon,'' he signed off.