You can leave Jadavpur, but Jadavpur will never leave you.
The very words of Samantak Das, pro-vice-chancellor of Jadavpur University, have been in everyone's mind a day after the much-loved professor passed away.
Social media has since been flooded with tributes to the professor of Comparative Literature by students, friends, colleagues and associates. Hundreds joined the last journey of the spirited and lively Das from the Jadavpur University (JU) campus on July 21 afternoon.
Asmita Bhattacharjee, student of Comparative Literature from the batch of 2022 at JU, recounted her first meeting with "Samantakda". "It was on the day of our undergraduate entrance exam back in 2019. That was the first time I had stepped into the JU campus and I remember feeling excited but somewhat lost at the same time. I truly believe that I wouldn't have had the chance to be a part of this department and attend his lectures if not for his assuring 'beshi bhabish na, taratari likhe phel (don't think too much, just write)'," she said.
For Asmita, like many others, Das was not just a professor but a friend, philosopher and guide. "He was someone I would look up to for the rest of my life. I would remember him as one of the kindest souls I've ever known. Just a pat on the back or an assuring glance from him was enough to boost the confidence of his students. I would always remember him as the pillar who stood straight, fearlessly, to protect his students during protests. I would remember him as the friend who would listen to you when nobody else would and the critic who would correct you when nobody else would notice your error. Lastly, I would always remember him as the person who used to say, 'You can leave Jadavpur, but Jadavpur will never leave you'," Asmita said.
Colleagues and friends like Jawhar Sircar, Pinaki De and many others have written heartfelt notes on social media.
Sircar, former chief executive officer of Prasar Bharati, shared an old photograph and wrote, 'Definitely one of the brightest scholars I have met in my life, Samantak was truly gifted and multifaceted teacher, writer, intellectual and social worker.'
Tabla maestro Bickram Ghosh shared old photographs of his school buddy on his Facebook page. 'How on Earth does one wrap one's head around this??? One of my closest buddies from class 4!! The formidable Samantak Das, legendary professor of English, brilliant mind of our generation, gone! Just like that? The heart is cold …'
A lover of literature, Das could easily mingle with people of all age groups and get along with them through meandering conversations. Not only was he a popular professor, he was also revered in the literary circles and frequented literature festivals. 
An ex-student, Ishita Roy Bardhan from the batch of 2019, described Das as a fighter. "He was a fighter, in every sense of the word. He fought for his students. I'll never forget this one time in 2019 when my marksheet was stuck because of some administrative issues. He single-handedly helped me with anything and everything. He fought for me till the end. And, when I came back home after collecting my marksheet, even before I could inform him, there was the sweetest WhatsApp message from him, 'Congratulations! All's well that ends well :)' With every piece of news that's overwhelming me right now, all I can say is there cannot be another SD. Not now, not ever," the senior writer said.
Roy Bardhan said Das made his students fall in love with literature. "His classes were not just academic-centric, it was more of an exchange of personal stories, a battle of wits, conversations on politics, culinary arts, history, culture and everything beyond that.''
Das's students remembered anecdotes of his brilliance in the classroom and beyond. One such incident was shared by ex-student Samadrita Chowdhury, who now works in the field of child rights, ''If you ask how he was as a professor, one incident runs on loop in my mind. There was an assignment in my third year and I was a naughty child. I had copied from several sites on Google, collated the assignment and submitted it. When we received the copy after checking, the last page had each of the links I had checked on Google, handwritten. My grade 6/10. Written next to it was 'For Translation'!''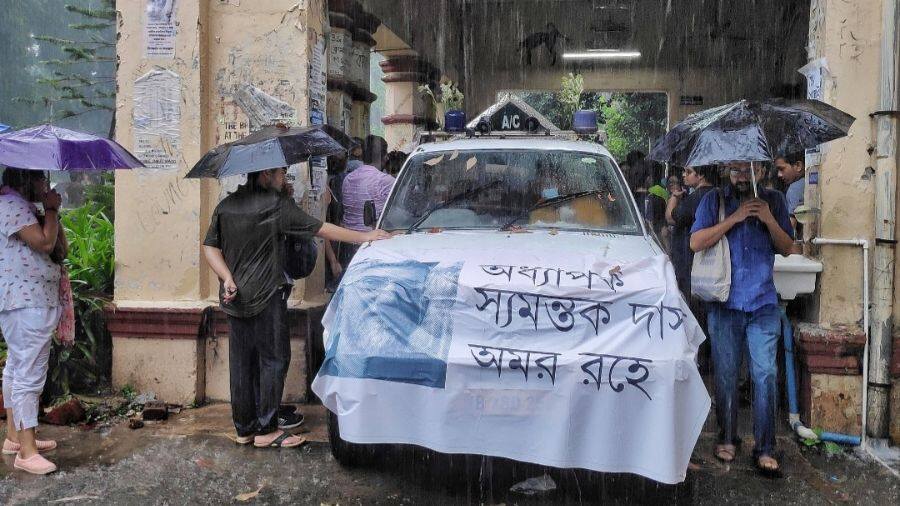 Students, friends and colleagues gathered at JU's Aurobindo Bhavan on Thursday to pay their last respects to Prof Samantak Das
Soumyajit Dey