Vibrant sunflowers, the fragrance of rose petals and floating candles greet visitors to Jhelum Biswas's chamber in her north Kolkata home. Not surprising considering Jhelum is a flower psychometrist.
My Kolkata caught up with the 'flower witch', as Jhelum calls herself and found out all about the healing powers of flowers
What is flower psychometry?
In Jhelum's words, "Flower psychometry is a method of alternative healing where flowers are used to heal the body, mind and soul. Based on the flowers you choose, they can also give you a direction in life. Flower psychometry urges you to think about what a lavender flower can do or what a rose signifies. It also takes help from oracle card readings, gemstone therapy and more.''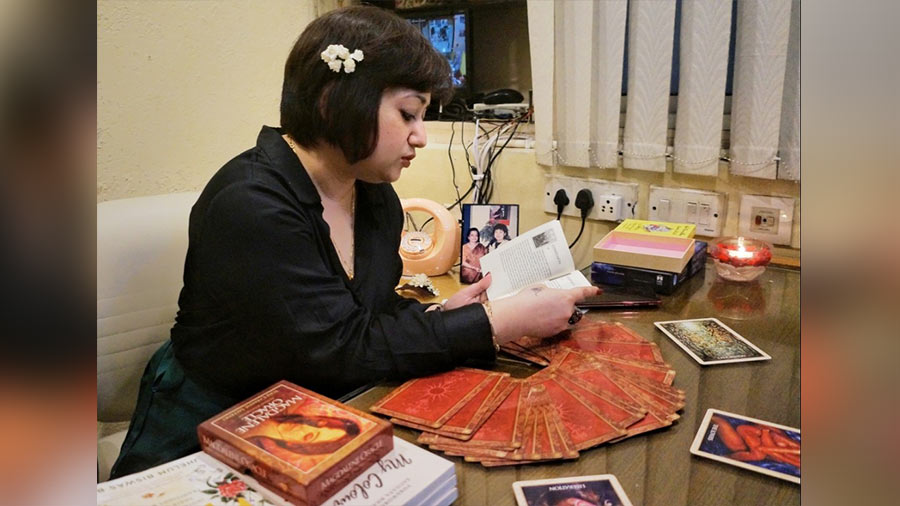 Jhelum reads out from her oracle cards
Bach flower therapy
Jhelum was suffering from chronic asthma when a relative suggested some remedial pills, which yielded positive results. "I started taking Bach flower remedies from her. I went to the UK in 2015 to study makeup and, in between, I had two weekends where I learnt about Bach flower therapy.''
"Bach flower therapy is a set of 38 flower essences plus one rescue remedy which, if taken in combination, can heal any emotion under the sun. But then it can't be one remedy for all. So, if someone says that I am angry, I have to figure out what has caused the anger and then give remedies accordingly. Suppose the anger has been caused by the feeling that I'm incapable of doing anything. Then I would suggest pine for it,'' Jhelum said.
Jhelum was working with Bach flower remedies when I was approached by a publisher to collaborate for a book. Her first book, Phoolproof, was published in 2019.
"In my book, I tried to offer an overview of how to use the therapy in an Indian set-up. I focussed on how flowers, specifically Indian flowers, can be used for healing," Jhelum said.
Formal training
Jhelum is trained in various fields of alternative healing. "My formal training is in Bach flower therapy and aromatherapy. I am also a trained yoga therapist. I also did an online course in flower psychometry which gave me a better idea about how to incorporate flowers into my healing. Flowers are a part of every culture and every flower has its own significance. I found that fascinating and started reading up on different flowers," Jhelum said.
But Jhelum believes anybody from any academic background can take up flower psychometry. "It would be good to study psychology. Bach flower therapy is essentially like a counselling session with a therapist. So, from a professional point of view, it would be good to have a degree or diploma in Psychology," said the alumna of Loreto Day School, Dharamtala, Loreto House in Kolkata.
Jhelum graduated in English from Bethune College and also did master's and MPhil in English Literature from Jawaharlal Nehru University, New Delhi. She is currently pursuing her PhD in the principles of Daisaku Ikeda from Amity University, Gurgaon.
Flowers and their challenges
Jhelum loves working with different flowers. "My favourites are geranium and lavender. Geranium has a beautiful smell and though it is called the 'poor man's rose,' I feel it has an identity of its own. Lavender is a versatile oil for everything. In Bach flower therapy, it depends on who needs what, but personally, holly is my favourite essence. I also love working with jasmine and Indian rose.''
She finds working with flowers more intriguing than challenging. "It's interesting to observe how each flower behaves and how flowers affect you at different points in life. They speak to you when you need them the most and they do that in many ways."
Jhelum Loves carries a select number of quality products even as product innovations continue in full force
All about Jhelum Loves
Jhelum is also an entrepreneur and has her own brand, Jhelum Loves, which she floated in 2015.
"After I came back from my Bach flower therapy course, I started recommending it to my friends and family. They asked me if I could give them something that could be applied topically. The first thing that came to my mind was a face mist and I knew that people would use it. So I made face washes with honey. That's how I started getting orders started and I kept adding more to the brand," Jhelum said.
Jhelum Loves offers face wash, multipurpose mist, face oil, face cream, treatment oils for pigmentation, dark circles, acne, hair freshener, oil, shampoo and hair tonics. "I also personalise mixes. There are body oils, chakra healing oils," she said. "Initially there was a rush to create a large number of products but now I have limited the number of products. Product innovations continue all the time."
Her products are available on jhelumloves.com and at Saajo Salon in north Kolkata.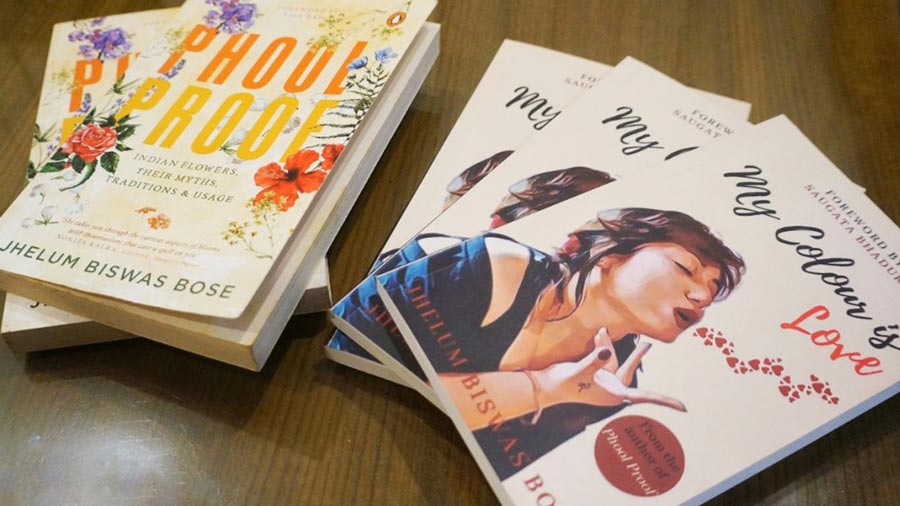 'Phoolproof' and 'My Colour of Love' by Jhelum Biswas
Jhelum the author
Jhelum has written two books, Phoolproof and My Colour is Love.
"Phoolproof talks about the various myths and traditions related to Indian flowers. It is demarcated into five sections — Lore and Legends which talks about certain stories about flowers; Essence and Emotions about floral essence, Bach flower remedy and my experiences; Sense and Sensuality about floral essential oils and fragrances; Adornments and Anointments about how to wear flowers, make pastes or scrubs with them for beauty treatment or concerns. The fifth part is about food and flavours and how flowers are being used in food right now."
My Colour is Love is a book of poems, which was self-published in 2021.