By the second decade of the 19th century, Calcutta was the beating heart of the British Indian Empire. The European citizens of the city took much pride in their adopted home and one of the prime objects of their affection was Chowringhee Theatre. In 1827, the audiences of Chowringhee Theatre would witness the birth of a star who for the next decade or so would become the talking point among the city gentry.
A star is born
In 1809, a baby girl was born in Meerut cantonment to Mrs and Mr Flatman of the British Indian Army. She was named Esther. At a very young age, Esther lost both her parents. Shortly after, she moved to Berhampore where she was raised by a kind-hearted corporal by the name of Paddy Flynn.
By her early teens, it was clear that Esther had the makings of an exquisite beauty. She keenly participated in amateur theatre productions held in the cantonment and it was clear to audiences that her histrionic abilities were a match for her beauty. The story goes that one enamoured fan gifted Esther a collection of Shakespeare's plays and for the young girl, this was a God- sent boon. She devoured the plays, memorising the dialogues word for word. It wasn't long before news of her beauty, exceptional memory and acting skills reached Calcutta.
Around this time, she got married to a Sgt. Leach, who was 17 years her senior. The sergeant would soon be transferred to Rangoon (Yangon, Myanmar), leaving Esther to devote her entire time to her love of Shakespearean plays. Soon, she got offers to act in the Dum Dum Regimental Theater and moved there. Her fame increased by leaps and bounds and on July 27, 1827, Mrs Esther Leach arrived at the grand theatre on Chowringhee Road.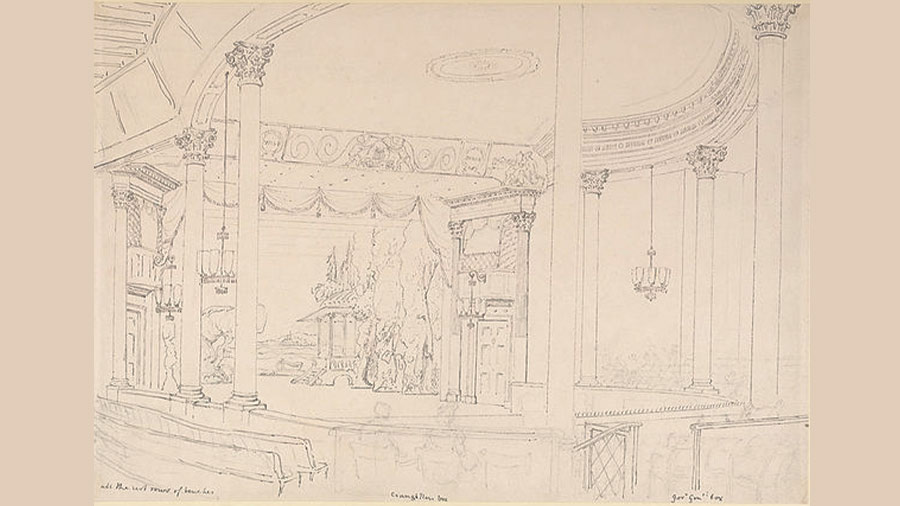 Pen-and-ink drawing of the interior of the Chowringhee Theatre in Calcutta by William Prinsep, 1830s
Wikimedia Commons
The shining star of Chowringhee
Her performances at Chowringhee Theatre left the audiences — the who's who of Calcutta including the Governor General Lord Amherst — absolutely spellbound.
In no time, her fame reached unprecedented heights. Mrs Leach was dubbed the 'Sarah Siddons of India', after the famous Welsh actress who was the best-known tragedienne of the 18th century. Contemporary critic William Hazlitt dubbed Siddons as 'tragedy personified.'
Sgt Leach would also join her in Calcutta sometime later, after securing a posting at Fort William. The local grapevine at the time was abuzz that the move happened courtesy of some strings being pulled by military higher ups. The reason for it is believed to have been that on no account should theatre star Mrs Leach have to contemplate moving out of Calcutta.
For the next 11 years, she would rule the Calcutta theatre scene, gaining immense popularity.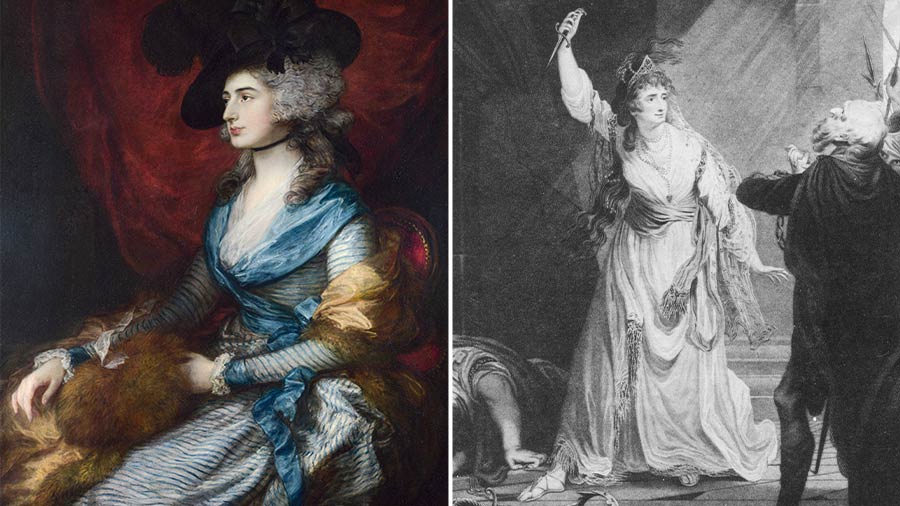 L-R: A portrait of Sarah Siddons, and Sarah Siddons on stage
Wikimedia Commons
The curtains come down to rise again
Esther Leach's husband's sudden death in 1836 brought her illustrious career to a shuddering halt. Heartbroken, Mrs. Leach's health also worsened and finally on January 12, 1837, she left for Britain with her three daughters. According to reports of the day, her farewell from the Calcutta docks was a momentous occasion and saw a large crowd gathering to see her off. Mrs Leach bid her beloved city a tearful goodbye and left with a promise to return.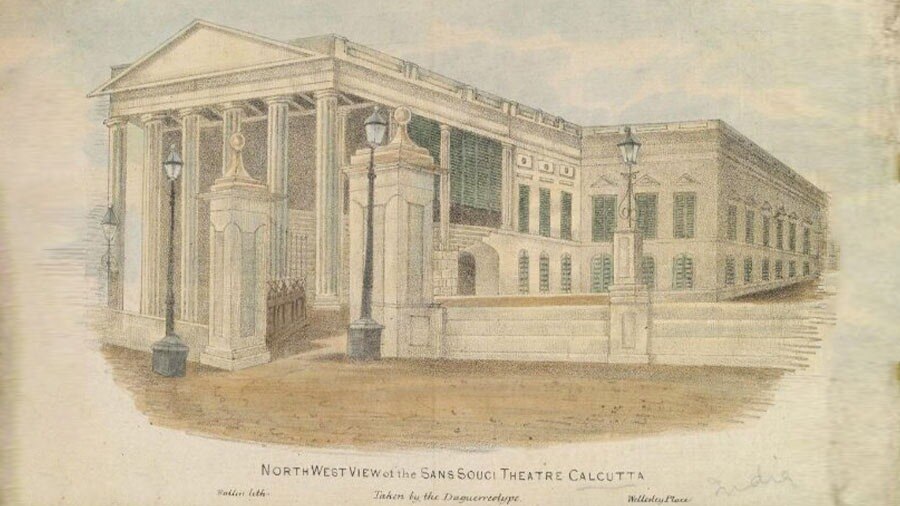 The Sans Souci Theatre on Park Street
Courtesy V&A Museum archives
True to her words, she was back in the middle of 1839 but tragic news awaited the actress. A devastating fire had burnt down her beloved Chowringhee Theatre in the time she had been away. However, Mrs Leach had come back with a mission and she would pursue it steadfastly.
Perhaps her heart yearned for her time at and the opulence of Chowringhee Theatre, and she gathered her old associates, rented a ground-floor go-down in Government Place East (Waterloo Street) and, with the backing of well-known art connoisseur Mr. Stocqueler, began plans for a grand theatre. The Sans Souci Theater first opened here in August 1839.
Soon, a large plot of land was acquired on Park Street, reportedly at the location of the current St Xavier's College, and construction began on a new home for the theatre aided by generous contributions from Governor General Lord Auckland and Dwarkanath Tagore. Modelled on the Greek Parthenon, the massive new Sans Souci was an imposing structure with a seating capacity of 400 that opened its gates in May 1841. Lord Auckland was the chief guest on the occasion. The theatre scene of Calcutta was up and running again.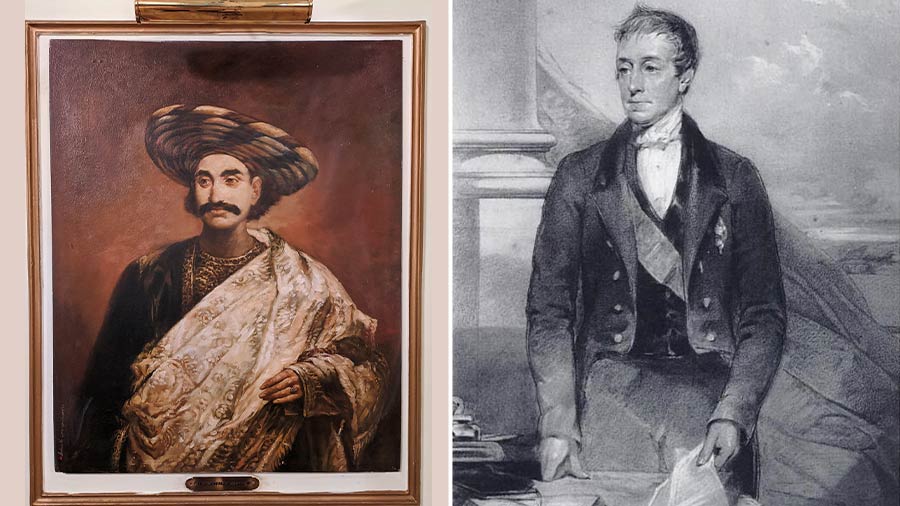 Dwarkanath Tagore and (right) Governor General Lord Auckland
Wikimedia Commons
A story of passion
It was November 1843. The audiences watched in rapt attention at the staging of the play House Husband at Sans Souci Theatre. While the performance was on, Mrs Leach's clothes caught fire from an oil lamp and she suffered severe burns. Despite the best efforts of doctors, the actress breathed her last at 11am on November 18, 1843.
It is said that before her death, Mrs Leach bequeathed the Sans Souci to her colleague Nina Baxter. However, without its star attraction, Sans Souci struggled to reach its former highs. Yet, it would still bear witness to two intriguing developments. In 1848, one of Mrs Leach's daughters — described in records only as Mrs Anderson — made her debut on this stage. More importantly, on August 19 of the same year, Baboo Baishnab Charan Auddy performed the lead in a staging of Othello. It is believed to be the first stage performance in an English play by an Indian actor. A year later, with losses mounting, Sans Souci closed down.
Born to an ordinary family, orphaned at a young age, and widowed in her early 30s, yet remembered as the shining star of Calcutta's theatre scene — Esther Leach's story is an incredible testament to willpower, determination and passion, a fascinating tale that's now lost to the winds of time, just like her beloved Chowringhee and Sans Souci theatres.
Sadly, no portrait or painting of the famous actress, often referred to as Calcutta's first diva and female actor-director, has been reliably identified. So, we can only imagine her ethereal beauty. To this day, the woman who was India's first superstar, lies buried in a nondescript grave at Bhowanipore Cemetery.