When we were defensively middle-class in Mission Row Extension in the Seventies, New Year was the midnight bellow of tug horns in sequence on the Hooghly that would roll through our Central Calcutta neighbourhood, enough for my mother to say 'Suno beta, New Year ho gaya.' The next morning would be spent looking up the last cars that had come in to be parked in the garage of Peter Motor Works across our home (under the shadow of Eau Chew restaurant) and arriving at the sage conclusion: 'Harishbhai must have come back from CSC at 2.30am…'
Boxing Day, MCG… at Eden!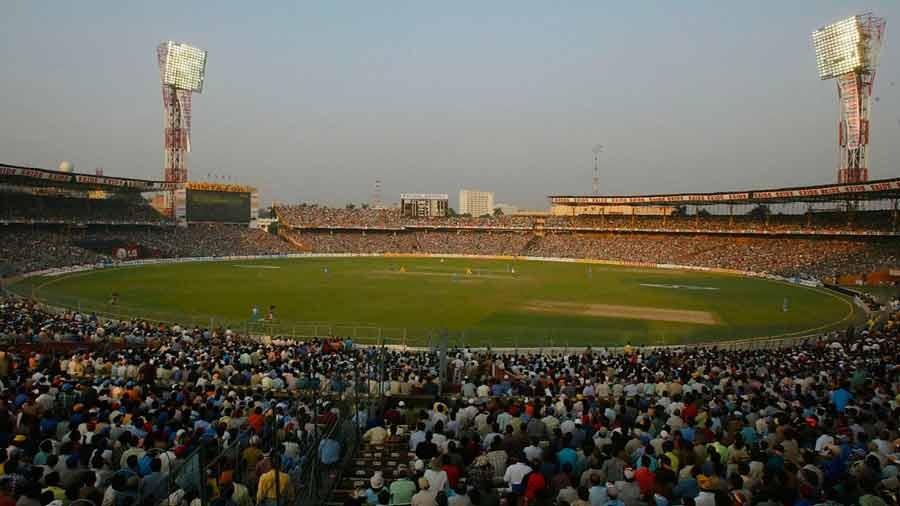 'If it was January 1 (our equivalent of 'Boxing Day, MCG'), you bought a ticket in black and dissolved into 93,543 people to watch a Test match'
Shaun Botterill/Getty Images
When we were economically on the back-foot, the best way to spend the New Year was to sit on the concrete slabs at the Eden Gardens, smoke the cigarette smoke of spectators, pass wisecracks on those entering late, dip into our cane basket and extract egg-mustard sandwiches by noon and watch Bishan Bedi bowl devious lollipops to Tony Greig. This was our equivalent of 'Boxing Day, MCG'; if it was January 1, you bought a ticket in black and dissolved into 93,543 people to watch a Test match.
Nightly pilgrimage of Park Street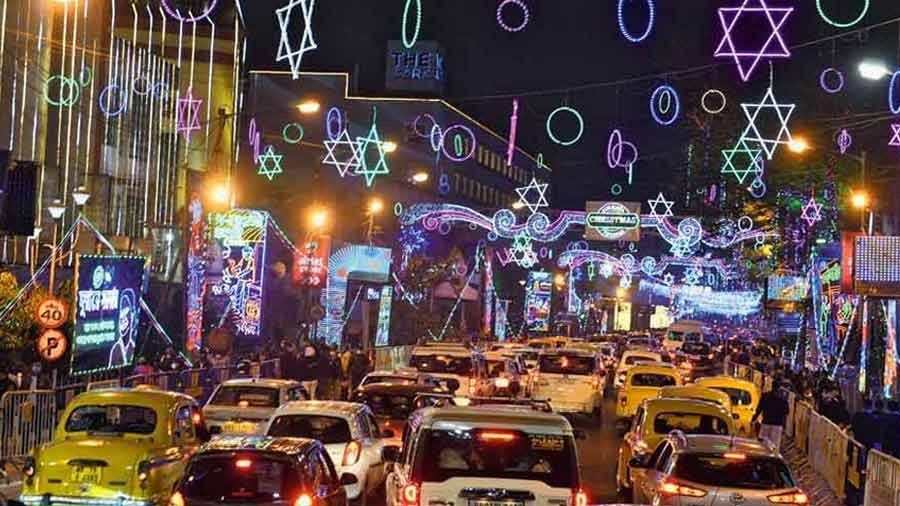 TT archives
By the time we were adolescents, New Year's Eve was about doing the nightly pilgrimage of Park Street (Russell Street to Flurys and back, four times over), accosting strangers less sized than us with a cacophonic 'Haapppyy Noooo Yaaaar!' until we were wise enough to realise that the festival on that road of roads was no more than an occasion for teenagers to thrust their hands through car windows and misbehave with women.
On – or off – the DI dance floor
By the time I had gained professional currency and was employed by Sportsworld, the Eve's location had shifted to Dalhousie Institute. I was no member; my entry was facilitated by colleagues who were more than members (the DI was a limb without which they would have been referred to as 'special' as is now the polite custom). They would use their clout with Chhotu the bearer to block the long table adjacent to the dance floor (polite term for what passed off as the cemented basketball court) by 9.30pm so that by the time we sauntered in feeling semi-special at 10.30pm, we would be a part of the 'guest flow' – whether you went to the dance floor or came off it, you couldn't miss the Sportsworld table, which meant that you got a complimentary hug and air-kiss by default, whether the giver was a 19-year-old PYT or a matronly powdered lady we usually referred to as 'aunty.'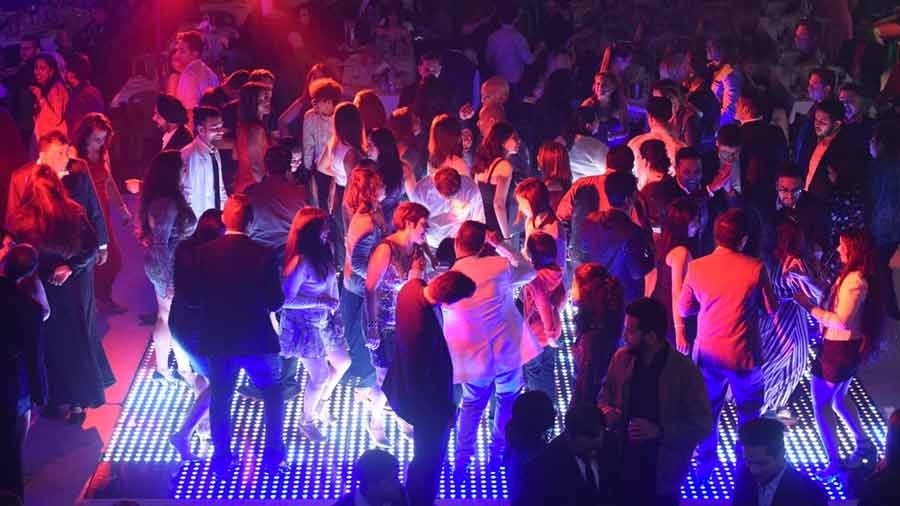 A packed dance floor at DI
TT archives
Being the most socially awkward of my colleagues, with whom no one cared to dance (or who had the least courage asking a young lady whether she would care to spend her next seven minutes nose to nose with me), I was left with no alternative than to become The Observer: there was Harry who danced two feet away for the fear that his partner would inadvertently plant her stilettos on his prohibitive Bally browns; there was a nice young lady 'Z' who was referred to as 'Grabs' for reasons that are still open to vivid interpretation; there was 'R' who threatened a brother Anglo-Indian to see him outside after he had bumped three times in 37 seconds with his vivacious friend 'B' (later wife); there is the memory of my dancing with 'M' who had one of the most bewitchingly swarthy looks I have seen on any young lady but who I never saw again since.
The countdown and the hugs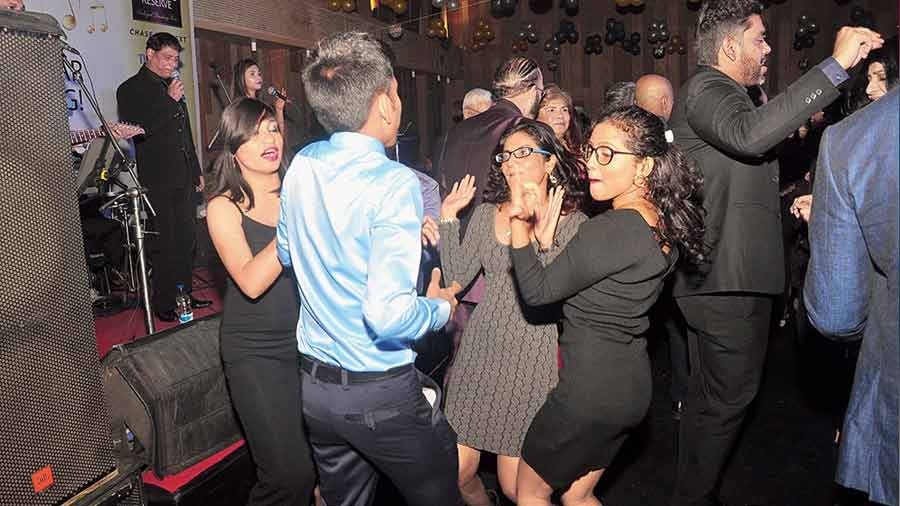 'When it was time for the midnight hour everyone (me included) would be ordered off the tables and emptied onto the [DI] dance floor'
TT archives
When it was time for the midnight hour everyone (me included) would be ordered off the tables and emptied onto the dance floor, clearly the most cherished sardined concentration encountered by the Calcutta man. The crescendo of the evening would be when the emcee would commence his countdown. When he said 'ten', the rest of DI resonated with 'Ten', then collectively-throated 'nine', 'eight', 'seven'… until they got to 'one' after which strangers selected to hug pretty strangers in the larger cause of general bonhomie, air-kisses were exchanged at random, some 'wrestlers' forgot to 'unlock' for minutes and had to be reminded and middle-aged women (who couldn't make the difference between their nephew Johnny and me in a deliberately under-lit DI) gave me hugs that I could feel in my knees for days thereafter. Apollo 11's countdown was mechanically plebeian in comparison.
Since there would be no prospect of this transpiring again until 11.59pm a year later and with no intention to sit it out on the 'benches' later into the night, I would mutter my excuses to the nicely inebriated O'Briens, Pauls and McMahons and venture towards a sleepy Mission Row where my parents would probably have finished their Nisf-ul-Lail midnight prayer or would be readying for their Shafaa prayers of the morning.
Braaahs… You won't believe what happened last night!
Some hours later, I would be in office by 9.45am; the other denizens would stagger in closer to lunch and for years the standard opening line would be (unfailingly in the voice of Barry O'Brien): 'Braaahs (this was before some idiots changed it to 'Bros' to make it more gender neutral)! You won't believe what happened last night… just when we were leaving at 2.45am, who should come but 'CM' and he said 'One more drink' and we said 'Only for the road' and then we went to the dance floor and the next thing we realise is that boss it is 4.30am, there are 13 people still dancing and the bloody band is packing up. So we get out of the club, get on to our bikes and then Bosey whispers 'Fatty Mama' and off we go to Chinatown and braah, what Hot Chimney Soup she serves us, god bless her. The bike runs out of petrol on the way back so I take a drop from Mac who is driving behind us, get hauled up by the Karaya Road cop for riding four to a bike, we bribe him with a chhota peg and finally crash out at 8 o'clock.'
The years changed from 1983 to 1984 to 1985 to 1986; the story never. The magic of the New Year was never the damn headline in The Telegraph; it was the fine print of what had transpired the previous night in the life of Barry O'Brien communicated with an evoked wonder. In a few minutes, sub-editors from adjacent Ravivar and Sunday magazines would troop inconspicuously in one by one to become a part of a larger audience listening to the fantasies they never lived until one of the editors mundanely yelled 'Nirmallllll! Kahaan gaye…' and everyone would hurriedly scatter.
Race course and NY cards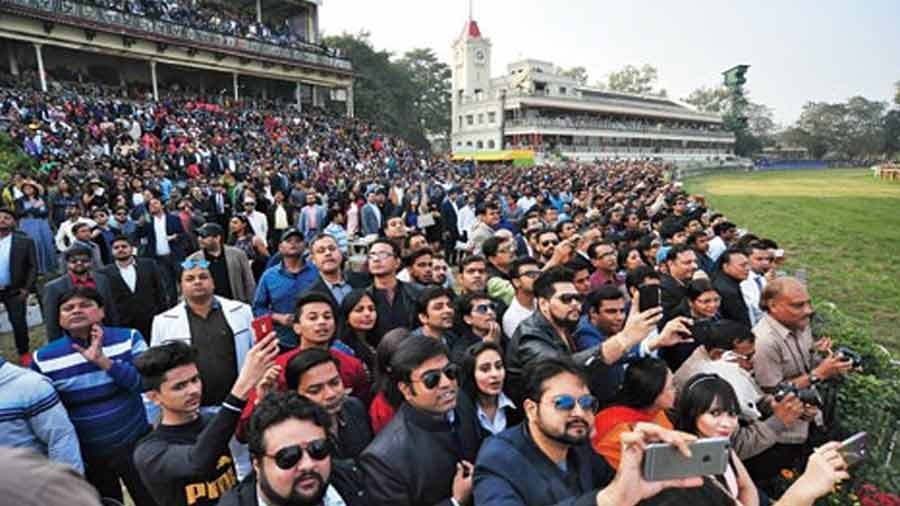 'In later years, New Year's was spent in a borrowed blazer, tracking prospective winners on the Race Course'
TT archives
In later years, when I graduated to the stock market, New Year's was spent in a borrowed blazer, tracking prospective winners on the Race Course, asking Cyrus Madan for an inside tip, putting Rs 50 through a small window, advising other stock market types 'Khartoum tej lag rihyo hai', tracking stallions through binoculars on the final stretch and then kicking the turf when one realised that the horse we backed had finished second last with the words 'Life sucks.'
When it became increasingly evident that the route to success on the stock markets was networking, one would write New Year cards attached to books (Man's Search For Meaning being a multi-year favourite) that one sent to the CEOs of prominent Indian companies to get into their good books (sorry for the pun) so that they would part with some wisdom that one would convert into a prudent long position on the market. Most CEOs acknowledged with a polite handwritten thank you; some got their secretaries to revert with a New Year card that would inevitably reach by January 25 – without a signature. All the cards would be strung across the office; it was a power statement before one had heard of 'virtual'.
And now…
Now that the Anglo-Indian rub-off on my life has regrettably waned, I flop into my pillow by 10.40pm, rise at 5.45am for namaaz and… spend the next 173 minutes deleting 764 Happy New Year messages on my phone.
But when I am floating in the half-sleep of January 1, I dream of DI often.
Mudar Patherya is a romantic who revels in Kolkata anecdotes, pictures, bylanes, characters and memorabilia.