Sushant Divgikr, aka Rani KoHEnur, was always geared up to make history. The performer, who recently represented India at the RuPaul's DragCon in LA (in a fierce Amit Aggarwal gown, no less), and was also recently featured on a Times Square billboard in New York, was in Kolkata for a performance recently.
Rani KoHEnur, who hails from Mumbai, embodies the beauty of being a queen, both in and out of drag. They were the first drag artiste to participate in an Indian singing reality show in 2018 and were crowned Mr Gay India in 2014. Ahead of their performance at The Lalit Great Eastern Kolkata last weekend, they opened up to My Kolkata about drag culture, the need for queer-sensitive spaces and why they love coming to Kolkata. Excerpts from the conversation:
You started performing in drag during your school days. What was that like?
It was an all-boys school and they didn't have a choice! I was the first and last option for female roles. There was no audition till one other queer person came, and then we used to share the work like, "Tum do play karna, main do play karunga." Thank god, because I was tired of the number of plays I would do in a month. But then, I had so much fun playing female characters in Merchant of Venice and Julius Caesar. I also acted in the roles of Draupadi and Gandhari. 
Back in school, I knew I was a multifaceted student, being the sports captain while also getting a distinction in academics. I didn't let people bully me, but at the same time I would ask myself, "Is it normal that I'm like this, while my schoolmates aren't?" Around Class IX, I began following Laxmi (Narayan Tripathi), Ashok Row Kavi and Harish Iyer on television and I was like, "Wow, they're amazing!" We didn't have enough representation in mainstream media, but they made me believe that drag could be good for me.
How has drag evolved over the years?
I think it was better when I was a kid (laughs)! As a kid, it was no-holds-barred and we could do much more without being judged. As adults, we have many more filters and garbs that we automatically put on. Upon growing older, I realised that drag is a multidisciplinary art form. It envelopes and encapsulates so many aspects of performance art, and doesn't distinguish artistes based on gender, orientation, colour or size. Very few art forms are so multidisciplinary, barring music and dance. Since I have a background in dancing and singing, they come together with drag to amalgamate in this fireball of energy and performance that I put on stage.
I also believe that the stage set the foundation for me as an artiste. After years of getting accustomed to the platform, when I was offered Merchant of Venice — a pan-India theatre production by Vikram Kapadia that would travel to 17 cities — it was amazing. It was a dream debut because I worked with Luke Kenny, Neil Bhoopalam and Jim Sarbh, all of whom were romancing me (in the plays)!
This multidisciplinary nature allows me to be at one with my authentic self, and now I have gotten back to a place where there are no inhibitions, thanks to drag. There are a lot of distinctions from when I used to do it as a kid, but there are also multiple intersections.
In this journey, how did Sushant Divgikr become Rani KoHEnur?
I was actually born as Rani in Kitty Su. My name is a work of art, created by my drag mother, Mr Keshav Suri (executive director at The Lalit Suri Hospitality Group and founder of Kitty Su). He believed that I would go international and suggested that I go with a name that everyone could say. That's where 'Rani' came, although some Americans still screw it up into Ronny. KoHEnur was an intelligent wordplay on how despite Kohinoor being taken from us, we still have one left in the country. The 'HE' represents my fluidity of gender. I'm a queen, but also a 'He' and therefore am genderfluid and identify as a transperson!
You've been a very prominent voice for equal rights. What does campaigning for equality mean to you?
My parents taught me to be fierce and to fight for people who don't have the privilege of conversations, education, or a wonderful accepting family. I've had all of those things, so if I don't acknowledge and use my privilege to support my community, then what is the purpose of my existence?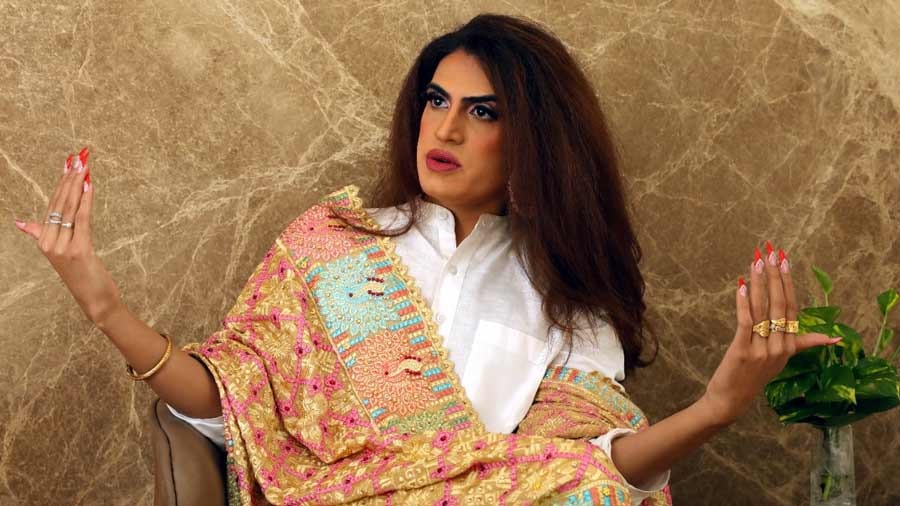 '… if I don't acknowledge and use my privilege to support my community then what is the purpose of my existence?'
Arijit Sen
As someone who identified as a man not long ago, I know that there are many pressures on young gay men to be a certain way and not show their feminine side. I also hate this thing about straight-acting-gay men. You can be as masculine or feminine and still be gay. It is very important for someone to tell people to not be scared and be themselves. We are not fighting these fights so that we sit in the confines of a room and praise ourselves. We do it for you, so please express yourself.
Don't be scared of the next person because they are ignorant. It is very important for our community to understand this. I'm not fighting for the sake of it, I'm fighting for our rights. How dichotomous is it to fight for equality in a democracy? I will take this opportunity to say that the contributions of the trans community, especially my hijra sisters, are way ahead of all of us in terms of activism. They are out and proud, they don't camouflage themselves, and they aren't trying to get your sympathy. The rainbow has so many aspects and colours, we need to celebrate all of them.
A lot of people say that it's not their duty, but I think it's very important that queer people speak up as people don't know our struggles. It is important to speak for yourself, and also for the community, because why else would you call it that if there is no sense of community?
Rani KoHEnur in Kolkata (left); the drag artiste poses before a performance at Kitty Su
How then, do you see the community going forward?
I think the community is in good hands because of people like Laxmi ji, Gauri Sawant and Rudrani Chhetri. To move forward as a community, we need to break geographical barriers and come together as one. That is the only way we will get centralised equal rights. People are understanding that now, and that is why people are speaking their truth and leading by example. They are finally getting the encouragement and will to tell their stories.
How does all this percolate into the future of Indian drag?
We don't realise that India has been a pioneer when it comes to classical performance art. Most of our gods are androgynous. Our male gods wore the finest jewellery that even RuPaul cannot afford! Why don't we accept Indian culture and celebrate it? Now, people are understanding that drag doesn't have to be Americanised, it can be local. I can wear this ethnic outfit and be a drag queen.
Every artiste who is a drag performer in this country today is a Queen of drag. They are the first batch of drag performers. They are all legendary, whether they have been doing it for 10 years, 10 days or for 10 minutes. We need to celebrate this movement.
How do we cultivate more safe spaces for drag culture in India?
I think we need to give credit to spaces that make everyone feel safe. It's not just about gay or trans people. Even if you come to Kitty Su parties as a cis man or woman, there is no judgment at the door. I have been to clubs which are not queer-sensitive, where people judge us as a community and make revolting remarks. I have gone to nightclubs in Indian outfits and even then, some people will say that it is not the dress code. I am not indecent. In fact, I am more decent than everybody else there.
How stupid is it to not let people enter a club in India wearing Indian attire? I'm generally very confident, 'dekhte hai kaun kya karega'. But my point is if I am paying you the same money, I am entitled to have my dinner without being judged by you. If my transness troubles your masculinity, how much of a man are you? Don't question me, darling, I'm as trans as I can f***ing get!
Drag helped me to fight this fight, and places like The Lalit made me understand what acceptance is. Whenever I come to Kolkata, I can feel the divine feminine powers of goddesses Durga, Lakshmi and Saraswati within me. The audiences here give me so much love, regardless of their orientation. People over here are amazing, not to mention the food! Appreciation and acknowledgement without judgement is something that every artiste deserves. I hope spaces like these can teach other clubs what to become!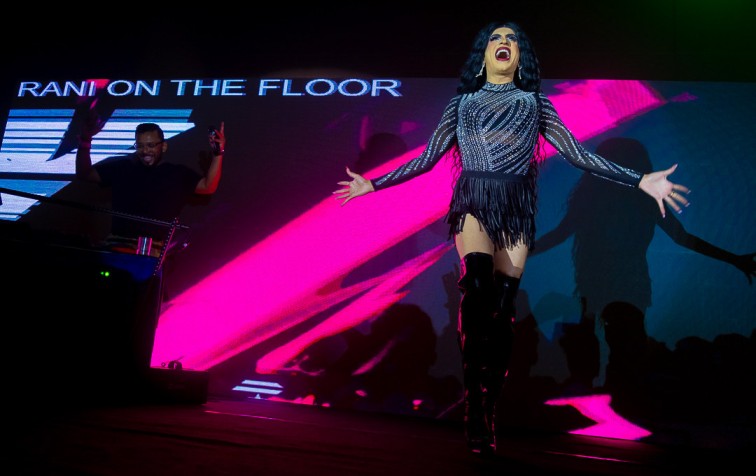 Rani KoHEnur during her performance in Kolkata
What are some of the struggles in drag culture that aren't commonly talked about?
Whether you are cisgender or transgender, I feel we need to have a union. We also need to have better provisions for artistes like minimum wage, and a more structured arts and culture fraternity. These demands need to be posed to the Ministry of Culture. I ask this as a performer who has represented India on a global scale — why am I funding myself? The authorities should be funding me since I'm representing the country. If they don't, why should I pay my taxes?
We choose the government and give them the power to govern. They do not do us a favour with governance, this is their duty. I don't say this just for myself, but every queen who represents the country must be provided for. This is why places like the Lalit have become our haven, as we are paid, respected, and get to create art here. Luckily I have weightage in the space because I started very young and I have been here for 16 years, but why should somebody new not be given the same respect as me? I don't want my kids to fight the same battles I have fought.