The date: April 4, 1845 
The place: Imambara Hospital, Hooghly 
A Scottish surgeon by the name of James Esdaile was set to perform a double hydrocele surgery on a convict. When the patient was brought into the surgery room, he was stricken with pain. Although chloroform had been discovered, its use would not begin until later and by the time Esdaile was done removing one of the hydroceles (an accumulation of fluid in a body cavity), the patient was writhing in pain. It isn't possible to know exactly what happened, but Dr. Esdaile decided to adopt a non-conventional approach at that point of time. He tried to mesmerise his patient and thus ensure the second surgery was carried out without any pain. 'Mesmerising' or mesmerism refers to a protoscientific theory developed in the 18th century, that was used to achieve a close-to-hypnotic state for the patient.  After labouring for over an hour and half, Esdaile was finally able to put the patient in a deep slumber and carried out the removal of the second hydrocele without any agony to the unfortunate man.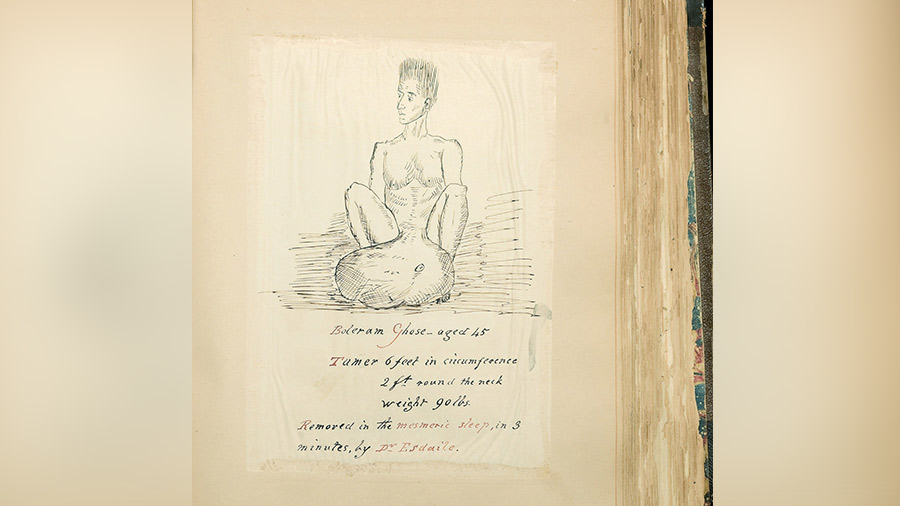 'Image of a drawing of a man, named Boleram Ghose, with a 90 lb tumor extending from his abdominal area. Under the drawing it is explained that the tumor had been removed in the mesmeric sleep, in three minutes, by Dr. Esdaile'
Wikimedia Commons
The miracle man
Encouraged by his success, Esdaile decided to adopt this as a regular practice. Soon, the news of his exploits spread among both indigenous and European communities and Dr. James Esdaile's painless surgeries became the talk of the town. Between April of 1845 and January of 1846, Dr. Esdaile carried out 37 surgeries at the Hooghly hospital putting patients to sleep using his mesmeric technique. Soon, he started using the technique to treat non-invasive cases like epileptic fits, rheumatism, depression, etc. When Esdaile cured severe epilepsy of the wife of Hooghly's Deputy Magistrate, Iswar Ghosals, his fame knew no end. Soon, never-ending queues at the hospital became a regular feature with everyone wanting to be part of Dr. Esdaile's "miracle".
The Hooghly Imambara Hospital derived its name from the fact that it was once part of the structure of the Hooghly Imambara (in picture)
Wikimedia Commons
The story of this strange phenomenon then came to the attention of Sir Thomas Herbert Maddock, the Deputy Governor of Bengal. Being a man of a rather cynical disposition, Maddock wasn't prepared to believe hearsay. He ordered the formation of an enquiry committee, comprising medical as well as non-medical personnel to investigate Esdaile's treatments. In November 1846, this committee submitted a report stating that they couldn't find any discrepancy in the stories and it was confirmed that Esdaile's mesmerism was working perfectly. Maddock then allotted a room in Calcutta Native Hospital, now Mayo Hospital on Strand Road, for Esdaile to carry out further research and treatment. Ten patients needing surgery were brought here, of whom three had to be discharged because they couldn't be hypnotised. The remaining successfully underwent surgery in deep hypnotic sleep with a certain Harananda Laha's 112lb tumour earning much attention.
The rise and fall of the 'mesmerising' Dr Esdaile
Today, Kolkata's Mott Lane is a narrow gully near Wellington Square. It was here, with the backing of Sir Maddock, that a dedicated medical institution by the name of Calcutta Mesmeric Hospital came up in late 1846 with Dr. James Esdaile as its chief surgeon and head. Dr. Badan Chandra Chowdhury, an Indian surgeon was named his deputy. The hospital soon became very popular, mainly for painless surgery and patients thronged to get treatment for non-invasive cases as well, such as hysteria, depression, epilepsy, paralysis, rheumatic pain, etc. Records indicate the arrival of patients from as far as Chittagong — Chattogram, Bangladesh — in the east and the United Provinces — regions of present-day Uttar Pradesh and Uttarakhand — in the west.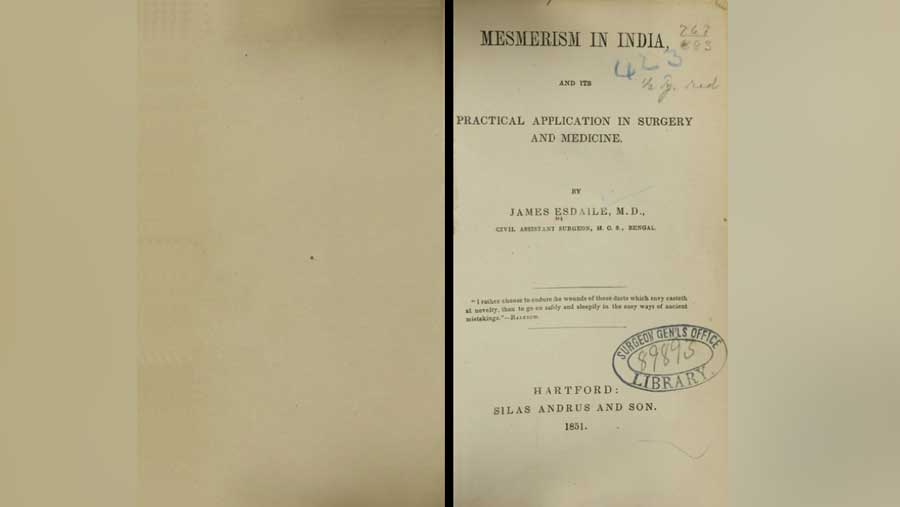 James Esdaile's book on mesmerism, published in 1851
However, the good times were not to last. When Calcutta Mesmeric Hospital was being discussed, Sir William Brooke O'Shaughnessy, a renowned Irish physician, was its staunchest supporter. However, within months of the institution becoming operational, O'Shaughnessy turned into an equally bitter critic.
Few instances came to light of patients coming out of their hypnotic sleep before the completion of surgery. One particular case, that of a lady from Kashi who was undergoing surgery for breast cancer and came to her senses midway, created much controversy. Under pressure from O'Shaughnessy, the new deputy governor Sir John Littler ordered the closure of Calcutta Mesmeric Hospital. The shutters were downed in January 1848.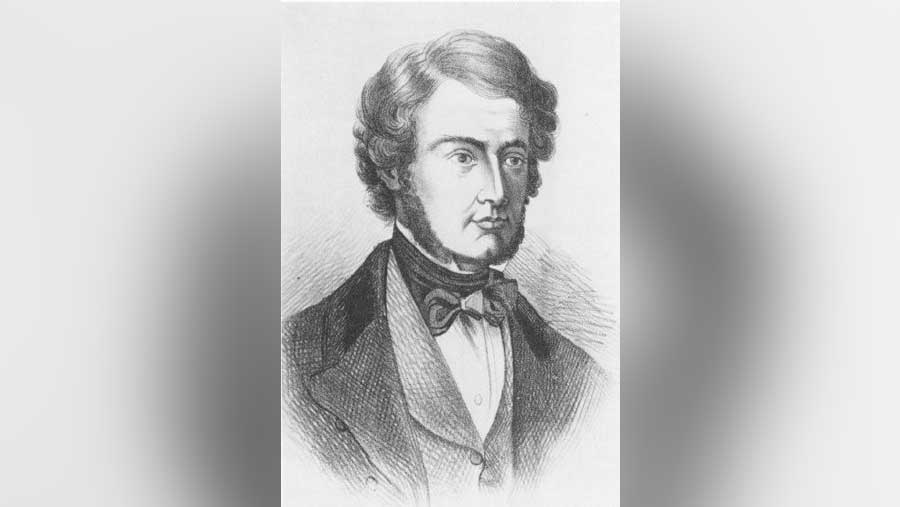 Irish physician, Sir William Brooke O'Shaughnessy
Wikimedia Commons
However, the popularity of Dr. Esdaile had grown so much that several prominent citizens, both European and Indian— started a movement to restart the place. The Bengal government was finally forced to allow the reopening of the place but refused to bear the cost. Undeterred, the enthusiastic citizens raised subscriptions to make Dr. Esdaile's hospital operational again on September 1, 1848. By this time, use of chloroform and ether as anaesthetic agents was slowly gaining popularity and the takers for Dr. Esdaile's strange techniques were dwindling. O'Shaughnessy's stark criticism also played a role and after about a year, this intriguing medical institution downed its shutters once and for all.