He is a fitness freak and she is a foodie and together they make for a fun pair. Just back from shooting their upcoming film Kishmish in Darjeeling, The Telegraph caught up with Dev and Rukmini Maitra at JW Marriott Kolkata as they dropped by to try out the delicious and traditional Maha Bhoj at the star hotel. From Puja memories, fave food to their films, the duo sat for a super fun chat with t2 on September 22, along with some lip-smacking and soul-satisfying Bengali food from the kitchens of JW Marriott Kolkata. Read on for more…
You guys just returned from Darjeeling shooting for Kishmish... Rukmini, we loved seeing your stories... every day you shared the same frame which looked different...
Rukmini: Oh yes! My stories had gone iconic and people were commenting that left side ka plant hai na woh ugega hi ugega, Rs 50 ka bet... (laughs)
Dev! Before a movie release are you superstitious about anything?
Dev: Nope. It's the worst thing that can happen to you. You will keep thinking etar jonnoi eta hoyechhe.
But what do you tell yourself when a very good movie with fab script, acting and everything right, doesn't work?
Dev: Simple, that it was not up to the mark, let's try something else. Hard work is important.
You must be super excited this Puja, with more than one release...
Dev: That's the same feeling like every year but this year there is something more. Ei feeling tar kono comparison hoy na. It is about getting the crowd back to the movie theatres. The 50 per cent occupancy is killing us first of all, then I have three projects lined up as a producer — Tonic, Kishmish and Hobu Chandra Raja Gobu Chandra Mantri and another project lined up. Now ami jodi film release na kori, then next year ta ki kore bhalo jabe, we have to release. That's why Venkatesh (SVF) and I decided that we would release movies.
Rukmini: So, how many film release do you have this Puja?
Dev: Hobu Chandra Raja Gobu Chandra Mantri as a producer, Golondaaj as an actor and Sanak as a friend (smiles and looks at Rukmini). I have to promote her movie in Calcutta, else who would? Not many people would support probably. Very few people in the industry like to lift each other...
What is the formula of getting people back to the theatres?
Dev: Well, everyone is going to a restaurant to eat, club, bus, taxi, train... every place is crowded, so why not cinema hall?
Rukmini, you have your first big Bolly release, how excited are you?
Rukmini: Am very thrilled to be part of a big project and I think the order of the day is OTT and the fact that it's being released on a big platform like Disney + Hotstar is a big thing. I don't know how many audience will a theatrical platform gather but OTT platform at this moment will give me a bigger audience... a global audience. My friends and family in Dubai and the US will watch it and have been texting me since the announcement of the film. Working with the team — the producer, Vipul Sir, my director, Vidyut (Jammwal) has been constantly in touch with me and even while I was shooting for Kishmish he is continuously discussing the promotional plans... messaging "I am there for you, let me know..." and you know they really want to be with you and that is a brilliant thing.
Anything you have learnt from Vidyut?
Rukmini: I think the fitness bit for sure because I only started working out after Sanak. And more than Vidyut I would say that when I got Covid in Mumbai, I understood the importance of being fit. And of course it is inspiring to work with someone who literally looks as if he is carved out of stone (laugh). Dev also is a fitness freak. So I was shooting with someone who is iconic in Bengal and someone who is known for his fitness in Mumbai.
What kind of workout did you do post-Covid?
Rukmini: Three months I couldn't do anything, not even yoga. I did a lot of Pilates, I have weak knees and since I have a couple of action sequences, I had to strengthen my muscles. Then a lot of weight training I did.
What has been a memorable moment while you were shooting Kishmish?
Dev: Everything is memorable. Being a producer you can't say much! There was so much rain, Calcutta was flooded, so was Darjeeling... and we had to pack up by September 20... there was a lot of stress. But I wanted the shooting to get done and that happened, so that's the best thing.
Rukmini: Other than the script and the part being special we wouldn't have done it. Other than that the movie is a birth of a lot of people... introduction of a lot of people to the industry. From our director who had approached me for this movie in 2015 when I was modelling! And cut to 2021, we did the film! (Smiles) That aside singers, editor, music director... all of them are new. So the vibe and energy of the set was terrific!
Dev: I am telling you today that the Kishmish album is going to be the best album of the year.
Does the movie have anything to do with kishmish (raisin)?
Rukmini: You have to watch the movie for that! But the name resonates with love... it might seem complicated on the outside but it's sweet inside.
When you think of kishmish, what dish comes to your mind?
Dev: Payesh
Rukmini: Yellow pulao
When you think of Pujo what comes to your mind?
Rukmini: Fabulous food every single day... morning, afternoon, evening, night!
Dev: Pujo release, promotion and campaigning.
Rukmini: It also means brilliant buffets at JW Marriott Kolkata. It's my fave property, their food is the best! It reminds me of the time when we would walk miles and miles, pandal hopping... and when I pray I do so for the longest time, and my friends would reach the next pandal and I would still continue praying.
Dev: I think I haven't stayed anywhere here besides Marriott. Coming to my Pujo memories, I think with age it changes. School life was about garba, dandiya in Bombay.
Fave food while pandal hopping?
Rukmini: Candyfloss!
Dev: Last 10 years e kichhu hoyni. See there are two types of Pujo for me, one is release, promotion and Navami te flight niye baire jaowa. Bombay te life was different but when I came to Calcutta first, I used to stay in Howrah, this I am talking about when I was at the beginning of my career and I was shocked to see Durga Puja! There used to be no space to move on the road. I would see stars cutting ribbons here and there and I would wonder if I could do the same, and with that money buy a car or watch. I think this is every struggler's story.
As for Durga Puja, the way we celebrate a festival in Bengal, no other festival is celebrated in that manner anywhere in the country.
I remember an incident... I had gone out with my mother during one of the Pujo days for pandal hopping. Chhele hero hoyechhe, ratri barotar somoy beriyechhi, ghurlam. But then ma said "Tor sathe r kothao jabo na. Ami ekai chole jabo" because of the mad rush. But then this is the life I dreamt of always. Nothing is free in this life, you win some you lose some.
Rukmini, since you are the bigger foodie here, are you the Ashtami bhog person or non-vegetarian food on Navami type?
Dev: She can eat anything! Because of her there are so many things I started eating.
Like?
Rukmini: Sushi, crocodile meat, mussels. I tried making him try frog but I couldn't.
Dev: I had to do it to save money (laughs). She would otherwise order so much food and then if you don't have those you have to order something else again.
Puja offerings at JW Marriott Kolkata
The Durga Puja Mahabhoj will be laid out at the Grand Ballroom on Saptami, Ashtami and Navami (October 12-14) from noon to 3.30pm. The wide range of freshly cooked, authentic Bengali food would include Gondhoraj Fish Tikka, Enchorer Dalna, Aam Kasundi Paneer, Pulao, Posto Murgi, Mutton Roganjosh, Dhokar Dalna, among others. To celebrate Puja holistically and to glorify the Puja spirit, the Puja Mahabhoj will be accompanied by baul sangeet, abriti, dhaaki, dhunuchi and puja parikrama.
Pocket pinch: Lunch buffet Rs 2,350+plus. Additional premium beverage rate Rs 1,555+plus.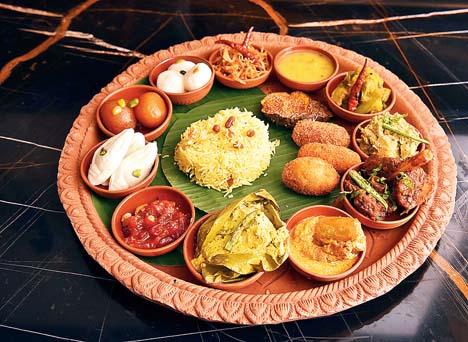 At JW Kitchen, the majestic feast will showcase festive delights. Indulge in Stir Fry Asian Greens, Murgh Tariwala, Chingri Maachher Malai Curry, Sorshe Maachh, Kolkata Chicken Biryani and Ghee Bhaat. The mouth-watering spread will be available from Sashthi to Navami (October 11 to 14) for lunch and dinner. Savour the traditional Bengali desserts like Rosh Mallai, Sandesh, Roshogulla, Mishti Doi to sum up the Durga Puja Mahabhoj. Lunch 12pm-5pm Rs 1,999++ (per person)/Dinner 7pm-10.30pm Rs 2,050++(per person).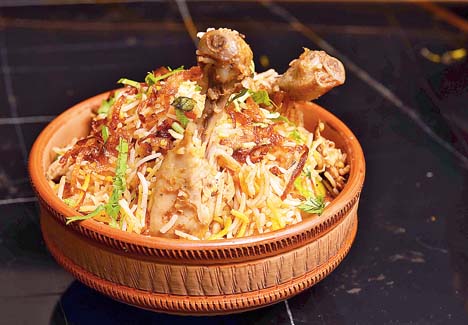 The signature Pan-Asian restaurant, Vintage Asia, will also be offering a Puja special A La Carte menu from Shashti to Navami (11th-14th October, 2021), to resonate with the sharodiya feels. A la carte menu lunch- 12pm-5pm / Dinner 7pm-10.30pm.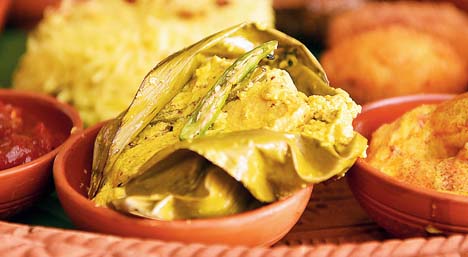 A group of 8-10 people can book personalised venues for a selectively curated Durga Puja feast at Rs 4,499AI, and avail a Bengali Thali along with soft beverages and spend an enjoyable time at the property. (Advance lunch & dinner bookings).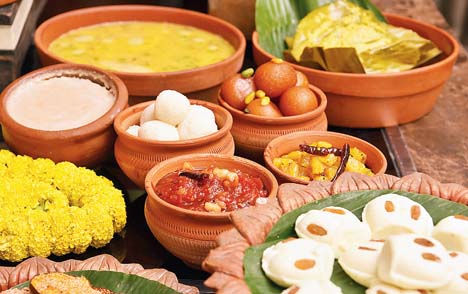 The hotel has also introduced a lush Durga Puja staycation package for all the guests from 10th October to 15th October 2021, for an enriching experience. Also watch out for exclusive offers by Salon Studio from 2nd to 15th October. For more details or bookings call us on: +91-33-66330000