Many years later, when he looks back at that morning far away from home, Yash Dhull would probably thank his stars. For leaving him with no choice.
Picture the scene. A young man warming up for the routine pre-match workouts, not yet sure if he is in the playing XI, when someone walks up to him. "You are in. Congratulations."
It was the morning of February 17, hours before Delhi's Ranji Trophy game against Tamil Nadu was to start. 
Before it could sink in, came the next bit. "You're going to open. So be mentally prepared, just in case we bat first." 
End of conversation. Beginning of cricketing adulthood. 
If the Delhi middle-order batter's initiation into the world of men's cricket was no kid-glove stuff, Yash fended pretty well for himself for a 19-year-old. Two centuries in his first-class debut against a strong opposition is great going, if not spectacular. But what made it all the more impressive was that the twin hundreds against Tamil Nadu came at an unfamiliar batting position. 
Not that it was easy for India's Under-19 World Cup-winning skipper. Rajesh Nagar, his coach at the Bal Bhavan Academy where Yash once trained as a budding cricketer, said his former pupil was apprehensive about going in at the top of the order.
Yash had dialled Nagar soon after he was told that he would be in the playing XI. "Throughout his life, Yash has been a middle-order batter. Yes, he had opened in a few games in the local Delhi league, but this was his first time in competitive cricket. When he called, he was nervous. 'Sir, I'm not ready to open,' he told me," Nagar said. "My sole piece of advice to him was to give himself some time at the crease, after which the runs would come easily."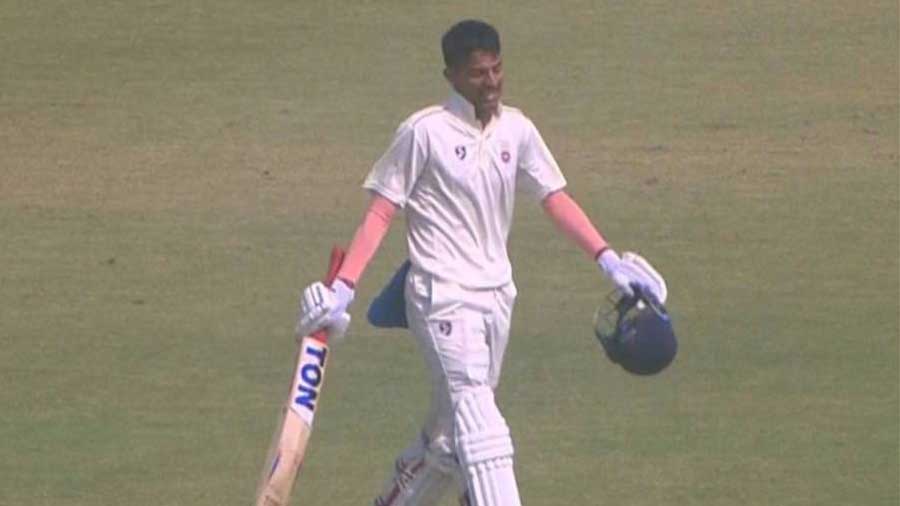 Dhull hit hundreds in both innings on his Ranji Trophy debut
TT Archives
They did, twin scores of 113, the second one unbeaten. If any future cricketer were to draw any life lessons from Yash's debut, it would be this: when opportunity knocks, grab it, because life doesn't always give a choice.
Yash had grabbed the chance, controlling the "controllables", as Nagar would often tell him. Left with no choice but to open the innings, he chose the surest way to respond. Who knows what might have happened had Yash been given the option of batting lower down.
A relieved Yash later spoke like a seasoned pro about his first experience of the game at the senior level. "Apna kaam hai batting karna, opening miley ya number six pe (Whether I open or bat at number six, my role is to bat). This was my first Ranji Trophy match, and all I wanted to do was play," the Delhi boy said, on being asked how he had prepared himself mentally before the match at the Assam Cricket Association Stadium in Guwahati.
Yash's twin centuries put him in an elite list of cricketers who achieved the feat in their debut first-class match, among them Arthur Morris, a key member of Don Bradman's 'Invincibles', who made 148 and 111 in an inter-state match for New South Wales in December 1940. That was the first time anyone had done that on their first-class debut and Morris, then not yet 19, had set the cricket world talking.
Within the country, Yash is only the third batter to score a century in each innings on Ranji Trophy debut after former India captain Nari Contractor (152 and 102 not out for Gujarat in 1952-53) and Virag Awate (126 and 112 for Maharashtra in 2012-13).
Yash's emphatic entry into the record books came less than a fortnight after he had led the boys in blue to the title at the ICC U-19 Cricket World Cup in the West Indies. At the final in Antigua on February 5, India overcame England by four wickets to claim their first title since 2018, and their fifth overall.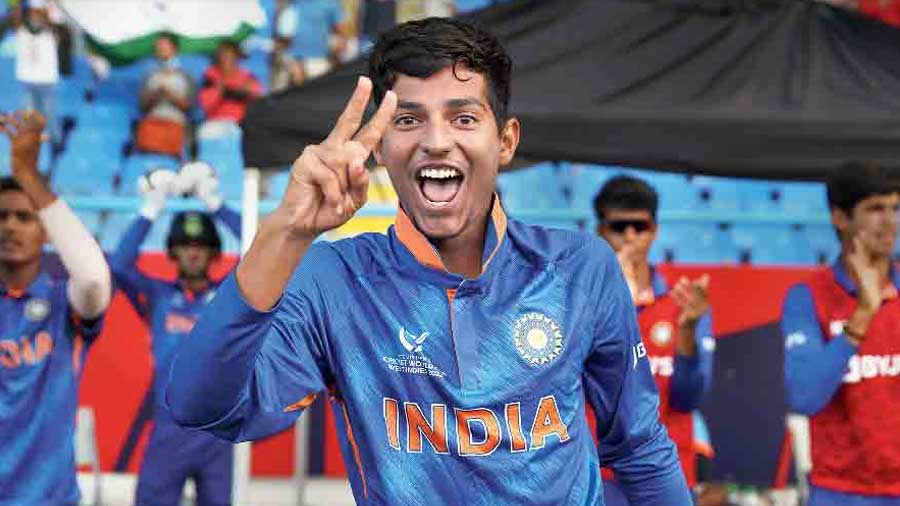 Dhull led by example in the West Indies, as India clinched a record-extending fifth U-19 championship
TT Archives
Full repertoire of strokes
Against Tamil Nadu in Guwahati, Yash had got off to a rough start, with pacers Sandeep Warrier and P. Saravana Kumar troubling him early on in the innings. At one stage, Delhi were 7 for 2 after being asked to bat first by Tamil Nadu captain Vijay Shankar. Yash took his time with the ball moving around. He put on a 60-run third-wicket stand with Nitish Rana, before dominating with his full repertoire of strokes, increasingly confident as he settled into his new role.
He pulled, cut, drove and swept on both sides of the wicket to keep Delhi's run rate up, showing why Delhi Capitals had chosen the young man for its IPL side. For the fourth wicket, he shared a 119-run stand with Jonty Sidhu.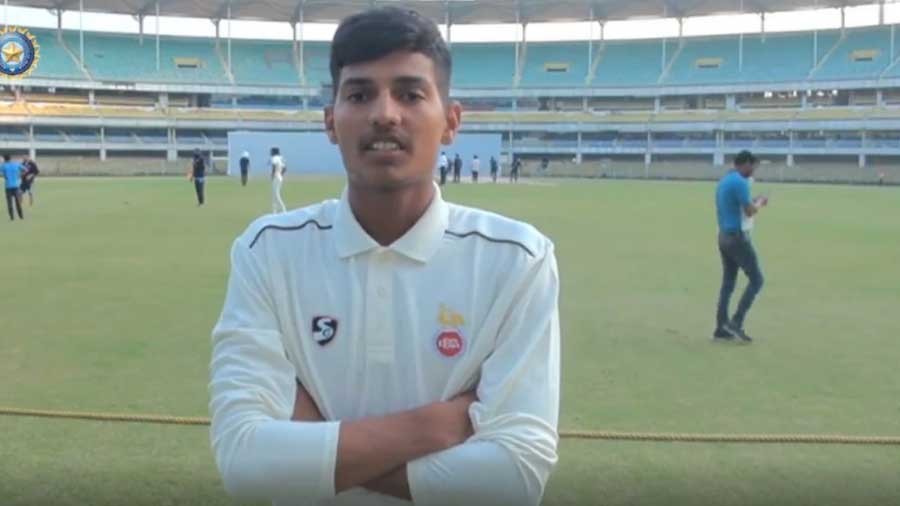 Dhull weathered the storm early on against Tamil Nadu before entering cruise control
BCCI
"We lost two quick wickets, so the first half an hour was vital," Yash recalled. "I promised myself that I was just going to focus on the poor deliveries until lunchtime. It was my strategy, and it paid off. The red ball does a little early on, but once you get through it, batting becomes a lot simpler."
Yash reached his hundred when he sliced B. Aparajith behind point for a couple, racing to three figures in just 133 balls.
What did he feel at that moment?
Yash smiled, probably remembering his jump and the fist-pump as he completed his second run. The century also meant that Yash was the second U-19 World Cup-winning skipper to score a century on Ranji Trophy debut after Prithvi Shaw. For those who believe in coincidences, Shaw cracked a century on his Test debut too, in October 2018.
Yash followed up his stunning debut with a dazzling double century against Chhattisgarh, his unbeaten 200 off 261 balls underling his potential. Delhi's hopes of reaching the knockout stage were over by then but Yash was at his best, hitting no fewer than 26 boundaries as he and fellow opener Dhruv Shorey set out to wipe off a huge first-innings deficit after being put in to bat again. The two put on 246 for the first wicket before Shorey was dismissed for exactly 100.
Glory in the West Indies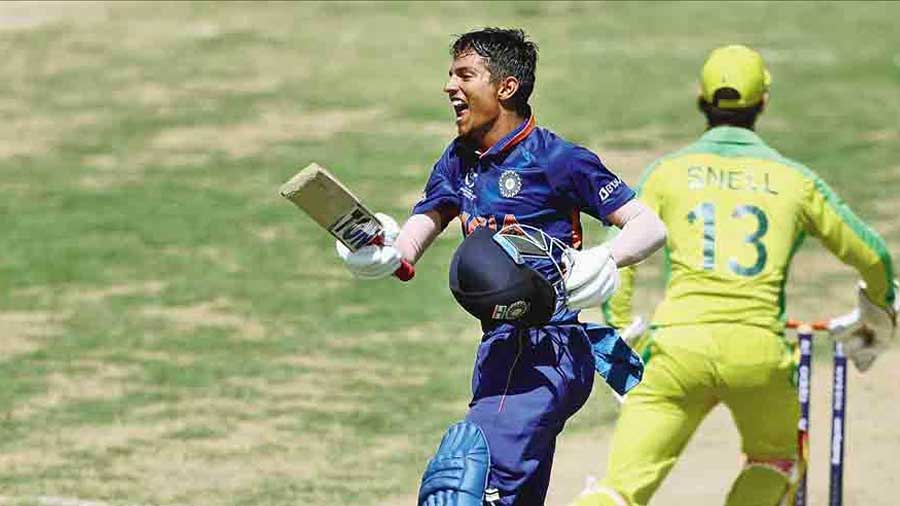 Dhull's 110 ranks as one of the finest U-19 knockout centuries of all time
TT Archives
Earlier, on February 5, Yash had led his U-19 side to World Cup glory, when his team chased down England's modest 189 with four wickets and 14 balls to spare. Yash didn't have much of an impact in the final, scoring only 17, but he had played a decisive role in the semi-final against Australia — a run-a-ball 110 that caught the attention of the cricketing fraternity.
The World Cup victory was all the more sweeter because at one stage, early on, it seemed Yash might not play any further part in the tournament, let alone lift the trophy. He tested positive for Covid-19.
Alone and isolated from his teammates, Yash had worked his way back to fitness, shadow-batting for hours in his room, turning the loneliness of quarantine into extended sessions of undisturbed practice. He recovered fast to seal a memorable triumph.
Yash is the fifth Indian captain to win the title after Mohammad Kaif, Virat Kohli, Unmukt Chand and Prithvi Shaw.
Standing out from the start
Born in New Delhi on November 11, 2002, Yash attended the Bal Bhavan International School in Dwarka (although he was over 19 by the time the ICC U-19 World Cup started in the West Indies earlier this year, Yash was eligible to play under rules that set September last year as the cut-off date). He was 11 when his father, Vijay Dhull, a cosmetics executive who played a crucial role in the young boy's development as a cricketer, put him into the Bal Bhavan Academy. Yash was just 12 when he got into Delhi's Under-14 team.
His first knock of prominence came in the form of a well-made 40* in the Under-16 Rajesh Peter Memorial Tournament, earning him his first cash prize of Rs 500. Under Yash's leadership, Delhi's Under-16 team made it to the knockout stages of the Vijay Merchant Trophy for the first time in eight years. He had earlier smashed an undefeated 186 against Punjab in the same tournament.
In the 2021 Vinoo Mankad Trophy, Dhull once again led from the front, his 302 runs coming at an average of 75.50. The Under-19 captaincy would come soon.
Whom does he idolise?
"Virat Kohli." As if there was any doubt. As if there was any other role model.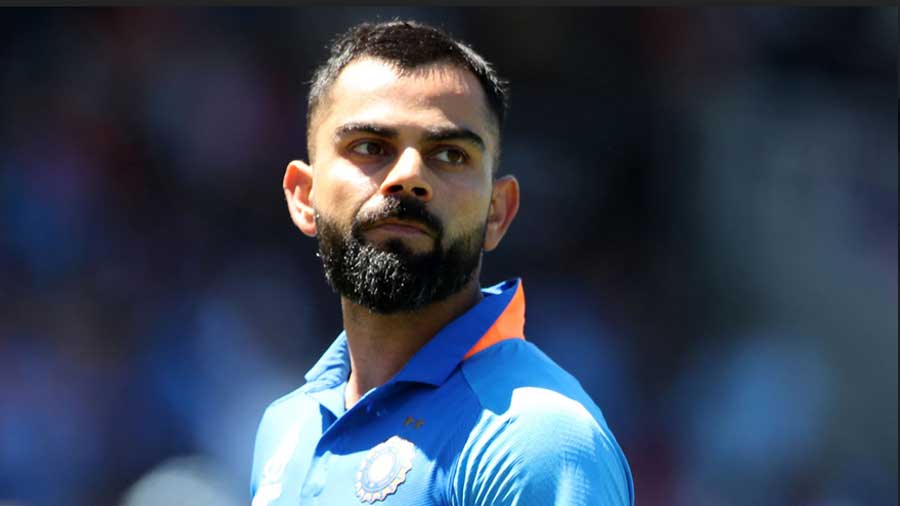 Only time will tell if Dhull can climb the rungs of the cricketing ladder as seamlessly as his idol Virat Kohli
TT Archives
Back in 2008, Kohli too had led an Under-19 side to World Cup glory, before going on to make his Test debut a few years later. The rest, one might say, every cricket fan knows.
Like his idol, Yash too is ambitious. It is evident from his hunger for runs. Will he be the next big thing in Indian cricket? That's something only time can tell. But as of now, Yash looks ready to assume that path.