The old-world charm of Broadway Hotel recently embraced the immortal music of Bob Dylan, who turns 82 today. The Bob Dylan Tribute on May 21 featured Calcutta-based artistes and fans of the iconic singer, like Bibhubrata, Rahul Guha Roy, Durjoy Choudhury, MOJO, Errol Abraham, Rupsha Sen, Bachospati Arnab Chakraborty and Rachit Lakhmani. They brought Dylan fans together, cutting across generations. Dylan's music is, of course, immortal and continues to be as relevant today as it was when he released his first album in the early 1960s.
The crowd at Broadway Hotel ushered in the poet laureate's 82nd birthday a few days early and made Sunday evening special. The evening celebrated the iconic singer with songs like Mr. Tambourine Man, Knockin' on Heaven's Door and much more. The Telegraph was a part of the celebrations and it was an unforgettable jam session.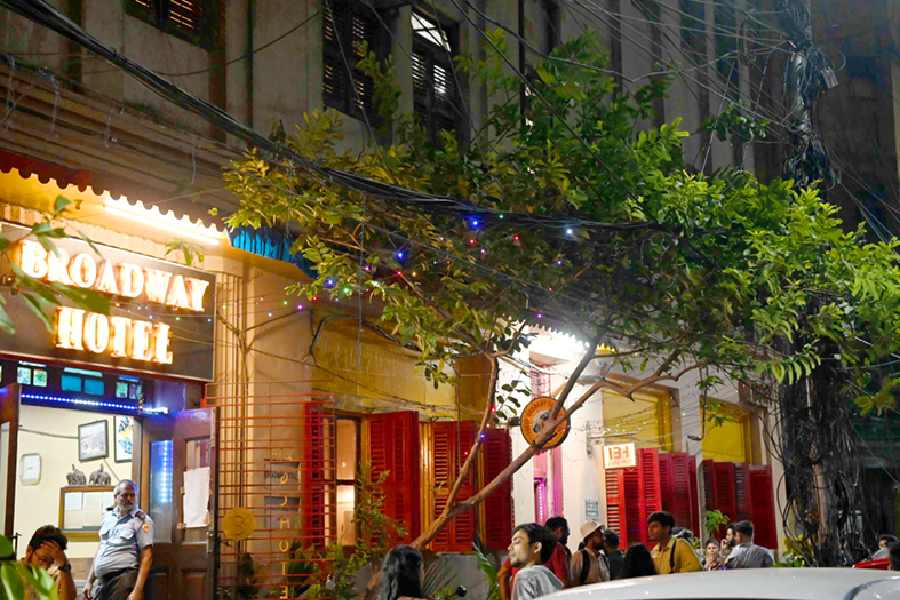 The magical vibe of Broadway Hotel, some chilled draught beer and a fine selection of music celebrating Bob Dylan make for a perfect combination. The Ganesh Chandra Avenue address throbbed with the poet laureate's words.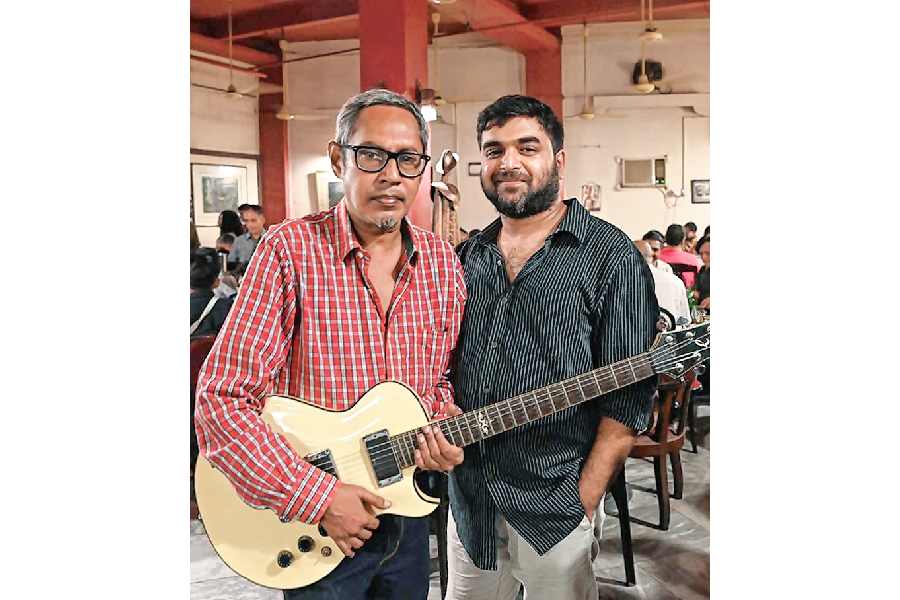 "Blowin' in the Wind, One More Cup of Coffee, Mr. Tambourine Man, I Shall Be Released, Like a Rolling Stone and Knockin' on Heaven's Door are some of my favourite Dylan numbers," said folk/rock/poetry-driven musician, Rahul Guha Roy (left).
"On my fifth birthday, my father presented me with a cassette of Bob Dylan and said: 'You share your birthday with this guy.' I heard the album and, honestly, I did not like it. I thought maybe he could've gifted me something else. Cut to when I was in the ninth grade, I found that old cassette and gave it another listen. Something touched me. It was the album Blood on the Tracks. Something inside me told me: 'What if I could write songs like him?' At that time, I couldn't play any instrument. I learned the guitar and picked up the harmonica and started to write my own songs. It was more of an emulation. Soon I was disillusioned after learning about his lifestyle and how he treated other people. But that something still stayed inside me — to create something of my own. And that was taught to me by Dylan," said Durjoy Choudhury (right).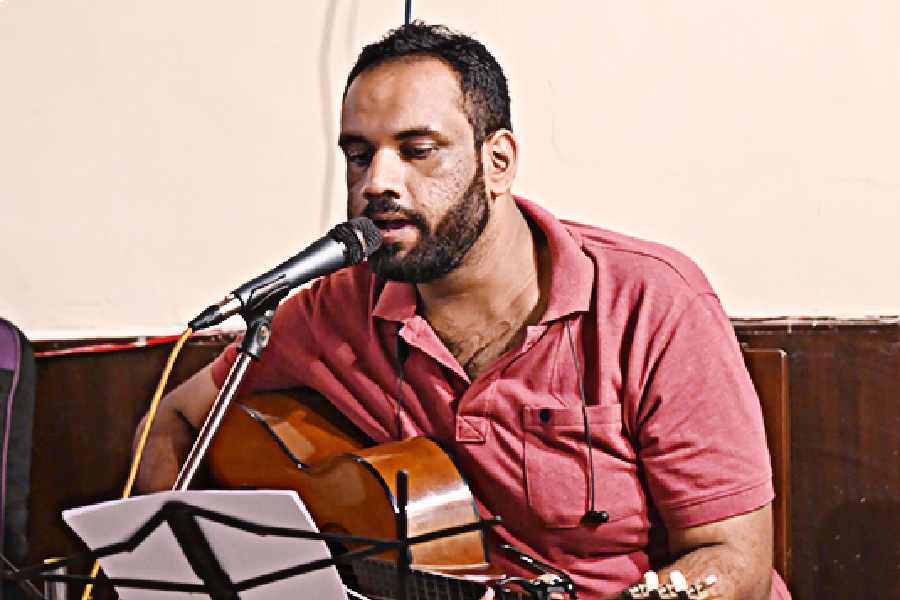 "I got into Western music relatively late in life, around the age of 14. The captivating melodies of The Beatles and Simon & Garfunkel deeply resonated with me. Later, I stumbled upon Kabir Suman's Gaanwala, which drew inspiration from Bob Dylan's masterpiece, Mr. Tambourine Man. Instantly, I fell in love with the song, prompting me to explore Dylan's vast discography. When I first heard the lyrics '... where black is the colour and none is the number' from Hard Rain, I was enthralled. Like a select few, Dylan possesses the remarkable ability to convey profound messages through his songs. His influence played a pivotal role in shaping my creative sensibility. I discovered that music serves as a powerful medium for communication, leading me to realise my calling to write songs in my native language. Dylan is one of the legendary figures who inspired me to write Bengali songs," said Bibhubrata Acharjee..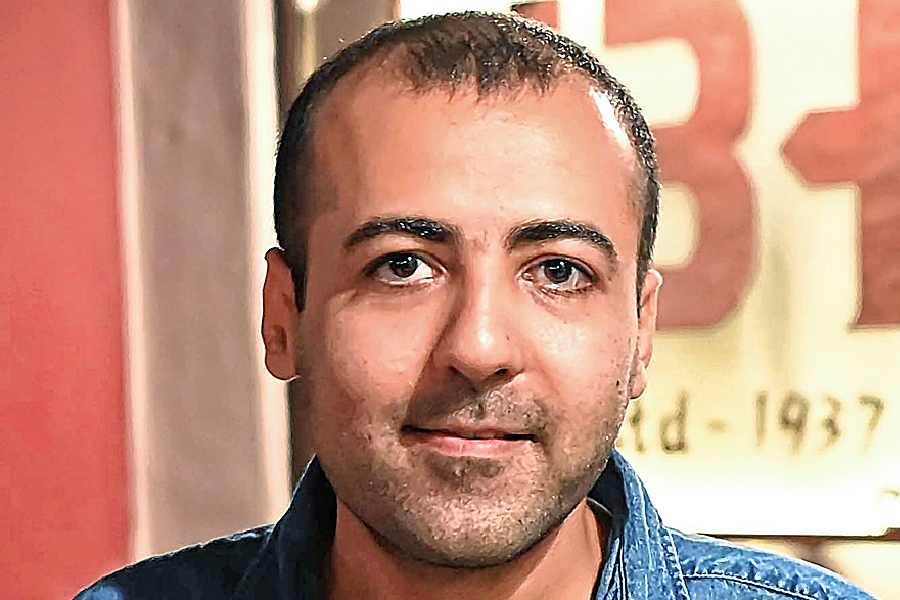 "Dylan has taught me how to translate anger and distress into a song, and I believe it has made me better equipped to deal with the unfavourable aspects of life. It was only after paying attention to his words that I realised the true potential of language. For this reason, I felt like celebrating his life and his contributions on his birthday to express gratitude, along with those who have been touched by his work to varying degrees," said musician and curator of the event, Jaimin Rajani.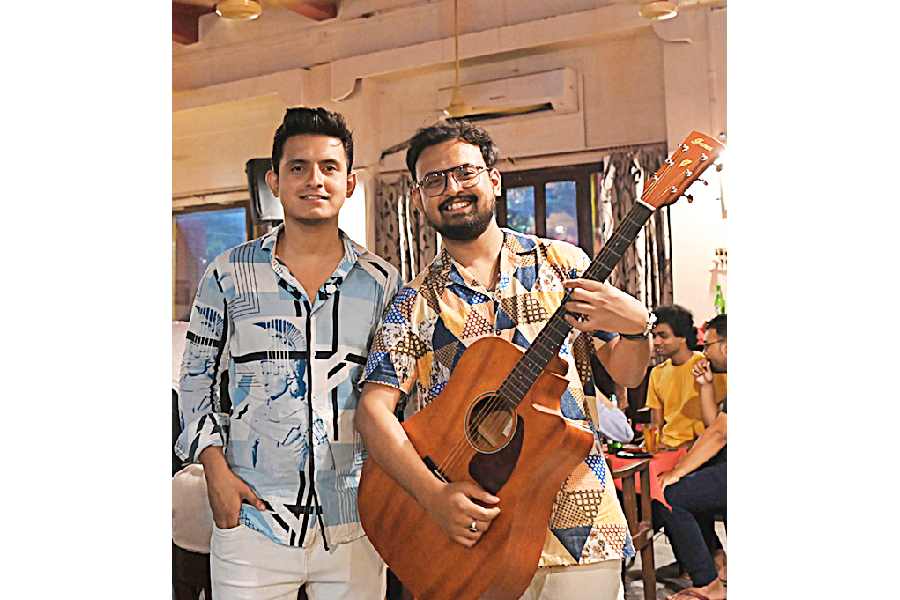 "We've been inspired by Bob Dylan ever since our dad made us listen to his songs on cassette. Anjan Dutt was a gateway to this genre of music with the use of the harmonica and guitar. We grew up heavily inspired by John Mayer's albumBorn and Raised, which truly got us into the world of Dylan. Everything made sense finally," said brothers Kunal Dey (left) and Soham Dey (right) aka MOJO.
"We've always wanted to revive classic rock, jazz, and blues in Calcutta. It was prominent in the '80s but dwindled with time. The bar at Broadway Hotel is a heritage one, and this music goes with the theme of transporting you to a bygone era. We started music here to offer artistes a venue to showcase their skills and for the older audience to relive nostalgia as well as for the younger audience to experience such music live. Jaimin and I discussed that we should do throwbacks and tributes to legendary artistes at Broadway. Bob Dylan is a legend who inspired a lot of these budding musicians to pick up their first guitar. On his birthday last year, we saw this as the perfect opportunity to do so, and this is the second year that we are doing a tribute to Dylan a few days before his birthday," said Raghav Sehgal, owner of Broadway Hotel.
Pictures: B. Halder
IF YOU ARE A DYLAN FAN....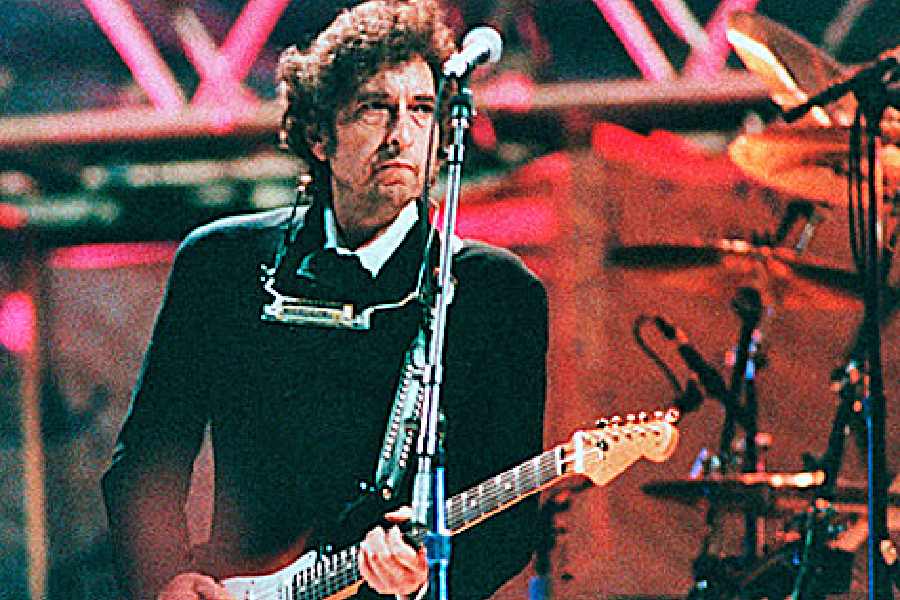 Bob Dylan at Woodstock 1994
Listen to: Every Grain of Sand (Shot of Love), Visions of Johanna (Blonde on Blonde) and Mr. Tambourine Man (Bringing it All Back Home)
Watch: Rolling Thunder Revue: A Bob Dylan Story by Martin Scorsese, The Other Side of the Mirror: Bob Dylan at the Newport Folk Festival and Hearts of Fire
Read: Tarantula, Chronicles: Volume One and The Definitive Bob Dylan Songbook