In Rebana Liz John's 79-minute documentary Ladies Only, commuters in the women's compartment of Mumbai's local trains are asked what makes them angry. Dialogue and visual insight are woven into black and white montages of women on their daily commutes, interspersed with clever ambient detailing.
John, who's from Mumbai, made the film as part of her final-year project at the Academy of Media Arts in Cologne, Germany. Ladies Only just premiered at the Perspektive Deutsches Kino (Perspectives on German Cinema) section at the 72nd Berlin International Film Festival this week and has also been nominated for the Teddy Award. Shot with a three-member crew across Mumbai's local trains over a month, the documentary expands upon female angst and offers an engaging look into undiscovered aspects of modern womanhood.
We caught up with John over a call, on the day of the premiere, and the filmmaker shared some insight into her project:
My Kolkata: Tell us how you planned to explore anger…
Rebana Liz John: I think you experience a lot of anger when you live in a patriarchal society. Women are also shamed for their anger, it can be made fun of. There are so many different kinds of feminism existing around us, there's some anger in them as well. In India, it has to do with acceptance and compromise. I have often wondered what happens to the anger in an environment such as this and if there was an empathetic way to deal with this question.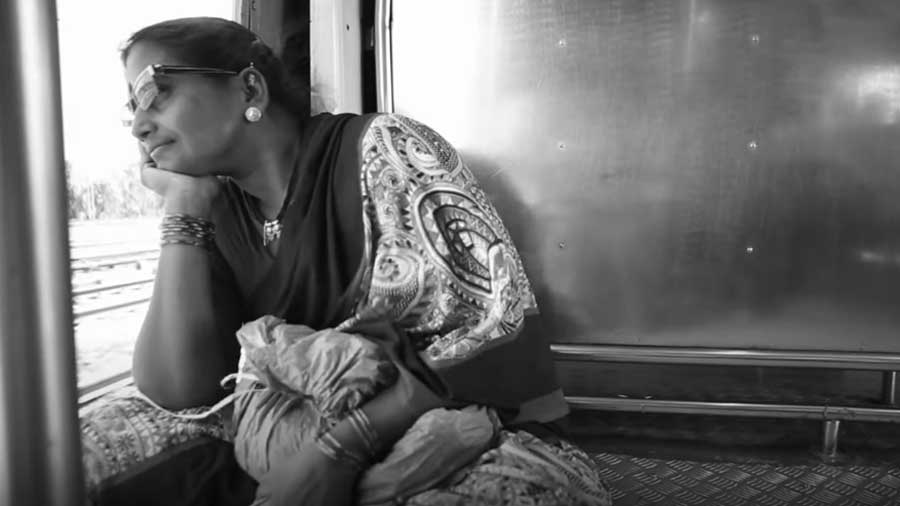 A still from 'Ladies Only'
Courtesy: Milann Tress John
Did you have a visual outline in mind when you started filming?
I did a sort of recce where I went with my camera into the trains, just to see how it goes. I found people were curious, they were okay with opening up. The way the train is constantly changing lights and the existing chaos, it made sense for me to shoot it in black and white. It lent itself to the subject so well, it helped me communicate the essence of the space.
Yes, you chose to shoot it in black and white…
It helped me shift the gaze of India from being this super colourful place. It was an attempt to change that narrative that's been so prevalent globally. Like, here's a chance to see the story for what it is and to see the people for what they are and not get distracted by the colours.
The local train is such a potpourri of narratives. Did notions of class or privilege weigh upon you or your filmmaking?
I think that's a slightly precarious slope because I didn't want to think I was giving anyone a voice. What they were offering me in terms of perspective, was a gift for me. Of course, the diversity in class and caste was something I was expecting but I didn't want to come from that notion of giving them a voice because the dynamic there is inherently difficult.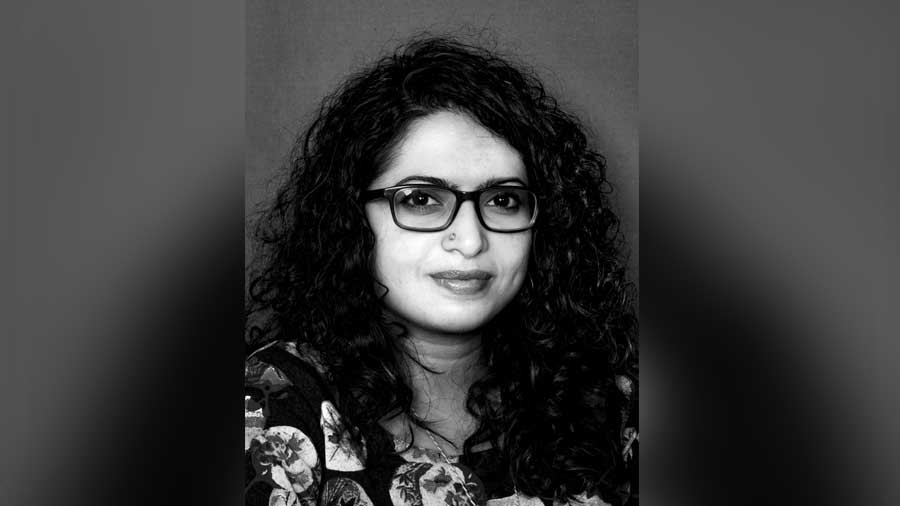 Rebana Liz John
'Ladies Only' was also screened at Busan…
Yes, it did. I think audiences have been amused wherever I've screened it because in any part of the world, people are always quite suspicious of cameras and they're not too open. So the openness of the film was surprising to many. For them, it was an interesting picture of women in India. Because when you're living overseas, the news you read about women in the country often revolves around a sense of oppression or abuse. There's some truth to it, but here, one can also see the strengths of the women and the moments of joy and humour.
Tell us about the filming process…
I think we shot for about 27-30 days in 2019. Besides me, we had our camera person, Milann Tress John and two sound recordists for different phases of the shoot. There was Navya Sah who's also here in Berlin with me and Ankita Purkayastha who was the sound recordist for the second part of filming. So we were a three-person crew inside the compartments. Then, of course, we had a post-production crew.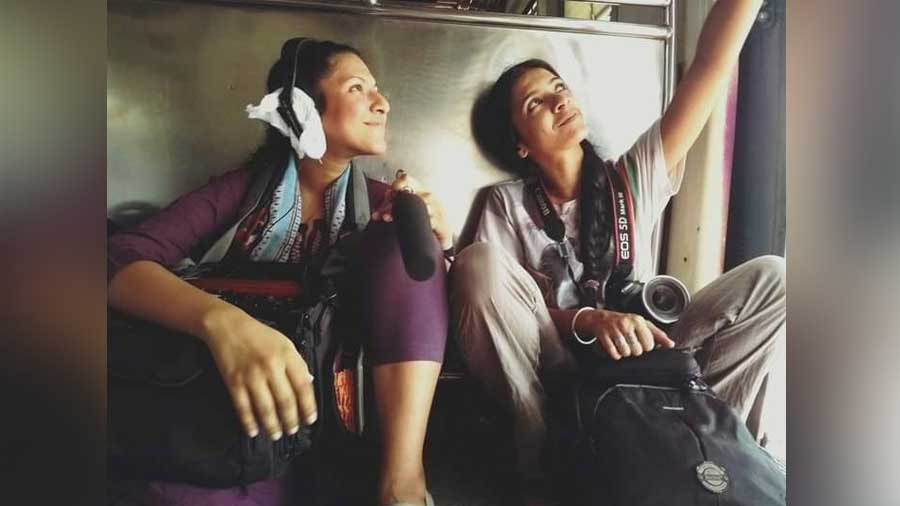 Sound recordist Navya Sah and cinematographer Milann Tress John in between filming
You grew up in Mumbai. Tell us about your relationship with trains or even public commute…
I used local trains on a daily basis. I lived in Powai and my college was near Churchgate. There's something about the time that you get during a commute that feels different. Back then I had a Walkman and even if you're surrounded by a crowd when you're travelling, you manage to get these moments of your own. You see it in the film too, just women experiencing the journey and the moment.
Are you planning to screen the film in India anytime soon?
Yes, definitely. I'm looking at film festivals, be it in Mumbai, Goa, Kerala. Of course, I want to screen it in Mumbai so some of my protagonists could come and experience the film…
And you did manage to keep in touch with them!
Not all of them, but I do have their numbers. There was a participation book where I got their signatures. Some of them have already seen it, they're quite pleased with it!