Bringing one's kids back to the city of my birth was always going to be special, but to have that city as Kolkata was just an amazing experience. I got to relive so much of my childhood in the past seven days and in new and wonderful ways – both by watching my daughters soak it all in and also in reliving memories that badly needed a refresh button.When you're born and raised in Kolkata, you have the inside track. You don't follow the guide books because you innately know what to visit and what to see when you're there. Having said that, when it's been over two decades since you lived here there's also an uneasy sense of unfamiliarity given that the city itself has just transformed, in spots, beyond recognition. So, I took the middle path and gave good ol' Google a chance to provide its inputs as well before I planned our trip.
Indian Botanic Garden: The Great Banyan Tree
Of course (well maybe not to the uninitiated), I started our immersive experience by visiting the 'Botanical Garden', now known as the Acharya Jagadish Chandra Bose Indian Botanic Garden. My main objective was to shock and awe the kids (and myself) with the Great Banyan Tree – the largest in the whole world! With over 4,000 rooted stalks, and around 400 metres in circumference, this is a mini ecological system in its own right. Over 250 years old, I discovered that it has since been barricaded so we cannot play within its umbrella and that has a lot to do with the sheer volume of snakes and other species that call it home. Even then, it is breathtaking and I was absolutely delighted to see how well the gardens are maintained.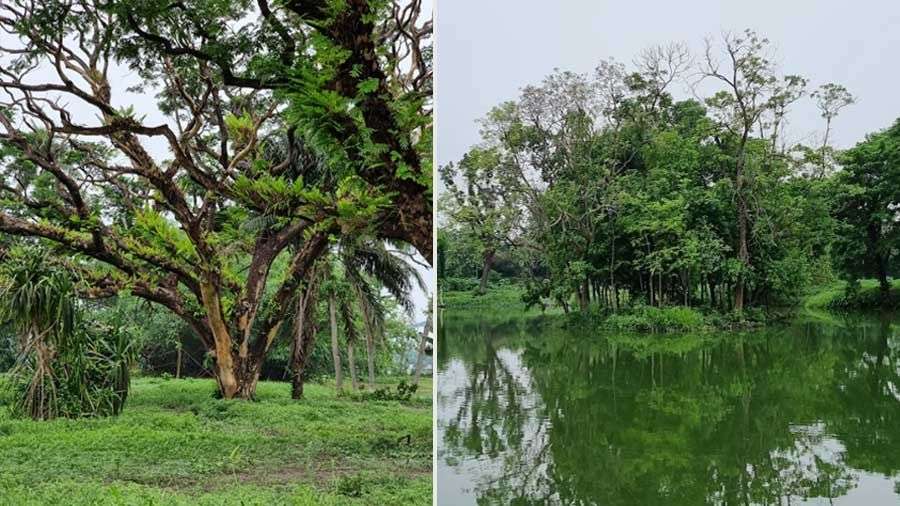 At the Acharya Jagadish Chandra Bose Indian Botanic Garden
The security guard was so excited that someone had come to see the tree (as opposed to canoodling couples I assume) that he enthusiastically gave us blow-by-blow instructions as to how to reach it from the main gate. In the Howrah summer, muggy and sultry, the walk seemed longer than it was but every few metres there were more sights of sheer nature's innovation. The gardens host over 12,000 specimens of plants and herbs and from the small lotus ponds to the mini Avatar-like jungle islands to the (we assumed) haunted bungalow, there was a lot more we inhaled than the Great one.
I could have spent a few more hours there happily but this walk did tire the kids out a fair bit. The one truly annoying thing was when I saw a bunch of young boys throw a plastic bottle into the forest. Honestly I wanted to bring that bottle back and hit them on the head with it, but the fear of snakes held me back from recovering that offending invader and the kids being with me meant I couldn't afford to play hero. Hmmm.
Nehru Children's Museum: Mahabharata and Ramayana retold with dolls
The next big nostalgia fest we indulged in was the Nehru Children's Museum. I had fond memories of art competitions held there as well as some vague ones of staring at the vast collection with the envious doll-deprived eyes of a child. It was a pleasant surprise to see that the art competition scene is still vibrant at the Museum and that the premises are neat and clean, while also raising funds for various causes. What wasn't great was that everything felt dated and run down, like all the toys needed a fresh coat of paint and a wash. Having said that, the collection of dolls and cars donated from all over the world, with a special section of dolls garbed in the traditional gear of each one of the Indian states was still well worth the measly 20 rupees to enter.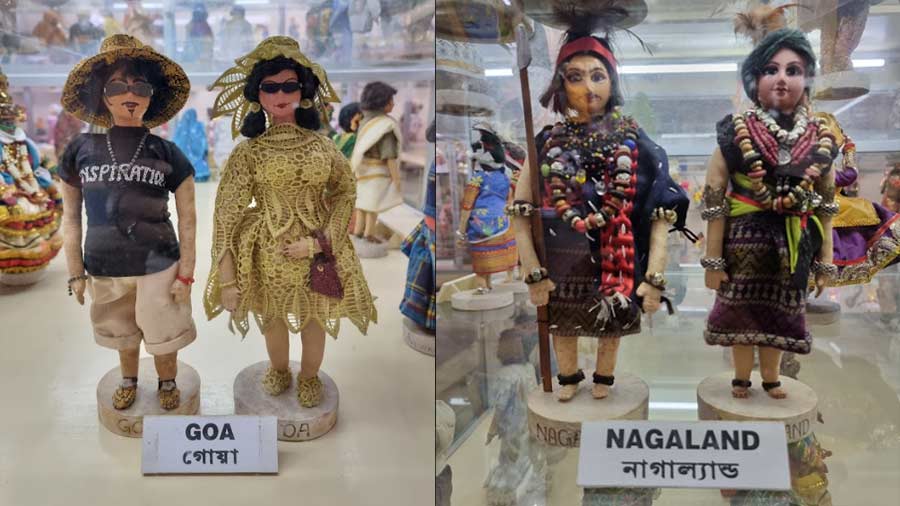 A special section of dolls garbed in the traditional gear of each Indian state is well worth the entry fee
The special bit though, and I don't think most people know about this, is the two halls dedicated to dolls used in scenes to depict the Mahabharata and Ramayana epics in their entirety. The attention to detail, albeit dilapidated and missing some lights here and there, is superb as is the informative write-up next to each scene. My elder one had to be torn away from there as she insisted on reading each word. I remembered why I used to go again and again as a kid and how I was inspired by these halls to design our own Janmashtami doll scenes every year at home. This also brought back that warm fuzzy feeling of watching these epics as TV serials on Doordarshan and I promised the kids that I would arrange for them to do the same. Where can I get my hands on these?!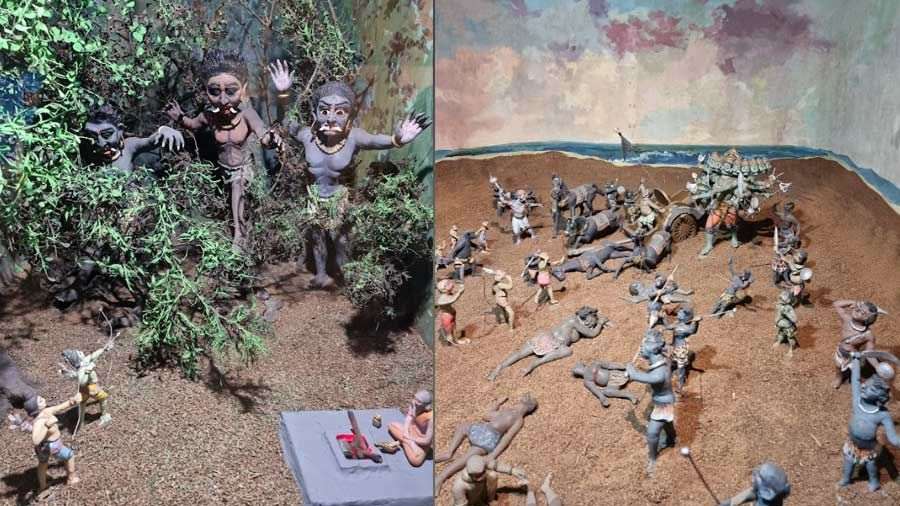 Scenes from the Mahabharata and Ramayana
Planetarium: Queue for tickets on a Thursday afternoon was…!
I really tried to take the kids to the planetarium but to my absolute joy and disappointment, the queue for the tickets on a Thursday afternoon was way too long! Where else in the world will you find the local population so excited to consume knowledge on an everyday basis? My Kolkata only. Where else have there been stampedes for a book fair? My Kolkata only. That pride we carry as Calcuttans is something I cannot explain and that is the main reason I took a proper holiday to immerse my daughters in the 'Cal culture'.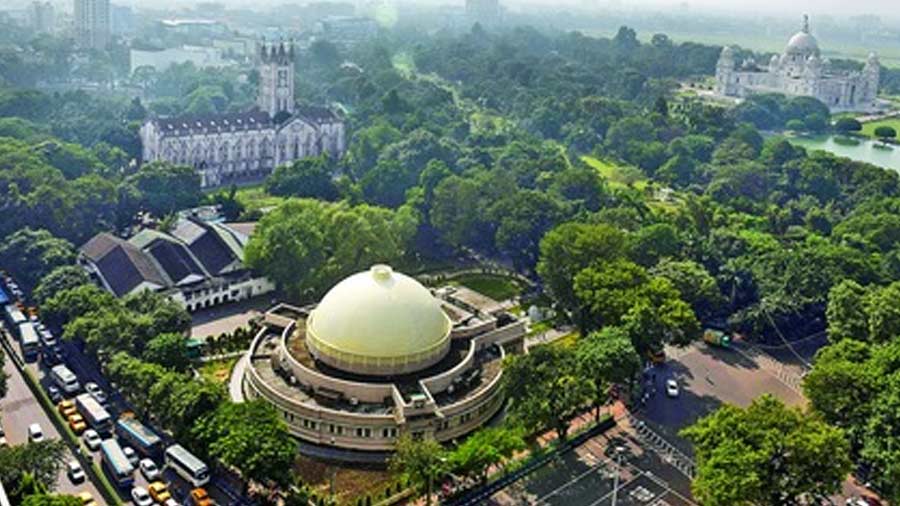 The queue for tickets to the planetarium, even on a Thursday afternoon, was way too long
TT archives
Trincas: Relish a Prawn Cocktail and enjoy live music
I had a gorgeous dinner between these outings at Trincas, which is a Calcutta institution and one that has been resurrected by an old friend but I will disclose much more on that anon (watch out for my next article!). For now suffice to say if you want to relish a good old fashioned Prawn Cocktail and enjoy live music, that's where you need to head. Fair warning – it was packed solid on a Monday night so book early!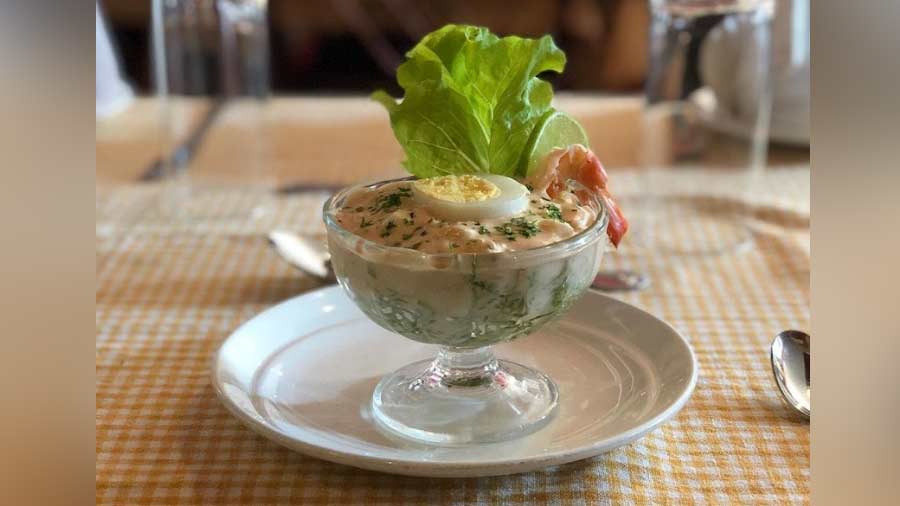 Trincas' Prawn Cocktail
@trincasrestaurant/Instagram
Mainland China: Crackling Spinach from Gurusaday Road to Ireland!
My parents are massive Mainland China fans – only for the flagship one at Gurusaday Road though – so no trip is complete without a meal there. I love their Crackling Spinach so much that my parents used to bring packs of it all the way to Ireland for me when I lived there! I am delighted to report that both my girls are following in their mother's footsteps and they gorged on not one, but two, plates of the same!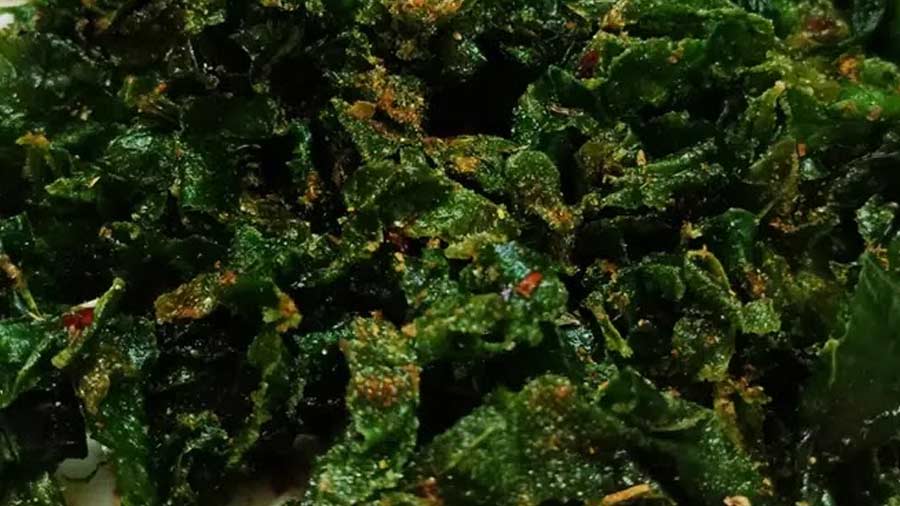 Crackling Spinach
Tolly Club: Storm at the Shamiana to IGU Open for girls
We stayed at the Tollygunge Club – another scene of my childhood as I was a competitive swimmer on the club scene for many years. I represented both RCGC and Tolly during my childhood at various events and while I was a sworn RCGC (Royal Calcutta Golf Club – the oldest golf club outside the British Isles) loyalist growing up, having learnt swimming under the legendary Thakur sir there, Tolly has grown on me a lot over the years. Their commitment to quality upkeep of the premises and the way that they opened themselves up to all forms of member needs – food, entertainment, all the sports you can imagine and the stables is remarkable.
I witnessed a massive but typical Kolkata storm as I sat in the Shamiana. In one instant the sky went thunderous black and it started pelting. Trees were uprooted and one in fact fell in the driveway so everyone was stuck in the club for a few hours. Tolly admin stepped up though and not only cleared all the debris but also had the course in top shape for the IGU Eastern Open for Ladies and Young Girls within the next 24 hours. I was privileged to attend the award ceremony and it was heartwarming to see all the young female golfing talent we have in this country. The speeches the winners gave were inspirational for my kids and I laughingly told them that it was us early failures (I tried my hand at golf too) that paved the way for these successes!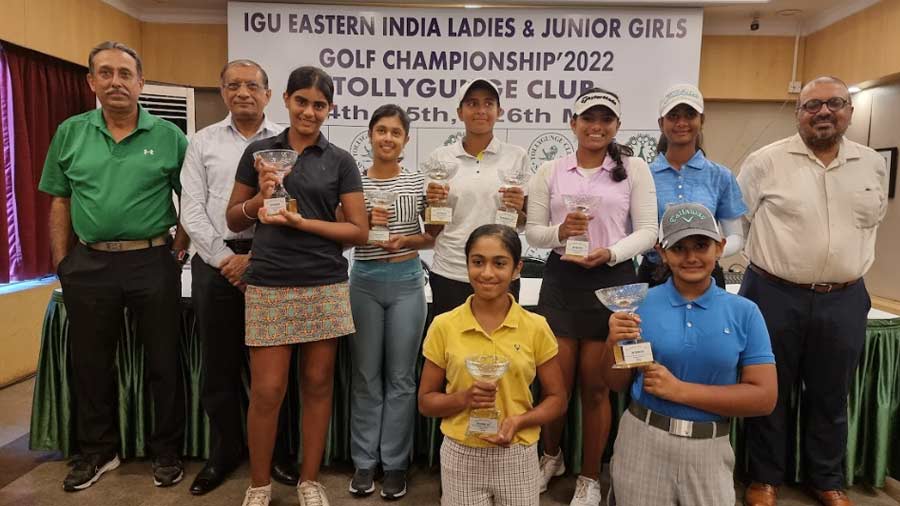 The winners of the IGU Eastern India Ladies and Junior Girls Golf Championship
By the way, you should know that the storm was so bad that I heard the next day of a tragedy that had befallen two student rowers in the Lakes nearby. My heart just stopped as I had been wanting to take the girls boating on the Lake just that morning. Life is so unbearably unpredictable sometimes that it is doubly important to hold on to our dear ones while we can. It's the reason that I took this trip back memory lane with my daughters and why I hope to take many more, back to Kolkata and to many other places in the world, with them. Live more in each present moment, away from the screens and in real life. Kolkata invites you to do that.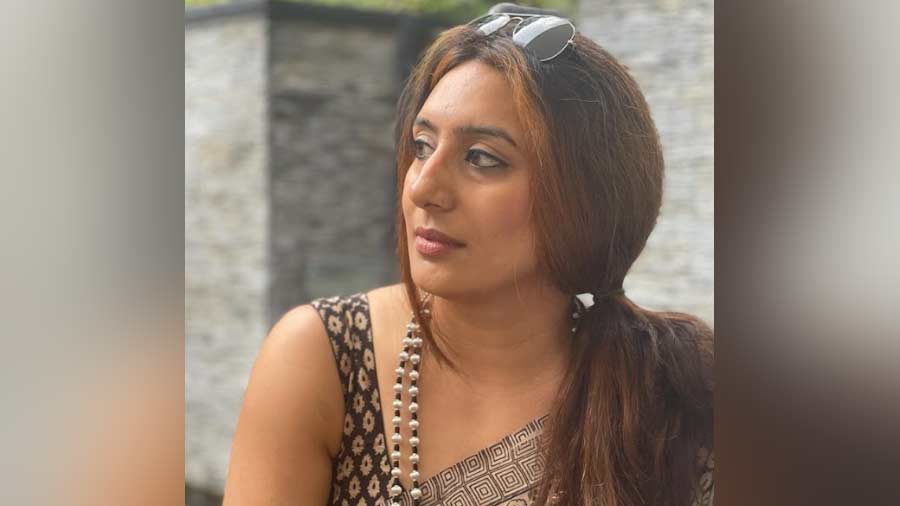 Antra Bhargava is the former CEO of SuVitas, India's first Transition Care Hospital Chain, which recently merged with HCAH (HealthCare atHOME, India), where she is head of Expansion. She founded the WoW Kitty Trust as a micro-financing platform for rural female entrepreneurs and developed the PACE model for all genders and age groups.