On November 14, 2022, British journalist Piers Morgan released a short excerpt of his explosive interview with Cristiano Ronaldo, one which saw the then Manchester United forward lambast his club and his manager at the time, Erik ten Hag. Forty-seven days later, Ronaldo signed for Saudi Arabian club Al-Nassr, having been released by United soon after the full interaction with Morgan had become public. In between those two shocking events, Ronaldo and Portugal were dumped out of the FIFA World Cup in Qatar by Morocco on December 10, eight days before Ronaldo's nemesis, Lionel Messi, lifted football's holy grail for Argentina as the tournament's best player.
For the first time in their careers, Ronaldo and Messi are contracted to clubs on different continents, with no likelihood of playing competitive football against each other anytime soon. But such is the will of the footballing gods that notwithstanding the disparity in their current contexts, the two icons will meet again, when Paris Saint-Germain (PSG) play Riyadh ST XI (involving players from Al-Nassr and Al-Hilal in Saudi Arabia) in a mid-season friendly on January 19. As the two most decorated players of their generation face off for the 37th time against each other, the gap between their legacies and what they represent has never been clearer.
Messi guided by destiny, Ronaldo by desperation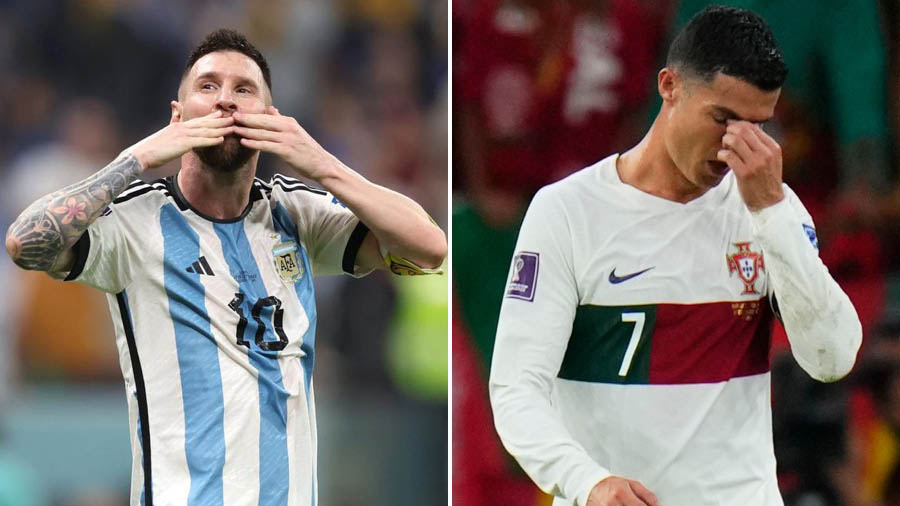 Ecstasy and despair defined Messi and Ronaldo's World Cup campaigns, respectively
FIFA
For close to two decades, football has had its own Godwin's law. Might as well call it the GOAT's law, which states that any discussion on football will eventually lead to a debate about the relative superiority of Messi and Ronaldo. Of course, such a question neither has an entirely objective answer, nor is as ludicrous as choosing between players from different eras. For years, the consensus has been that if you set aside club loyalties, those who prefer football to be robustly athletic choose Ronaldo, while those who celebrate the sport as kinetic art opt for Messi. Should you want even more precision, a pathbreakingly pedantic study has found that Ronaldo fans are more likely to be politically conservative, upper class and religious, compared with supporters of Messi! 
However, if football's honours board were the rightful metric, then this is a debate that has been settled several times in the past, only to be reignited again. In January 2013, when Messi won his fourth Ballon d'Or (all in successive years), Ronaldo had just one Golden Ball. It felt like an unassailable lead. But Ronaldo levelled the scores in 2017, when he grabbed his fifth Ballon d'Or (Messi had won another in 2016), a year after winning his first international trophy with Portugal at Euro 2016. The year after that, Ronaldo won his third consecutive UEFA Champions League with Real Madrid, sending Messi acolytes into hiding. But Messi was far from done, winning two more Ballons d'Or and the Copa America by 2021 to seemingly edge clear ahead of what many called their last dance at the 2022 World Cup.
After four previous failures on the grandest stage, both Messi and Ronaldo knew Qatar was their final chance to be a world champion. Only one of them, however, was in his groove. Surrounded by a team playing for him as much as with him, Messi and Argentina peaked at the right time, shaking off an early upset against Saudi Arabia to go all the way. Inspired and invigorated in equal measure, a 35-year-old Messi dialled back the clock to produce a series of scintillating displays, as if dancing along to the tunes of his destiny. All this while Ronaldo, 37, was relegated to the bench, having become a liability for Portugal, with his desperation to leave a personal mark often proving detrimental for his teammates. Messi ended the World Cup with the most goal contributions in the tournament's history, and as the only man to be crowned as the player of the competition twice (first in 2014). Ronaldo's World Cup journey concluded with zero knockout goals, zero medals and a bucketful of tears.
The end of an era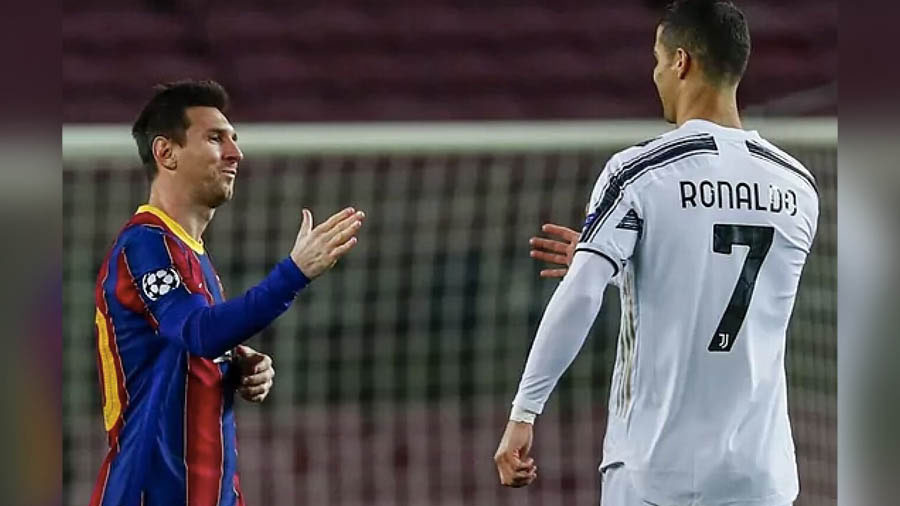 Messi and Ronaldo have scored more than 1,600 goals between themselves, winning a combined 76 team trophies till date
UEFA
As a Messi loyalist who has harboured an instinctive dislike for Ronaldo for longer than I can remember, my greatest fear heading into the World Cup was not an Argentine elimination, but a Portuguese coronation. When that fear was laid to rest thanks to a Herculean effort by Morocco, it felt like the pressure was off. Sure, losing to Kylian Mbappe's France in the final would have been devastating, but those wounds would have healed much faster than the scars left by witnessing Ronaldo hold the World Cup aloft. As it turned out, the one lifting the World Cup was Messi, a sight that I, like hundreds of thousands of others across the planet, had almost willed into being.
As the aftermath of Argentina's sensational World Cup victory rolled on, my euphoria gave way to reflection, and eventually, to remorse for Ronaldo. The Messi-Ronaldo era, perhaps the most relentlessly competitive one between two individuals in a team sport, had drawn to a close. Ronaldo had come off second best not just because his all-round game was never as complete or his vision never all-encompassing. Ronaldo had been bettered because all he wanted to do was be better. Such a formula, followed with the zeal that Ronaldo showed, usually leaves one peerless. But Ronaldo had Messi, an altogether preternatural talent. Moreover, Ronaldo's maniacal obsession with his own excellence made him ignorant of the assault of time. Unlike Messi, who used time as an ally by evolving selectively, Ronaldo, as if posing as time's adversary, refused to adjust and accommodate. When he finally did so by jetting off to Saudi Arabia, it was already too late. At least the pay-off (quite literally) was not too little, with his contract at Al-Nassr expected to be north of 200 million euros per year. In other words, Ronaldo will have earned close to two lakh rupees in the five minutes or so it will have taken you to read this article.
The differences between Messi and Ronaldo are instructive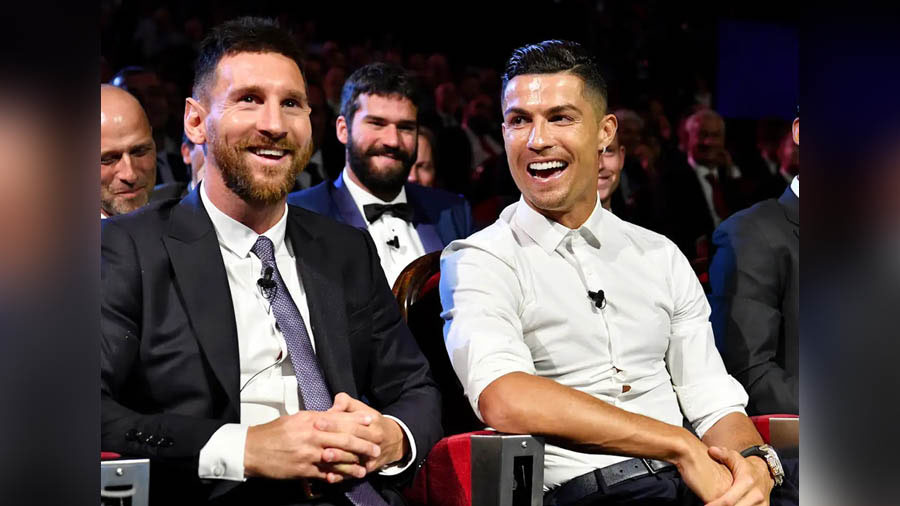 Messi and Ronaldo might face off for the very last time against each other when PSG take on Riyadh ST XI on Thursday
UEFA
Towards the end of his interview with Ronaldo, Morgan painted a dream scenario for his friend and guest. Imagine the World Cup final locked at 2-2, before Ronaldo's Portugal beat Messi's Argentina courtesy a hat-trick from their talisman. In real life, Mbappe almost played Ronaldo's part in Morgan's hypothetical script to the tee, before Emiliano Martinez and the cruelty of penalties took over. But take a minute and try to imagine if such a question would ever have been asked to Messi. If Messi would ever have given such an interview in the first place, an act as much of self-exhibitionism as it was of self-sabotage.
So, why did Ronaldo? Because he knew no other way. Always accustomed to controlling the narrative around him, Ronaldo did not have the composure to ride out the roughest phase of his career in the hope of a turning point, quite the irony given his habit of playing for the finest counter-attacking teams. Instead, it was Messi, the perennial poster boy of Barcelona's proactive possession football, who knew how to be reactive, not just on the pitch, but in life. Years of humiliation with Argentina had left Messi exhausted, but he dug deep to find a reservoir of resilience, and more importantly, patience that seemed to elude Ronaldo. Simply put, when it mattered most, Messi waited for his moment to arrive, while Ronaldo chased it into oblivion.
Long after they have hung up their boots, the power of hindsight will merit a fresh evaluation of Messi and Ronaldo. Then, as now, most might side with Messi. Then, as now, most will still serenade Ronaldo. But for those who aspire to follow their glorious trail, and even for those who want the GOAT debate to rage on, the differences remain instructive. The difference between dedication and obsession. Between belief and arrogance. Between Messi and Ronaldo.