Hailing from Bihar, Amita Mishra is the new general manager of ibis Kolkata Rajarhat. She holds an MBA degree and started her career with Adecco group in the human resource field in 2004. From there she moved to the hotel industry in 2006 and worked almost a year and a half with Crowne Plaza, Gurgaon, as the HR officer. She worked for a decade as an HR professional in corporate houses and hotels. In 2019, she took up the challenge of being the director of rooms at ibis Gurgaon for two-and-a-half years. Prior to ibis Kolkata, Amita was the operation manager at ibis Chennai Sipcot for almost two years. She likes travelling and meeting new people and understanding their culture. In her free time she loves to read fiction. A candid chat...
You've been in Calcutta for a month now. How do you like the City of Joy so far?
I love Calcutta. The reason is, I belong to a neighbouring state which is Bihar, and the culture of Calcutta and Bihar is more or less similar. After my long professional years, which I spend in Gurgaon, Chennai and other places, I'm here in Calcutta, which is giving me a chance to relive my childhood days. Calcutta is a city with a rich culture, which I would like to explore. Though I am health conscious, I will definitely try rosogolla and puchka.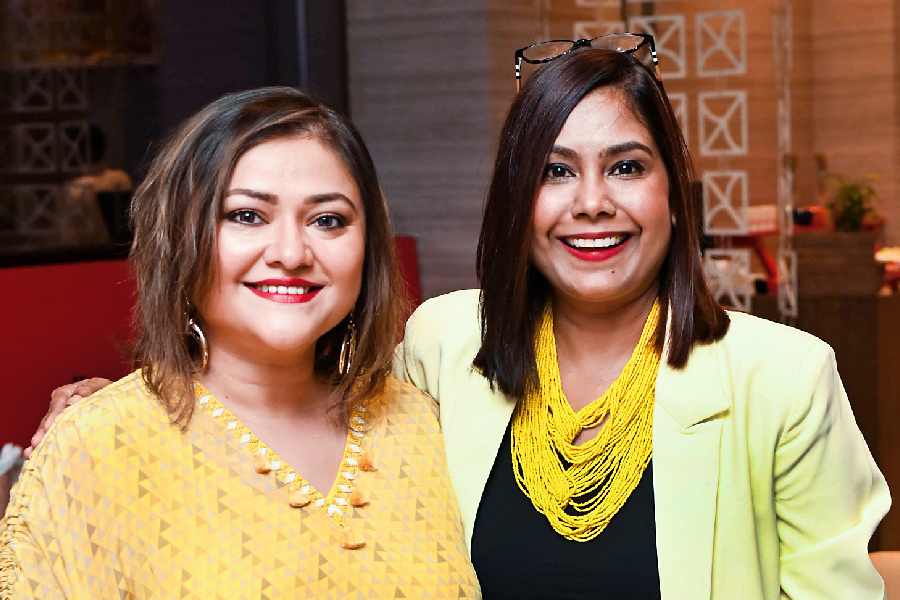 Actress Koneenica Banerjee was present at ibis Kolkata Rajarhat on May 24 to welcome new general manager Amita Mishra
What is the best part of ibis Kolkata?
ibis is in my DNA. I started my career in Adecco in ibis only. I've been in operation in ibis, so ibis has been in my life for a long time and I love this brand. This brand is very young, growing, and vibrant. You'll always notice that young people are walking in, and the place is full of energy. Nowadays, guests want a quirky kind of ambience to stay, and I believe that ibis fulfils all those parameters.
How has your experience been in the hospitality business?
I love hospitality because I am a very people person. The kind of background that I belong to, the human resource background, is where you have to deal with only people and what people need. Hospitality is the place where you have to read people's minds, you have to understand what they want. When people are happy, you have to be happy and when people are sad you have to make them happy. So this is an industry where you get the chance to make everyone happy. I'm glad to be part of this industry.
How would you motivate the employees of this hotel to try their best?
Being into the hospitality business, we are always here to serve. We have to deal with the various emotions of our guests. The key mantra to motivate our own people is always not monetary, it's about respecting them, valuing them and loving them. If we are able to do that and connect with them, they will join hands with you and support you in whatever you look forward to doing. I believe these are a couple of things we can do to motivate them and I think it has been successful.
What makes ibis stand out from the hotel business competition?
ibis is an economic brand; under a budgeted category you get everything. On top of it, we welcome the people as they are. Under one brand the guests get everything, the positive vibes, the pop of colour, the friendly staff. We are able to connect with people and I think that is one of the USPs of ibis. This connection makes you feel like a family. Ibis is a home away from home.
What do you think is the most important thing a general manager can do to maintain a positive relationship with the employees?
A general manager is a personality to whom people in the hotel look up. How you move, how you talk, how you walk is very important. People keep observing you at every step. If I start a culture they will start a culture, if I respect them, they will respect me back. The personality of a GM should be very grounded, they should be very close to the people. That's the only way you can influence people and create a strong bond with them.
What are your future plans for the hotel?
Definitely set a milestone for this hotel. Make sure that there should be noise from ibis Kolkata Rajarhat, people should know it and should definitely come and experience the best stay at ibis.
Pictures: B Halder