Moumi Jana, a sprinter, and Jaya Hansda, a long jumper, first met when they were nine and eight, respectively. The girls from Tarakeswar took up athletics as hyperactive kids who hated studying and wanted to stay on the field for as long as possible. "We've known each other since we were children, having competed in several local competitions over the years. Because of competing against and training with each other, we've developed a strong friendship," said Jaya. Almost a decade after their first encounter, Moumi and Jaya travelled together to the UK on September 14 as part of a 15-member contingent (including support staff) chosen to participate in the second season of the TATA Tea Champions of Tomorrow, conceptualised by Tata Consumer Products, in association with High Life Management (which is based out of Picnic Gardens in south Kolkata).
In search of the next P.T. Usha and Milkha Singh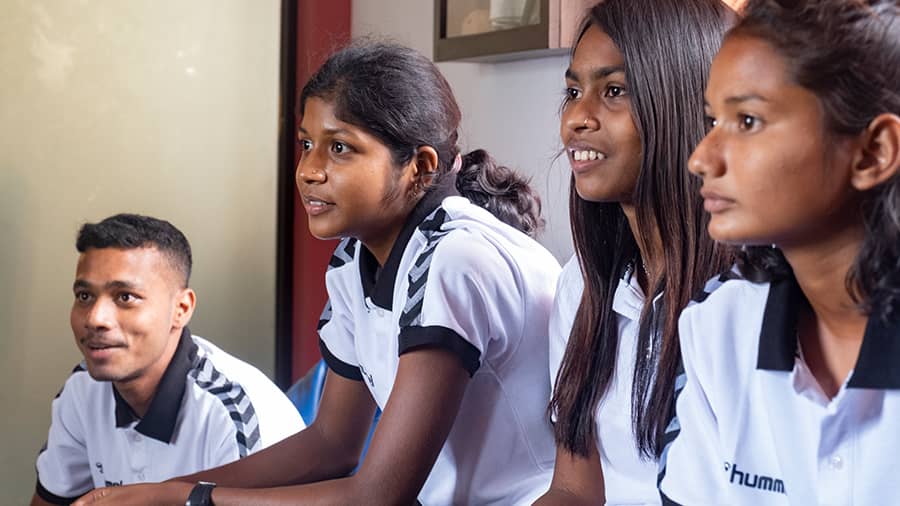 (L-R) Arijit Rana, Moumita Roy, Jaya Hansda and Moumi Jana make up Bengal's section of the contingent
A grassroots development programme involving six cities across India, Champions of Tomorrow aims to scout the next generation of P.T. Ushas and Milkha Singhs. The second season of the programme saw participation from Kolkata, Pune, Lucknow, Chandigarh, Ranchi and Hyderabad, with the national final taking place on May 14 at Ranchi's Birsa Munda Athletics Stadium. The top performers in the final earned a golden opportunity to visit the UK and train under professional coaches at the state-of-the-art facilities in Brunel University, London.
Among the athletes are two more youngsters from Bengal – Moumita Roy, 17, from Jetia, North 24 Parganas, who runs 800m, and West Midnapore's Arijit Rana, 18, who enjoys playing cricket and football but has opted to run 400m for the foreseeable future.
"Going to the UK, which is the first international trip for all of us, isn't just about learning new things as athletes. It's also about having new experiences as individuals. I'm grateful for this chance and I owe everything I've achieved so far to my mother. She's my idol and inspiration," said Moumita, having first set foot on a track at nine years of age.
"I've had a mixed bag over the last couple of years. Administrative issues prevented me from competing in the national events for my category, before an injury at the start of the year ruled me out for several weeks. But I've recovered completely and can't wait to train in the UK, where the differences in technique and temperament will become clear to us," said Arijit.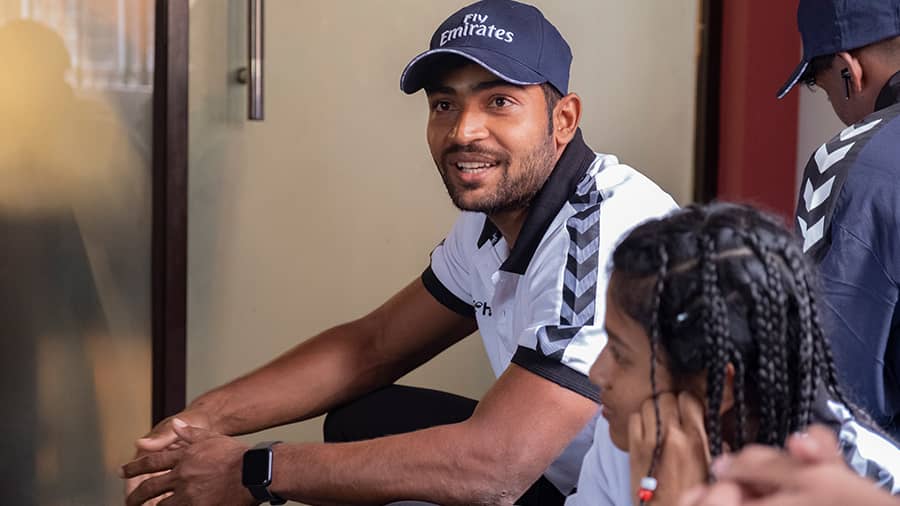 Ravi Rai, who aspires to emulate his idol Christian Coleman as a sprinter
While Arijit was eagerly waiting to witness the golden palm tree at the Dubai airport (en route to London), Gorakhpur's Ravi Rai, 18, was excited just to be airborne. "I took my first ever domestic flight on September 14 and will soon be boarding my first international flight a day later," smiled Ravi, hours before he and the rest of the contingent touched down at London's Heathrow Airport. "For years, I've been told that there's no future in running 100m as an Indian, but I've always believed in doing things differently, and I don't intend to give up," said Ravi, who looks up to American track and field star Christian Coleman.
An admirer of Usain Bolt and the youngest in the contingent is the 14-year-old long jumper from Ranchi, Deepak Munda, who is also the quietest in the group. "I've loved sports for longer than I can remember. I wanted to pursue a team sport but a lot of people advised me that it's easier to succeed in individual sports, since I only have to rely on myself. Initially, I was a sprinter, but then one of my coaches asked me to take up long jump," described Deepak.
'A career-defining chance after two years of the pandemic that seemed never-ending'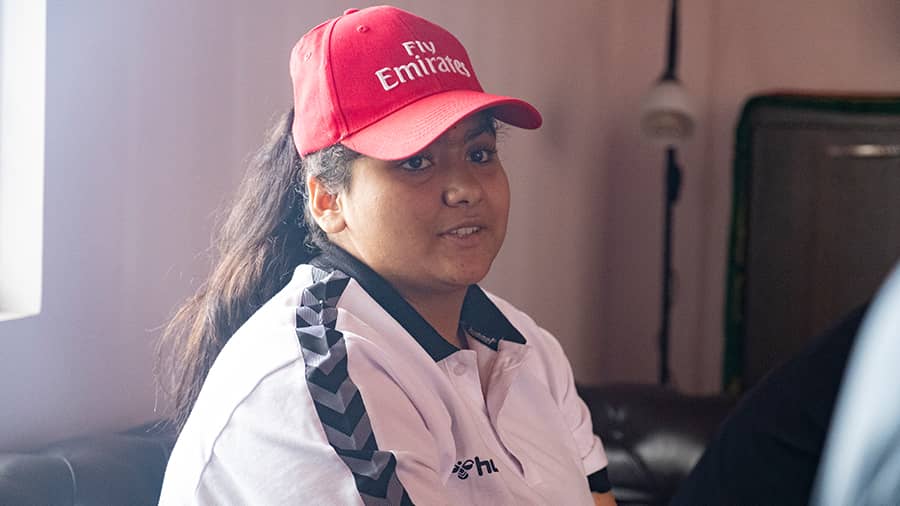 Amruta Dadasaheb Katake described the UK trip as a reward for 'years of patience and sacrifice'
Shot putter Amruta Dadasaheb Katake, 17, and sprinters Diya Sumerpur and Shreya Shedge, both 18, are also part of the squad — all three representing Pune. For Amruta, the UK trip is a reward for "years of patience and sacrifice, particularly my coach, who's always been there for me and encouraged me through many ups and downs". Diya, whose twin brother Daksh is also a runner and her biggest source of motivation, and Shreya, who is a fan of Jamaican sprinter Shelly-Ann-Fraser-Pryce, jointly stressed the importance of "a career-defining chance after two years of the pandemic that seemed never-ending".
Moradabad's Mohammad Samad and Thane's Siddhant Kiran Lalchandani, both 17, complete the contingent. "I've modelled myself after my elder brother, who's in the Army. It's a proud moment for him and the rest of my family that I'm going to the UK to train with the very best," said Mohammad, who competes in the 800m category. Siddhant, a shot putter, echoed the feelings of everyone else when he said: "For us to go to London and train there is a dream come true. Everything from the food to the weather to the facilities will be a learning curve for us, and we hope to come back as enriched as possible."
The itinerary for Champions of Tomorrow features a total of 14 hours of training, complemented by rest time, walks, rowing, sightseeing and shopping. Apart from Uxbridge, where the training centre is based, the athletes will be crisscrossing London during their week-long stay, covering a string of locations including Hammersmith and Windsor.
"Since 2008, we, at High Life Management, have been taking talented young athletes and sportspersons to some of the most prestigious sporting institutions in the world (including Boca Juniors, Arsenal, Inter Milan, Loughborough University and Brunel University). This particular trip to the UK proved to be the most challenging so far because of Covid-19. The athletes had to wait for two years to compete in the national finals and qualify for this trip. Costs in the UK have gone up substantially and flight tickets are almost double of what they used to be. But thanks to Tata Consumer Products, the kids' dreams were kept alive and their patience and dedication paid off. The athletes are extremely committed and we hope to see many of them win laurels for our country," said Saurav Chatterjee, director and CEO of High Life Management.
The first season of the Champions of Tomorrow, in 2018, took similarly prodigious athletes to London's Loughborough University for training and exposure. Among the beneficiaries of the inaugural programme were Avantika Narale from Pune and Donthu Bhagyalakshmi from Hyderabad. Avantika represented India at the World Athletics U20 Championships in Colombia last month while Donthu clinched gold in the 1500m middle distance running event at the 81st All-India Inter-University Women's Athletics Championships in February.