Parsi Fire Temple Street, off Rabindra Sarani, and Ezra Street both are aglow with millions of twinkling and winking rainbow-coloured Diwali illuminations being sold in countless kiosks that choke these two ancient, narrow streets in north Kolkata, already clogged with hordes of human beings, vans, cycle vans and motorcycles.
Women sitting along streets sell deadly firecrackers and other fireworks.
As you reach the point where both streets meet, you are taken by surprise as you notice that the first floor of the tumble-down pile which used to be the living quarters of Cursetjee Manackjee Rustomjee, the last trustee of Kolkata's first fire temple, Banaji Atash Adran, who died at 81 on April 10, 2018, has turned into a dazzling light emporium.
This is on the western side of the benighted temple at the heart of the complex. Its ceilings and walls are hung with a jungle of chandeliers, lamps and shades of all sizes that have transformed the verandah of this once dark and gloomy building into a brilliantly lit bazaar. As in the rest of the city, the buildings and lamp posts in the street are garlanded with masses of cables.
This fire temple is a Grade I heritage building on the Graded List of Heritage Buildings, published by the Kolkata Municipal Corporation. The fire temple was established in Kolkata by Rustomji Cowasji Banaji (1792-1852) in 1839. Two stone plaques in Gujarati and English inside the temple document its history.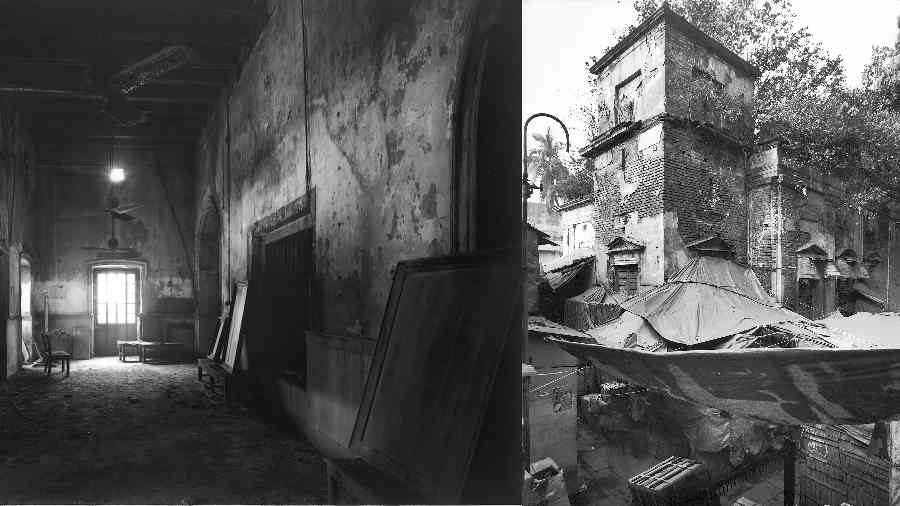 The dark interiors of the temple and (right) shops encroaching on the fire temple complex before they were turned into more permanent structures
Christopher Taylor
Prochy N. Mehta wrote in her book, Pioneering Parsis of Kolkata: "Rustomji Cowasji Banaji played a major role in the making of the modern city of Kolkata. He was the first Parsi to bring his entire family including women and children to the city…. He was the first Indian to venture into a partnership with the British…. Rustomji was a close friend of Dwarkanath Tagore, the grandfather of Rabindranath Tagore."
This merchant prince owned shipbuilding yards in Kidderpore and Salkia. His fleet of ships laden with opium and other merchandise sailed all the way to China and Singapore. Four landmarks still bear his name in Kolkata— Rustomjee Street in Ballygunge, Parsi Bagan in Maniktala, Rustomjee ghat and Rustomjee Parsi Road in Cossipore. There is a Rustomjee ghat in Serampore, too.
Traders dealing in light fittings and electrical equipment have for a long time occupied much of the vacant space on the peripheries of the fire temple in the middle of the reportedly 57,000sq ft complex with the temple occupying about 10 to 20 per cent of the plot. Its roof is overgrown with parasitic plants. The temple had apparently remained unused since 1989, and the sacred fire extinguished long ago. Senior Parsis still have memories of more festive times. Bahadur Postwalla, in his 80s, now remembers that his initiation (kushti) ceremony was held at the Ezra Street temple in 1948.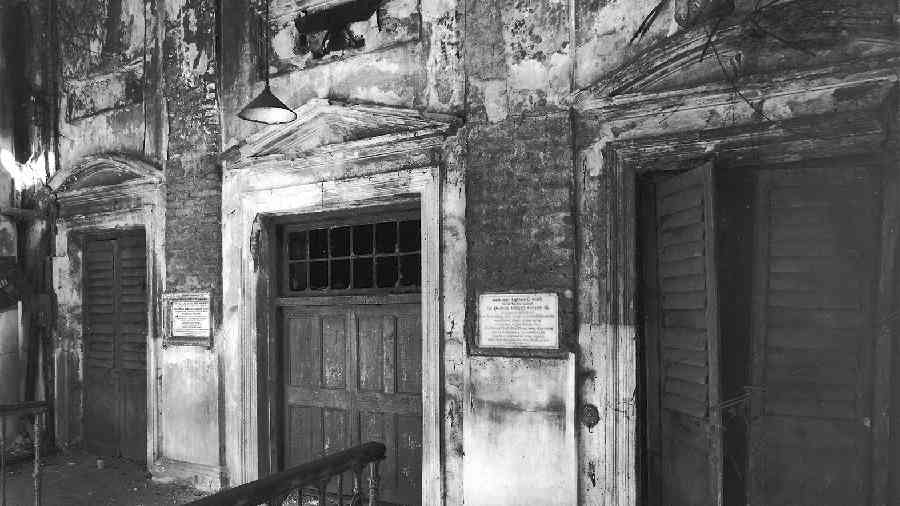 Old pictures of two plaques on the walls of the temple
However, he admits: "It is owned by a private trust. We have no legal right to do anything." Now, save the temple itself, whose interiors are in a total mess, the entire property has been encroached on. Its grounds have been partitioned into tiny kiosks with walls made of highly inflammable material, turning it into a maze of shops, which, on Friday evening, was ablaze with lights. Its east side is walled with corrugated sheets, and piles of debris have accumulated there. The sacred well is apparently still there although it is not visible in the dark.
A strong ammoniacal odour pervades the area. The first floor of what used to be the residence of Cursetjee Manackjee Rustomjee even after its roof had caved in, is now a cluster of showrooms and workshops where chandeliers and lamps are being made. Notices stuck all around read: "Photography prohibited". The floors and roof of this structure are held together with flimsy material that could burst into flames any moment.
The first floor is reached by an old, sturdy iron staircase, and several other step ladders. Since it is owned by a private trust and the distaff side of the family has no right to it, few members of this shrinking, microscopic community of about 380 are willing to comment on its future.
Interviewed over the phone, a member of the Rustomjee family, who is also a member of the trust that owns the temple complex and spoke on condition of anonymity, said on Saturday: "There used to be some shops on the periphery of the fire temple and these were rented out for its upkeep. But now it is entangled in a legal wrangle. It is a tinder box now. It has illegal transformers inside. Half of it is rented out by fraud, half of it is rented out by force. But I will not let anything go."