Over 950 big, medium and small publishers; two leading publishers Penguin Random House and HarperCollins making a comeback after a two-year pandemic break and another, Bloomsbury, making its debut — the 46th International Kolkata Book Fair sure has a lot happening.
My Kolkata spoke to leading publishers to find out more about their presence at the Book Fair, their latest collections and visitors' response.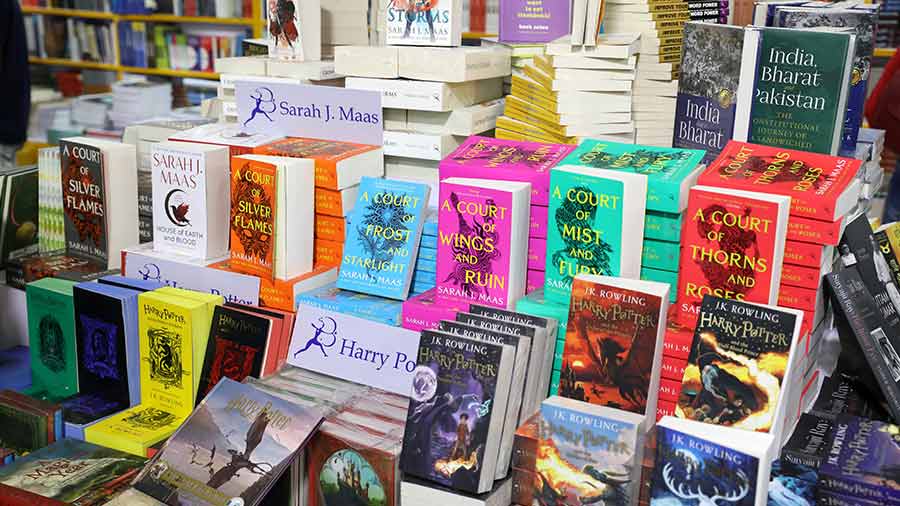 Bloomsbury Publishing India
Having completed 10 years of India operations, Bloomsbury Publishing India is on a roll. What better time to make its debut at the Book Fair?
Stall No. 15 in Hall No. 1 is well-stocked with classics, children's books, fiction and non-fiction, books by award-winning authors like Abdulrazak Gurnah, Kamila Shasie and many others. It offers the widest range of Harry Potter books, including limited editions, illustrated editions, house editions and more. The complete works of bestselling author Sarah J. Maas is also available. Head of Zeus, an imprint of the publishing house, has a range of international writings on offer. 
''We are participating at the Kolkata International Book Fair for the first time and we are overwhelmed by the readers' response. A lot of people are surprised to see us at the fair. Mainly bestsellers and new releases are being picked up. We intend to bring more collections and various other books next year looking at the readers' interest positively,'' said Arpan Mukherjee, area sales manager - east, Bloomsbury Publishing India Pvt. Ltd.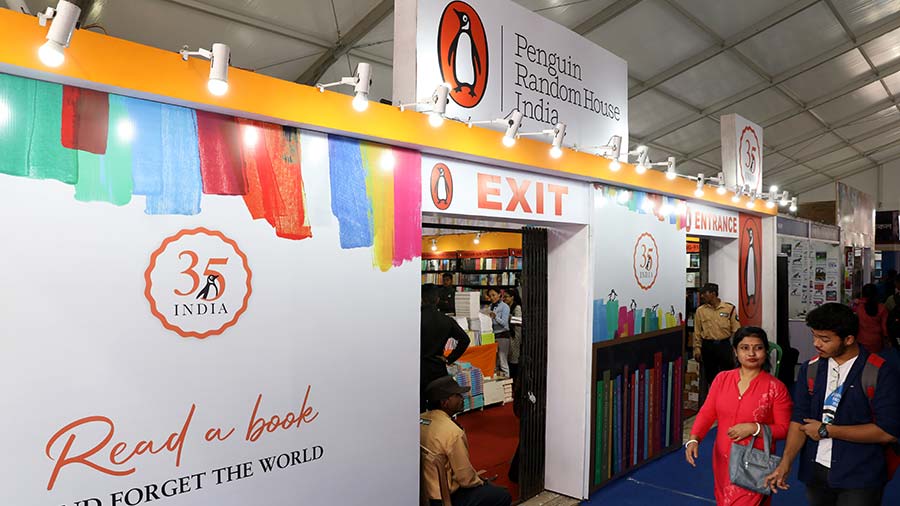 Penguin Random House India
Penguin Random House India is celebrating 35 years in the industry. Stall No. 48 in Hall No. 2 has on offer fiction, non-fiction, illustrated and coffee-table books. Some of the books in demand include Penguin Ray Library titles, Energise Your Mind by Gaur Gopal Das, Samsara by Saksham Garg, Bose by Chandrachur Ghose, Spare by Prince Harry, Tomb of Sand by Geetanjali Shree, Seven Moons of Maali Almeida by Shehan Karunatilaka, The Comfort Book by Matt Haig , India's Most Fearless (Part 3) by Shiv Aroor.
''The sales for Penguin Classics at the Book Fair have been phenomenal, like every year. Reading trends cannot be judged at book fairs but the demand is usually high for books not available in bookstores. Visitors are browsing and picking up a variety of books," said Pinaki Sarkar, regional sales manager (East India) Penguin Random House India, Kolkata.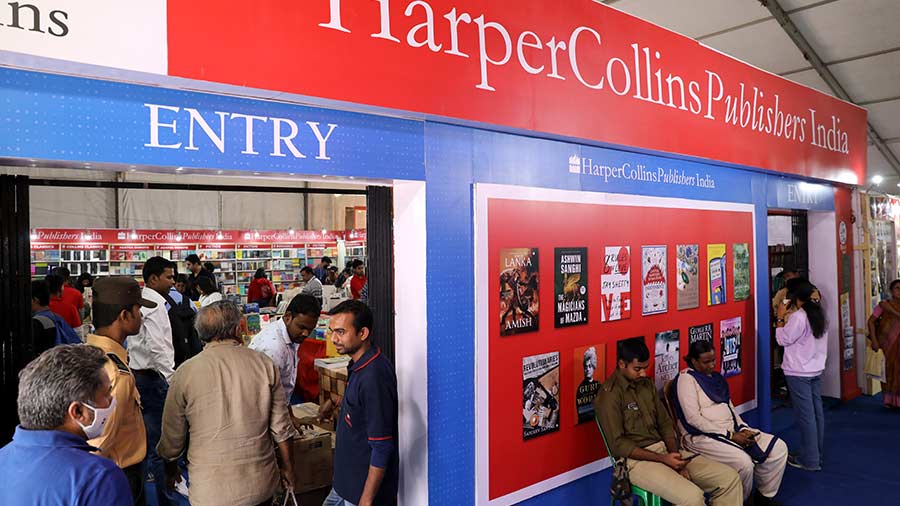 HarperCollins Publisher India
Harper Collins Publisher recently completed 30 years in the industry. On its return to the Book Fair post pandemic, it has on offer a wide range of bestselling authors like Amish, Chitra Banerjee Divakaruni, Sanjeev Sanyal, Holly Jackson and many more. Tintin box sets and K-pop books are the special attractions at Stall No. 5 in Hall No. 1.
Harper Collins is also the distributor for Speaking Tiger Books and Juggernaut Books and hence one can find leading titles by these publishers at the stall.
''Non-fiction genres are selling well. Thrillers, Tintin box sets and collectible special editions and books on football are garnering a lot of interest,'' said Indranil Roy Chowdhury, regional manager, eastern India.
HarperCollins has also arranged for author signing sessions at the stall. Poet Karuna Ezara Parikh will visit the stall on February 11 to sign copies of her book.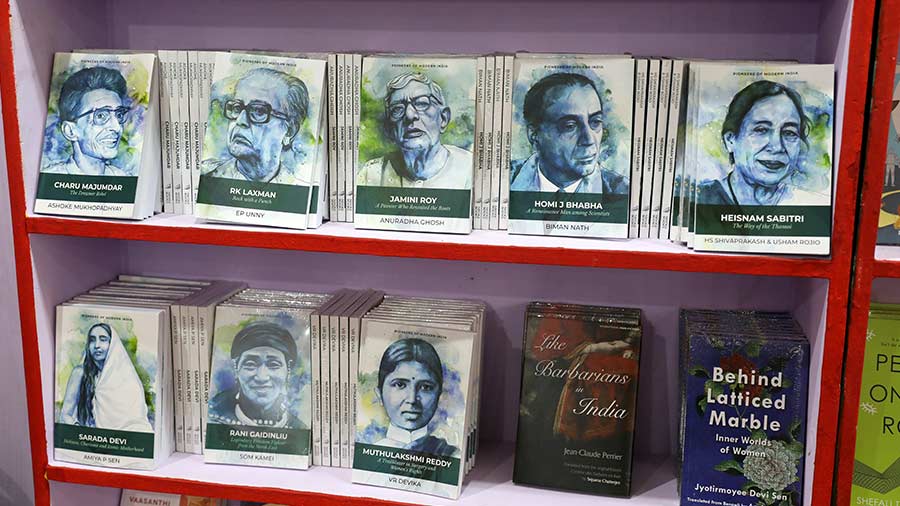 Niyogi Books
Enter Hall No. 1, Stall 19, and you will find a variety of translations, coffee table books, bestseller fiction and non-fiction. The new-age publishing house, which completed 19 years, is known for titles like The Tree with a Thousand Apples, Bangladesh: The Price of Freedom and many more.
Recent innovative titles available at the stall include Iridescent Skin, a first-of-its-kind multispecies ethnography on humans and white sharks by anthropologists Raj Sekhar Aich and Soosan Lucas; Voices from the Lost Horizon, which is a collection of folk tales and songs from Great Andaman Islands.
''In Kolkata, we see a great demand for books on and about Kolkata like Calcutta Nights, A City in the Making: Aspects of Calcutta's Early Growth, etc. Apart from our biographies, we have recently come up with a series of monographs called The Pioneers of Modern India, which include short biographies on the likes of Dr Muthulakshmi Reddy, Rani Gaidinliu and R.K. Laxman. These books have garnered a lot of interest at the ongoing Book Fair. The other categories of books that tend to fly off the shelves are titles we have translated into English from regional Indian languages. History is a genre which is being paid much attention to,'' said Trisha De Niyogi, chief operating officer and director, Niyogi Books.